The goodbye of a cyclocross legend (without tears)
39-year-old Sven Nys took part in his last professional race in Oostmalle this afternoon. The cyclocross legend waited for his team mate Sven Vanthourenhout in the final lap and the two crossed the finishline hand in hand. While the spotlights were on veteran Sven Nys, it was Kevin Pauwels who won the race, which is traditionally the last one of the cyclocross season.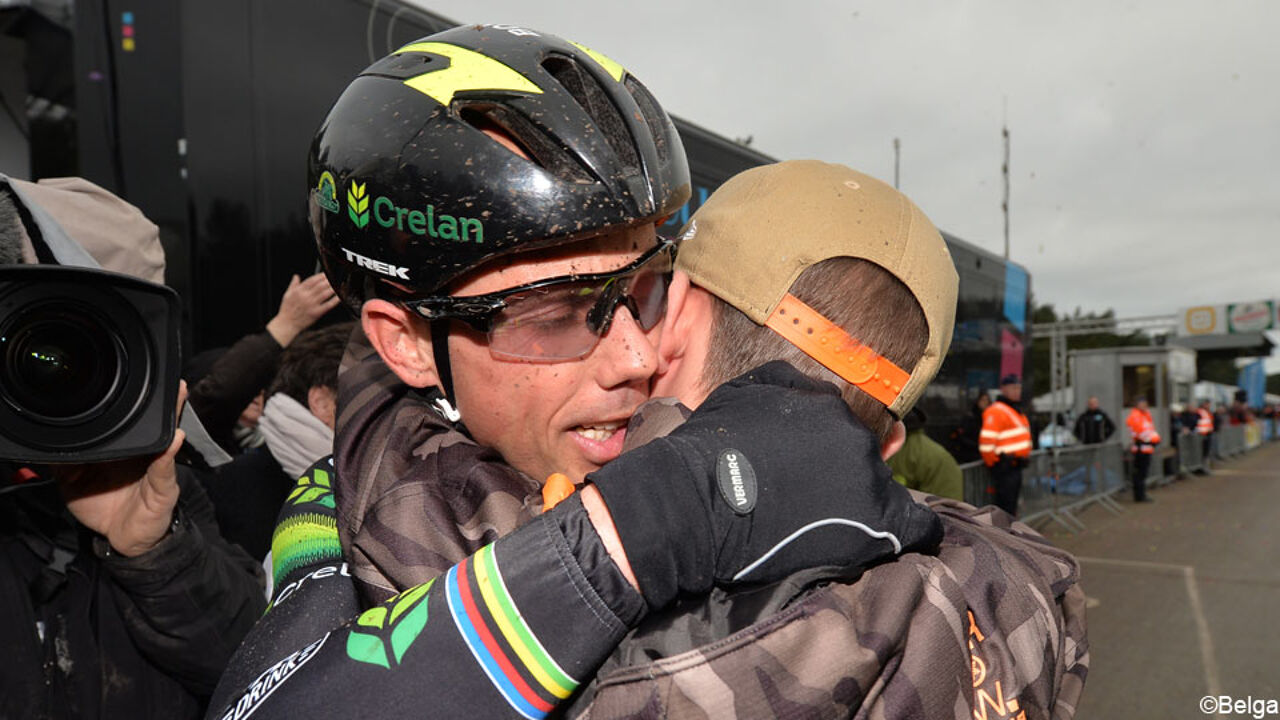 Sven Nys with his son Thibau.
While Kevin Pauwels won the race with World Champion Wout Van Aert taking second place before Tom Meeusen, it was the retiring Sven Nys (who turns 40 next summer) who attracted most attention. 
Nys had been ill this week and did not expect to be in contention for the victory. In the final lap, he took the time to thank his supporters and his team, and he waited for his team mate and good friend Sven Vanthourenhout to cross the finishline together (photo below).
Nys had his emotions under control after the finish. "This is because I had much time to prepare this moment," he told reporters. "I am very happy now, and ready for the future." The one with tears in his eyes was his son Thibau, who is also taking up cyclocross at a young age.
Nys stays in the world of cyclocross. He bought the Telenet-Fidea team last year and will also act as Team Manager there. Nys is also the driving force behind the Sven Nys Cycling Center in Balenberg, close to his home. The centre will include a museum about the sport and will also focus on tourism.
A career of almost 20 years
A BMX rider when he was a child, Sven Nys soon switched to cyclocross. He gained a reputation for his technical skills on fast tracks. His professional career kicked off in 1998 and many of his challengers in the late nineties and the nillies had already stopped a long time before Nys.
Nys won the season-long Superprestige circuit 13 times and 7 times the World Cup. He was a Belgian champion as many as 9 times, and clinched 2 world titles: in Sankt Wendel in 2005 and in Louisville  in 2013.
Sven Nys also tried the mountainbike competition (in summer, to work on his physical condition in the off-season for cyclocross) but that did not bring the same success as cyclocross.