A second half full of controversy
In football, reigning champions AA Gent have not been able to move past OH Leuven, a club fighting relegation. The 1-all draw was a disappointment for AA Gent and a bad warm-up for the Champions League game against Wolfsburg, while the point that OHL grabbed could turn out to be a golden one in the fight against relegation. The game only started after the break, when OHL climbed ahead. It was marked by 4 controversial decision by referee Bart Vertenten.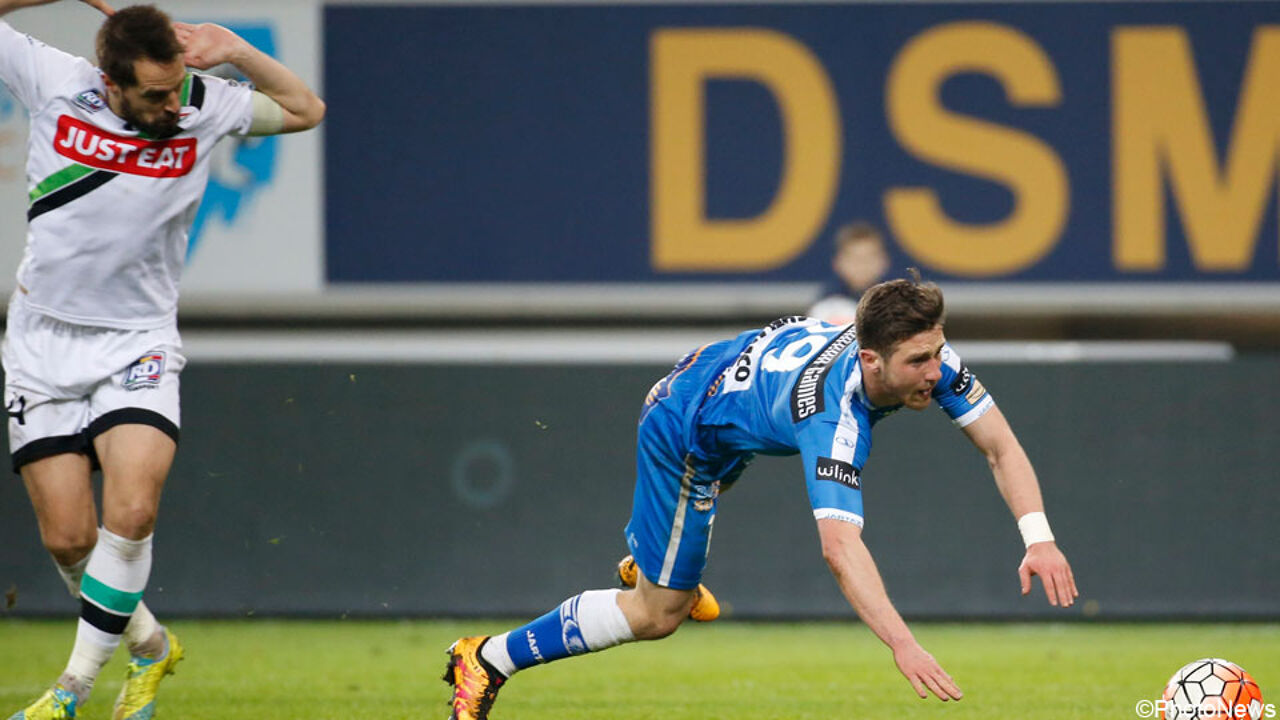 OH Leuven (in white) survived the Ghent storm in the final part of the match.
The referee may have been the focus of attention after the match, AA Gent coach Hein Vanhaezebrouck admitted that AA Gent also had themselves to blame after a poor first half. AA Gent only stepped up the rhythm after OH Leuven had taken the lead through Leandro Trossard on 52 minutes. This lead was not a surprise: it was OHL's third major chance in the match, compared to just one for hosts AA Gent.
What followed, was a siege of the OHL goal by AA Gent. However, Brecht Dejaegere was denied a penalty on two occasions (most football pundits agreed that at least one should have been a penalty), and a goal by midfielder Danijel Milicevic was disallowed for offside - another wrong decision.
Substitute Mbark Boussoufa had broken the deadlock for AA Gent in between, chipping the ball over goalkeeper Rudy Riou to make it 1-1. The 4th controversial decision came 6 minutes from time when OH Leuven goalkeeper Rudy Riou was sent off for touching the ball with his hands just outside his penalty area - another wrong decision.
Milicevic hit the post in a spectacular end to the match and defender Rami Gershon headed wide. Captain and golden shoe Sven Kums scored in extra time, but his goal was disallowed for offside - a correct decision this time. The match left AA Gent with a hangover, but the point could prove a crucial one for OH Leuven with just one game to go next weekend. 
Club Brugge can take the lead
AA Gent are in pole-position with 59 points from 29 matches, but rivals Club Brugge can leapfrog AA Gent to 61 points if they beat Sint-Truiden tonight. It's just one of 7 games taking place Saturday evening.
OH Leuven are in 14th position with 29 points. Mouscron and Westerlo both have 27 points. Mouscron receive Anderlecht, while Westerlo travel to Lokeren. The final day of play is next weekend.