Road charging for goods vehicles: a chaotic start
1 April marks the start of the road charge system for goods vehicles over 3.5 tons. All lorries using Belgian roads will have to pay. Pricing will depend on tonnage, emissions and, of course, distances covered on motorways or trunk roads. The first day was marked by protest actions and long jams were seen in various places, as drivers left their trucks to fetch the necessary equipment at the border before entering the country. There were also technical woes.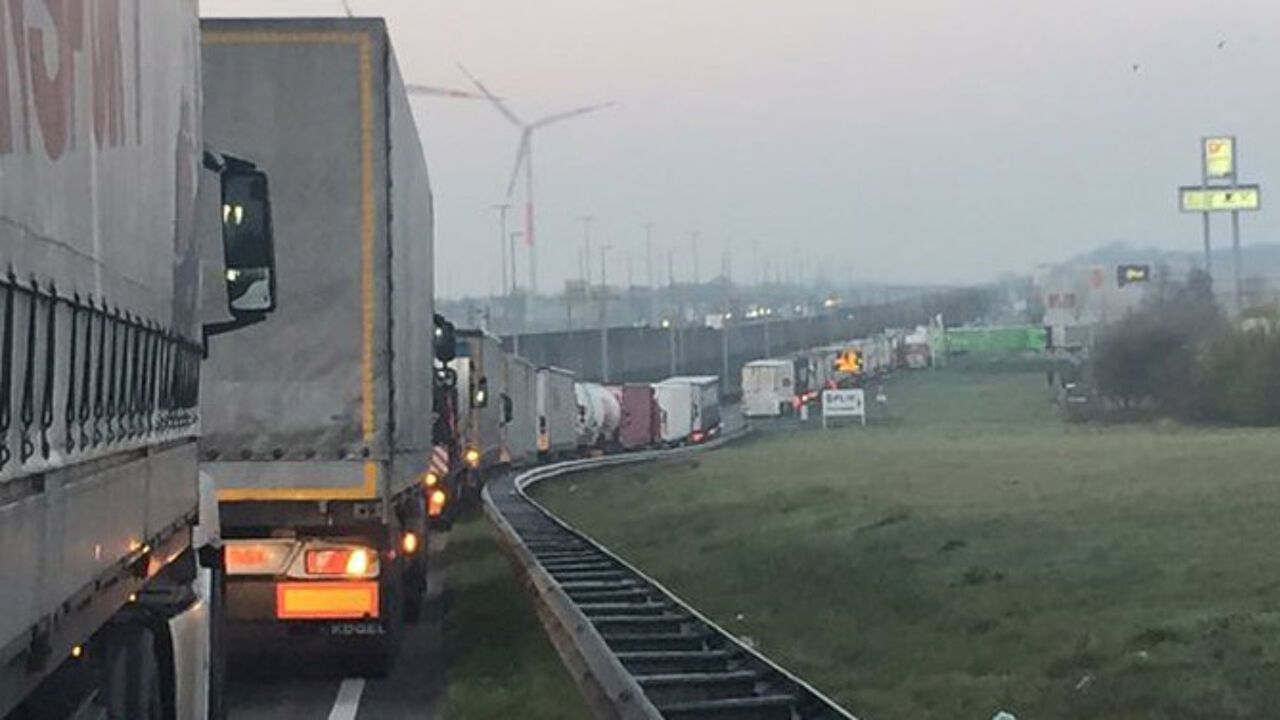 Belgian and foreign truck drivers will have to use a so-called On Board Unit (OBU) to register how many kilometres they are covering. Belgium has some 8,000 kilometres of roads for which the tax applies, including 4,000 kilometres in Flanders. These include the motorways and the main trunk roads. Companies will have to pay between 7 and 30 eurocent per kilometre, depending on the type of road, the distance covered, pollution levels and tonnage.
Checks are carried out through cameras or mobile teams. Fines will go up to 1,000 euros, but Transport Minister Ben Weyts suggested to the VRT that (probably) no fines will be imposed on this first day "for people of good will".
Truck drivers voiced their protests on the first day. In Wallonia, they blocked the E411 Motorway in Achène. Dutch drivers also underlined their objections, and added that some of them didn't even receive an OBU yet. Others were complaining about technical failures.
There were long jams at several motorways crossing the border.
Ben Weyts answers febetra: "Only 0.5 percent of OBU's concerned"
The transport federation Febetra is talking about a "complete chaos" this morning. They say the problems are triggering dangerous situations as lorries are parked on the hard shoulder. Febetra claim they received 100 complaints from their members this morning.
Isabelle Demaegt of Febetra sums up the main complaints: "Some OBU's are not working, the call centre operated by the company supplying the units can't be reached, and the machines where OBU's can be bought, are not working or empty."
Ben Weyts retorts that the sector was informed a very long time in advance, and adds that teething troubles are normal when this kind of large-scale system is being introduced. He says there is only a problem with 0.5 percent of the OBU's.
The idea behind the tax
Until now, heavy goods vehicles could use the Belgian roads free of charge, but they impose a big burden on infrastructure, other traffic and the environment. The idea is to have trucks (both Belgian and foreign vehicles) pay for their passage through Belgium, like in some other countries. The money generated in this way, will be invested in road infrastructure and will be used to reduce road tax rates for Belgian tax payers.