Defending champions have a frustrating evening
In football, defending champions AA Gent failed to move past Zulte Waregem in the opening match of the long-expected Play-off 1 competition. A big disappointment for Gent in their title race, and an opportunity for title rivals Club Brugge.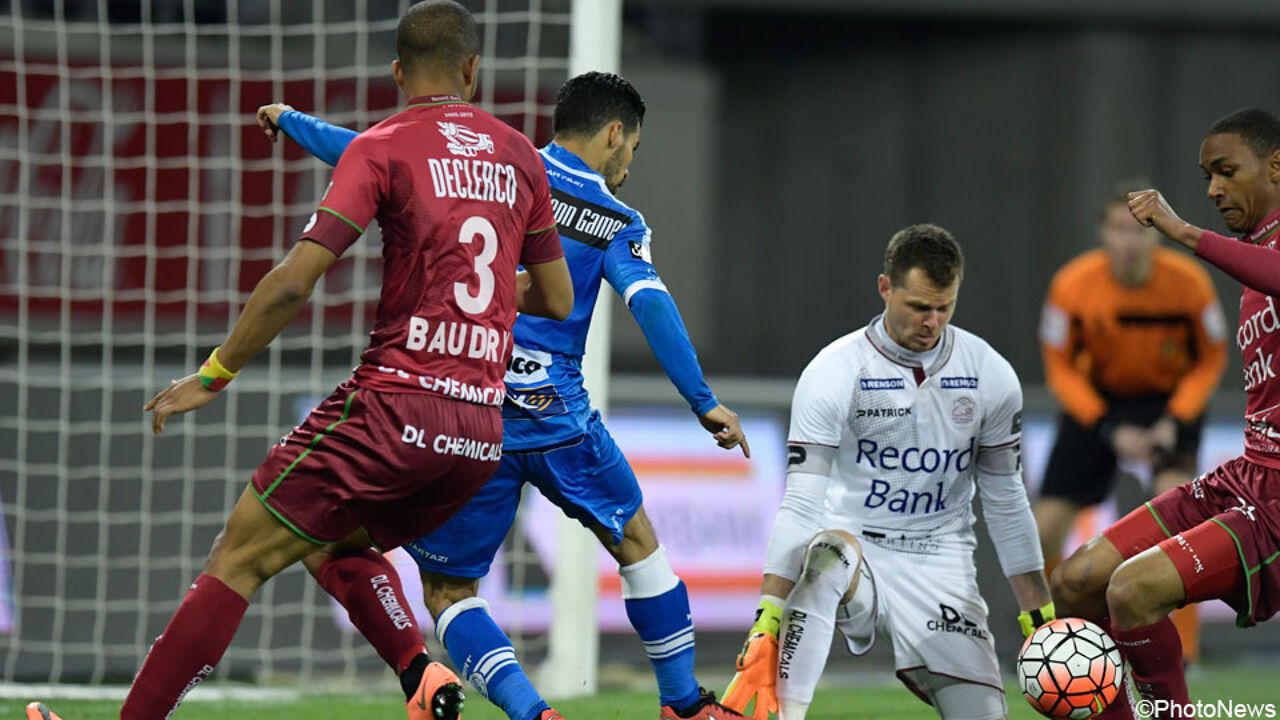 AA Gent - Zulte Waregem was the first major football match in Belgium after the Brussels attacks - the friendly against Portugal was moved to Leiria out of safety concerns. The match started with an impressive minute of silence in the packed arena.
AA Gent pushed Zulte Waregem back right from the start, but the West Flemings defended strongly and dug in deep, also using every trick in the book to withstand the Ghent pressure. The goal at the opposite side came as a complete surprise, when Zulte Waregem's Senegalese striker Mbaye Leye scored at the visitors' first goal attempt (photo below), after a swift attack from the right hand side - things were not looking too well in the Ghent defence.
21 corner kicks, but just one goal for AA Gent
The hosts upped the pressure, but were lucky to escape a second goal when it was 4 against 2 on a fast counter-attack after a Ghent corner. Waregem midfielder Steve De Ridder's shot was too wild and the ball went into the stands.
AA Gent continued the work in the second half - they had an impressive percentage of ball possession and 21 corner kicks - but scored just once, when Golden Shoe Sven Kums fired home the equaliser (bottom picture: skipper Sven Kums celebrating with winger Thomas Foket (r)).
Zulte Waregem goalkeeper Kenny Steppe did the rest - and Kums missed a final opportunity in stoppage time. 1-all was a disappointing and frustrating result for AA Gent, but Zulte Waregem proved they can be a tough opponent in these play-offs.
A golden opportunity for Bruges
Title rivals and leaders Club Brugge can move 4 points clear of second-placed AA Gent if they win at Ostend tonight. KV Oostende are hosting their West Flemish rivals at 6PM. Anderlecht-KRC Genk takes place on Sunday.
Play-off 1 will decide on who will be crowned champions, and which teams will play in the Champions League next season. Only the top-6 teams (after 30 days of play in the normal competition) take part.
Bruges start as the main title favourites. They are craving for a first league crown in 11 years. AA Gent are ahead of their scheme after clinching last year's title, but are also going 100% for a new crown. Anderlecht are considered as the third title challengers, with KRC Genk, KV Oostende and Zulte Waregem battling it out for place 4 and a European ticket. Genk could become the surprise of this mini-competition though.