London visit to promote Flemish Masters
The Flemish Tourism and Culture Ministers, Ben Weyts and Sven Gatz respectively, have been in London to promote a project focussing on some iconic Flemish painters - Rubens, Van Eyck and Bruegel - to mention only a few. Flanders aims to put the spotlight on their work in 2018, 2019 and 2020.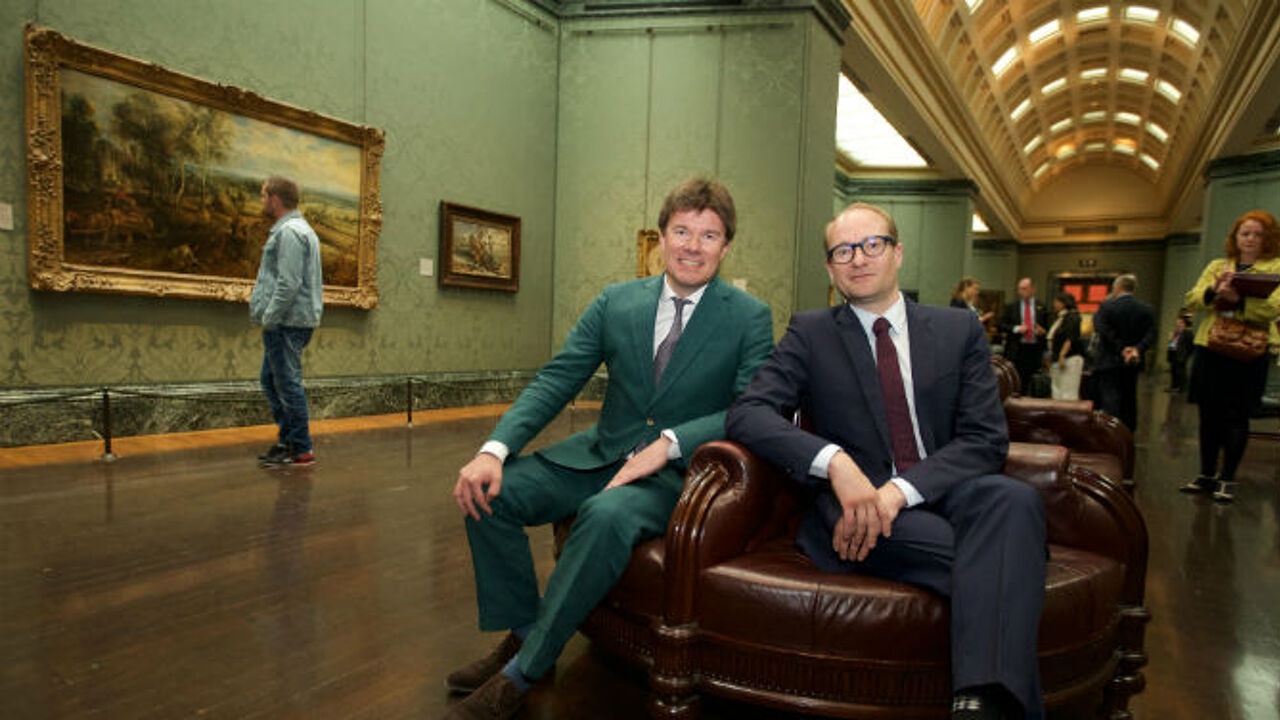 Sven Gatz and Ben Weyts in the London National Gallery.
Flanders is to put its Flemish Masters in the spotlights from 2018 to 2020, when the commemoration events for the First World War will be finished.
The aim is to promote Flanders abroad as an excellent destination for culture and art enthusiasts and to get more tourists to Flanders. Cooperations with museums abroad should make it possible to get some of the works of these iconic Flemish painters, which are now on display in museums across the world, back to Belgium.
The initiative was taken by the Flemish tourism bureau Toerisme Vlaanderen. It centres on painters from the 15th, 16th and 17th centuries, including the renowned Masters Pieter Paul Rubens and Pieter Bruegel de Oude and the Flemish Primitives such as Jan Van Eyck.
However, the aim is to keep a broad horizon and to involve other forms of arts as well - contemporary art, but also cartoons and Flemish gastronomy.
"We want to create more pride and self-consciousness"
Ben Weyts and Sven Gatz made a stop in London's National Gallery, which boasts 30 Rubens paintings apart from work by Van Eyck and Bruegel. In Trinity House, both had lunch with representatives of cultural institutions.
"We want to show the world that we had great artists in the past, who played a pioneering role in European art and culture. We want to highlight this craftsmanship and link it to other attractions in the region", explains Tourism Minister Ben Weyts. "Apart from this, we want to create more pride and self-consciousness in Flanders itself."
The National Gallery has plans for a Rubens Year in 2020.
Rubens has the biggest reputation
Pieter Paul Rubens enjoys the most world-wide fame among the Flemish Masters. This is shown by a survey carried out by Toerisme Vlaanderen in 17 countries, including neighbouring countries but also the U.S., China and Russia.
Rubens enjoys the greatest fame in Russia, Spain and Italy, while Pieter Bruegel scores well in Austria, the Netherlands and Russia.