"Belgians played like headless chickens"
Foreign media didn't spare the Belgians after their defeat against Italy. The Red Devils, number 2 on the FIFA world rankings, are being labelled as one of the outsiders for the European title, just below countries like France, Germany and Spain. However, they disappointed football pundits against Italy yesterday. "They lacked organisation, playing like headless chickens."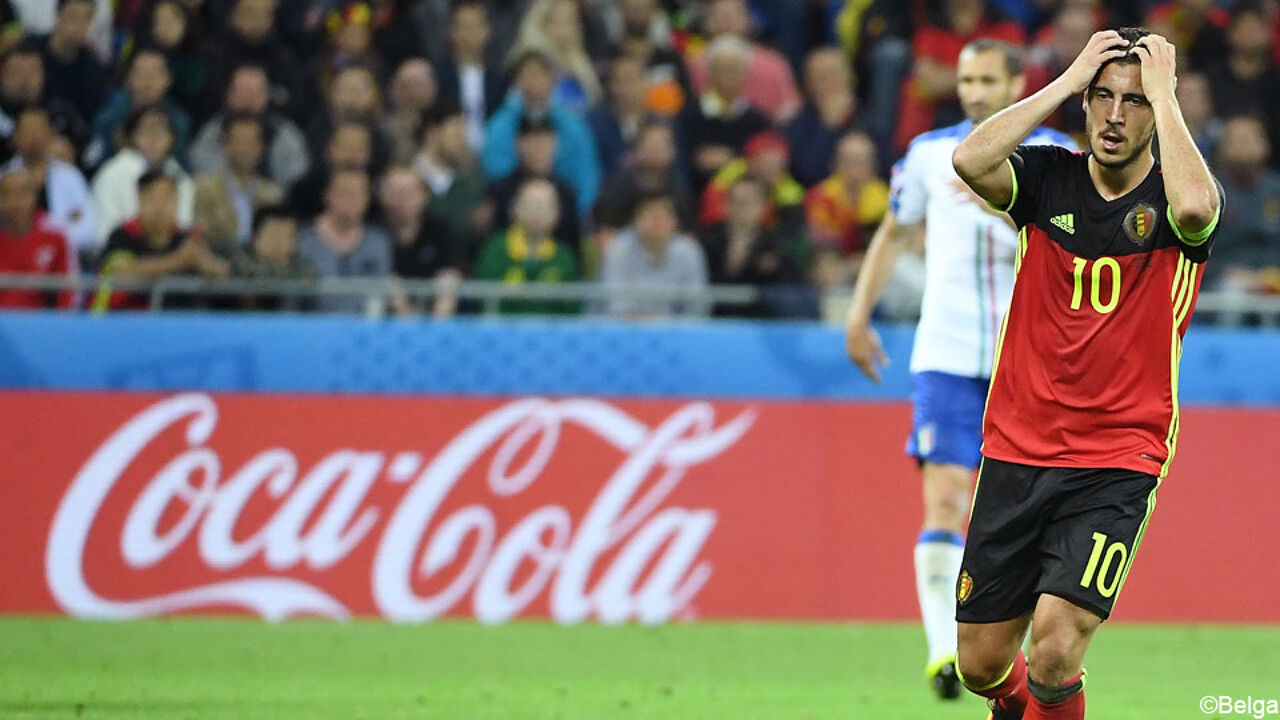 AFP or Licensors
Even skipper Eden Hazard couldn't break the deadlock.
"Italy found the recipe to neutralise the Belgians"
"Football fans from across Europe were looking forward to the opening game of Belgium's talented Red Devils", writes the Dutch Algemeen Dagblad. "But what a bummer it turned out to be. Italy found the recipe to neutralise one of the top favourites."
"The Belgians played like headless chickens for a long time. The attack has enough individual talent to score a goal from nothing. Nothing is lost for the Belgians, but they will have to play better."
"10 places? No way!"
"One thing is for sure: the gap between Belgium (2nd) and Italy (12th) on the FIFA world rankings is much smaller than on paper. A heroic performance by the Squadra left the Belgians knock-out", Italy's Gazzetta dello Sport writes.
"Belgium were fragile, only creating danger through an average Lukaku. De Bruyne was only a shadow of himself, while Hazard played a brave match but he was too predictable."
"Italy taught Belgium a lesson"
"Italy gave Belgium a lesson in organisation", France's L'Equipe points out. "De Bruyne missed almost everything he could miss in what turned out to be his worst match for the Belgian national team. Lukaku was not at ease in attack in a game where there was hardly any space. Hazard did what he could though."
"We hardly caught a glimpse of the flamboyant Belgian attack.The Red Devils will have experienced that the step from outsider status to top country is a big one."
Marca: "Belgium should play more as a team"
"Expectations were high for the young Belgian stars, who became pillars of strength in strong teams across teams", writes Marca of Spain. "But Belgium played an average game yesterday. They will have to play more like a team if they want to advance and get as far as they were expected to come."
"Equally as worrying was the performance in defence"
"Belgium were pedestrian in the first half, failing to get in behind the Italian backline, with De Bruyne particularly isolated", writes Phil Dawkes for the BBC.
"They upped the speed after the break but still struggled to test Gianluigi Buffon, with Lukaku curling over a good chance and substitute Origi spurning two glorious headed opportunities."
"Equally as worrying for Belgium was the performance of their defence.
Already without the injured Vincent Kompany, they looked particularly vulnerable with Jan Vertonghen deployed at left-back instead of alongside his Tottenham colleague Toby Alderweireld in the centre."