Brussels terrorist scare finished - suspicious person was student doing research
The Muntplein and surrounding streets in central Brussels were evacuated for most of the afternoon. This happened after a suspicious-looking person had been spotted in the area. On a particularly hot day, a man was seen wearing a long coat with wires coming out from underneath. However, after several hours of red alert, the suspect turned out to be a student measuring radiation and air waves. This also explains the belt and wiring system he was carrying on his body.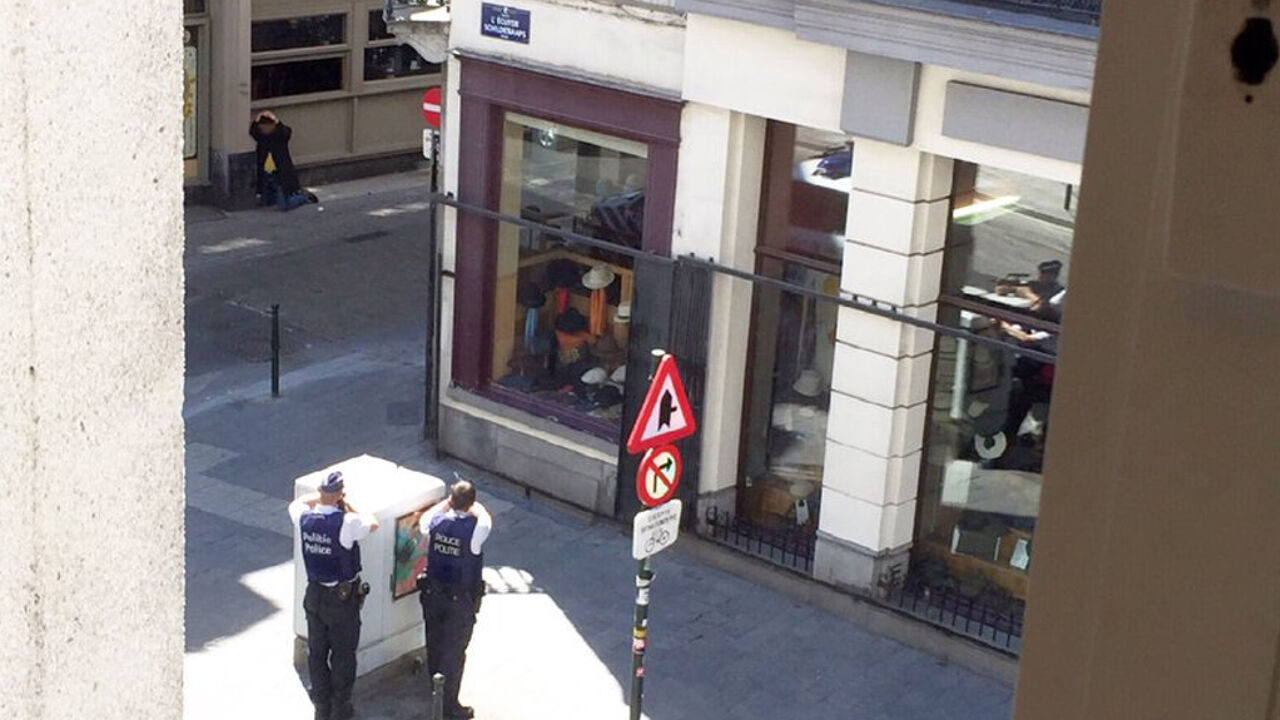 The suspect kneels down and keeps his hands on his head across the street.
The man was spotted by a security guard working for a private company around 1pm. Police and security forces immediately started a massive operation. They did not want to take any risk and had the Muntplein and some adjacent streets (including the Schildknaapstraat, Greepstraat, Grétrystraat, Kleerkopersstraat) cleared.
The safety perimeter also caused disruption to public transport. Around 2.45pm, police reported that the situation was "under control" but the man had not yet been apprehended. A photo showed how the suspect was kneeling down near a wall, with his hands on his head, while police were pointing their guns at him from different angles.
Why did the police operation take so long?
Members of the bomb disposal squad (DOVO) had to try and approach the man to find out whether or not he was wearing explosives. At least, that was the plan. As the man behaved suspiciously, a robot was sent to the spot, revealing that the suspect was wearing metal plaques.
Eventually, the suspect turned out to be an innocent student who was wearing something that looked like a belt - including some wires - to do research about radiation and air waves in Brussels, Christian De Coninck of the Brussels police told a press conference.
"When we found out his body was covered with metal plaques and considering the fact he did not cooperate, we had to step up our efforts", he explained the massive operation.
It's possible the student will have to cover the cost of the operation. "Given the fact that the person was behaving very passively and suspiciously during the operation, police will file a claim for financial compensation". The man was taken in for questioning.