16,000 for Gordel Festival; Flemish PM in small incident
The Flemish Premier Geert Bourgeois (N-VA) has been involved in a small incident with Tom Van Grieken of the far-right Vlaams Belang at the start of the Gordel, an event to highlight the Flemish character of the municipalities around Brussels. Bourgeois fell on the ground with his race bike, but did not sustain any injuries. In all, some 16,000 people took part in the event, including quite a number of Flemish politicians.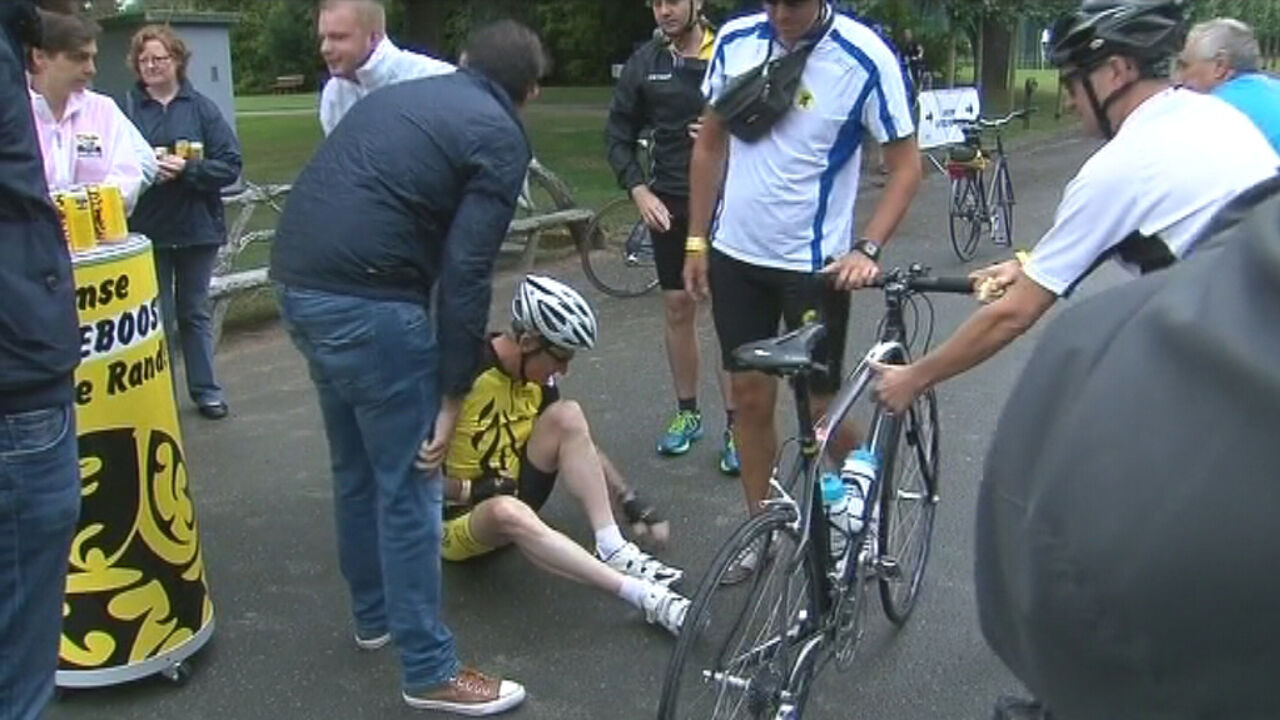 The Gordel is an annual event that focuses on sports and music. People can take part in bicycle tours or walks, and watch a concert. It traditionally also has a political, Flemish nationalist character, as it is aimed at underlining the Flemish presence in the area around Brussels, where Flemish municipalities are seeing an increasing number of French speakers.
Two Flemish political parties putting Flanders first in their manifesto, are the Flemish nationalist N-VA and far-right Vlaams Belang. Both are trying to seduce Flemish nationalist voters and have turned into bitter rivals.
The incident occurred in Huizingen, one of the meeting points for Gordel enthusiasts, at a place where Vlaams Belang members were campaigning for "a Flemish energy boost" for the Brussels border area. Bourgeois had just set off on his bike when he was confronted with Tom Van Grieken who "blocked his way". The PM could not brake in time and fell on his side. Van Grieken claimed Bourgeois deliberately provoked the fall. Bourgeois lost some skin in the accident, but was not really hurt. (see also video below, click to play)
Cycling, walking, concerts and culture
This year's edition was marred by heavy morning showers, but the weather improved later on. The event was revamped some years ago, with the focus, apart from the sports aspect with cycling and rambling, also on concerts and culture. The Gordel used to attract up to 100,000 enthusiasts in its heydays; now this is down to some 20,000 - today had 16,000 particpants.
Bourgeois voices concerns about Flemish minority
Geert Bourgeois (bottom photos) opted for the 30 kilometre cycle route. "This is a sports event with a political touch. It's of the utmost importance that we keep highlighting the Flemish character."
The Flemish municipalities around Brussels (such as Drogenbos, Linkebeek, Wemmel, Sint-Genesius-Rode, Kraainem and Wezenbeek, red.) are battling a process that sees the Flemish residents becoming a minority as the area abounds with French speakers. "Only 35 percent is speaking Dutch. This could be a problem for the coherence in our society", Bourgeois said about this.