Belgium counters Russian accusations and "expects apologies in the short term"
A triumphant Belgian Defence Minister Steven Vandeput told a press conference late on Thursday that "the Russian evidence against Belgium actually shows we are innocent." It was the latest development in a round of diplomatic bickering between the two countries, with Russia claiming Belgian fighter jets caused civilians deaths in Syria, and with Vandeput digging his heels in: "We were not there."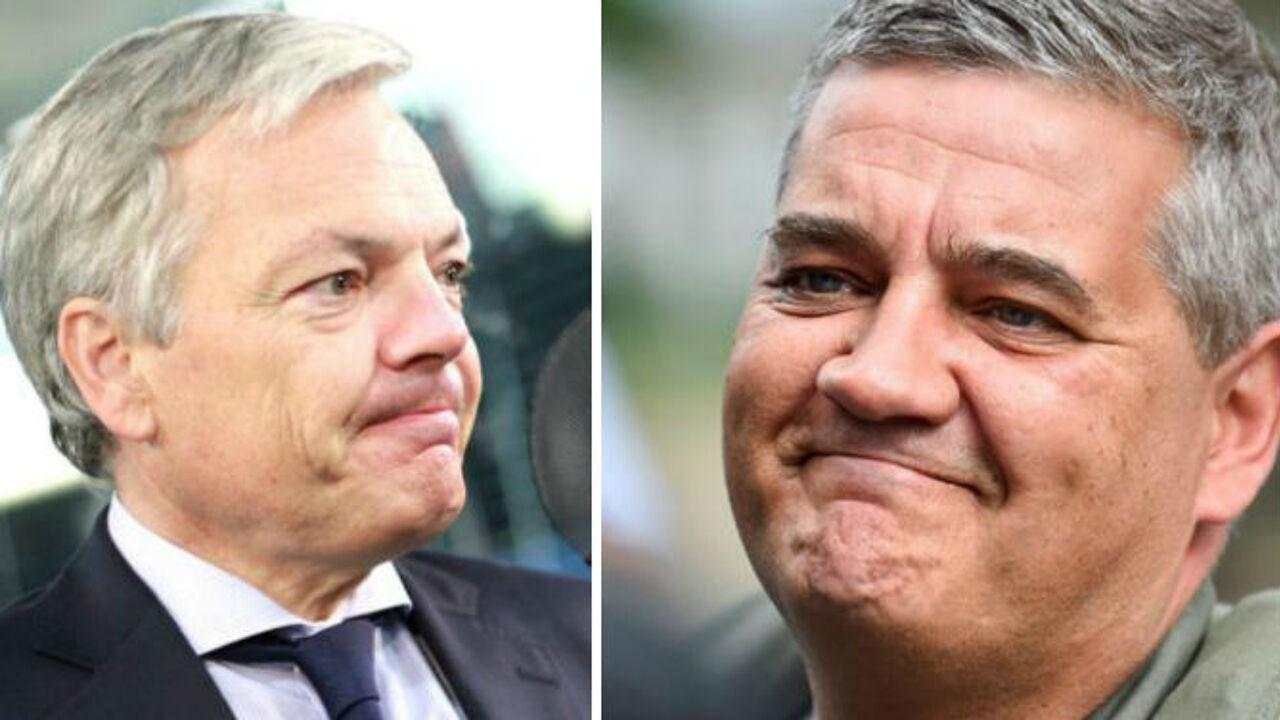 Foreign Minister Didier Reynders and Defence Minister Steven Vandeput.
Let's rewind to yesterday first. Russia claimed that Belgian F-16 fighter jets took part in the bombing of the Syrian village of Hassadjek - near Aleppo, a strike that killed several (there are talks of 6) innocent civilians on Tuesday.
Belgium was not amused and immediately denied the allegations. Steven Vandeput (Flemish nationalist) said that "it's probably a Russian move to sow discord among the coalition members by spreading false information." Vandeput added that "we normally don't talk about the whereabouts of our war planes, but I can formally deny the Belgians were there on the time mentioned."
The Russian claims triggered a diplomatic incident. The Russian ambassador to Belgium, Tokovinin Alexander Avreljevitch, was summoned by the Belgian government for more explanation.
"I repeat: we were not there"
Today, the issue escalated. Russia said it had evidence that the Belgian jets were indeed there, citing data collected from radars. Moscow thus confirmed its accusations against Belgium.
Steven Vandeput (N-VA) was informed about the Russian move in the Belgian Chamber of Representatives and immediately responded. Speaking before Parliament, he said: "As I am speaking here, there are allegedly radar images that prove our presence there. Again, I repeat that we were not there when this attack took place."
Both Vandeput and Foreign Minister Didier Reynders (Francophone liberal) said that they asked the Russian ambassador to come up with evidence this morning, but that he did not supply any. "So I repeat: we were not there", Vandeput said.
Didier Reynders confirmed Vandeput's words: "I'm afraid that false information has been spread. This is war, and it's possible for Russia to use all possible means."
"Actually, the Russians prove it was not us"
Speaking at a press conference in the late afternoon, Vandeput gave a possible explanation that could solve the whole issue. A triumphant Vandeput told journalists "I have the Russian evidence here with me. We had a look at this so-called evidence, and we see that the plane numbers mentioned there, their electronic number plates, cannot be linked to Belgian fighter jets."
"What we see is that the Russians have made a mistake. We hope they will realise soon that they have actually supplied the evidence we were not there. We expect their apologies in the shortest terms."
Vandeput could not say which country the number plates could be referring to.