Ensor and Spilliaert: Ostend Greats at Mu.ZEE
On Saturday 29 October "Intrigue: James Ensor by Luc Tuymans" opens at the Royal Academy in London. But for fans of the great master who can't make it to London, there is a handy alternative: last April the Mu.ZEE museum in Ostend opened a new wing dedicated to the Ostend artist and here you get two greats for the price of one: Ensor is contrasted with that other giant of Ostend painting, Léon Spilliaert.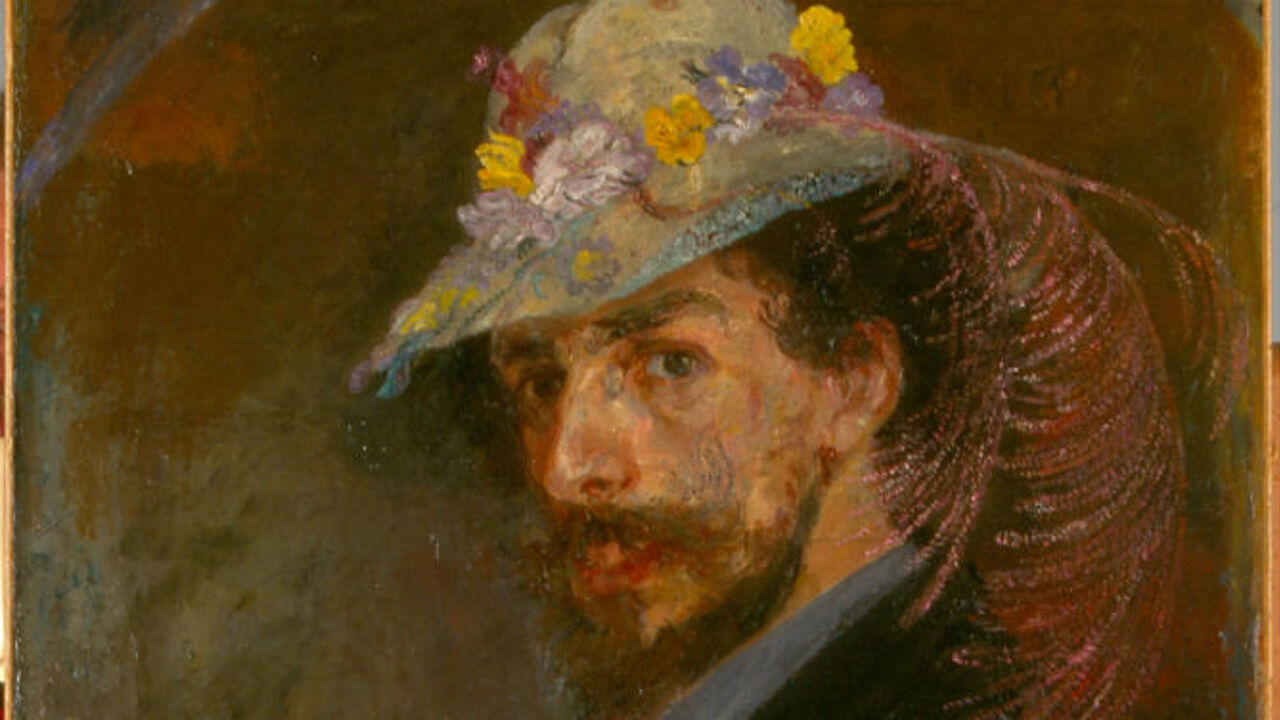 The two artists have much in common, but there is also much that divides them says Phillip Van den Bossche, Mu.ZEE director: "Both are Ostenders and it is the sea and the game that light plays with the sea that repeatedly features in their works. The two were born two decades apart but lived and worked in the same town that also inspired them."
"Ensor, whose father was English, grew up in a provincial town dominated by its fishing port. Twenty years later, by the time that Spilliaert was around as a young lad, Ostend had become a fashionable seaside resort with a casino kursaal that attracted the wealthy to the seaside. Both Ensor and Spilliaert (self-portrait below) came from middle class backgrounds. Ensor's mother ran a curiosity shop with masks and souvenirs for the many English visitors, who came to Ostend. Spilliaert's parents had a perfume store. Spilliaert's father produced his own scents and Spilliaert helped to design the labels that went on the bottles. But there are differences too. Ensor attended the art academy in Brussels. Spilliaert had no formal training and was a self-taught artist. Their characters too were very different. Ensor saw himself as an exponent of the fine arts tradition that produced Rembrandt and Rubens. He wanted to rival these artists, but his works are also imbued with a critical view on society that continues to surprise us to this day and gives him a contemporary edge."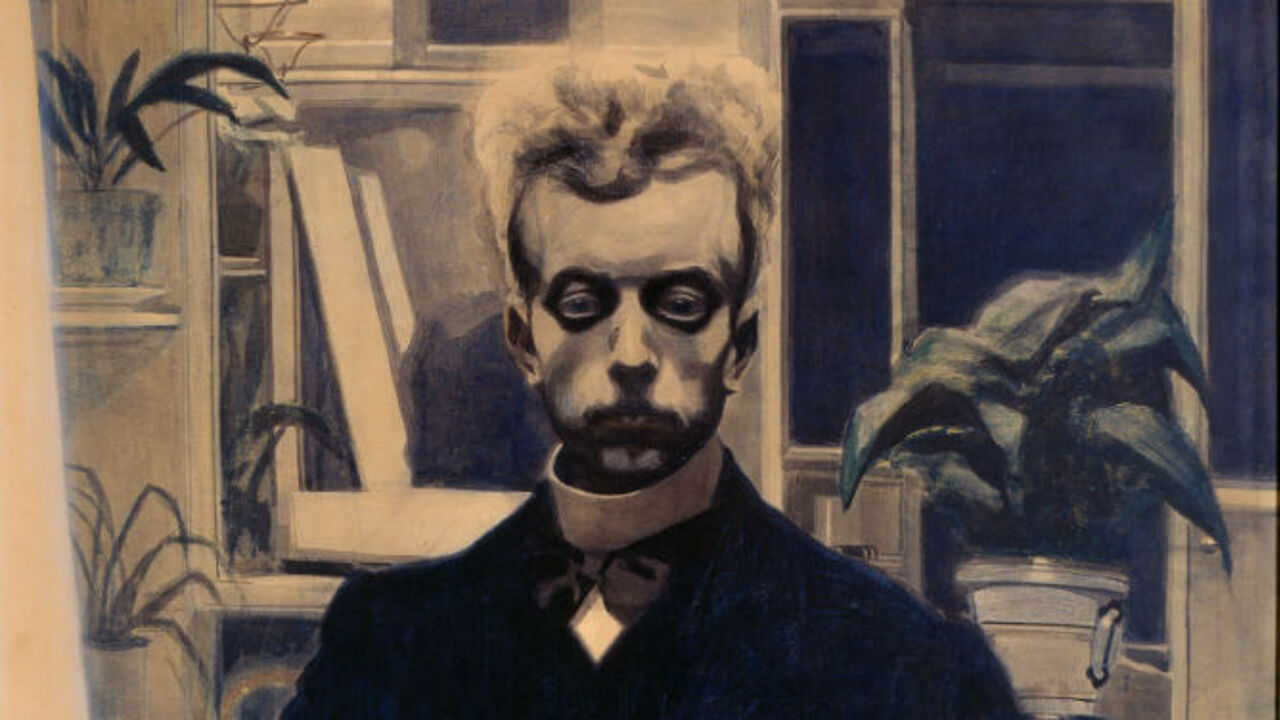 The new wing of the Ostend museum includes 200 works by Ensor and Spilliaert. It's the largest collection of Spilliaert's work anywhere in the world.
Phillip Van den Bossche: "In recent years Spilliaert has attracted more and more attention abroad. One of his works will also be on show at Intrigue, the James Ensor exhibition that is being curated by fellow Belgian artist Luc Tuymans. Mu.ZEE has two works in the exhibition: a portrait of the American entrepreneur Andrew Carnegie by Spilliaert and "Self Portrait with Flowered Hat" (photo top) by Ensor. It's an exceptional work. Originally he painted it without the flowered hat and then decided to add it."
If the two Ostend greats were never very close during their lifetime, the exhibition opens with two remarkable photos: two life size photos showing the two artists on the balcony of the Ostend casino kursaal. On the separate photos taken four years apart both are standing on identically the same spot with the beach and Ostend promenade at their feet. Below we see Léon Spilliaert with fellow artist Oscar Jespers.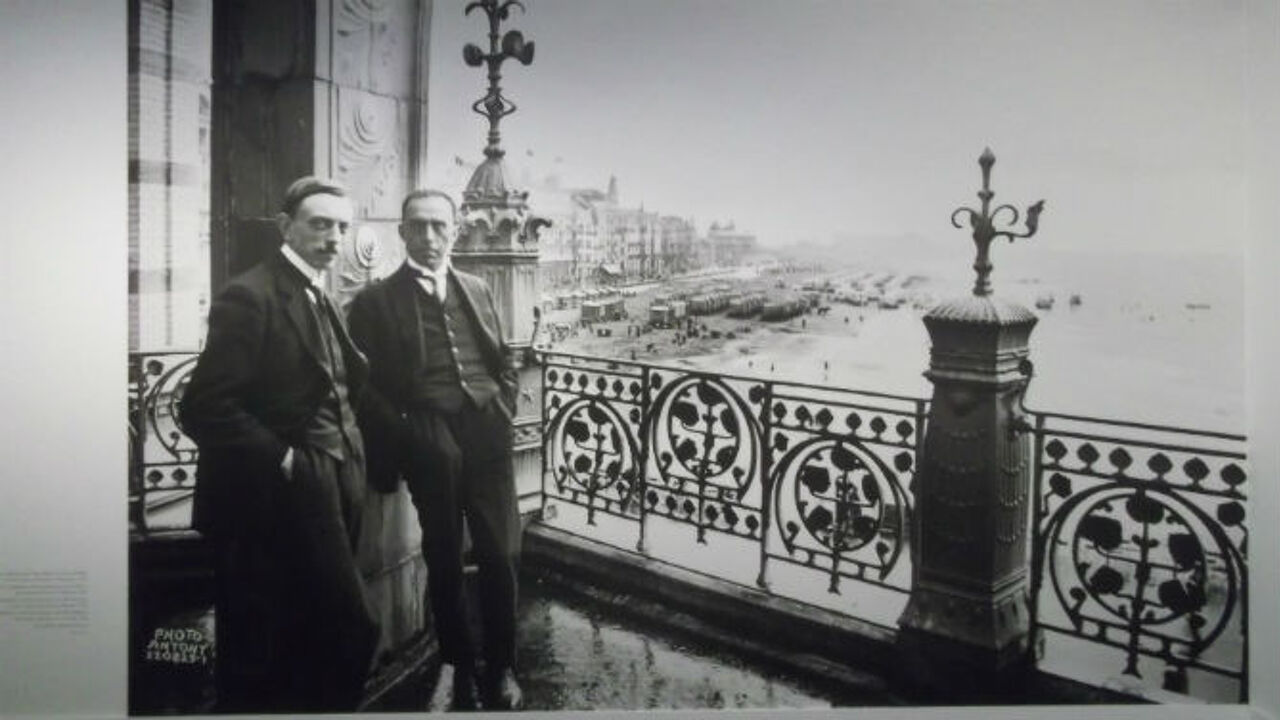 The two artists' works may be as different as night and day, they both shared a deep fascination for Ostend's light, the port's fishermen, beach life and the rhythms of the sea. Ensor headed into the sand dunes at the age of 15 to paint. Arrived at the academy in Brussels his sketchy style with blurred lines and shapes was admired. He paints portraits, the sea and the sand dunes, the masks in his mother's shop and the streets and rooves of Ostend.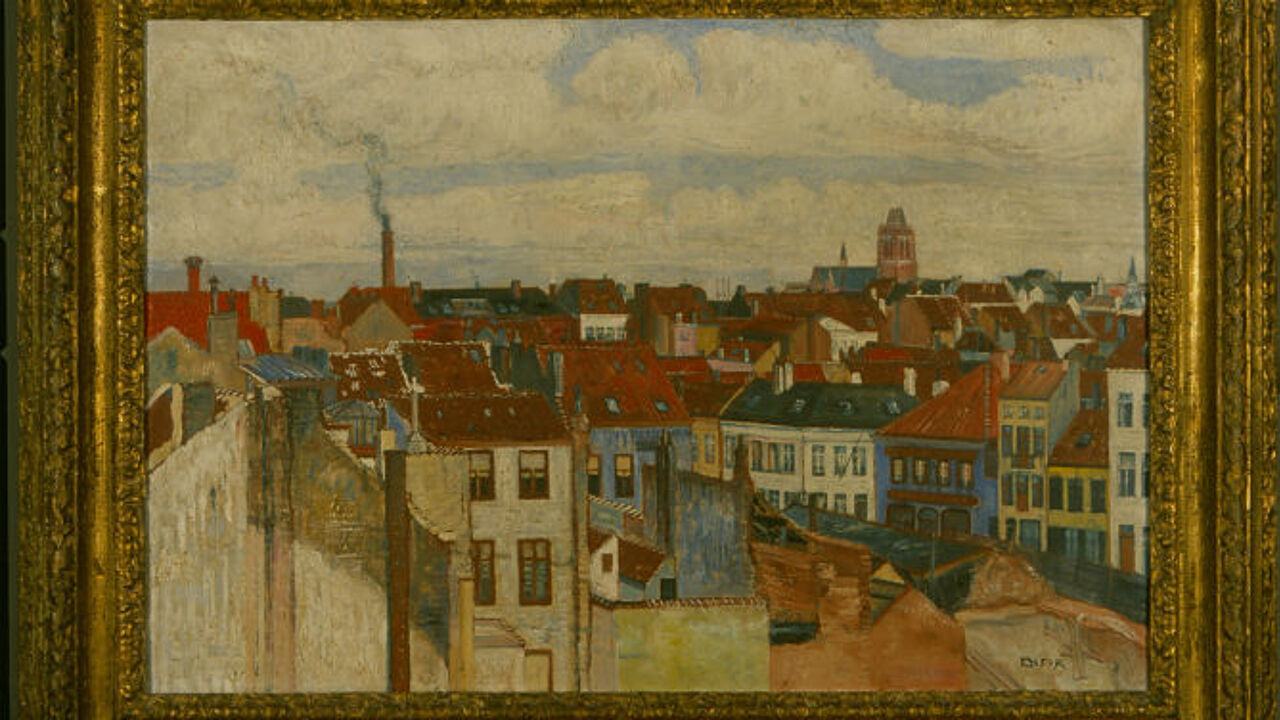 Spilliaert too was inspired by the city, the streets that he wandered through at night. He painted the moonlit beach and lighthouses reminiscent of Edward Hopper. Spilliaert was a night-bird. Nocturnal darkness accompanied him on his lonely wanderings through Ostend. He drew the light from the moon and street lighting falling on objects employing a very personal technique using coloured pencils, pastels, water colours, gouaches and Indian ink washes. A set of his aquarel paints is on show at Ostend. According to Luc Tuymans both Ensor and Spilliaert were loners, but Ensor still believed in genius and loved to create a spectacular scene, Spilliaert's work and colours are more subdued. His favourite colours, green, grey and black predominate also in the two self-portraits that are on show. The atmosphere is somewhat lugubrious. The painter has adopted a ghostly appearance. Spilliaert loves a still life and girls and women feature prominently in his works too.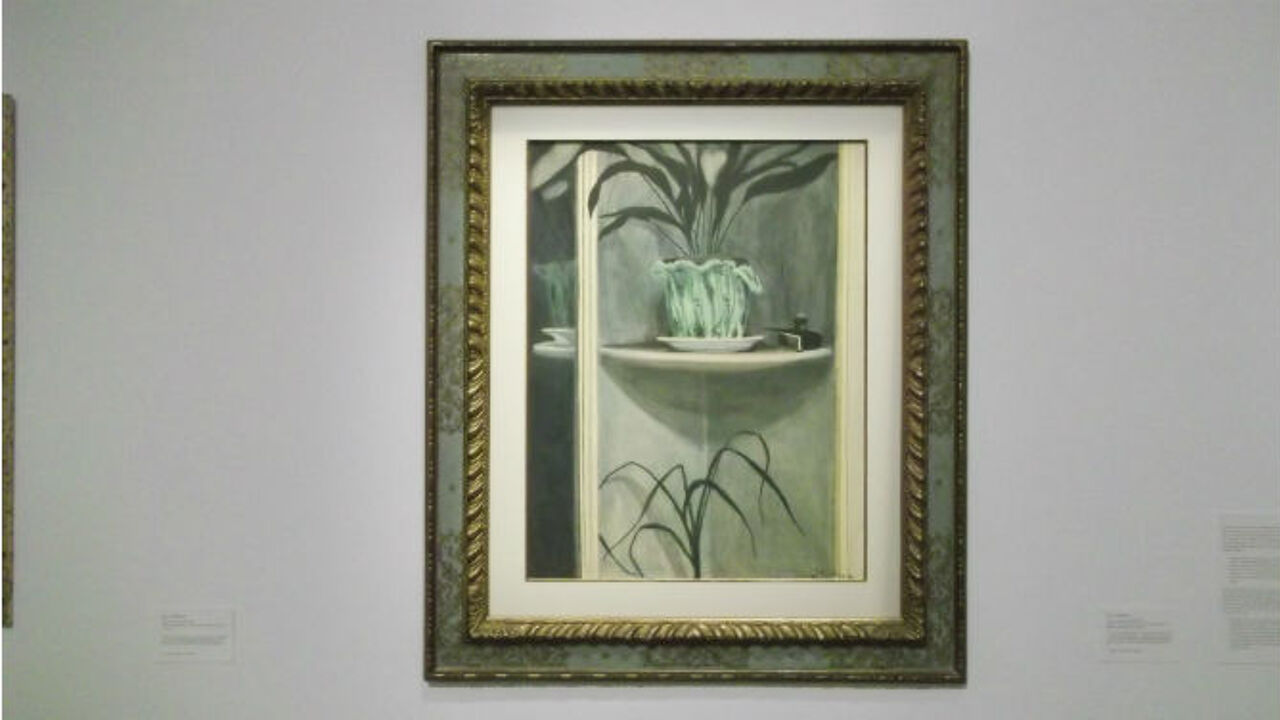 Ensor's English father seems to have been largely missing from his life and the painter grew up in a world dominated by women: his sister and his mother, whose shop with flowers, Chinese vases and masks served as inspiration for his paintings. Don't miss the moving portrait of his mother on her deathbed. Ensor too was an admirer of Turner witness his work 'Christ calms the Waves' that can be seen in Ostend.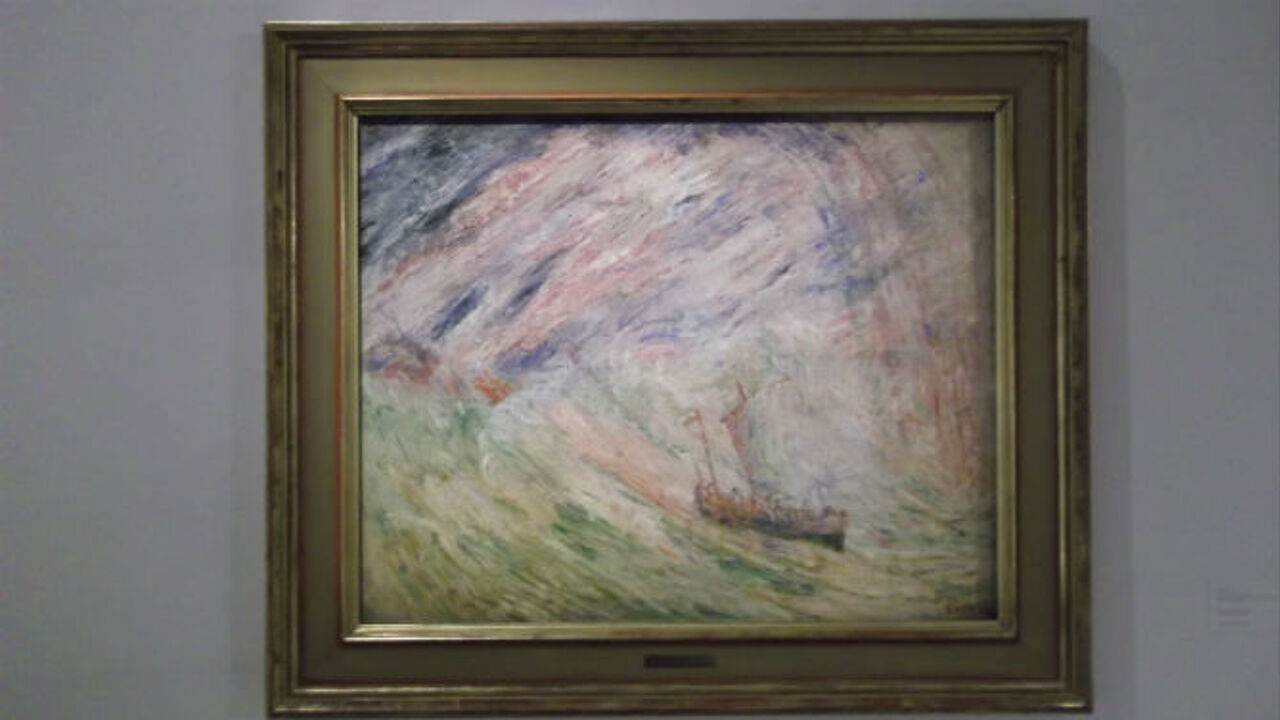 Phillip Van den Bossche: "The works are presented in a setting that provides context. We see the shops of the painters' parents, personal letters and memorabilia displayed in cases that allow you to come up really close and in Ensor's case e.g. admire his etchings".
"The exhibition also sheds light on the ballet that Ensor wrote after he received a harmonium as a gift. You can admire the painted dresses that he designed himself, listen to the music and see the drawings showing all the different characters".
Ensor and Spilliaert are also joined in the exhibition by the celebrated pioneer of the cinema, film maker Henri Stork. He too hailed from Ostend and with an amateur camera depicted the Ostend of the roaring twenties. We see the crowds on the beach and at the race course, but also the game played by the waves. He was an acquaintance of Ensor and Spilliaert, but also of fellow painter Permeke. He was fascinated by the same subjects to which in his cinema he added movement and often music. James Ensor makes cameo appearances in several of his films.
In conclusion, don't miss the tapestry depicting the "Entry of Christ into Brussels". Ensor's masterpiece is in the Getty Museum in Los Angeles. During his lifetime Ensor hoped to recreate the painting as a tapestry. It was never to be, but later on, an admirer brought this project to fruition. The result can be seen in Ostend.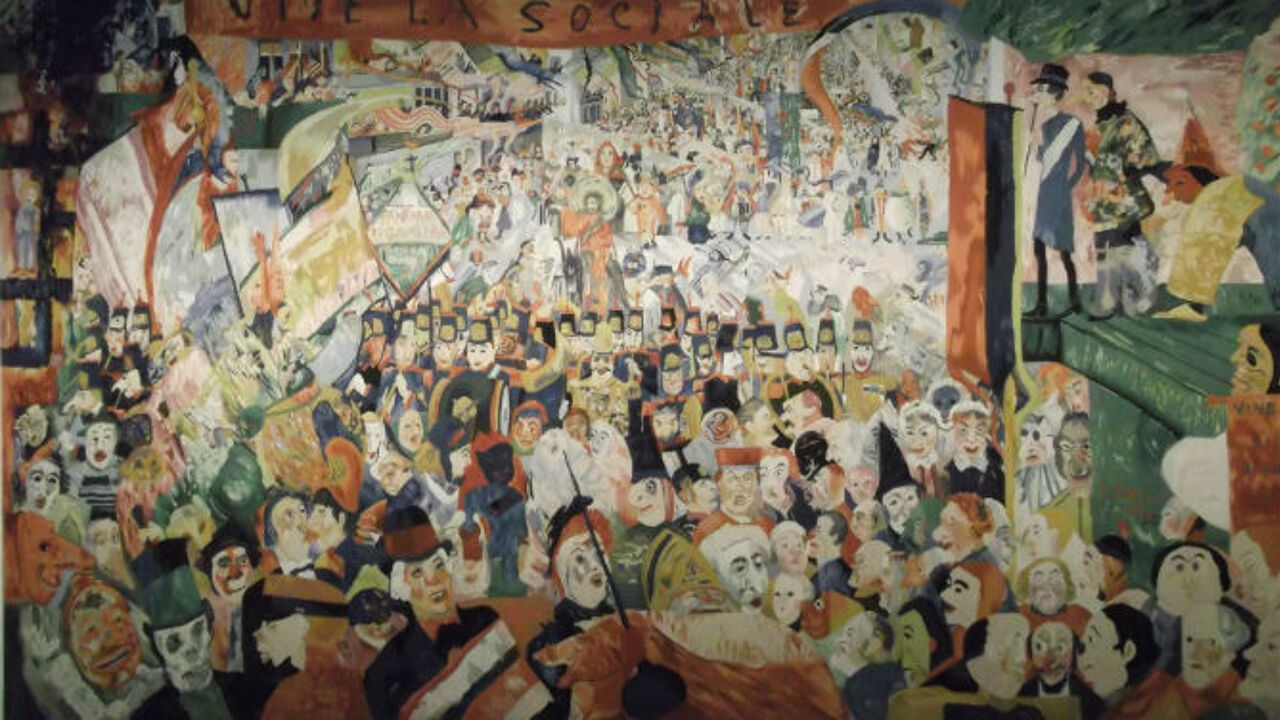 Mu.ZEE is open Tuesday through Sunday from 10AM until 6PM and is located at Romestraat 11 in Ostend.