Belgium's federated entities have at long last reached agreement on the EU-Canada free trade deal allowing EU member state Belgium to approve CETA; Belgium is the last of the 28 member bloc that approves the free trade deal between the EU and Canada.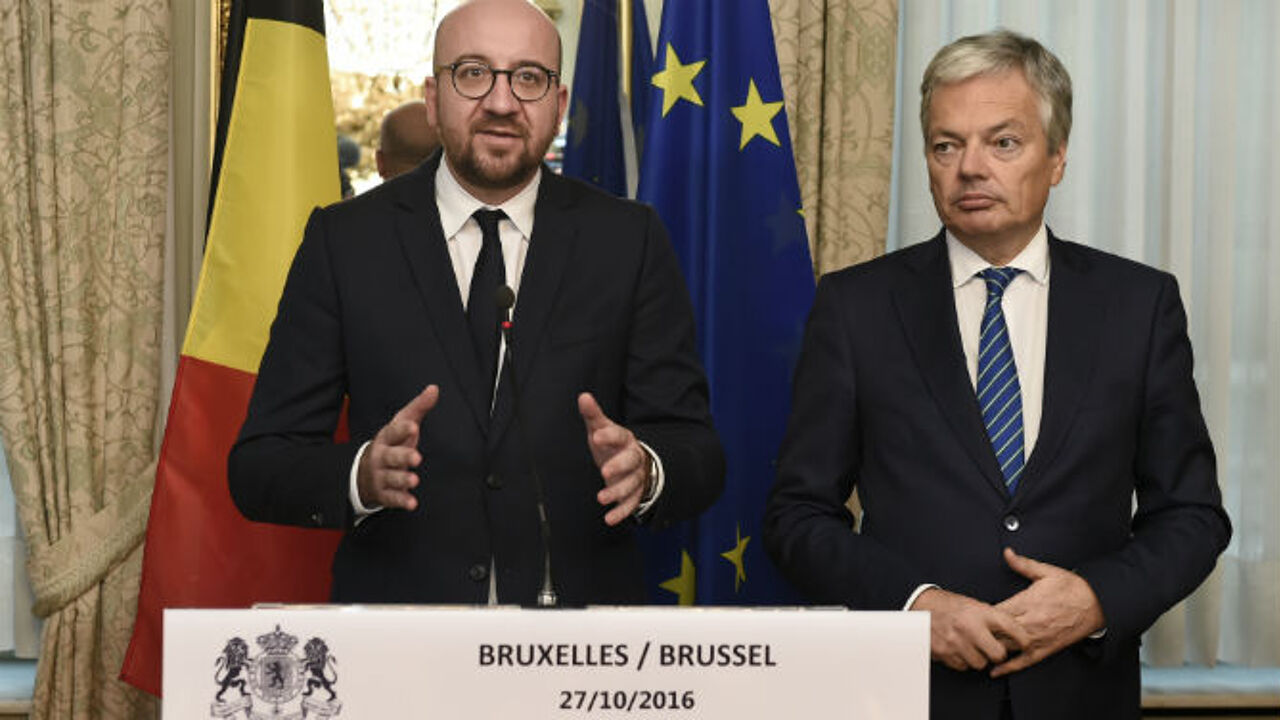 Belgium's federated entities and the federal government have come up with a settlement that is able to placate the objections of Wallonia and Brussels that were holding up the deal.
Representatives of Belgium's various governments have been locked in talks for days now after the Walloon regional government led opposition to the deal within Belgium's federal framework. The opposition centred on concerns about trade dispute settlement courts and safeguards for farmers.
Talks between the federal government and representatives of the devolved governments resumed at 10AM today. After an accord was reached on the final objections the text was handed to the Committee of permanent representatives of the European Union, the COREPER. Belgium's federal and devolved parliaments now have until midnight on Friday to endorse the treaty.
"When this happens Belgium can sign the treaty" PM Michel told a news conference.
Flemish PM Geert Bourgeois noted that not a word of the treaty had been changed but that the European Commission had provided a number of clarifications with regard to the Walloon concerns about the arbitration courts and safeguards for farmers.. 
A Belgian addendum will be added to the treaty that is legally binding providing guarantees that no private arbitration courts will be set up.
The green light from Belgium means that the EU can sign up to the CETA free trade deal with Canada. When exactly this will happen is unclear. The signing ceremony was supposed to happen today but because of the Belgian objections the EU-Canada summit had to be abandoned.
PM Michel faces tough questions in parliament
Speaking in parliament this afternoon PM Charles Michel insisted that Belgium had regained its credibility in the EU.
Mr Michel told lawmakers that the accord would generate 12 billion euros for the Belgian economy and that that meant more jobs: "We are showing that we are an open country, economically but also internationally and diplomatically."
Flemish socialists lauded the Walloon PM Paul Magnette and expressed admiration for his determination that meant he did not give in in the CETA talks.
Dirk Vandermaelen said that Mr Magnette had ensured that there had been a sea change in the way free trade accords are discussed: "It used to be possible to steer accords like this through parliament without any criticism. This is no longer possible."
"At long last we're going to discuss how we organise globalisation. The victims of globalisation are at the bottom of the ladder."
Mr Vandermaelen suggested that Brexit supporters in the UK and the far right in France and Germany had played on the unrest caused by free trade deals like CETA.