CONNECTICUT - The common thing about Trump and Sanders
The presidential battle in the U.S. through Flemish eyes! Today part 10: Ingmar Samyn, working at Yale Law School and writing us from New Haven, Connecticut. "In the Truman Show, the main character finds out one day that his whole world was fake (...) I believe that the rise of Donald Trump is the inverse."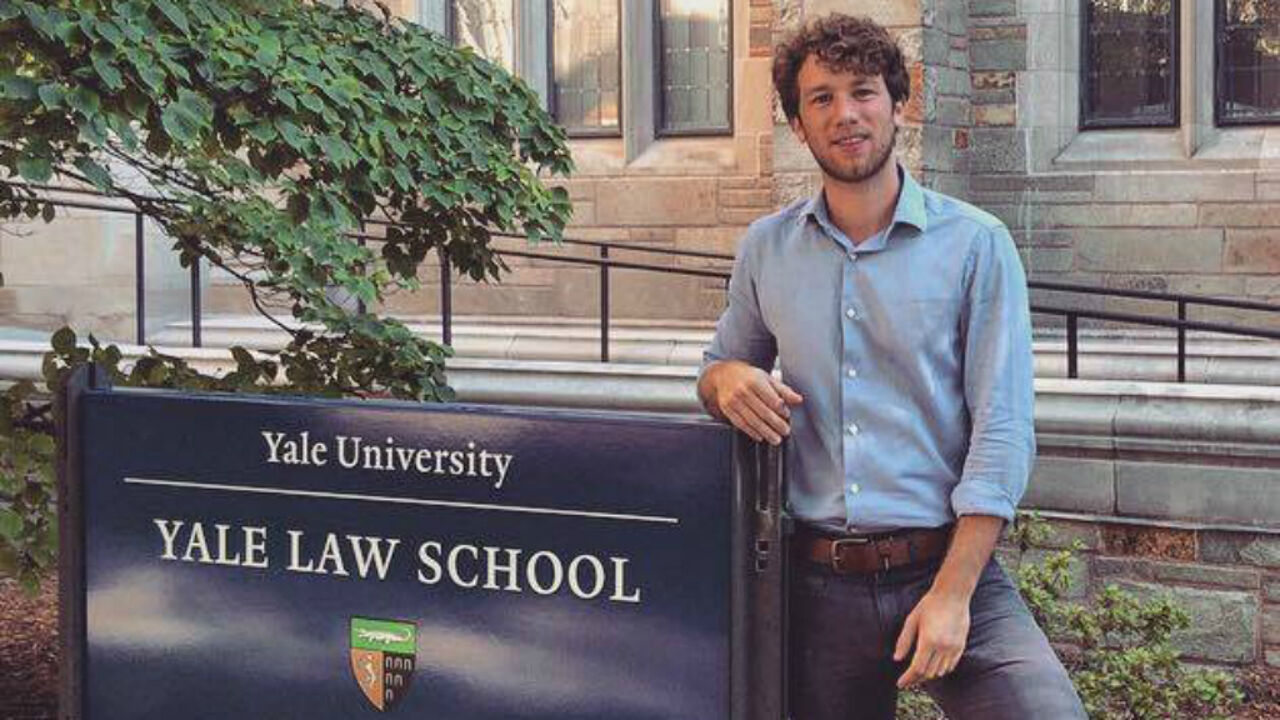 Ingmar Samyn graduated from Yale Law School (U.S.) in 2016 and currently works as a Project Associate with the Schell Center for Human Rights at Yale Law School and as an intern with the Permanent Representation of Belgium to the United States.
He studied Classics and Law at the University of Leuven (Belgium). During that time he was also an exchange student at Duke University School of Law (U.S.).
Garbage container
As I step onto the bleak parking lot behind my building, closed off on three sides by a fence and the high walls of the apartment complex, indistinct Spanish utterings fall silent. The cautious look of a woman with a child greets me.
They are sitting next to a garbage container on three concrete blocks, facing the wall. Every day at around five in the afternoon, they build their improvised shelter, and they disappear again a couple of hours later.
Contrasts
The city of New Haven is home to one of America's most prestigious Ivy League universities: Yale. As I hurry to classes at Yale Law School – alma mater to American presidents, Supreme Court justices and current presidential candidate Hillary Clinton – I cross the notorious New Haven Green, a 16-acre park located in the downtown area.
No students here. Only beggars sitting on the benches in the blazing sun, wandering madmen and drug dealers. With its high crime rate and gun violence, New Haven is ranked among the top ten most dangerous cities in the country.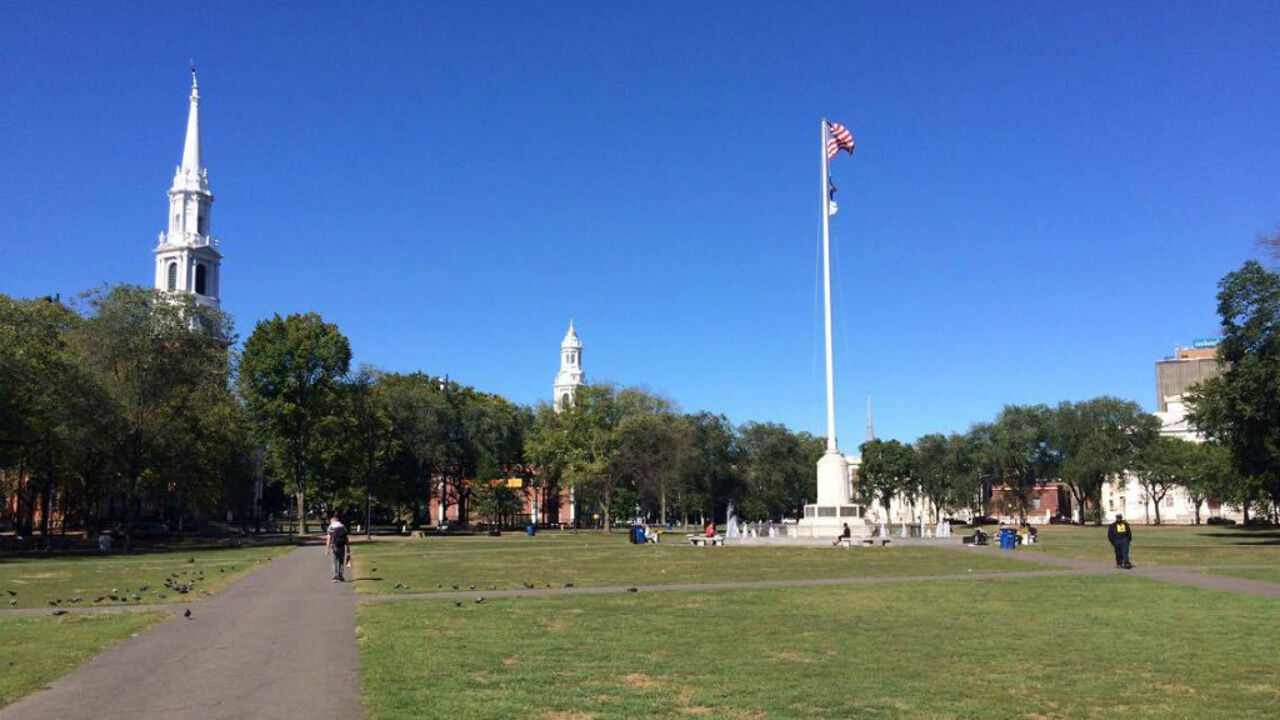 Bubble
But none of this seeps into the lush and magnificent central campus of Yale, where towering Gothic buildings and secret gardens nourish the mind for intellectual craftsmanship. It seems as if you step into an invisible bubble that 'protects' the student population from the miserable reality that looms large at every corner.
Yale – a wondrous world of ideas – is shielded off from New Haven by police forces and free shuttle services that safeguard students from walking on the streets at night. Attempts to prick this bubble are mostly unwelcome, like when the university opposed legislation to revoke its tax-exempt status that would have obliged it to pay its taxes to the state of Connecticut.
It is hard to know what is imaginary and real when both flow into each other in this parallel universe where socioeconomic differences are apparent and invisible at the same time.
Bernie at the Green
These observations sum up almost all of the most important issues in this current U.S. presidential election: immigrants, education, health care, gun control, and taxes. What is distinctly different from previous elections, however, is the pivotal role of social class.
When about 10,000 people flocked onto the New Haven Green in April to cheer for a militant Bernie Sanders, he bluntly stated that it was unacceptable that Yale had an endowment of $24 billion, but in the city, 36 percent of children lived in poverty. He rallied the crowd chanting, "Enough is enough! Here is my point and it's a simple one: Don't believe what anyone tells you that we cannot change the status quo."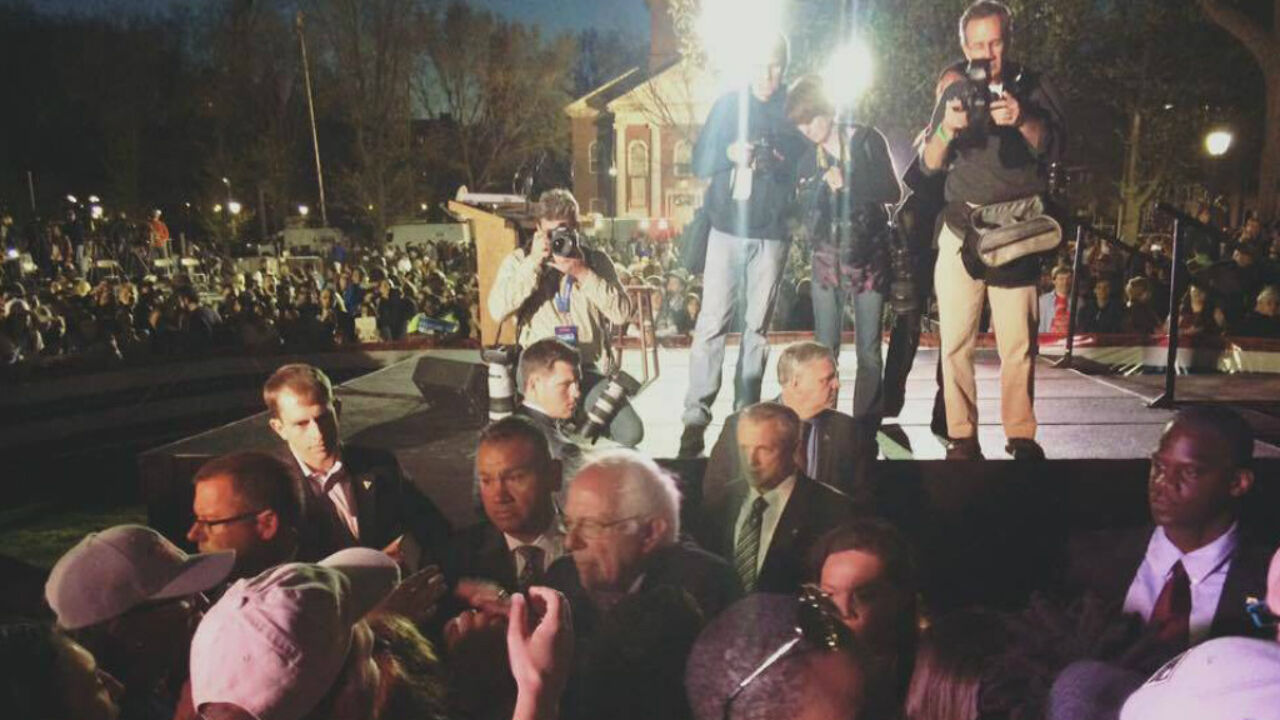 The common thing about Trump and Sanders
The status-quo is the increasing socio-economic inequality that has pervaded American society since the Reagan Administration. Both Republicans and Democrats have ignored the emergence of a white working class that now rears its head in anger in the face of soaring inequality, poverty and economic stagnation.
Sanders' "Enough is enough!" and Trump's "Make America Great Again!" have at least one thing in common: both respond – in very different ways – to wide-felt frustration with a political system that has left many helpless. This also explains why the enthusiasm for Hillary Clinton is rather lukewarm: although the more experienced and reasonable candidate, she still represents pragmatic establishment-politics.
Thrifty girl's revelation
In the fall of 2012, when Obama was campaigning for his second term, I was standing in a Thrifty car rental shop with a couple of Belgian friends who were studying with me at Duke University in North Carolina. The girl at the help desk noticed our foreign accents and asked where we came from, so we said, "Europe, Belgium."
Her response was, "Ah, Europe, that's where they take care of you!" I couldn't help but being absolutely dumbstruck by what she had just said. That crucial moment made me realize how little I knew back then about American society … and how insufficiently aware I was of what living in a European welfare system really meant.
"Why did you not participate in the cheering?"
When listening to Sanders on the Green a couple of years later, the words of the thrifty girl reverberated with me. I saw people cheering and clapping when he spoke against inequality of wages, poverty or education – against an indifferent society and, perhaps, in favor of a society that takes care of people. I did not clap, nor did I cheer, because I did not feel it was part of my struggle.
"We already have achieved what Sanders is talking about … back at home," I hesitatingly said in defense to a professor of mine who asked why I did not participate in the cheering.
The Trump show
In the movie The Truman Show, main character Harry Truman suddenly finds himself in a very akward situation: the world as he knew it is not real, but a Big-Brother-like TV-show people have been broadcasting since his birth. I believe that the rise of Trump in American politics is precisely the inverse of The Truman Show. In The Trump Show we do not wake up to realize that American reality is actually an illusion.
Instead, we have come to see that the illusionary has become reality: a politics of the lie that is able to succesfully deny even the most basic facts. When people support Trump and stick with him, regardless of whether he claims that Obama created ISIL or whether he calls for incarceration or even assassination of Hillary Clinton, you cannot but wonder whether this is a TV-show or reality.
My take on the matter is that it is neither, because the TV-show has effectively pervaded reality. This is extremely dangerous, especially when the United States now more than ever need politicians who are able to redesign communities like New Haven where the imaginary and the real have collapsed into each other: politicians who do not conjure up a one-man show, but who – keeping the Thrifty girl in mind – take care of people.