TEXAS - Mickey Mouse, anyone?
The US elections through Flemish eyes, part 12! Ann Willaert is writing us from Texas, a traditional Republican stronghold. "Why don't I see any Hillary yard signs?" Ann's report is the last in our series. In this article, she cites a Republican supporter: "Thank God for Wikileaks. Without Assange we wouldn't know that Hillary is a fundamentally bad person."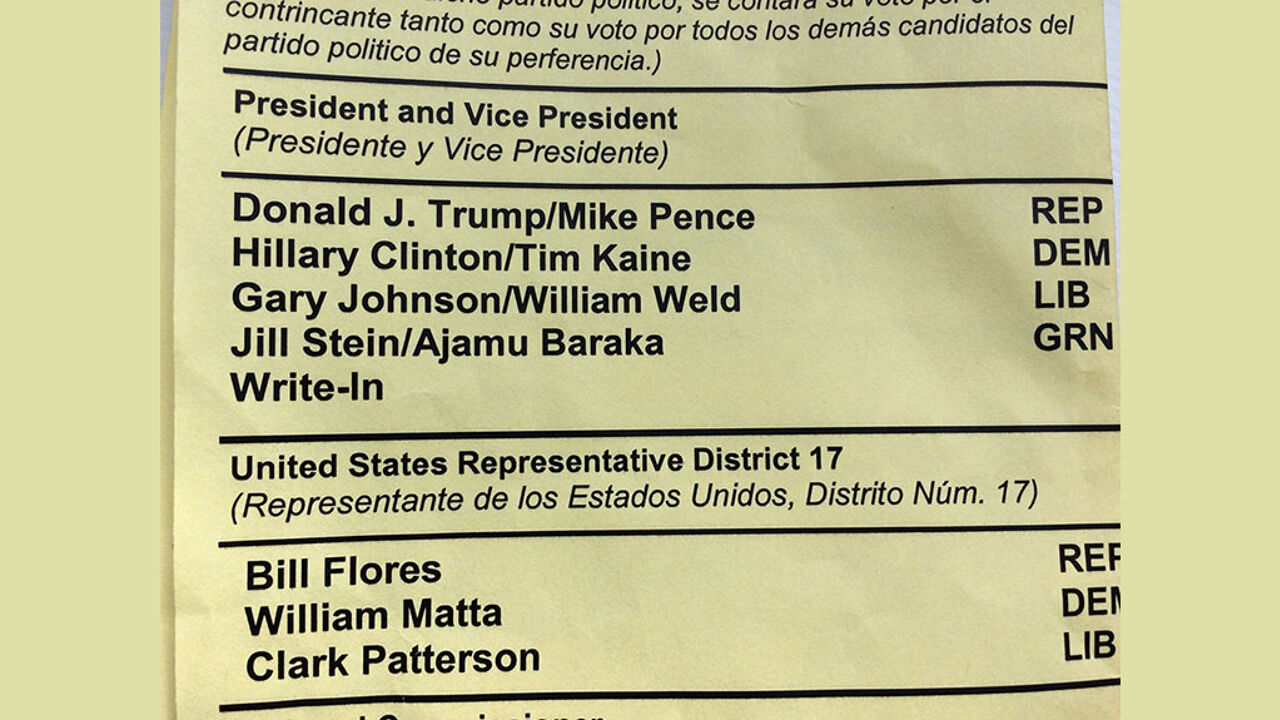 About Ann and Luc
Ann Willaert and husband Luc Berghman live and work in College Station, Texas. Ann has a career in education: she taught French for ten years at a private school, then English as a Foreign Language to international students from the Middle East, Asia, Africa, and South-America at the university, and is now an instructor at an adult education language center, where she teaches English to immigrants.
Luc is a professor at the university. They have two grown-up children: Dries and Thomas. College Station is located 100 miles west of Houston and 180 miles south of Dallas. The wider urban area has a population of 200,000 and 60,000 college students are enrolled at the university.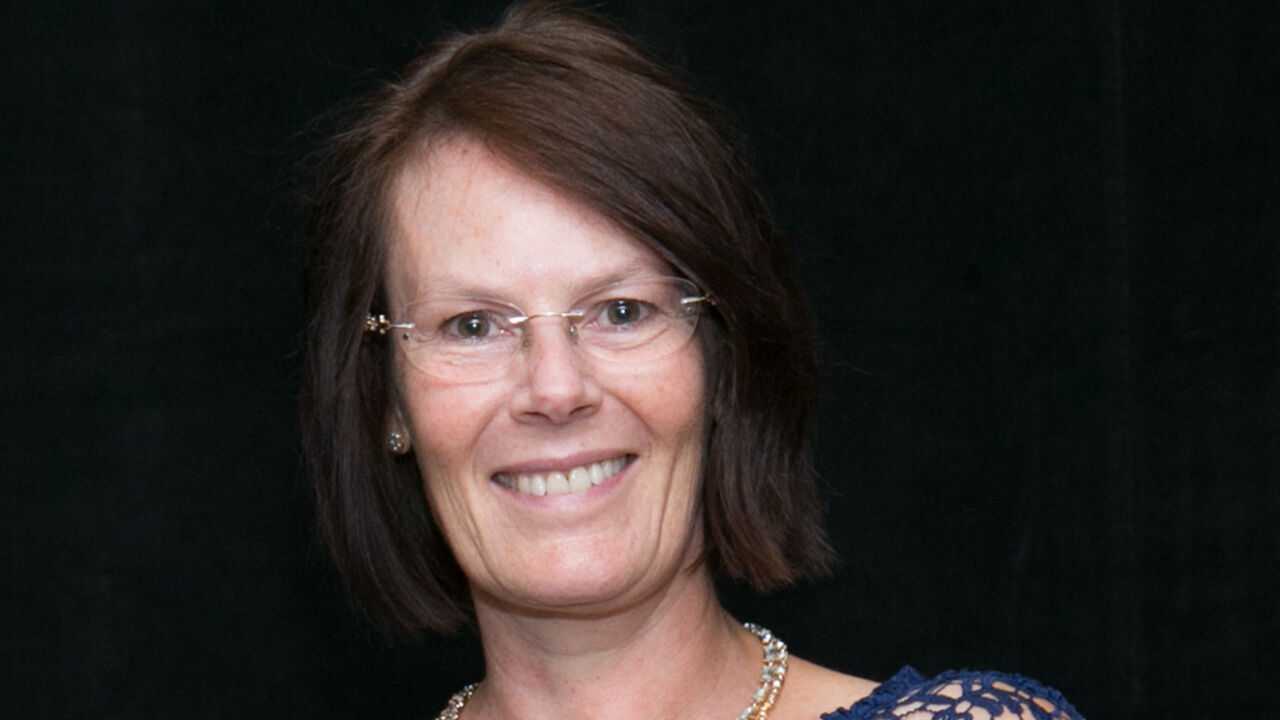 Red and maroon
Our family moved to Texas in 1998. It's a Republican state, and College Station bleeds red and maroon – the latter being the color of the university's football team. Texas A&M University is host to the Library and Museum of President George H. Bush, and the Bush School of Government and Public Service promotes active involvement and volunteering in daily life – not through government, but through individual or locally organized action.
'The other side'
Even though this region is deeply conservative, I have a hard time finding volunteers willing to share their opinion on this election.
My students do not want to talk about it. Friends – only if they know that you belong to the same party. Colleagues just blatantly say that they do not want to discuss politics. Facebook and social media – I have become more careful, and refuse to befriend acquaintances of whom I know that they belong to the "other side". And vice versa, I realize that I have been barred from some friends' pages, as well.
Four years ago, it was kind of a national sport to steal presidential yard signs, openly placed along the road or in front yards. But now, I haven't seen any. No stickers, magnets, signs sporting Trump or Hillary.
Elections: a Killing Field
My Republican friend tells me that her husband participated in national elections a few decades ago. They were invited to a seminar: How to Discredit your Opponent. My friends weren't interested, but their challenger apparently attended: TV commercials sporting her and her husband popped up, falsely claiming that he had an anger problem, and that she was having an affair.
Her husband lost the election, and they couldn't muster up the courage to run again. Even though her tone is casual and she laughs, I can still hear the hurt in her voice.
"Thank God for Wikileaks!"
The local chairman of the GOP talks to me for at least an hour. He gives me much food for thought. "The power struggle within our party produced a void after the last election, and that created an opportunity for someone like Donald Trump to rise to power. No, I do not like him. Ted Cruz is my personal choice".
"The media are not objective. It's obvious that they prefer Hillary Clinton. Thank God for Wikileaks. Without Assange we wouldn't know that Hillary is a fundamentally bad person; she is corrupt; she manipulates people; she treated Sanders unfairly. But CNN or the New York Times don't talk about that."
"The Democrats want to be politically correct at all times. That's why they stomp upon our Constitution: freedom of speech, freedom of religion, all of that is in danger of disappearing. They want to turn us into a socialist state, where we are not allowed to think for ourselves."
"Obama's politics were horrendous"
"Obama's politics were horrendous. Take healthcare, for example: premiums rose with 150%. I'm middle class. I cannot afford to pay all of this for my employees. Democrats are wrecking our economy."
This man is passionate, but friendly, and well-spoken. He is desperate about the choices we have. "We have 10,000 more registered voters than in 2012", he says, "it shows that people are incredibly concerned about the outcome of this election."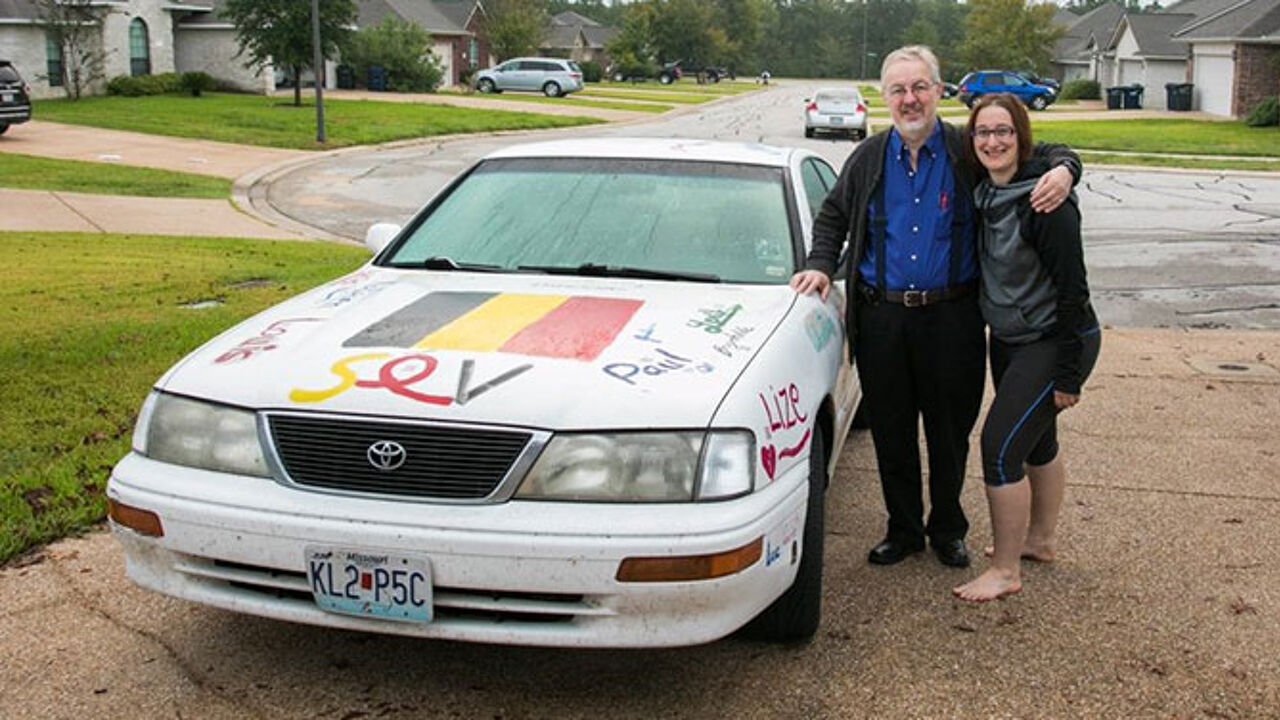 "A struggling party is dangerous"
At the Democratic Party Bureau, I ask the election workers how they feel about these opinions. They raise their shoulders. What can they say? "You cannot change these people's opinions. Texas hasn't voted for a Democratic president since 1976."
They worry about the state of the Republican Party, though: they have at least that in common with their Republican counterpart. "A struggling party, that's dangerous", one lady says.
Democrats in Texas: "The United States of Amnesia"
Any comments about Trump? "He's an idiot". Apparently, no need to elaborate. The Democratic Party is kind of making fun of Trump. You don't see outrageous, shocking-to-the-core memorabilia about Trump. Attacking his hair is apparently as far as they will go. A Trump piñata is gracing a corner in the office (photo).
Why don't I see any Hillary yard signs?' – "Well", says a youngster hesitantly, "I don't want to provoke my neighbors with a Hillary sign – and the local politicians who are up for reelection do not want to be associated with her".
So why are they pro-Hillary? "Hillary is a go-getter. She's been working for the good of all of us for such a long time. Health care, racial discrimination – she has been there, lived all of it". Then I wonder why Americans don't seem to remember any of it. "Oh," a baby boomer says, "The United States of America is The United States of Amnesia". She quotes Gore Vidal.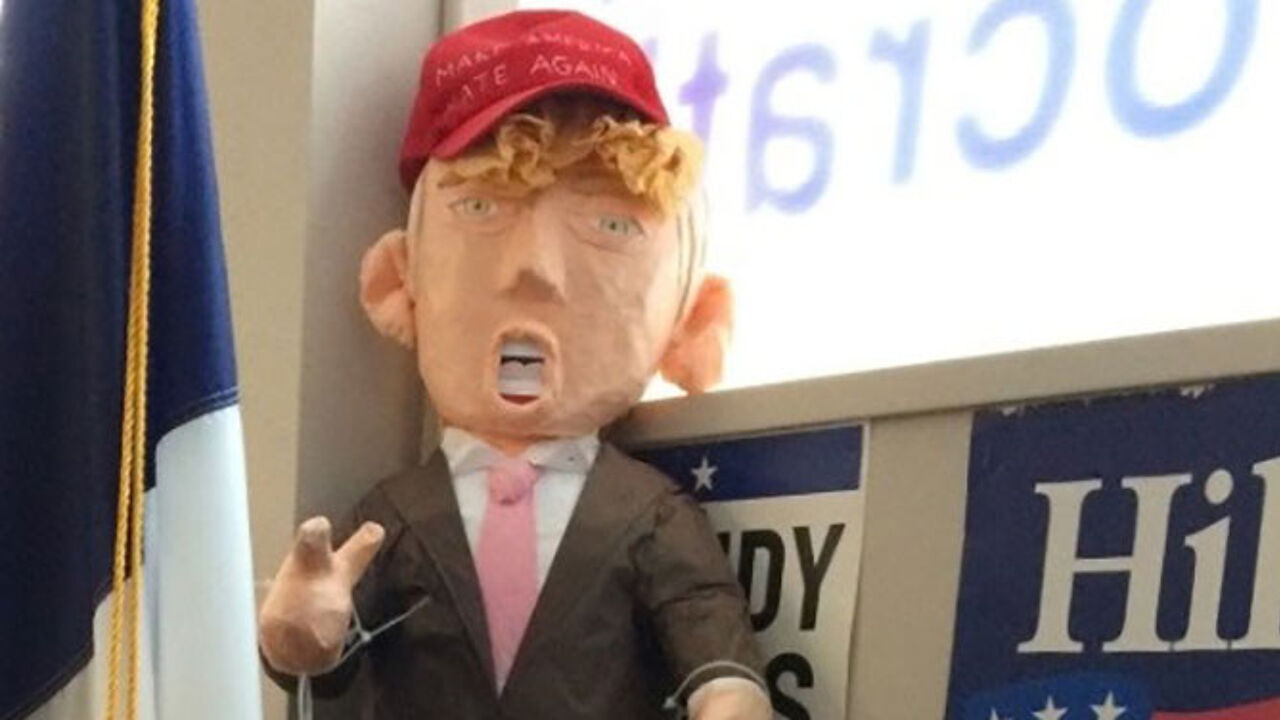 'American' Belgians voting for Trump?
I discuss the elections with the Belgian filmmaker Severine Dehon, who is visiting me for a few days. She is working on a documentary about Belgian immigrants and how they adapt to American society: signmycar.org.
I wonder if she has met Belgians who will vote for Trump. "Yes", she says "One family as far as I know, but to be honest, I do not want to talk about politics, because even among Belgians, there's contention this time around."
These elections cause so much anxiety, that The American Psychological Association published coping tips online.
Mickey Mouse, anyone?
It's worrying that the future of my American-Belgian-British granddaughter will be decided upon by American and European voters who do not seem to be informed about the plans of the parties they vote for.
I can't wait until these elections are over. I voted last week. By the way, did you know that you have the option of putting forward your own candidate for the presidency? There's a place next to "Write-In" on the ballot. Mickey Mouse, anyone?
From a friend...
"They're both up there in age … maybe they'll just drop dead during their presidency. That might actually be a great solution."
"Obama is weakening our army. He does it on purpose. Did you know that he is enlisting Mexican drug dealers, you know, the ones with the tattoos? They can become citizens then and vote for him."
"Hillary is a criminal. The Clinton Foundation uses 90% of the money for their personal expenses."
"Hillary destroyed the lives of Bill's mistresses."
"This president (Obama) lowers the flag for those blacks who were killed, but not for the Dallas officer who was shot."
"The democrats use names and addresses of recently deceased people and register them to vote."
"Climate change is just a pretext to redistribute wealth."