"The prospect of Trump as president is scary"
"It's gonna be challenging to get America united again." The American Club of Brussels organised an Election Night event at the Brussels Marriott Hotel. Flandersnews attended to taste the atmosphere and interviewed guests among the international crowd.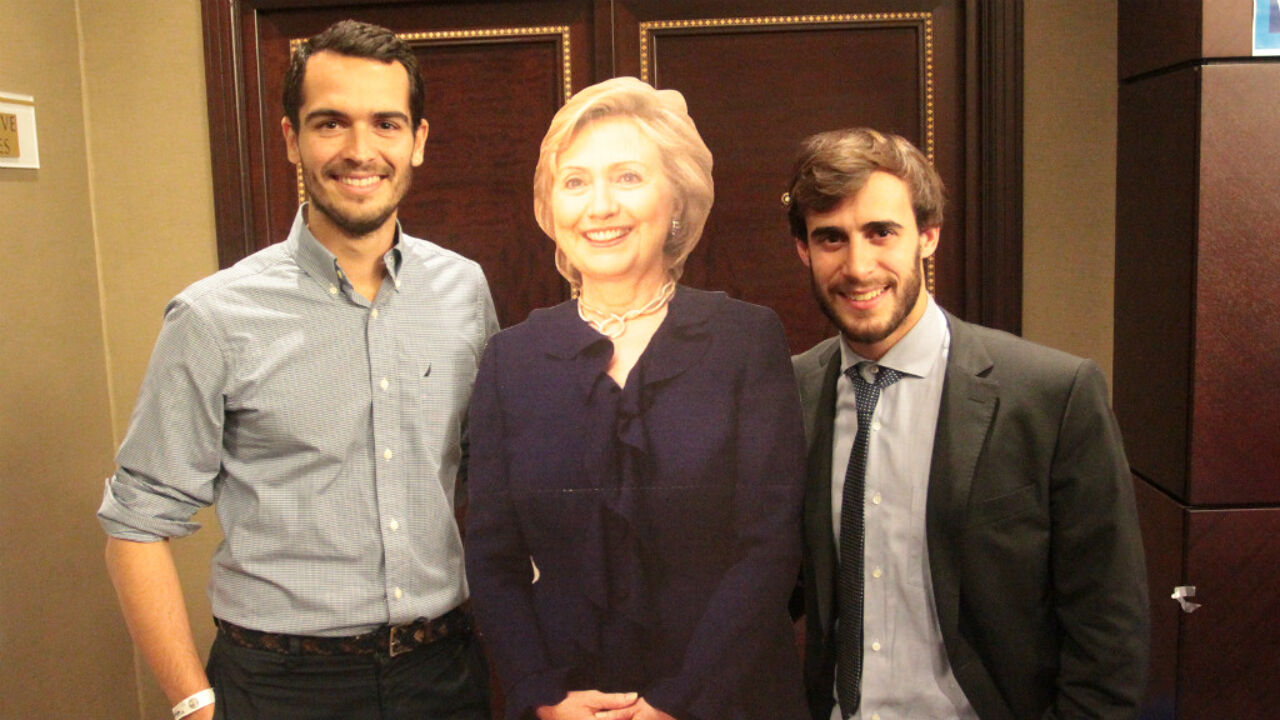 It's busy at the hotel entrance near the Beurs when we arrive around 8:30pm. Security checks are strict: everyone needs to pass a metal detector. It's a hustle and bustle inside; the event is a sell-out with many hundreds, mostly American expats attending.
In the back of the bar, we meet Diana, who lived in Los Angeles before moving to Hasselt, where she works as a self-employed writer. Diana is, like almost everyone at the event, a Democrat supporter.
After a long and polarising campaign, Diana hopes that if Clinton wins, she will be able to bring people back together. "It's gonna be challenging to win over Trump supporters and to get America united again."
"Clinton is a very smart lady, I know she has some ambitious plans for the country in terms of economic policies, foreign policies and social programmes. I think she has a lot of work to do but she can get it done."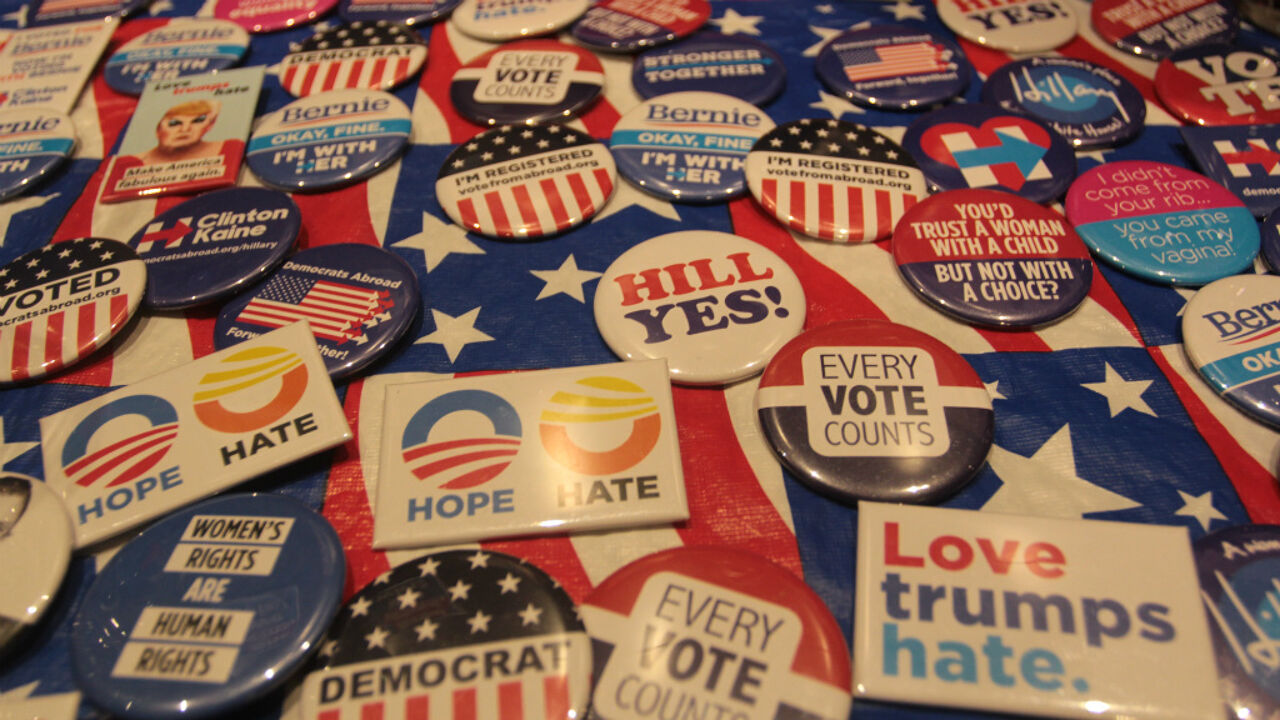 "I have definitely lost friends in this campaign"
In the same bar we meet Sarah, who hails from Milwaukee, Wisconsin. She had a lot of contact with her friends and family there in recent days and weeks. After the divisive campaign, Sarah says "there are certain family members I can't even talk to. People are so in favour or against a candidate, it's been very polarising."
Sarah learned when to stay away from politics. "You know there are certain people you can't talk to about politics. And I have definitely lost some friends, definitely. Trump's campaign has given people a platform for racism and sexism and they said things I certainly won't tolerate." On Facebook, Sarah blocked or defriended a "fair" amount of her friends.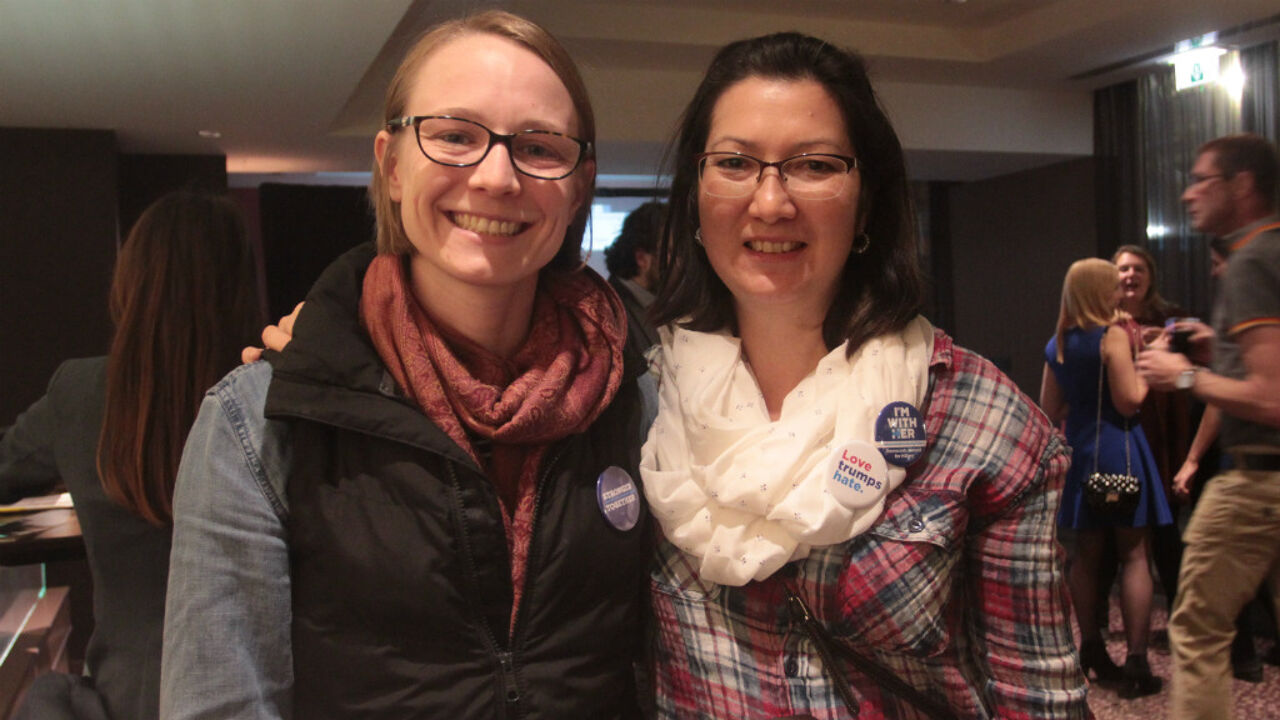 Scary
Sarah hopes that Clinton can do something about student loans. "Now, tuition fees are astronomical and unaffordable. Some have to take out a mortgage loan to pay their studies." Sarah thinks Clinton should do more than what she is proposing now, focusing mainly on the lowest incomes. "Some people are paying a mortgage for college. That needs to be addressed. And I hope she can continue with Obamacare"
Asked about the prospect of a Donald Trump victory, Sarah calls it "scary". "I think it's gonna be further divided. People will continue to use the platform to speak out about minorities, and against women. I think this platform will become stronger."
Help, Belgium!
The panel discussion, with Jamie Shea of NATO and Tom Parker of the British Chamber of Commerce, kicks off with some good humour. First, the microphone gives up, and when next the lights go out for a second, someone shouts "Welcome to Belgium!"
Tom Parker continues the humour: when asked about what he thinks about TTIP , he says "Wallonia's say is better than mine!"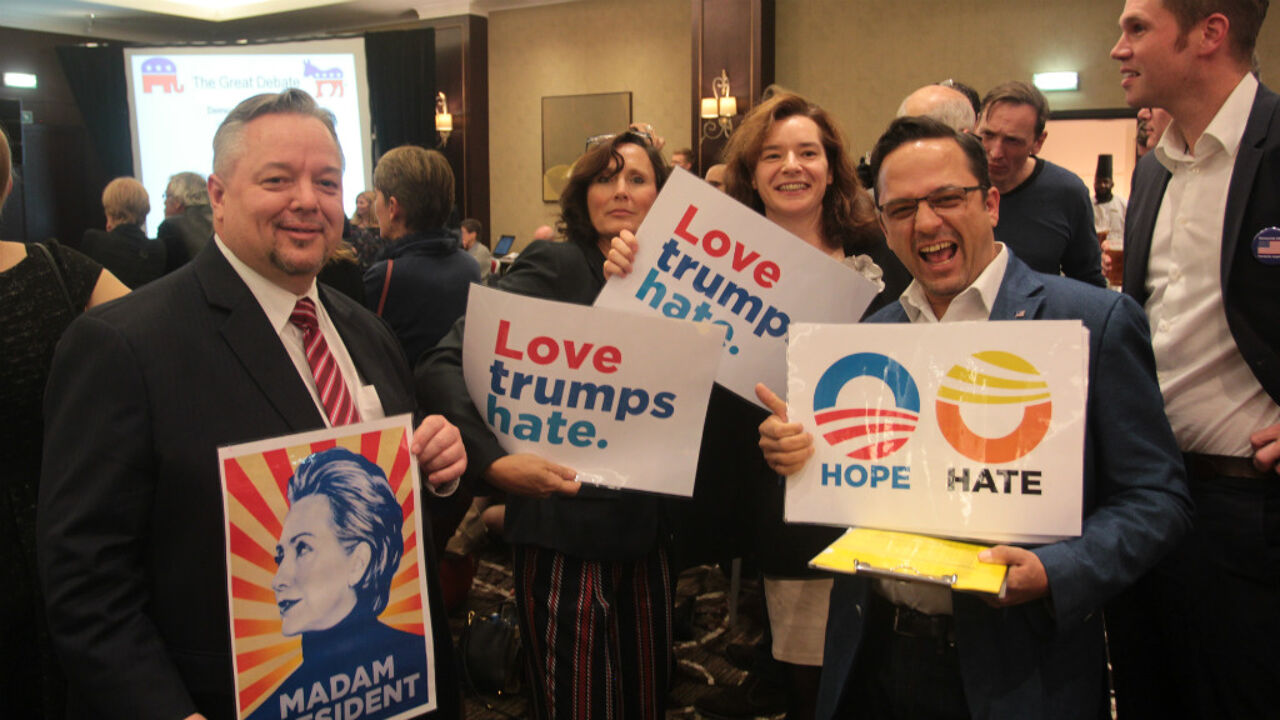 "We have good recovery powers"
We continue our search for a Republican, but as it proves fruitless, we turn towards Michael Kulbickas of Republicans Abroad (see 'read also'). First, we leave the honour to another lady, Amanda. She used to live in Massachusetts, but has now been living in Brussels for several years.
"Trump has not hesitated to go low in this campaign, lower than any candidate in memory recent history. But the United States has pretty good recovery powers, we can pull ourselves together again and again, and I think we can do it again. The campaign has gone far, but we are good survivors, in the U.S." If Trump wins, Amanda will look at the States like "a country where we have a lot of work to do."
If Clinton wins, Amanda hopes she can keep the U.S. in a leading position in the world, "working with the rest of the world and healing any divides."
Two world citizens
Two young men are taking pictures at the cardboard imitations of Hillary Clinton and Donald Trump. Pedro is from Portugal and working for the EU in Brussels, while Rafael is half Brazilian, half Portuguese. They also support the "European candidate" Hillary Clinton.
"We are world citizens, we are concerned about world policies. That's why we're here. If Hillary gets elected, she would be better than Trump because she understands the complexity of politics."
This election is a wake-up call!
"At the end of the day, we are talking about two different civilisation discourses. We want solutions for everyone and not just for some people. We want a society that thinks about everyone."
Has the campaign changed the U.S.? "This campaign was not just something of the U.S. In Europe, we see far-right movements gaining power. People who have concerns, choose the simplest discourse, the hate discourse to manifest their opinion."
"This election is a wake-up call, also for Europe, also for Brussels. If there is a problem, people go for a simplistic discourse, but we need more comprehensive approaches."