"We need to reflect and to regroup, but I see a silver lining"
"The time for mourning has long been over!" Pauline Manos, Democrats Abroad Chair for Belgium, smiles when we put the question. Flandersnews met her in Brussels, one week after Donald Trump's surprise win, to look back, but also to look forward to the future. The Democrats are not knock-out, Manos says. "If there is one good thing about this, it is that people realise you have to keep fighting."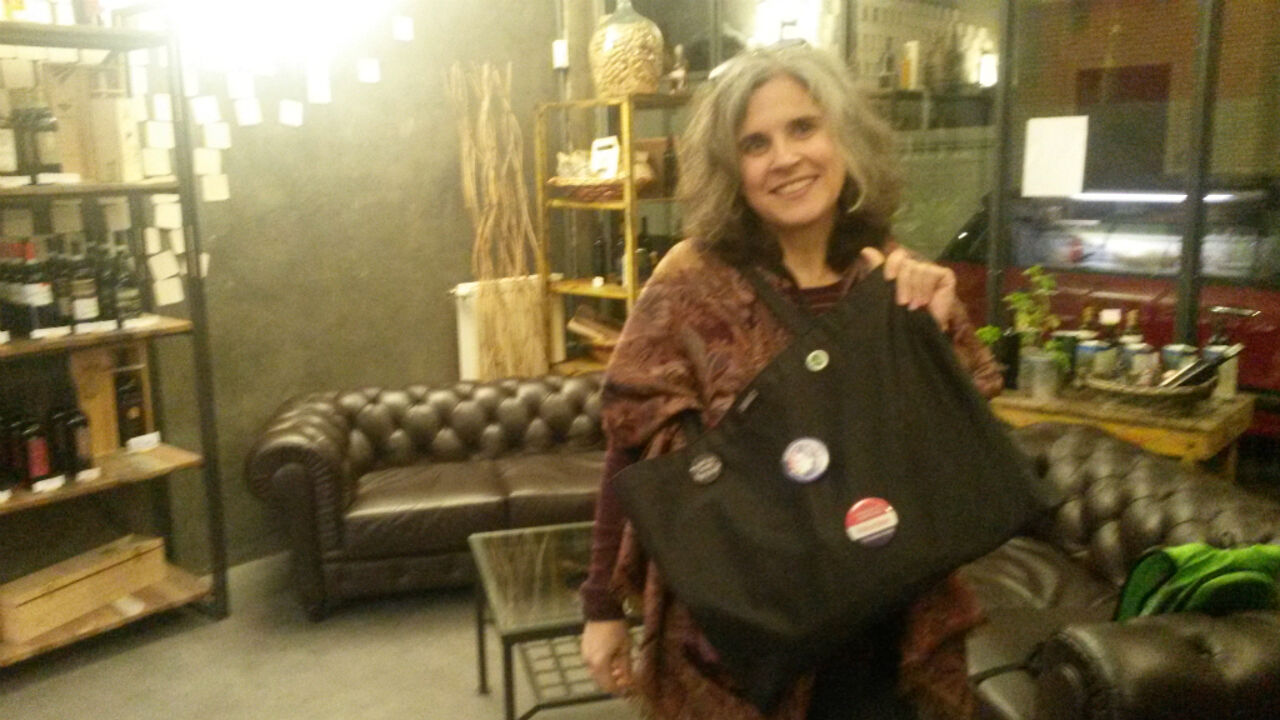 Pauline Manos: "We need to reflect and to regroup"
We meet Pauline Manos in Eno Atelier in the European district, where she took part in a panel debate about the election of Donald Trump and the possible domino effect on Europe.
"Obviously it is a major disappointment for us , because we see a week later that Clinton has won over half a million more votes than Trump did, but it's obviously the way the game works. The electoral vote was lost, so the election was lost, and that was a big disappointment for a lot of people."
"The reality is that we need to regroup"
"The reality is that we need to reflect, we need to regroup, and we need to move forward, and this is what we are now focusing on doing. I just had a conference call with Democrats Abroad country leaders all over, about how we can understand the past vote, and what we will be doing next."
"We actually have a run-off election in Louisiana for a Senate seat, so this is an open Senate seat and we want to make sure we get the people out to vote for that. We are discussing activities on Inauguration Day, and there are a lot of requests from volunteers asking how they can help for the mid-term elections in 2018."
"I was fascinated by what happened last week"
It doesn't seem that the loss that came as a shock to many Democrats has left them completely shattered. On the contrary, the first signs are very hopeful for the Democrats, and Trump's election may have tiggered a counter-reaction. Democrat supporters are inclined to step in and help, says Manos.
"They are very motivated and galvanised. We already saw a 30 percent increase in our membership in Belgium. I was fascinated over the past week, just from the e-mails I am getting out of the blue, and people who come to an event like tonight... You know, I had a 15-year-old girl that came up to me after the session. Her American mother brought her and she asked me 'How can I get involved, I am 15 years old. That's amazing. If there is one silver lining on this dark cloud, it's the fact that people realise you cannot take this for granted, and you have to keep fighting.
(picture below shows Democrat supporters on Election Night in Brussels last week)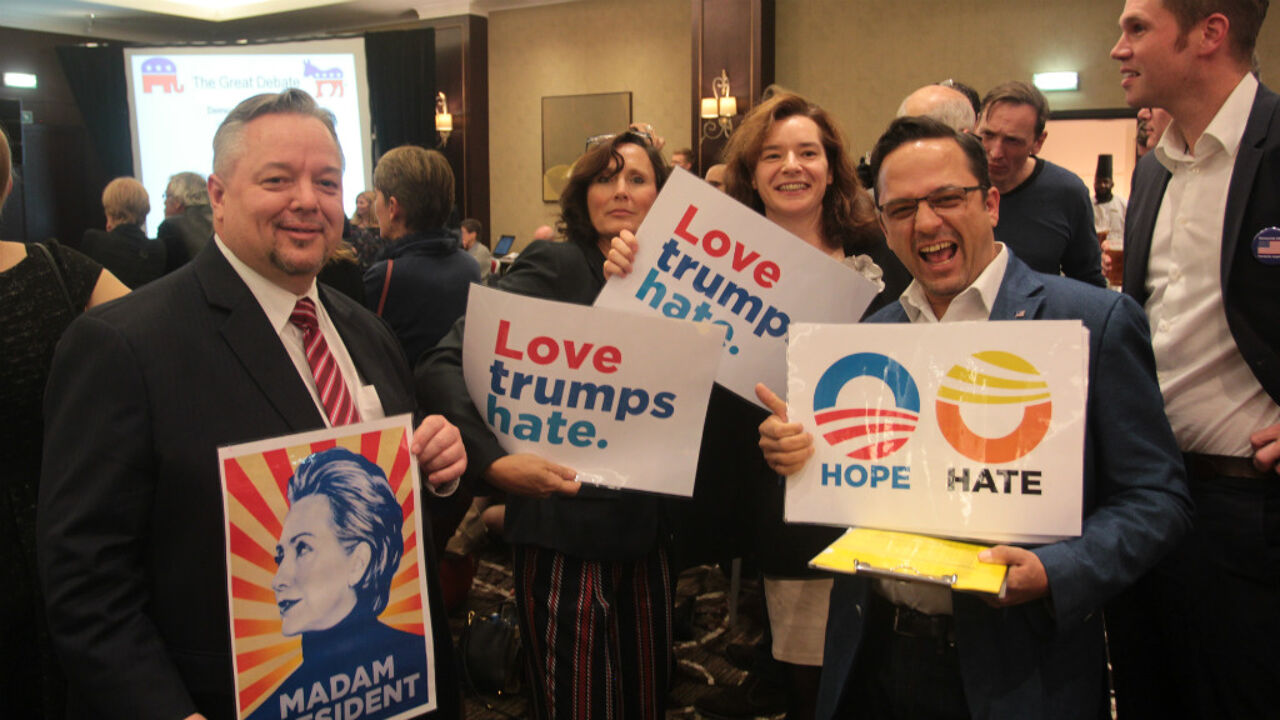 A Canadian passport?
On Election Night last week, before midnight - when most people still assumed Clinton would win - some determined Democrats said they wouldn't be able to live in an America under Trump's rule, and said they would take a Canadian passport if he did.
Manos laughs at the question, but says she didn't see many concrete cases so far. "On a half-joking basis, I have had friends asking me on Facebook whether my guestroom here is big enough to accommodate them and their two children. On a more serious level, I have a couple of gay friends who are very, very concerned (repeats) very concerned. They are completely shocked and feel threatened."
Manos is also very concerned. She fears that Trump's election may give certain people a platform to voice sexist, racist or other words. "Everybody is a bit surprised by the stories we hear. This woman wrote she was walking past construction workers and this one guy yelled out 'I'll grab your pussy'. You can only hope that these are anecdotes and not true threats.
Could Sanders have won it? "I have my doubts"
Would anybody else than Hillary Clinton have won it for the Democrats? Manos has her doubts: Bernie Sanders may have triggered enthusiasm and may have popular among Democrats Abroad, "but you can't forget he is far-left, while the U.S. is a pretty conservative country. So I am not sure."
This being said, the Democrats have to think about the future. "This is part of the soul-searching that the Democrats will have to do. There is debate going on. Do you create bridges to the centre, or do you go back to the left? What about labour unions? That is a big debate that the Democrats will have, and it is a healthy discussion. We are in front of a very big strategic choice right now."
"We have some soul-searching to do, but so do the Republicans"
"The debate that is going on is very strong already. Sanders has put forward his own candidate, there are some establishment figures. I myself see some good Senators, among who some women - who knows we may break this glass ceiling after all! But the Democratic party will have to get used to being in opposition, on 3 levels: the presidency, the Senate and the House of Representatives, and in 33 of the 50 states in terms of governors. We are truly an opposition party now, and we will learn how to act as one."
But while the Democrats will have to do some soul-searching, so do the Republicans, estimates Manos. "If you look at their primaries. Their 17 candidates were a very diverse pool. Women, African Americans, Latino, Indian American, you had a little bit of everything. And Donald Trump was 70 years old and won."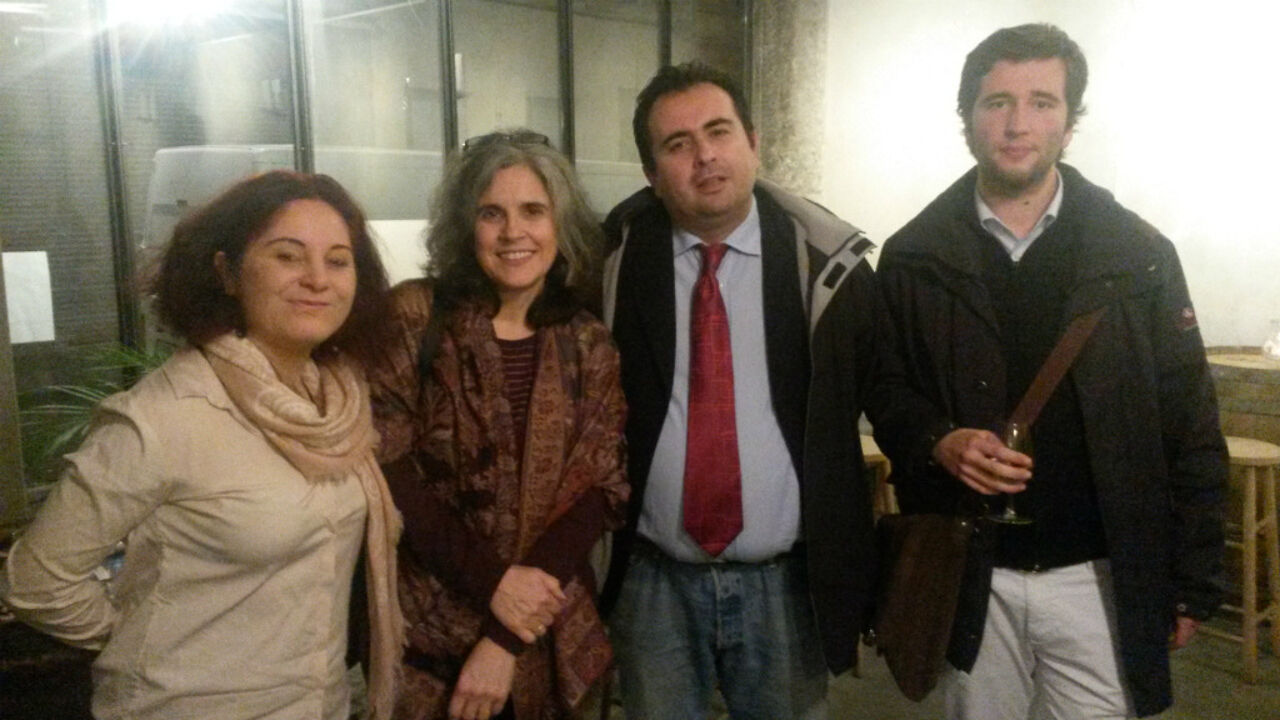 Good things to come out of Trump's presidency?
"Looking at Trump, which good things do you see coming out of his presidency?" My next questions draws a long silence, and next a laugh. Manos clearly did not expect the question.
"Not from the top of my head, no. I am very worried about the Supreme Court, about the rights of minorities, I am a little nervous abour foreign relations. I am very worried about his tax cuts and income inequality. I can't think of anything positive that could come out of a Trump presidency... But it will force us to get sharp on our game as Democrats.
"I suspend judgement"
Will Trump maybe ease the tense relations with Russia? "To be honest, I want to see what he delivers. He promised a lot, but what will he be able to deliver? I haven't seen any concrete plans. I don't what he has in mind, and what he would do if, for example Russia would encroach the Baltic States. So I will suspend judgement. No comment (smiles)."
Manos is afraid that Trump may demolish many of Obama's achievements, since he introduced a lot of them through Executive Order, as he didn't have Congress behind him.
"We shouldn't stay in our bubble"
The debate on Monday evening - an organisation by La Fabbricca - was on how to avoid a domino effect of populist success in Europe after Trump (picture above: Manos with some of the speakers). Manos has her personal views on that one.
Seeking diversity is one thing. Don't block Facebook friends who have a completely different opinion, to keep a broad horizon and to keep in touch with what people think and feel - then maybe more people would have seen Trump's victory coming. As to Democrats Abroad in Belgium, she says "don't stay in your Brussels bubble". Event like this are nice, but we are talking among ourselves."
"And we need to get off of our couch. Each of us can find a way to get involved, whether it's volunteering, or contributing money if you don't have time. It's about listening and making your opinions heard, and trying to get informed. We all need to step up. And at the end of the day we have to vote. Here, people take this this for granted, but I can't take this for granted in the U.S. Democrats Abroad are continuing to get people out to vote. That is our primary focus. But the time for mourning is over. We have to move to action."
Democrats Abroad may also plan activities in Brussels and elsewhere, but these are not concrete yet.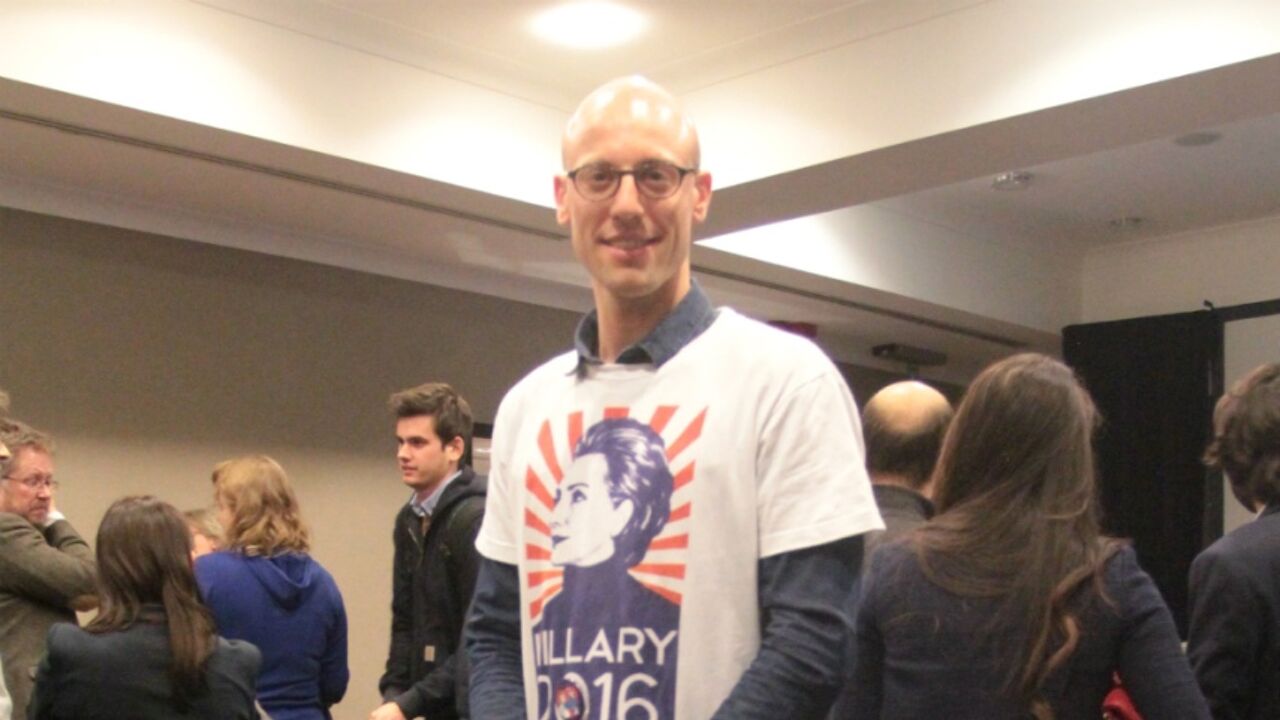 We are the 51st state!
Democrats Abroad International can make a difference, says Manos: "There are over 6 million voters abroad, there are 12 states that are smaller than us. We are a large voting block.
"We are better structurised than the Republicans living outside the U.S. , which is why you may find it harder to find a Republican to engage in debate. So I consider us as the 51st state!"
Manos assumes American voters abroad tend to support the Democrat party, although there are no figures yet about this. "But there is still a lot we can do."