A night of mixed emotions for Belgian fans
In football, Anderlecht and KRC Genk have qualified for the next round of the Europa League. The 4 Belgian clubs had mixed fortunes, with AA Gent and Standard only managing a draw. They are not sure of a "European spring" and have to win their final match in two weeks' time.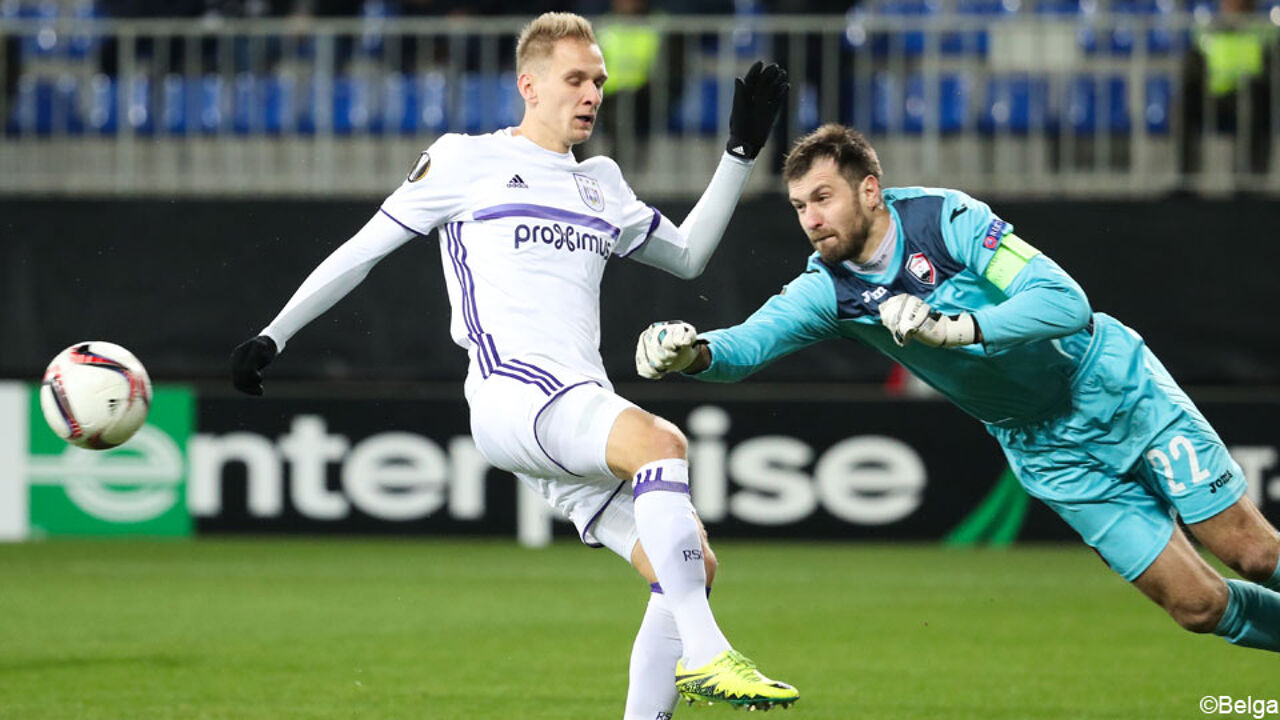 In-form Anderlecht striker Teodorczyk of Poland is stopped on this occasion, but would go on to score later on.
Anderlecht downed Qabala in Azerbaijan 1-3, but were long kept to a draw by a team that had zero points in the group with a poor goal difference. Tied at 1-all at the break, Anderlecht made the difference in money time, when substitute Massimo Bruno fired home the 1-2, with the unavoidable Lukas Teodorczyk making it 1-3 in added time.
Anderlecht have 11 points in Group C with just 1 game to go. Saint-Etienne have 9, Mainz 6 and Qabala 0.
Party time in Genk
KRC Genk also qualified after beating Rapid Vienna 1-0 at home. An early goal by Greek striker Nikolas Karelis sealed if for the Limburgers, who are now leading Group F together with Athletic Bilbao, both with 9 points. Rapid Vienna and Sassuolo are left with 5 points, an unbridgeable gap with just 1 match to go.
Despite a good European campaign, Genk only had a disappointing attendance of 9,406 yesterday.
Good and bad news for Standard
Standard managed a draw at Celta de Vigo in Spain, 1-1, after Konstantinos Laifis of Cyprus equalised for the Reds late in the match. Standard are hosting Ajax on the final day of play. If they win, they are almost sure to qualify unless Celta post a bigger win against Panathinaikos.
So the good news is that Standard are still in the race, but they do have a tough nut to crack in two weeks' time. Ajax are guaranteed a place in the next round, Panathinaikos are eliminated.
AA Gent work hard but throw it away
It was a frustrating evening for AA Gent, the Champions League revelations of the past season. Gent worked hard for the win against Braga of Portugal, but some poor defending cost the Buffaloes dear.
Mali striker Khalifa Coulibaly wiped out an early Braga lead with a magnificent bicycle kick (photo), with 'Mister Europe' Daniel Milicevic wiping out a second Braga lead before the break. AA Gent did what they could after the break, but were kept to a draw. Braga celebrated the draw like a victory.
In group H, Shakhtar Donetsk are outstanding with 15 points and a 17-3 goal difference after 5 matches. Braga are 2nd with 6 points, just ahead of AA Gent with 5. Konyaspor have 1 point. AA Gent need a win when they travel to Konya in two weeks' time, and depend on the result that Braga will post against Shakhtar, who have already qualified.