Assad: "Belgium stands by while IS kills Syrians"
In an interview with VRT News the Syrian President Bashar al-Assad has accused the Belgian Government of standing by and doing nothing while Syrian nationals were being killed by the Islamist terror group IS. "The Belgian Government has not prevented Syrian citizen being murdered by IS".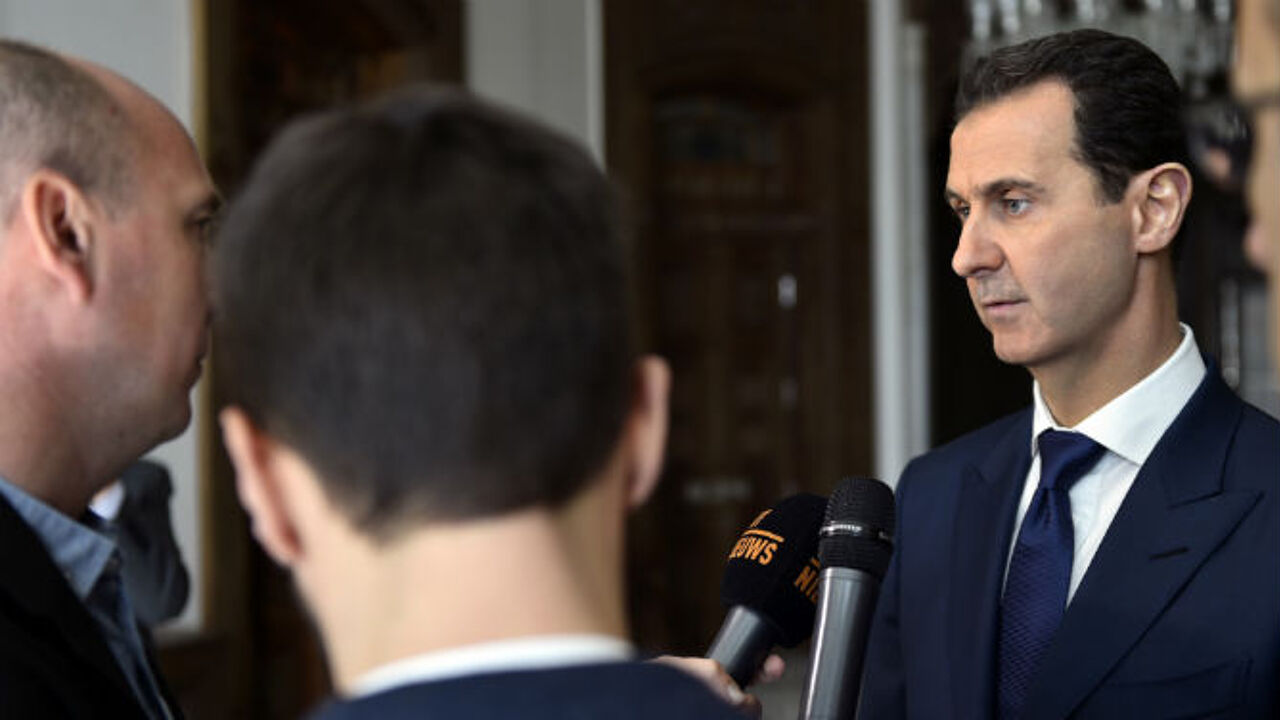 He also described the operation in which Belgian Airforce F-16 fighters jets are taking part as "illegal" as "it is taking place without the approval of the Syrian Government".
The VRT's Jens Franssen and journalists from the Flemish news weekly Knack and the Francophone Sudpresse group interviewed President Assad at a secret location. Although the journalists had to send their questions to President Assad in advance, they were allowed to ask supplementary questions during the interview.
Speaking after the interview our colleague Jen Franssen said that "Assad took his time and the interview was serene and correct".
When asked if he was grateful to the Belgian Government for having deployed F-16 fighter jets to help in the fight against IS, President Assad responded "Let me be honest, there wasn't any operation against IS. It was a cosmetic operation. It was imaginary, because during the operation IS got bigger."
"It was an illegal operation as it took place with any consultation with and without the approval of the Syrian Government, which is the legitimate authority. It is a breach of our sovereignty. The operation also hasn't prevented Syrian citizens being murdered by IS. Why should I be grateful?"
A few days ago Jens Franssen saw with his own eyes the extent of the destruction in Syria's largest city Aleppo. However, President Assad does not believe that the EU or NATO could help rebuild his country.
"You can't take on that role while destroying Syria in the meantime. Because the EU has supported the terrorist in Syria from the very beginning, giving them various labels: humanitarian, moderate etc. They supported al-Nusra and IS from the outset".
 
Belgian journalists in Syria
The Belgian journalists travelled to Syria to report on the situation in the country and to look into the strange alliance that has grown between a number of far-right parties in Europe and the governments of Syria and Russia.
They followed a delegation of the far-right Vlaams Belang and right-wing Francophone party Parti Populaire that visited Damascus and Aleppo.
Among them was the Vlaams Belang MP Filip Dewinter. It was not the first time that Mr Dewinter has visited Syria. The trips are not without controversy as the Assad regime has been accused of war crimes against its own people.