Tottenham stunned by AA Gent's Buffaloes
It was a good night for the Belgian clubs in the Europa League round of 32. Tottenham Hotspur were downed 1-0 by AA Gent in their first leg match. In other action, Anderlecht got the better of Zenit Saint Petersburg, while KRC Genk managed a draw in Romania.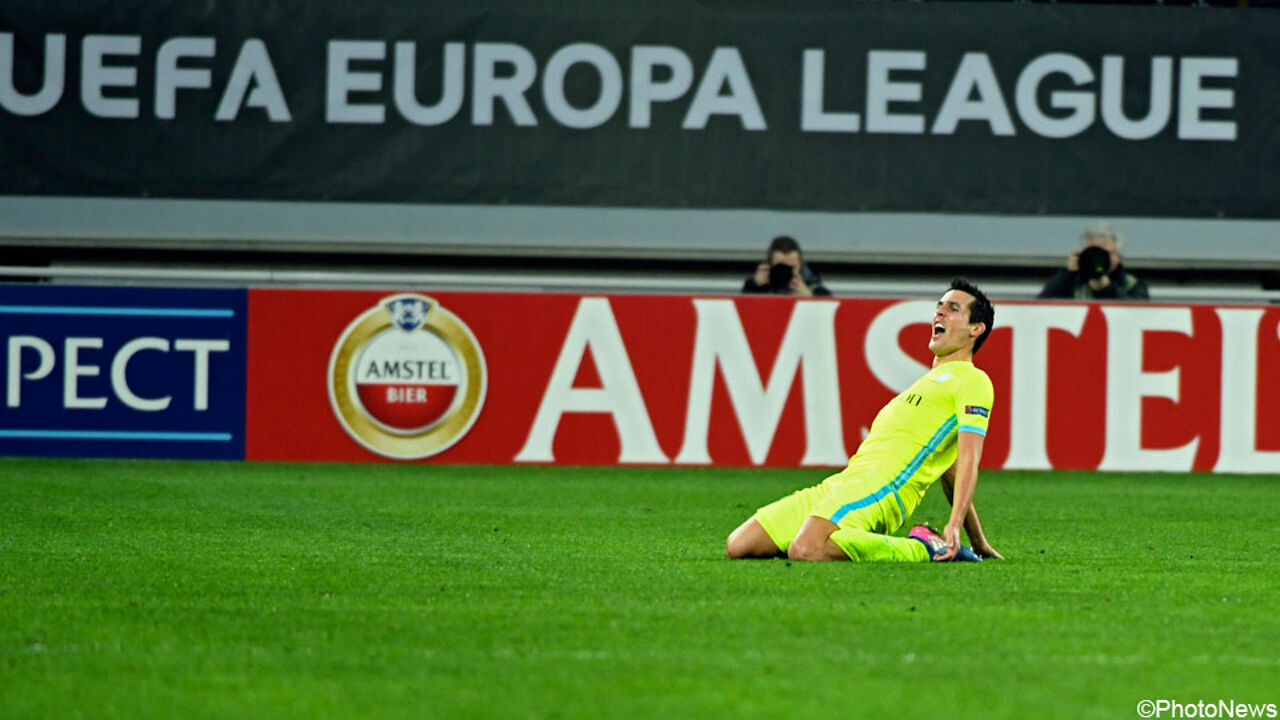 The French striker Jérémy Perbet scored on Ghent's first occasion.
AA Gent started as the underdogs against the Spurs, also because they are having a bad spell in the domestic competition. However, the Buffaloes surprised the Spurs, as they found back their Champions League form of the past season.
The match was rather balanced, until Tottenham pushed the gas pedal just after the break. England striker Harry Kane hit the post for Spurs. AA Gent survived, and struck back with a swift attack that was finished by French striker Jérémy Perbet on the hour (1-0).
The goal gave the home team a boost and AA Gent could have made it 2-0, but Danijel Milicevic's attempt stranded on the post. Spurs upped the pressure in the dying minutes of the game, but AA Gent stood strong and will travel to Wembley with a 1-0 bonus in the bag next week. Kane sustained a knee injury and may miss that match.
The Ghent win was the perfect birthday present for coach Hein Vanhaezebrouck, who turned 53.
Tottenham instead of Barcelona or Real Madrid
"This was the most important goal of my career", Jérémy Perbet beamed after the match. "I played against Barcelona and Real Madrid in Spain, but didn't manage to score. (...) It's strange that we feel more comfortable against big clubs than against modest teams in the Belgian league. The return game at Wembley will be a hard one. I think we will have to score there if we want to qualify."
Brecht Dejaegere said "we were pushed forward by the crowd. We should enjoy this. We are not thinking about the return match in Wembley yet. First there is Standard, On Sunday." AA Gent are still facing a hard battle in the league to qualify for the top-6.
Frank Acheampong shines for Anderlecht
In other action, a Frank Acheampong double sank Zenit Saint Petersburg at Anderlecht. Acheampong was unstoppable, especially in the first half. Anderlecht have a good chance to qualify in Saint Petersburg, defending a double bonus. It was also clear that Zenit missed the right rhythm after a long winter break. 
KRC Genk climbed ahead twice at FC Astra in Romania, but the home team equalised on two occasions. A good result for Genk but also a bit frustrating, as the final equaliser came very late. Still, Genk are the favourites to qualify in the return leg before their home crowd. They don't even have to score, since 0-0 would be enough to push through.