High winds take their toll
Thursday high winds have claimed left one person dead on two people seriously injured in our region. The fatality occurred in the Limburg municipality of Voeren when a tree fell onto a car, the dead man was a passenger in the car. The driver of the car is in a critical condition in hospital. Just a few kilometres away in the Walloon municipality of Dalhem two people were killed in the same way. Meanwhile, a child was seriously injured in the when a roof slate or piece of masonry fell onto his head in the Brussels municipality of Evere. There is also considerable material damage.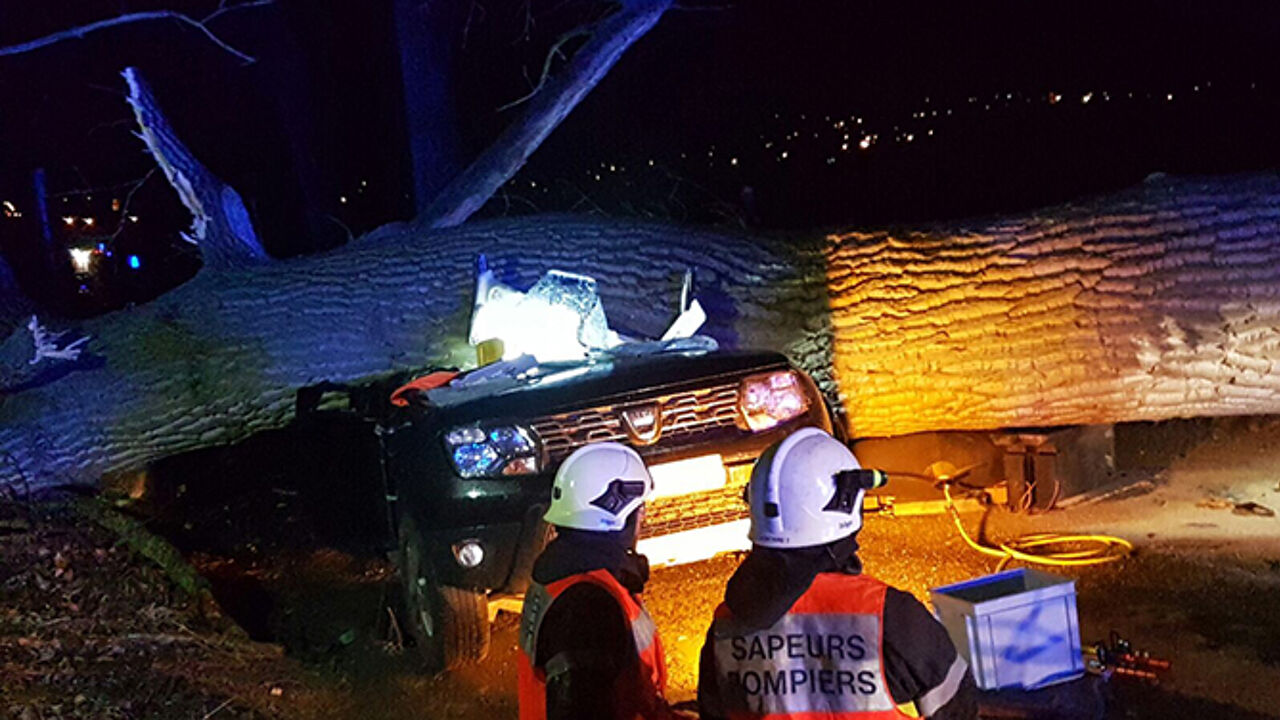 West Flanders
In West Flanders the emergency services received a flood of calls, for the most part for damage to property. In Sint-Andries, near Bruges, a villa was damaged when a tree fell onto its roof. Thankfully, the owner who was working in his office inside the house was not hurt.
It took the Fire Service several hours to cut up the tree and remove it from the roof. In Bredene, the roof of a new-build that is being built by the municipal Alderman Jacques Deroo. It will take months for the damage to be fixed.
A lorry was blown over by the wind near Veurne with big delays on the roads as a result. Several houses in Zillebeke were left without power after a tree damaged power cables. A house has been made inhabitable due to storm damage in Ramskapelle, near Nieuwpoort.
Flemish Brabant
A 15-meter high beech tree was blown over by high winds at the Provincial Estate at Gaasbeek. A tree fell onto the track on the Leuven to Mechelen line at Hever. A tree also fell onto the track at Linkebeek, both incident caused disruption to rail services.
Greater Brussels
In Evere, in the Northeast of the city, a two year-old child was critically injured when he/she was piece of wood that had been blown off a block of flats.
Limburg
As well as the fatality and critical injury in Voeren, the passenger of a car was also injured in Lummen after a tree fell onto the car. The roof of a house was also damaged in Kortessem.
Unrooted trees on the track caused disruption to train services between Hasselt and Bilzen and between Landen (Flemish Brabant) and Sint-Truiden.
Antwerp
Most of the damage occurred in the City of Antwerp on Thursday afternoon. However, by the evening there was also damage in the Kempen region of the provinces.
The emergency services in Essen were called out 20 times to deal with material damage. In Mol a tree caused serious damage to four parked cars.
East Flanders
The fire service in Aalst was called out 14 times to deal with storm-related incidents.