ROOTED - paintings going right to the essence of Flanders
If you want to get a colourful, diverse yet compact experience of Flemish painting around the turn of the last century, then Ghent is the place to be. The Caermersklooster, a former convent, is hosting the exhibition "Rooted - Painting Flanders" until 6 August in a historical setting in an quarter of the city where artists have always felt at home, the Patershol.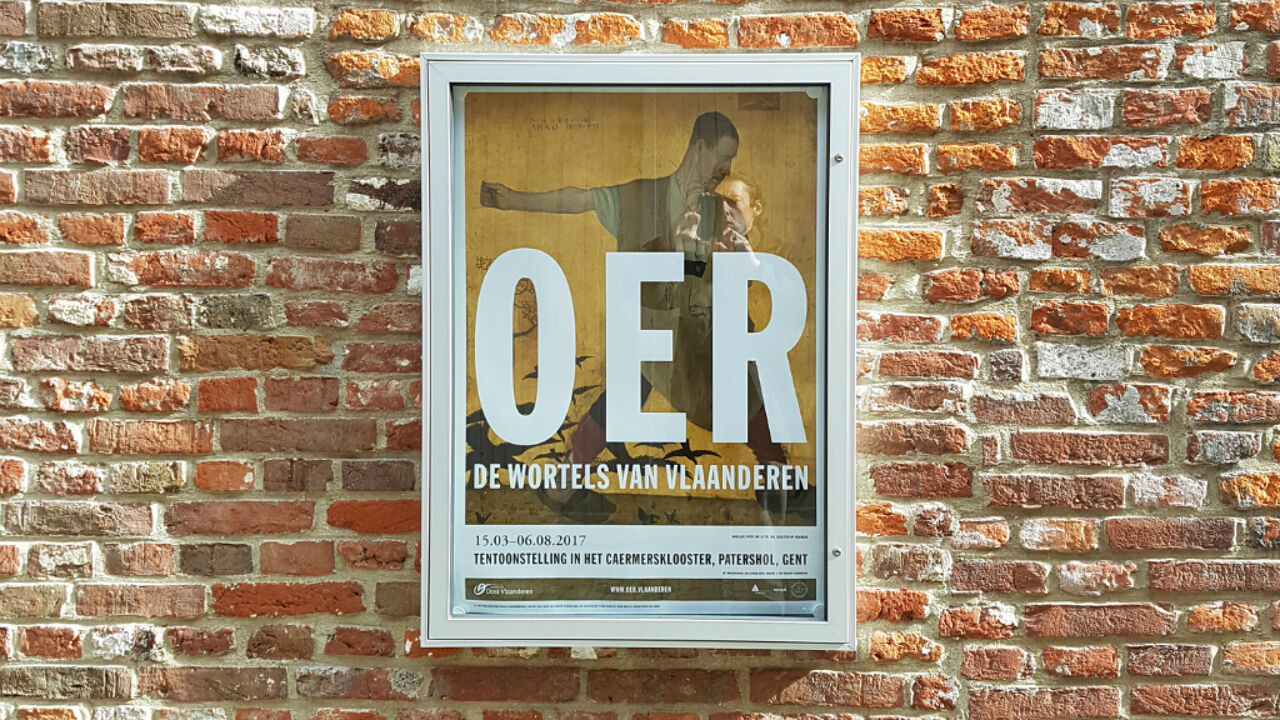 "What makes this exhibition special? Well, in the first place, many works are in private ownership; it's the first time they are available for the public at large. They represent an interesting period in our art history, with the First and Second Latem Group. Plus, the setting is a historic one - the former chapel of a Carmelite convent, red. - and a connection is made with the artists themselves."
Speaking is Martine Audenaert of vzw Gandante, who has just guided us around. "And of course, the paintings are very beautiful", she smiles.
The girl at the riverside
The collection includes some 100 paintings from about a dozen mainly Flemish artists and goes back to the late 1800s and early 1900s. The former chapel didn't leave curator Katharina Van Cauteren in need of space - a blue sky and drifting clouds are being projected on the high ceiling to evoke natural elements.
The element of water is present at the very start, with the Girl at the Riverside by Emile Claus, a girl painted at the bucolic shores of the river Leie south-west of Ghent - a place where artists fled to escape the industrialised city of Ghent and its polluted canals in the late 19th century. The painting makes one dream about a sunny day in spring or summer in relaxing surroundings.
Playing with light
The element of light plays an important part in Claus' paintings. He turned his back to the then 'compulsory' academic styles imposed from Paris; his transfer to Astene in the East Flemish countryside brings him to luminism.
Léon De Smet moves to Sint-Martens-Latem and creates his own form of luminism, bringing the portraits indoors, as can be seen in Pink Harmony (1912), showing a young woman resting on a bed in an attractive pose which almost makes the spectator blush.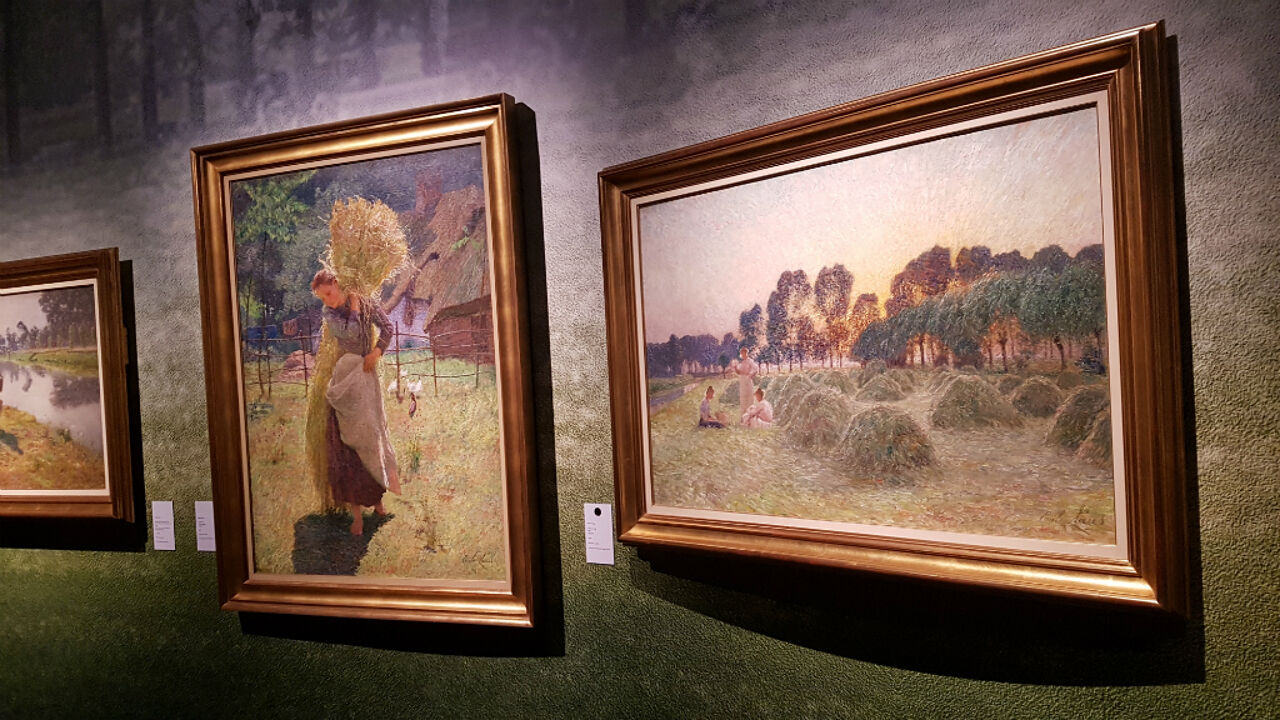 Peasants that become heroes
The return to the countryside and the life of farmers was a return to the roots, a kind nostalgic longing for past times. Gustave Van de Woestijne, a painter who originally had aspirations to become a monk, glorifies local farmers and makes them heroes, using a golden background which was normally only used for saints!
Deeske, a common farmer, takes a central place in different paintings. He is pictured as an introspective person thinking about life and all its aspects, a reference to religion.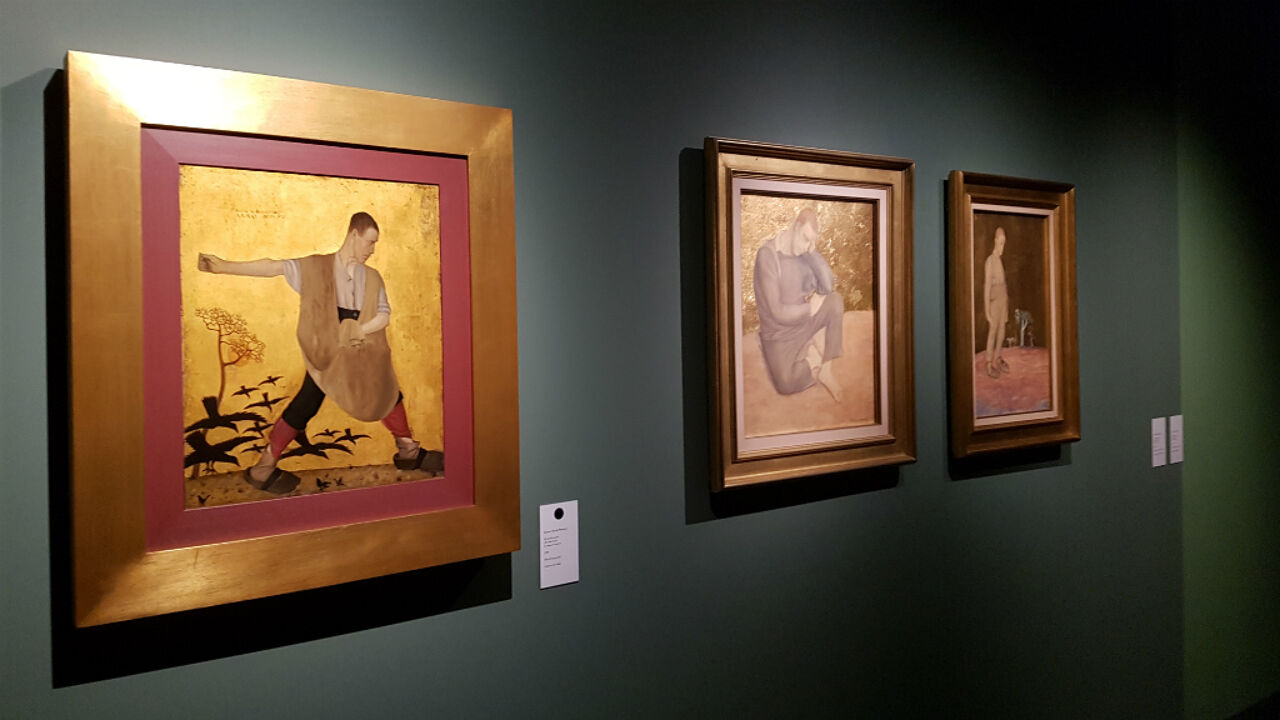 James Ensor: music and painting
Gold is also the background colour for the James Ensor section, with some of his later work you wouldn't immediately link to him. There is music playing in the background, a march he composed himself, La Marche des Rotariens Ostendais.
"Ensor wanted to be seen as a composer", explains Martine Audenaert. Still, we remember him mostly from his paintings. An Ensor painting that only surfaced last November - "Skeleton stopping Masques" is also present.
The impact of the war
The First World War had a double effect: it allowed various Flemish painters such as Gust. De Smet and Frits Van den Berghe to get in touch with art forms abroad such as fauvism and international expressionism and incorporate this in their work back home; on the other side, the ill effects of the war can clearly be seen in work by Permeke. One of his iconic works, farmers eating black bread, is a reference to poverty and starvation as a result of the Great War.
Fairgrounds and nudes
The different spaces built around different artists often mark a real change in atmosphere. Martine takes us to the next room, where a life-size merry-go-round takes a central place in the colourful Edgard Tytgat room, a Brussels artist who lived in Watermaal-Bosvoorde.
Where painters like Emile Claus and Gustave Van de Woestijne pictured typical Flemish landscapes or Flemish farmers, Tytgat had a liking for something else typically Flemish: fairgrounds.
He paints a fairy-tale world which cannot be put down to one single category. "He was simply ecstatic and even fainted when he first got on a horse on a merry-go-round as a 5-year-old", says Martine.
Another typical element in his work are female nudes, who were a big source of inspiration for him as he shows in his work "Inspiration" from 1926, where a girl descends from the sky through his window like a fallen angel.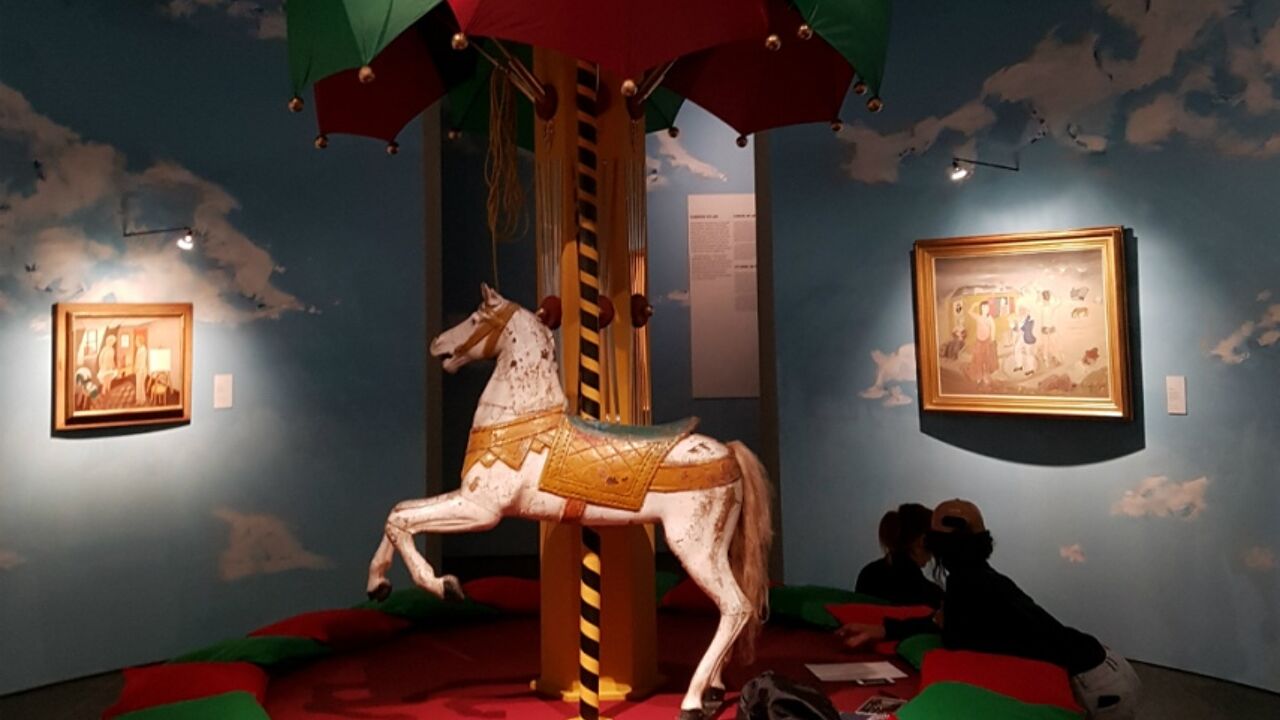 A double return to the roots
The exhibition ends with a short movie accompanied by a song by one of Flanders' most iconic singers, Will Tura. The movie shows typical Flemish attractions: the green, hilly landscapes with their meandering rivers, farmers at work, travelling fairgrounds, beer, chips, the good life, the cycling tradition and the coast.
Hence the title of the exhibition: Rooted. The artists go back to the roots of Flanders, to the essence of it. At the same time, to find their inspiration over a century ago, they returned to the Flemish primitives and their typical style. This is also a return to the roots.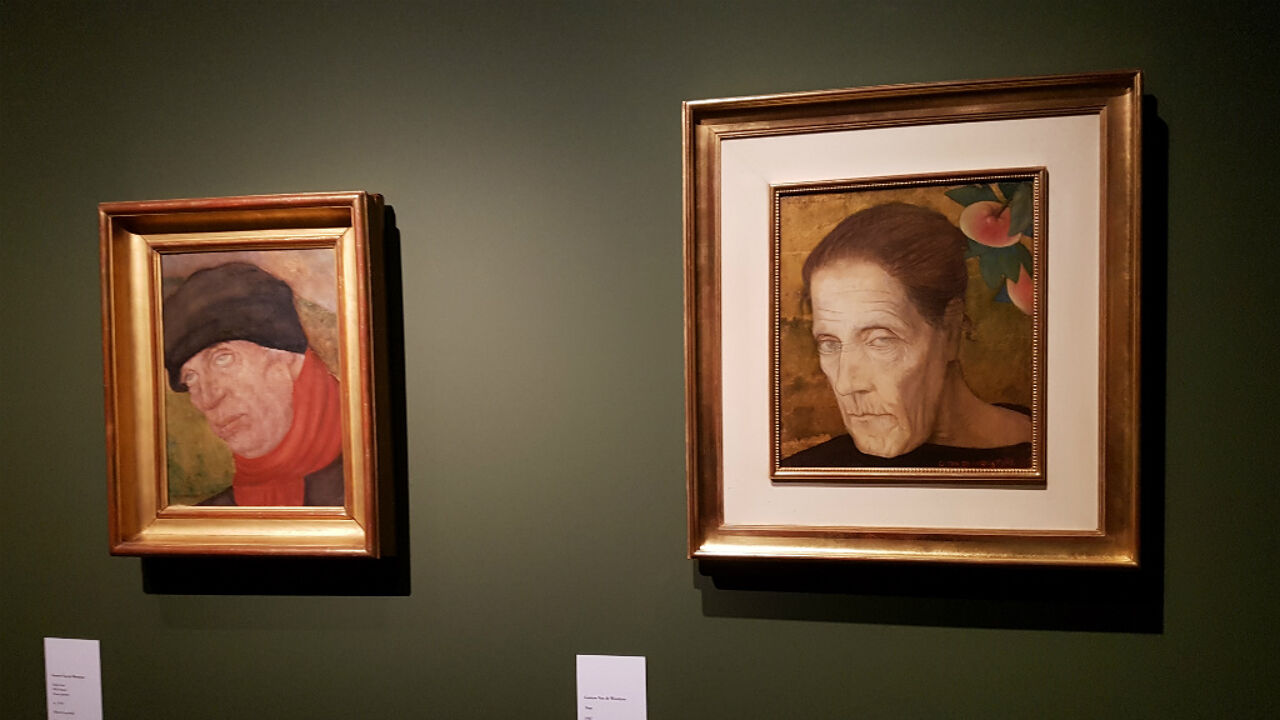 "This exhibition is like coming home on a cold day for a cup of hot chocolate"
Martine has something extra to add: "These works also stand for relaxation. They were created at a time when we were not constantly receiving Facebook, WhatsApp or other messages or when our phones were constantly making sounds, overcrowded mailboxes... It was a time when people cherished the moments of life. And this is a time where many people are longing for now. The simple, uncomplicated life."
This is also what the curator points out. She adds: "Coming to the exhibition is like coming home after a long travel. Or coming home for a cup of hot chocolate milk on a cold day."
The exhibition shows many works from private collections such as Collectie De Bode, the Phoebus Foundation and the Belfius Art Collection.
"Rooted - Painting Flanders runs until 6 August in the Caermersklooster in Ghent. Closed on Mondays; an average visit takes about an hour and a half. All practical information can be found here.