Donald Trump has landed in Belgium, meets PM and King
Donald Trump is in Belgium. Air Force One, the aircraft carrying the American President, landed at Brussels Airport around 4.15 in the afternoon. Trump and his spouse Melania came down the aircraft steps, Trump waving briefly at the welcome committee. They were received by their Belgian host, PM Charles Michel. Both leaders were standing on a red-carpet platform to listen to the American and Belgian national anthems first. Trump and Melania were next taken to central Brussels, to the Royal Palace, the first stop in their 30-hour visit to Belgium, the EU and NATO.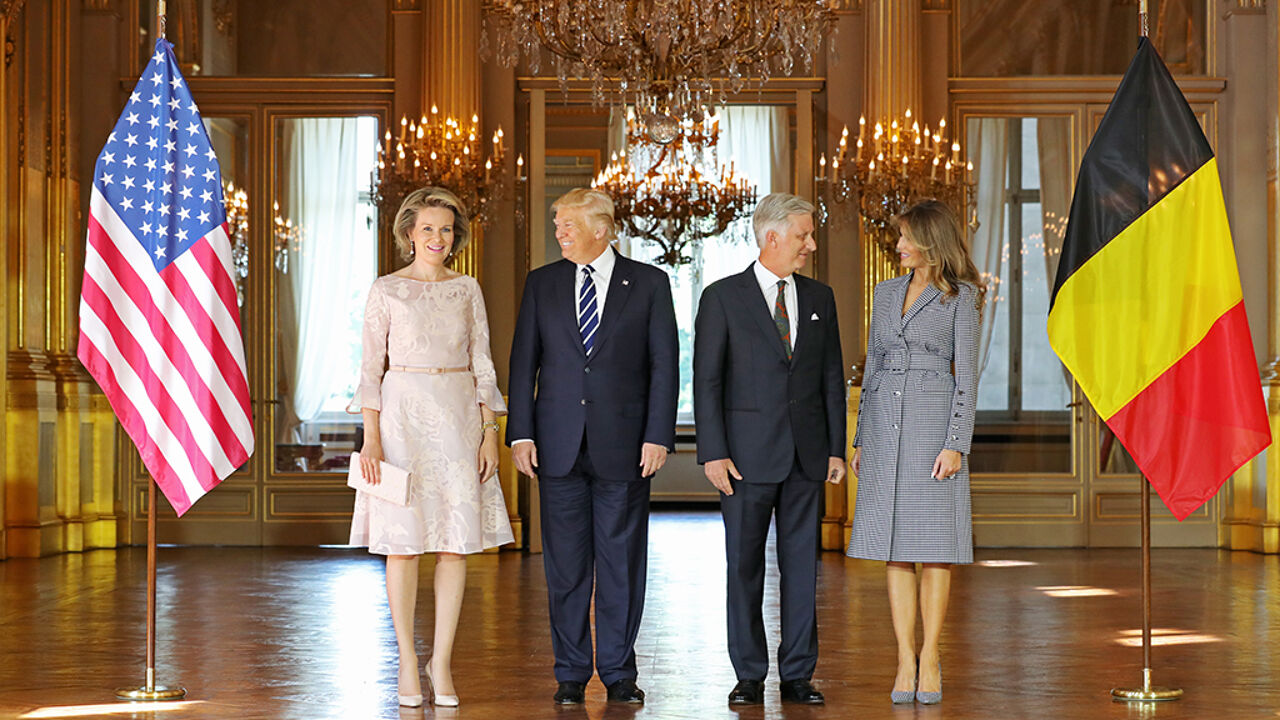 Donald and Melania Trump were first received in the Royal Palace by King Filip and Queen Mathilde.
Trump's arrival at Melsbroek came with some more ceremony than expected. While Trump and his spouse would immediately be driven away in the 'Beast' initially, live music was played on the tarmac in Melsbroek. 
Trump will be making his first visit to the EU and the military alliance NATO tomorrow. After visiting Pope Francis in Rome this morning, Trump has a light schedule today.
While a demonstration against his visit and against NATO was starting at the North Station (bottom photo), Trump first met King Filip in the Royal Castle in Central Brussels and was talking to Charles Michel. Not much is on the agenda for the rest of the day.
"We will win the battle against terror"
The King's conversation with Trump took about 20 minutes. Afterwards, Trump was seated at a large table facing Charles Michel and also Foreign Minister Didier Reynders and Defence Minister Steven Vandeput, among others.
"It's an honour to be here. We've been looking forward to this visit", Trump said. He also made a reference to Manchester: "We will win this battle." Trump hopes Belgium and the U.S. can continue to cooperate to achieve this, as security remains a top priority of his.
Brussels is Trump's fourth stop on his maiden overseas tour. His fifth and final stop will be Sicily (Italy), where he is to meet with the leaders of the G7, the group of seven wealthy nations.
To read more about his agenda, see 'read also'.