Belgian ministers have "good conversation" with Trump; meet "a different president"
The Belgian PM Charles Michel staged a press conference late on Wednesday after his meeting with the American President Donald Trump. Michel said "the ice was soon broken" and was talking about a "cordial, respectful and direct" encounter. Defence Minister Steven Vandeput, who was also at the table in the Royal Castle, said he saw "a different president".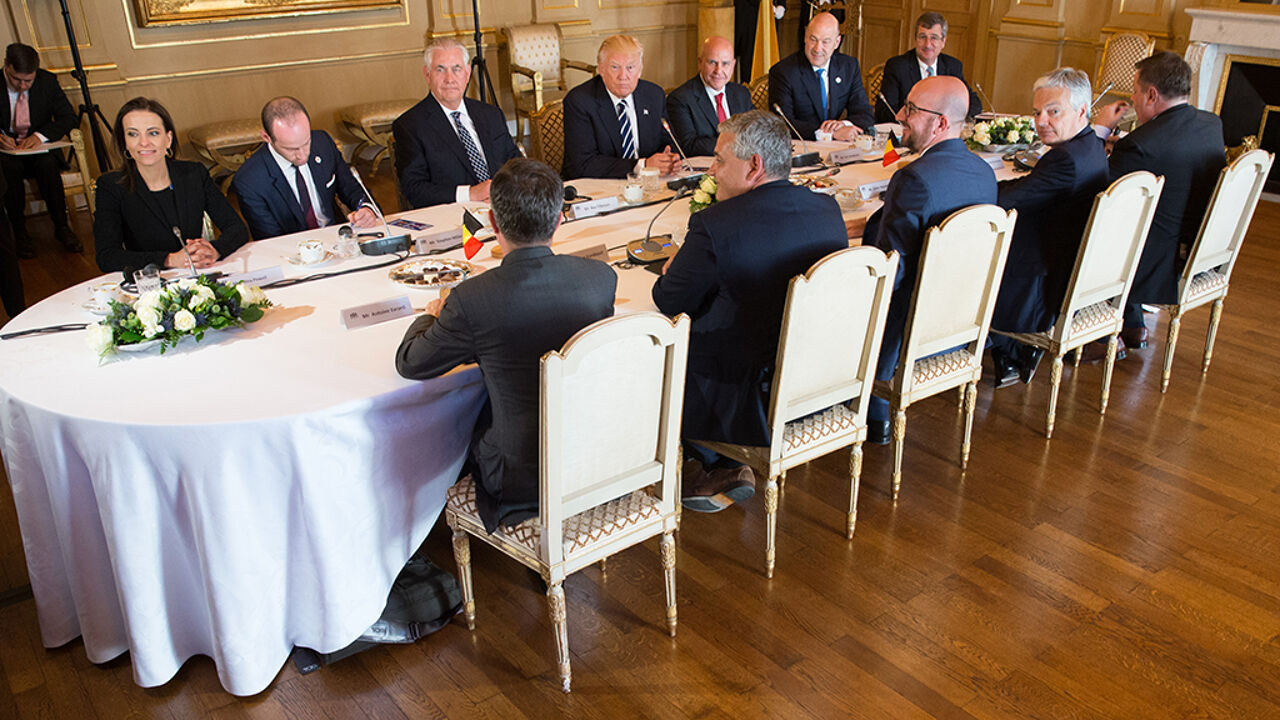 Bottom, second from left: Vandeput, next Michel and Reynders (looking at the camera) facing Trump at the Royal Castle.
There had been some tension between Charles Michel and Donald Trump, considering their being at loggerheads about Trump's quote about the Brussels hellhole last year. But Michel said the ice was immediately broken when Trump came down the steps of the aircraft at Melsbroek, with Michel waiting to welcome him.
Speaking at a short press conference, Michel called his meeting with Trump "cordial, respectful and direct". "From the moment he left the plane, he had a message of enthusiasm for Belgium."
Michel thinks that there is a difference between the presidential candidate and the president Donald Trump. "Today I mostly received compliments." He said the conversation was a direct one, without diplomatic language and straight messages from both sides.
Michel asks Trump to take up multilateralism
Michel's message to Trump was a call for multilateralism to bring more security in the world, and the importance of human rights and fundamental freedom. Trump said that Belgium "should take up more financial responsibility with regards to its own security", a clear demand for a bigger Belgian NATO contribution.
Does the U.S. still want strong ties with Europe? There were doubts, but Michel says that these have been wiped out. "His language on that was clear. But we will see in the years to come."
Defence Minister Steven Vandeput was also present at the big table and had the same impression as Michel. "I saw a different president from what I expected." Vandeput confirmed the U.S.'s will to have Europe spend more on security and safety. The Belgian defence budget will climb to what he calls "the European middle bunch".