Massive tugboat intervention gets cargo giant going again
The huge cargo vessel that had got stuck in the Western Scheldt after leaving the port of Antwerp, was pulled free by a whole army of tugboats late on Monday, at high tide. The event attracted huge crowds to the Scheldt borders. The busy but narrow shipping lane was liberated, which is huge relief for the port of Antwerp.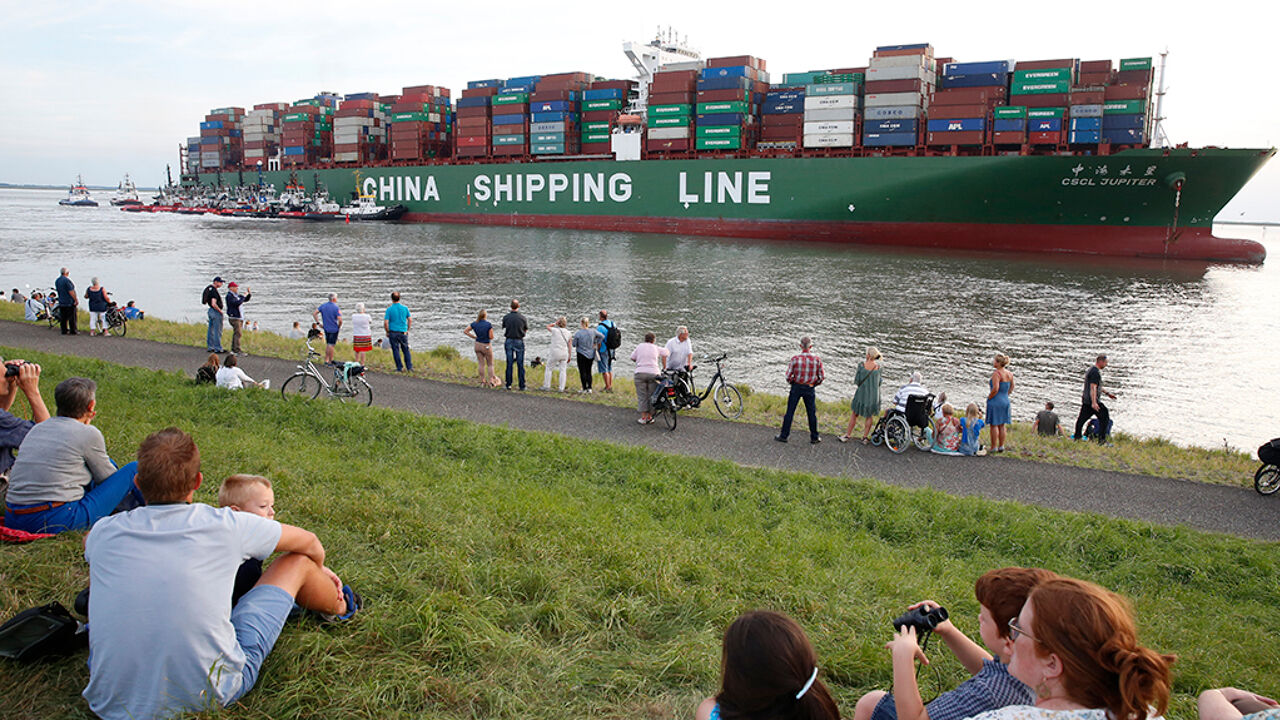 Various tugboats arrived by 8pm yesterday, when water levels in the Scheldt Estuary just north-west of Antwerp had risen again. While several boats were pushing the Chinese giant - the CSCL Jupiter measures 366 metres in length and can carry up to 155,000 tons - in the flank, several others were pulling it back into deeper waters into the shipping lane, away from the shore.
The event had attracted thousands of curious visitors to the tiny village of Bath in Dutch Zeeland province. It took some time, but things finally got moving, with the ship being freed around 9pm.
Back to Antwerp for inspection
The vessel was towed back to Antwerp's Delwaide dock for inspection first. After this first check, it will be decided which repairs are needed. The giant will next undergo a second inspection before it will be allowed to wander out into the North Sea again.
The ship ran aground yesterday morning in the Bocht van Bath, a difficult section in the hazardous Western Scheldt route connecting the North Sea to the Port of Antwerp. It had just left the port of Antwerp and was bound for Hamburg.
A queue of 34 giants
The Bocht van Bath (the Curve of Bath) was blocked for about 12 hours, which made it impossible for larger cargo vessels - over 200 metres in length - to pass. The liberation of the shipping lane was good news for the port of Antwerp.
Some 34 ships were waiting to leave the port of Antwerp or to come in from the North Sea. The port authorities said it's difficult to calculate the economic damage, but the news of the successful operation last night came as a relief. Traffic was back to normal this morning.
Not only Antwerp, but also connecting ports suffered economic damage.