Spectacular Suzy Embo retrospective at FoMu in Antwerp
In Antwerp the FoMu, the photography museum, is hosting a landmark exhibition of the work of the Belgian photographer Suzy Embo. For the first time since it acquired the photographer's archive the FoMu is presenting a retrospective of the work of this privileged witness of the Belgian post-War avant garde.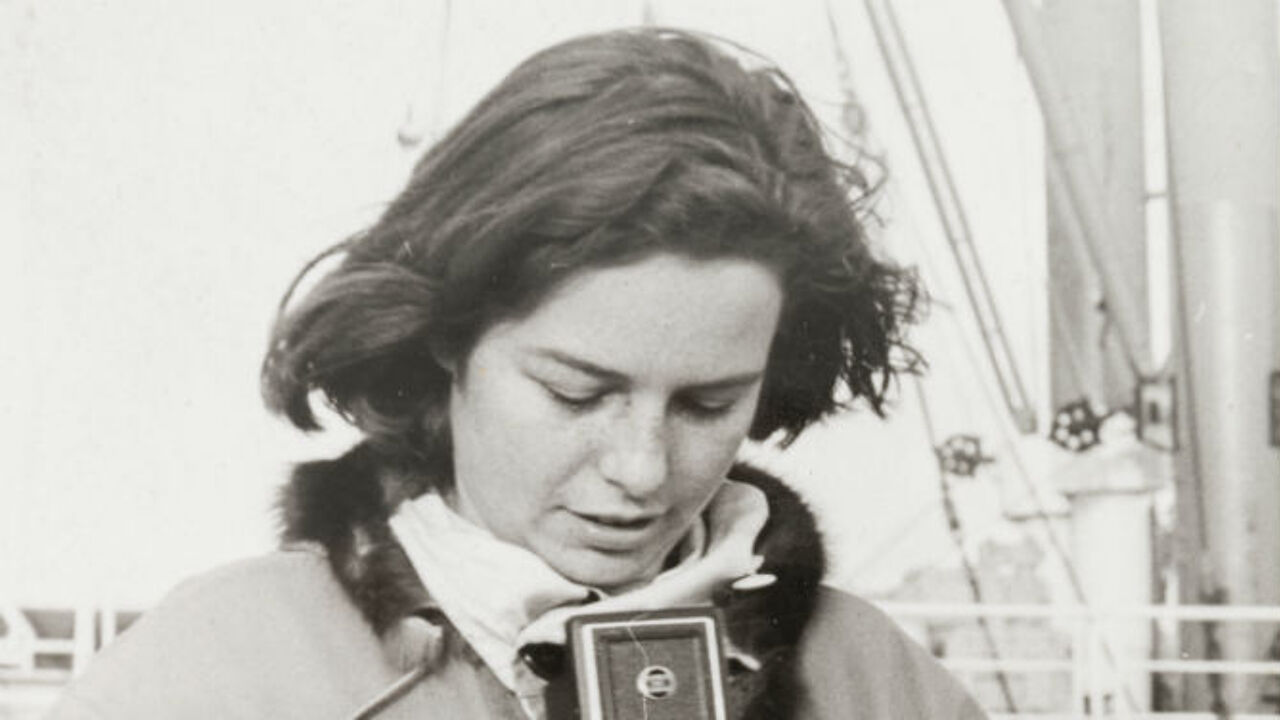 Suzy Embo. Artiste photographe – Photographe d'artistes sheds light on one of the key post-War Belgian photographers who was a privileged witness of international art circles in the Sixties. Embo was the daughter of well-to-do parents from Antwerp. Her father was a doctor and a friend of Herman Craeybeckx, who edited Fotorama, a publication of the Agfa-Gevaert photo products company headquartered in the city. It was Craeybeckx who first got Suzy Embo and her sister Lou interested in photography. Embo first experimented with amateur photography during summer yachting trips in the Mediterranean and soon decided to embark upon the training course for professional photographers run by the Agfa-Gevaert company.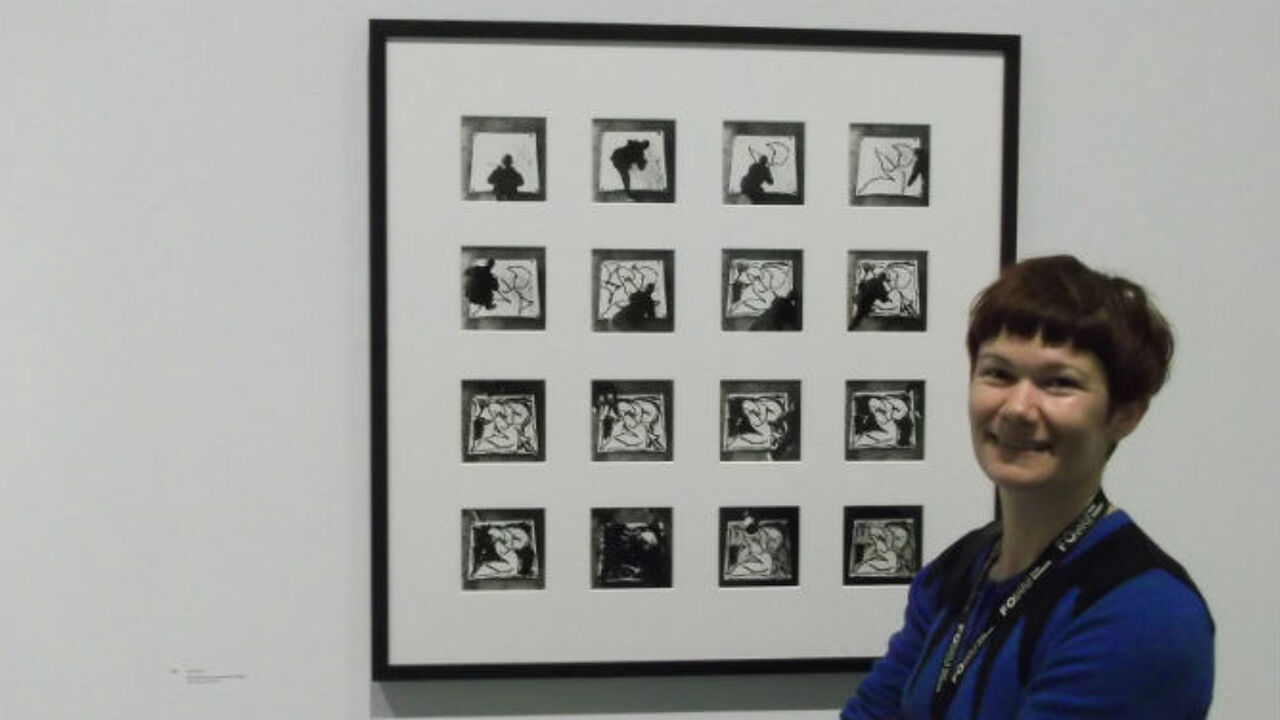 Exhibition co-curator Tamara Berghmans: "Suzy stopped school at a very young age. Already at the age of 16 she was interested in art and after the course at Agfa-Gevaert she moved on to Stuttgart in Germany where she trained with Adolf Lazi. Later she switched to the Netherlands where she followed an internship with the influential Dutch photographer Cor van Weele. Her younger sister Lou joined her here too. She also underwent the influence of Otto Steinert's Subjective Photography."
Still in their teens Suzy and Lou Embo were fêted by the Flemish bourgeoisie. Barely 20 Suzy was honoured with a first solo exhibition at the Ostend Kursaal in 1956. A frequent visitor to the seaside in her youth and familiar with the port of Antwerp, the engine of the city's prosperity, we see how these two locations inspired Embo's first steps in photography. Here too we can view the original photograms that Embo made during her internship with Cor van Weele. These are photos made without a camera. Thanks to Craeybeckx the sisters' photos were already appearing in the Agfa-Gevaert publication Fotorama. Embo also took part in the exhibition 'Invented Images' at the Brussels Fine Arts Museum that provided a Belgian translation of Germany's Subjektive Fotografie. Embo's graphic and high contrast images fitted in well with this movement that experimented with pure photographic techniques and emphasised personal expression.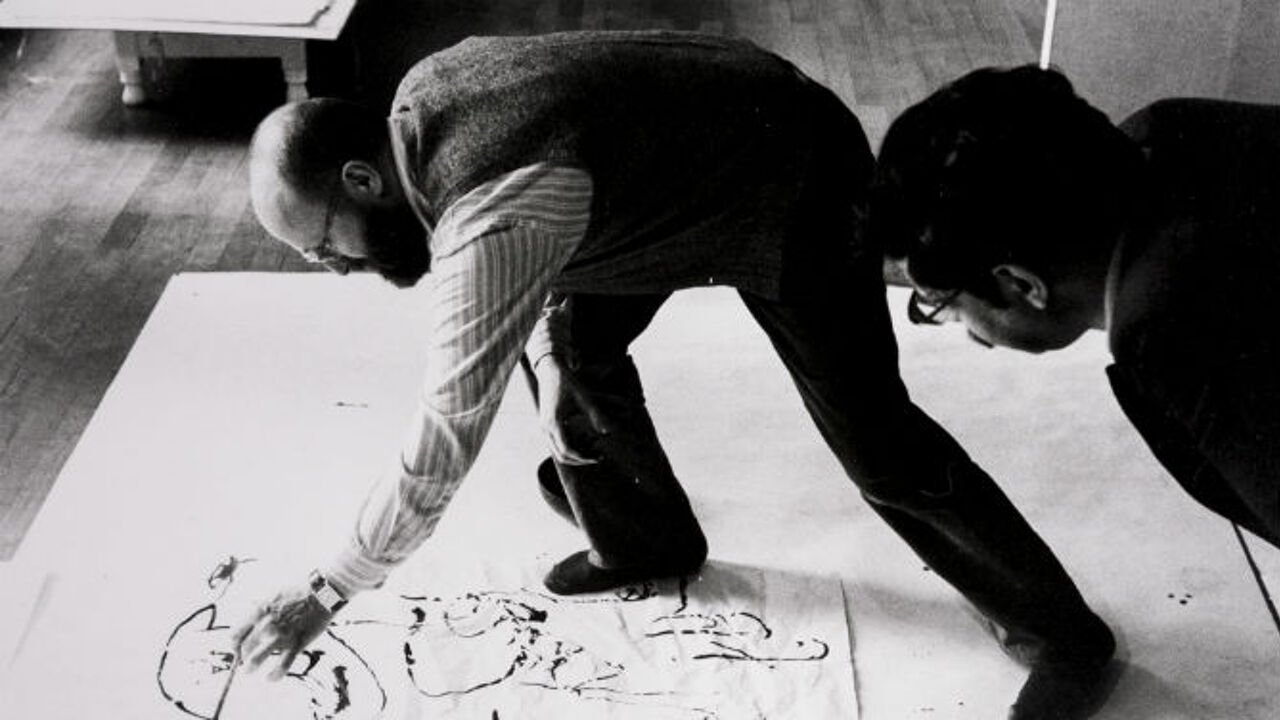 Co-curator Tamara Berghmans: "The exhibition builds on the Suzy Embo archive that FoMu acquired in 1996. It contains 50,000 items, prints, contact sheets, slides, letters and other documents."
"By coincidence Suzy Embo meets Belgian Cobra legend Pierre Alechinsky at an exhibition. By the Sixties the heyday of Cobra is past and Alechinsky has established himself in an artists' commune at an old village school in La Bosse, some 80 km north west of Paris. Alechinsky asks Suzy to come and make photographs of the sculptures of his friend Reinhoud d'Haese. Reinhoud comes to collect her in his tiny Citroën car and this is the start of a whirlwind romance. They fall in love and marry."
"Suzy lives in the artists' commune in La Bosse and is a privileged witness. She is never without her camera and is able to record the entire creation process of many works of art as well as make intimate un-staged portraits of the many artists."
Embo now concentrates on un-posed portraits of artists and her series.
Tamara Berghmans: "Suzy's photos play with black and white. She uses little light and develops them herself. Her most famous series shows "jam sessions" with Alechinsky when she records the various stages that go into creating one of his masterpieces."
The exhibition is fortunate to include one of these series together with the final product, Les yeux ouverts on loan from the Frans Hals Museum in Haarlem (The Netherlands).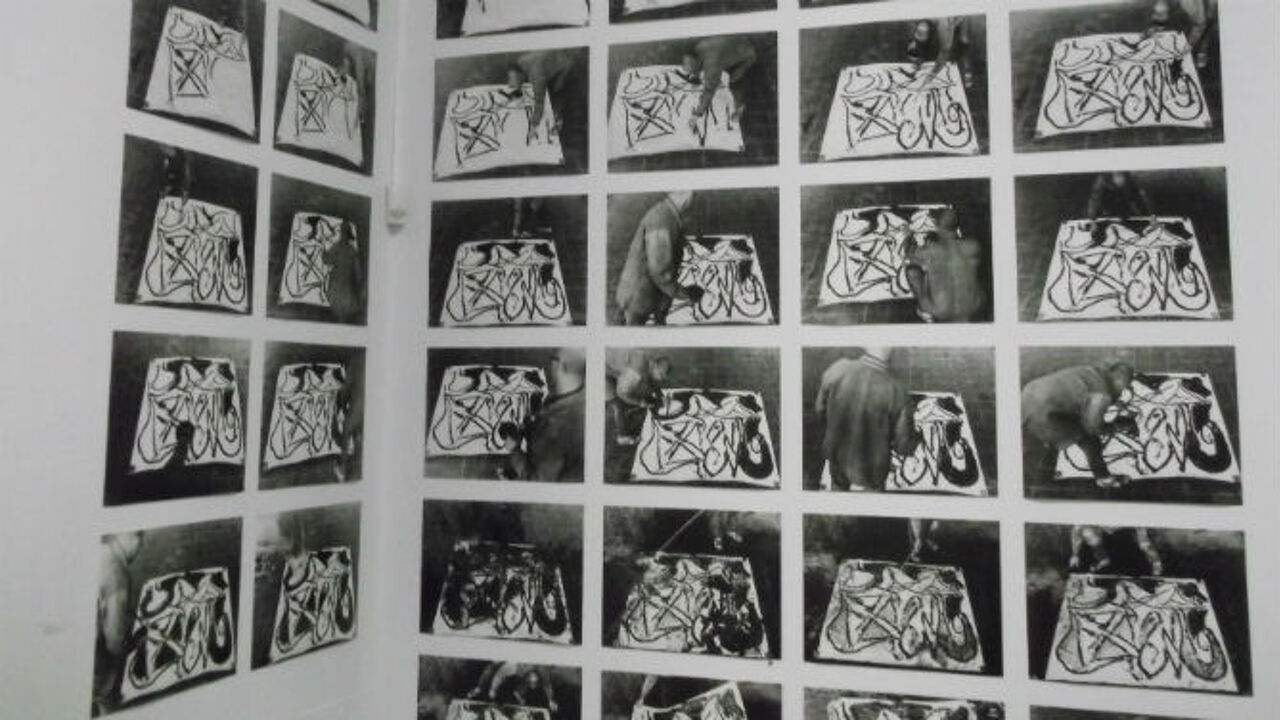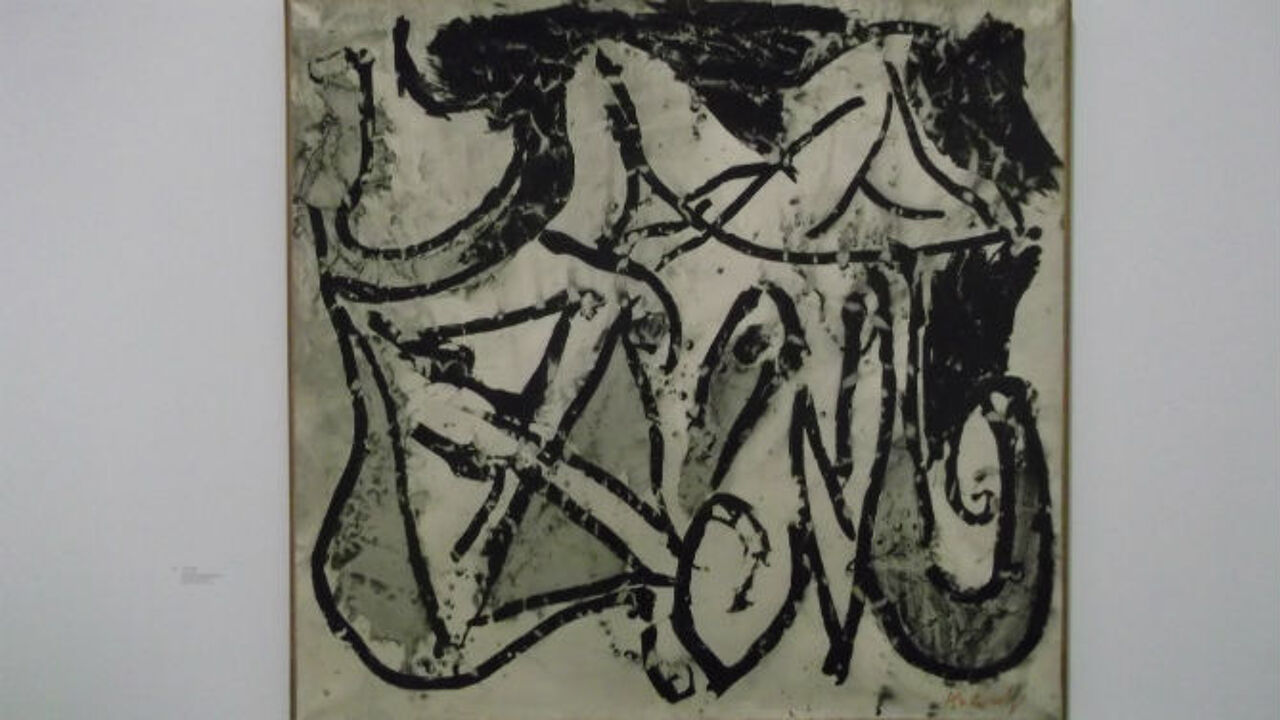 Embo also produces the photos for Alechinsky's book Titres et pains perdues. In 1967 she visits the world famous carnival in the Walloon town of Binche together with Alechinsky and another Belgian artist, Pol Bury. Their visit results in a thousand black and white photos recording this event.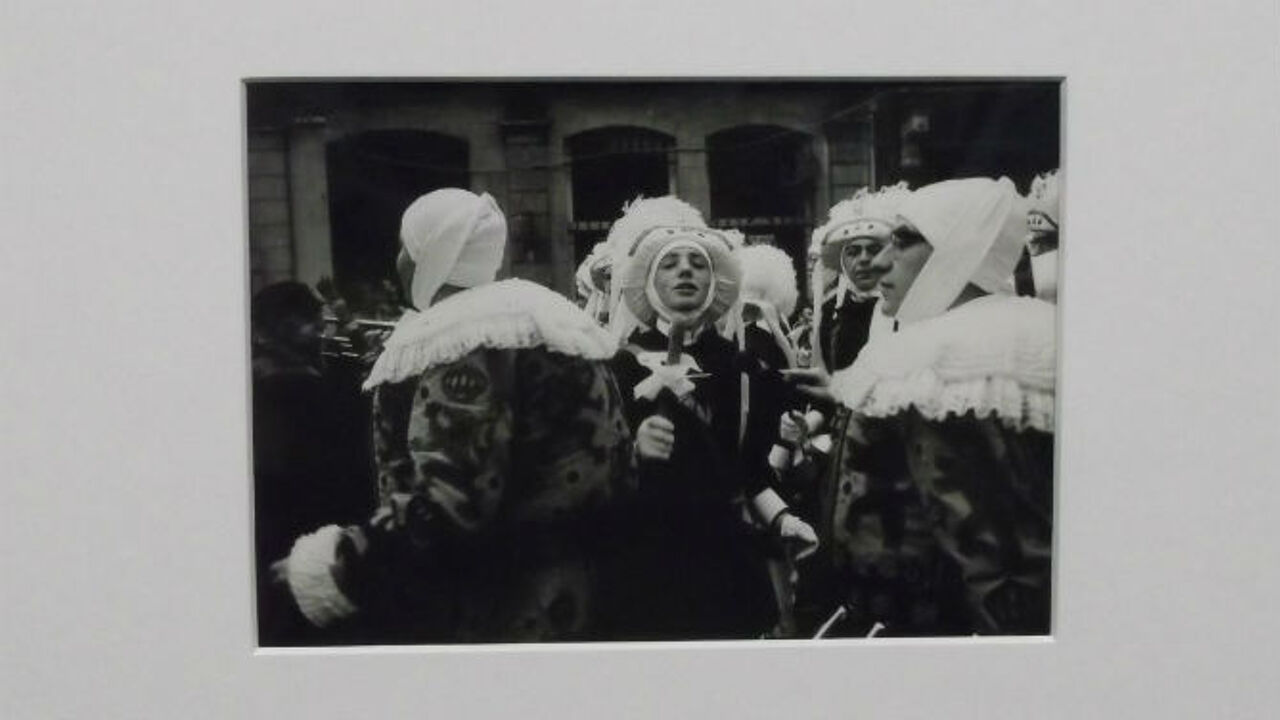 In 1966 Reinhoud d'Haese's work is selected for the Belgian pavilion at the Venice Biennial and Suzy too joins him there. This results is Les persiennes vénitiennes, one of her most impressive series, showing the curtains or blinds at cafes and restaurants on St Mark's square.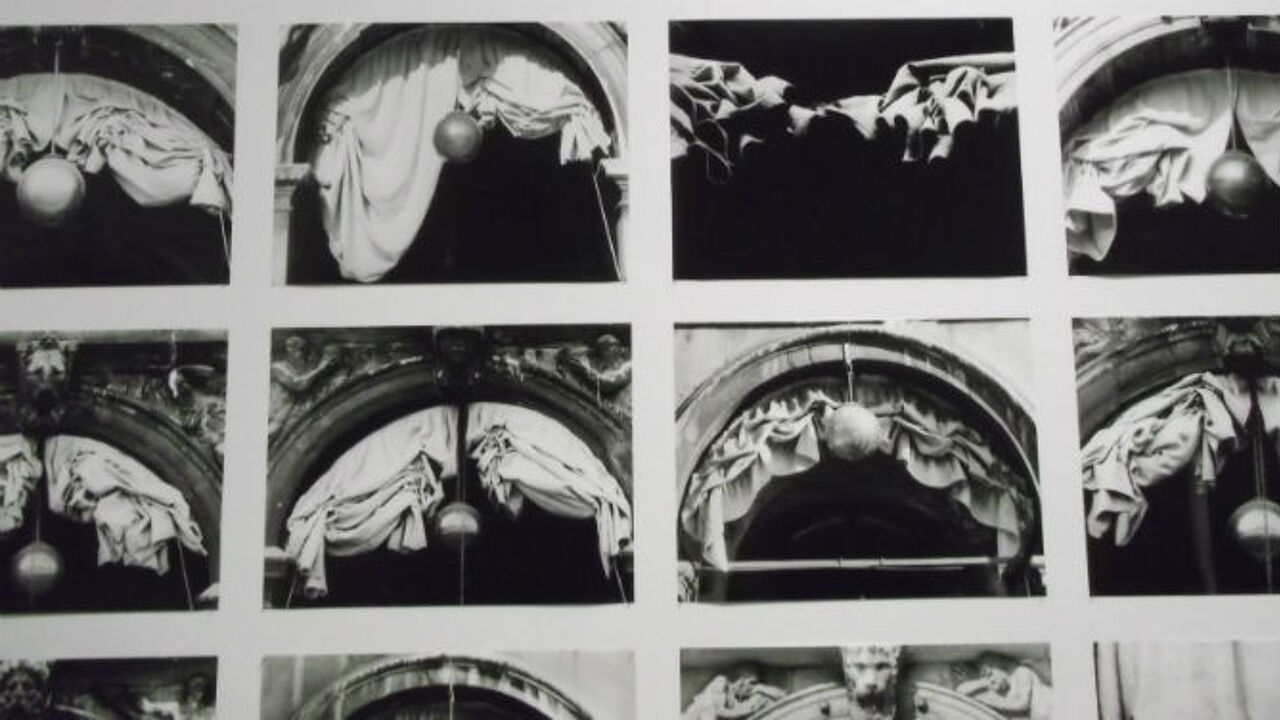 In '67 the couple visit New York where Reinhoud d'Haese has an exhibition in the Lefebre Gallery. Embo experiments with Street Photography producing a collage of New York life. Back home her works record dance and theatre including Maurice Béjart's choreography of the ballet Le sacré du printemps. By this time her love affair with d'Haese has run its course and they divorce in 1969.
Embo befriends the Belgian surrealist poet and painter Christian Dotremont producing photos recording the creation of his works. Sadly eye problems put an end to Embo's professional career as a photographer, but this cannot thwart her artistic spirit and together with Dotremont she produces Sionna, an art journal named after the River Shannon in Ireland that is printed on Seventies computer fanfold paper that had been dumped out.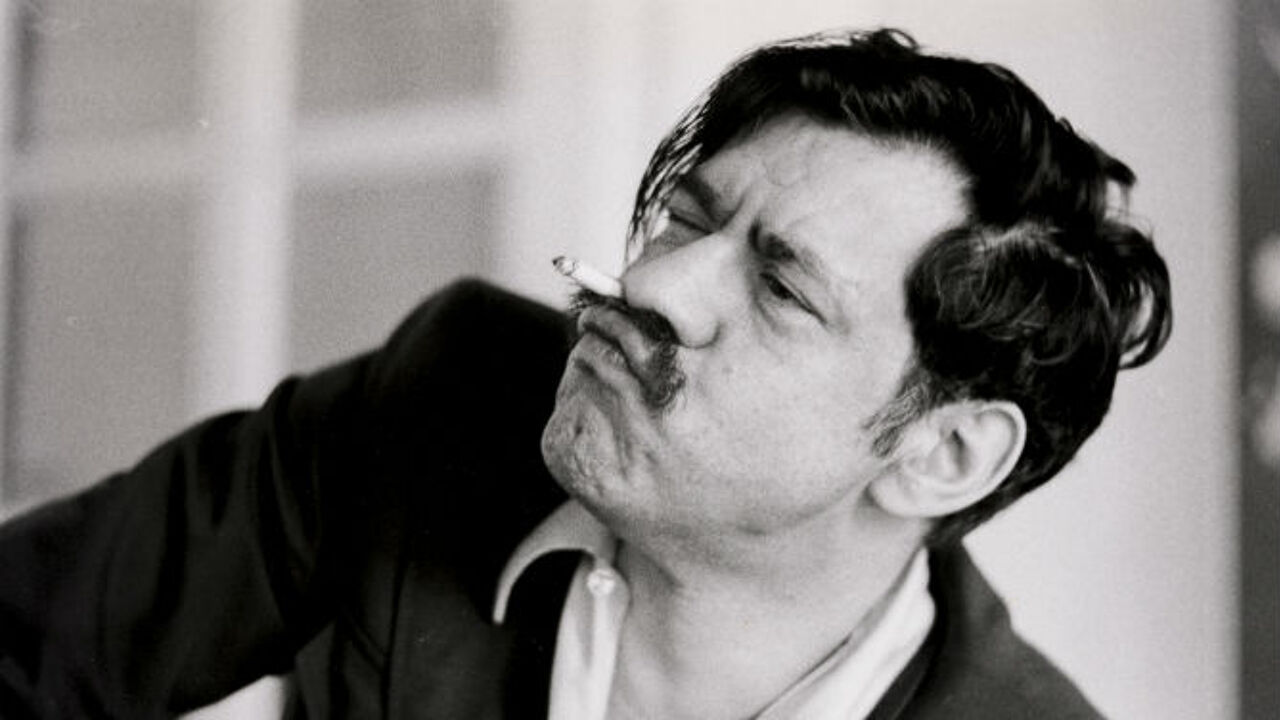 Suzy Embo. Artiste photographe – Photographe d'artistes runs at the FoMu, Waalsekaai 47 in Antwerp until 8 October 2017.