Brussels police officers: "We weren't allowed to do anything"
A number of Brussels police officers that were on duty during Saturday evening's riot have spoken in anonymous interviews about a numerous factors that made their work unnecessarily difficult. The group of four young officers that were on duty on Saturday evening told VRT News that "This is painful and frustrating". They have chosen to remain anonymous as "otherwise we can start looking for another job".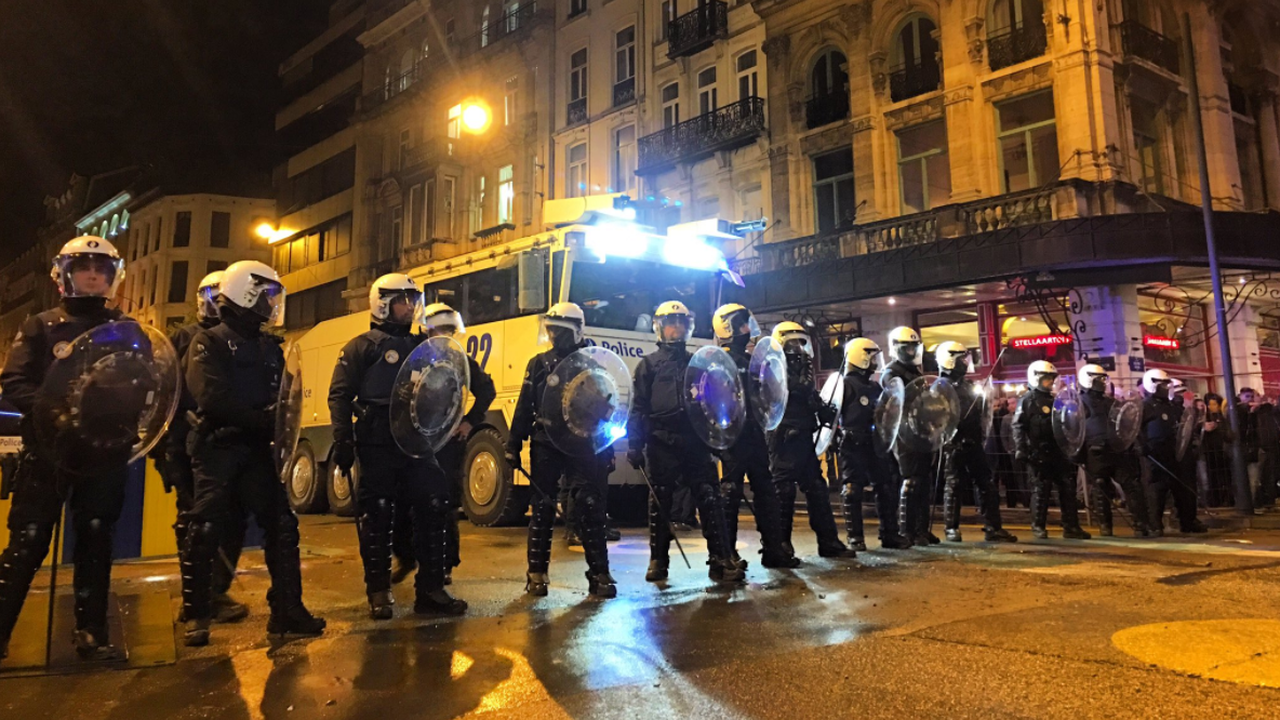 When the celebrations for the Moroccan national team's qualification for next year's World Cup degenerated in to a riot there were far too few police officers on the ground to contain things.
The Brussels Local Police Service has come under fire with witnesses and local shop-keepers whose businesses were attacked saying that it took a very long time before the police service took action.
Meanwhile, the Brussels-Capital Elsene Local Police Service stresses that the priority was to restore public order before protecting the shops and that this was difficult as various groups were causing an affray at various different locations.
The Brussels Police Spokesman Olivier Slosse told VRT News that the police were well-prepared and have enough officers.
However, "We received a lot of calls at once and we had to make a selection. Our priority is to restore public order.
However, the police officers that were on the ground paint a very different picture.
"His explanation is no reflection at all of the reality on the ground", they told VRT News.
"Not enough manpower to act"
The police officers say that there were a whole list of elements that contributed to making an effective police operation impossible".
"They was simply not enough manpower provided for us to be able to act".
"Whatever those above us say there wasn't enough manpower provided for the eventuality that Morocco would qualify, let that be clear".
"It wasn't until during the match when they saw that there were a lot of people and a lot of incidents on the Stalingradlaan that they realised that things might get out of hand. By this time our colleagues were being pelted."
"No time to act"
"On the Lemonnierlaan were saw that there was looting. This was in front of our very eyes. We weren't allowed to act as this might make the situation escalate."
"Our colleagues from the fire service weren't able to do their work either. They tried to put out an car that was on fire, but were suddenly pelted by youths and were forced to retreat".
All this is despite the police in the capital being well-equipped to deal with riots. "We have got teargas and rubber bullets. The only thing we don't have is the formal permission to use them.
"We were taken by surprise. It can happen, but what we see with hindsight is that is that things can just run their course as long as it is outside the UNESCO-zone (the historic centre of the city around the market square.
 
"Reinforcements requested"
When it became apparent that the situation was getting out of hand, the decision was taken to ask other police services for reinforcements.

"And that took far too long. One police service for the whole of Brussels could resolve this and a number of other issues. As long as there are 6 local policing areas in Brussels these kind of issues will arise."