Short but intense storm hits the coast: collapsing building crane kills one person
The Belgian coast has been hit by a storm, with gusts of wind of up to 120 km/h last night. The battering wind made a huge building crane collapse at the coastal resort of Nieuwpoort, crashing into an apartment block and killing one person. Another victim is still fighting for his life in hospital. The local Mayor says the damage is enormous: "It looks like a war zone." There was also minor damage in Antwerp and East Flanders.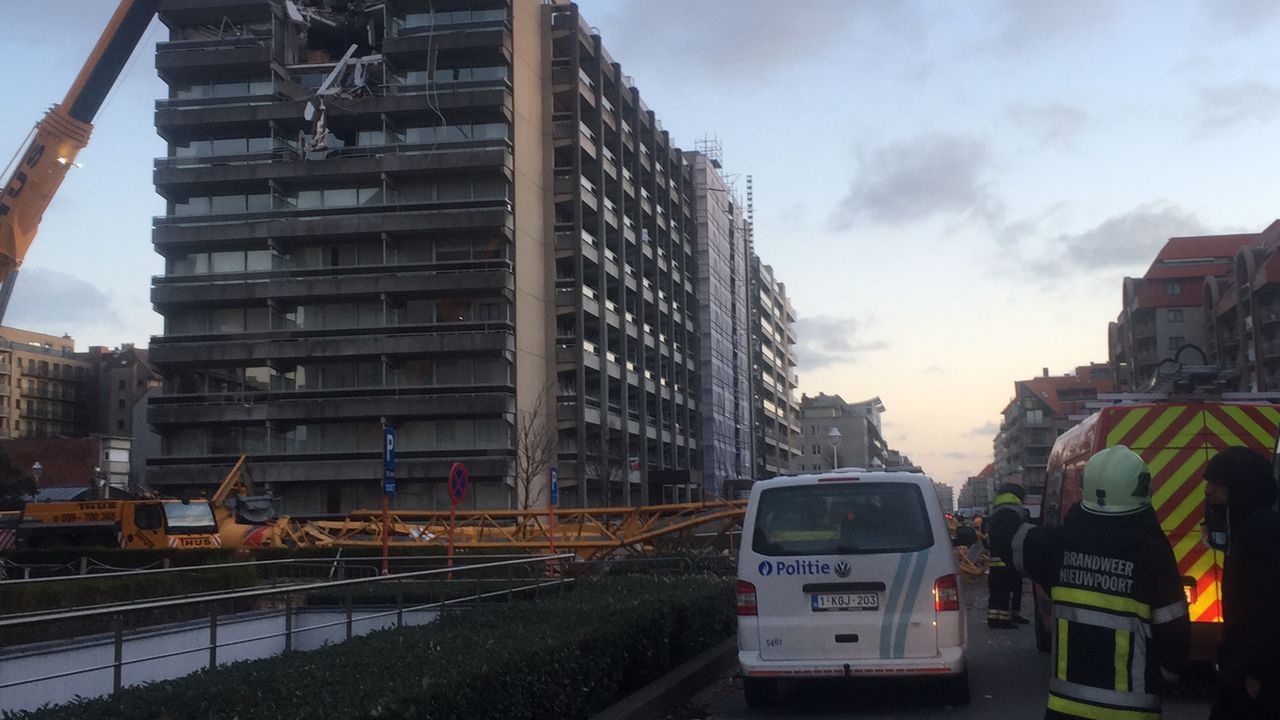 The building crane ended up in a block of apartments nearby. Most damage was done by the counterweight used to keep the crane in balance: concrete blocks of 20 tons. The giant blocks smashed right into the building.
A 73-year-old woman living in the apartment died on the spot. Her husband is still in hospital after sustaining heavy injuries. Because of the danger of falling boulders, the area was closed and other construction cranes were driven to the scene to remove loose stones. Luckily, nobody was hit on the ground, though various passers-by say the accident happen.
The damage is enormous, with Nieuwpoort Mayor Geert Vanden Broucke talking of a "war zone". The apartment building "Mosselbank" was severely damaged. The three upper floors have been declared unfit for habitation by engineers. 70 people were evacuated during the works yesterday.
Football game cancelled; house loses roof
The building crane caught most of the attention, but the storm caused havoc elsewhere as well. Part of the roof of the KV Oostende football club grandstand was lifted by the gusts of wind and blown away, just hours before the top flight clash with KRC Genk. The match was cancelled for security reasons. Commercial director Patrick Orlans said "we often have gusts of wind here at the coast, but I have never seen anything like this."
In Antwerp, the area around the Antwerp Tower (at the Keyserlei)  was closed. Insulation boards had come down because of the wind. (bottom photo). 
In Zwalm (East Flanders) a roof was blown off a house while in Zottegem an uprooted tree ended up on the provincial road in Velzeke. A similar incident happened in Brakel.