What will change from 1 January 2018?
The New Year brings with it a host of new measures that will affect us in our everyday lives. As in previous years Flandersnews.be provides you with a list of the measures.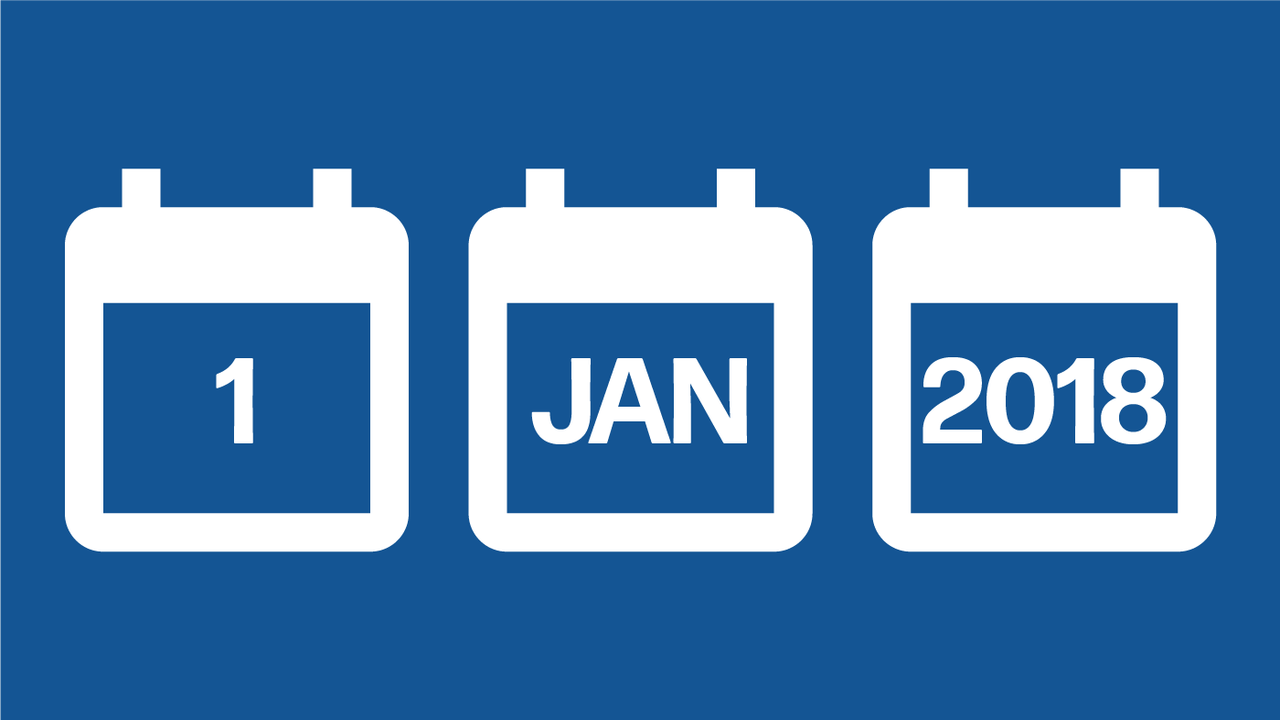 Taxation measures
The tax on the purchase and sale of shares and bonds is set to rise again. In the case of shares it will rise from 0.27% to 0.35%. For bonds the rise is from 0.09% to 0.12%.
Meanwhile, the level of income from interest from savings accounts that is exempt from tax is being halved. Currently the first 1,880 euro/annum gained from savings account interest is tax free. This will fall to 940 euro/annum from tomorrow.
Corporation tax is also set to fall from 33% now to 29% from 1 January 2018. Small and medium-sized company will enjoy an extra tax cut.
Companies employing less than 50 people, with a turnover of less than 9 million euro and assets of less than 4.5 million will only pay 20% on the first 100,000 euro that is subject to corporation tax.
Meanwhile, the so-called "extra crisis contribution" falls from 3% to 2%.
The compensation given to small and medium-sized businesses for nuisance and loss of earnings caused by road and other infrastructure work in their vicinity will become exempt from tax.
This covers both compensation granted on the basis of an existing federal law and compensation granted on the basis of the new regional law applicable in Flanders.
The level of tax levied on computers and phones given to employees by their employers is also being reduced. At the same time the level of duty on drinks containing sugar of sweeteners is going up.
Pensions
The rules on early retirement are being tightened. In future, anyone wishing to take early retirement must be at least 63 and have worked for at least 41 years.
Previously the lower age limit was 62 and a half. Meanwhile, the level of minimum pensions for that have worked a full-length career are to rise by 0.7% to 1,220.92 euro/month for a single person.
 
The world of employment
The tax shift means that Belgians will see their take home pay rise by between 1.5% and 3% from January 1. According to the HR consultancy SD Works we will see our take home pay increase by between 40 and 45 euro/month.
A married person with no dependents and a gross monthly income of 2,000 euro/month will see their take home pay rise to 1,567.78 euro/month, 45.27 euro/month more than now. The same person earning 3,000 gross will take home 1,919.67, which is 46.20 euro/month more than is currently the case.
It will also become easy for companies to pay out profit-related bonuses. From 1 January companies will be allowed to pay out up to 30% of their wage mass in the form of such bonuses.
Also from 1 January a new scheme designed to help those that have been employed for a long time or have difficulty finding working will be launched. The scheme gives them the opportunity to gain experience and confidence by working in their local communities.
Meanwhile, the flexi-jobs scheme is being extended from the hospitality industry to the retail sector.
The Flemish Employment and Vocational Training Service VDAB will now look at a job-seeker's abilities before offing him/her a job. However, it will also be easier to sanction those turning down a suitable job offer.
There is good news for self-employed people that fall ill. From 1 January 2018 they will be entitled sick pay from their health mutual after just two weeks rather than a month as is currently the case.
Energy
The price of electricity in Flanders will fall from January 1 thanks to a reduction in the Flemish energy level to 9euro/annum/household. Households will pay an average of 4 euro/annum to help finance green energy projects.
Transport and the environment
From 1 January the number of roads in Flanders and Wallonia on which road charging is in force for vehicles above 3.5 tonnes will increase.
In Wallonia the charge levied will increase for vehicles in all weight categories, while in Brussels and Flanders this will be the case only for vehicles in the Euro 5 category.
The system of fines for road traffic offences is also being modified to make the level of fine better match the seriousness of the offence committed.
Meanwhile, airlines will be obliged to carry out so-called conformity checks. This means that they will need to check that the name on a passengers' boarding pass is the same as that on their identity papers.
From tomorrow, those wishing to build or renovate will have to apply for just one permit rather than a building and an environment permit as is currently the case.
Elsewhere, those using "speed pedelecs", fast electrically-powered bikes will be entitled to up to 0.23/km from their employer in travelling expenses. A system of travelling expenses for normal bicycles has existed for a number of years.
 
Other measures
From tomorrow everyone that is baptised into the Roman Catholic Church will be given an "Identity card for Christians".

Flemish civil servants will no longer be able to save up an unlimited number of holiday days.
GPs will be able to charge 1.68 euro more for a consultation. However, going to the doctor's won't cost us any more as the amount we get back from the health mutual will also rise by 1.68 euro.
A number of competencies are being transferred from the provinces to the Flemish regional or local municipal levels of government.
It's goodbye for some and hello to others as the new licencing period for independent local radio in Flanders starts tomorrow.
Finally, the City of Ghent is to launch a new system of proactive checks on student digs in the city to ensure that they are safe and offer comfort to those lodging in them. The digs will be graded on the basis of the results of the checks.