Eupen off the bottom after 3-2 win
Four of the weekend's Belgian First Division games were played on Saturday evening. It was all change at the Bottom with KAS Eupen beating Sporting Lokeren by 3 goals to 2. The team from the German-speaking town in thee as of the country leapfrogs over KV Mechelen that draw 1-1 at home earlier in the evening against 2nd place Sporting Charleroi.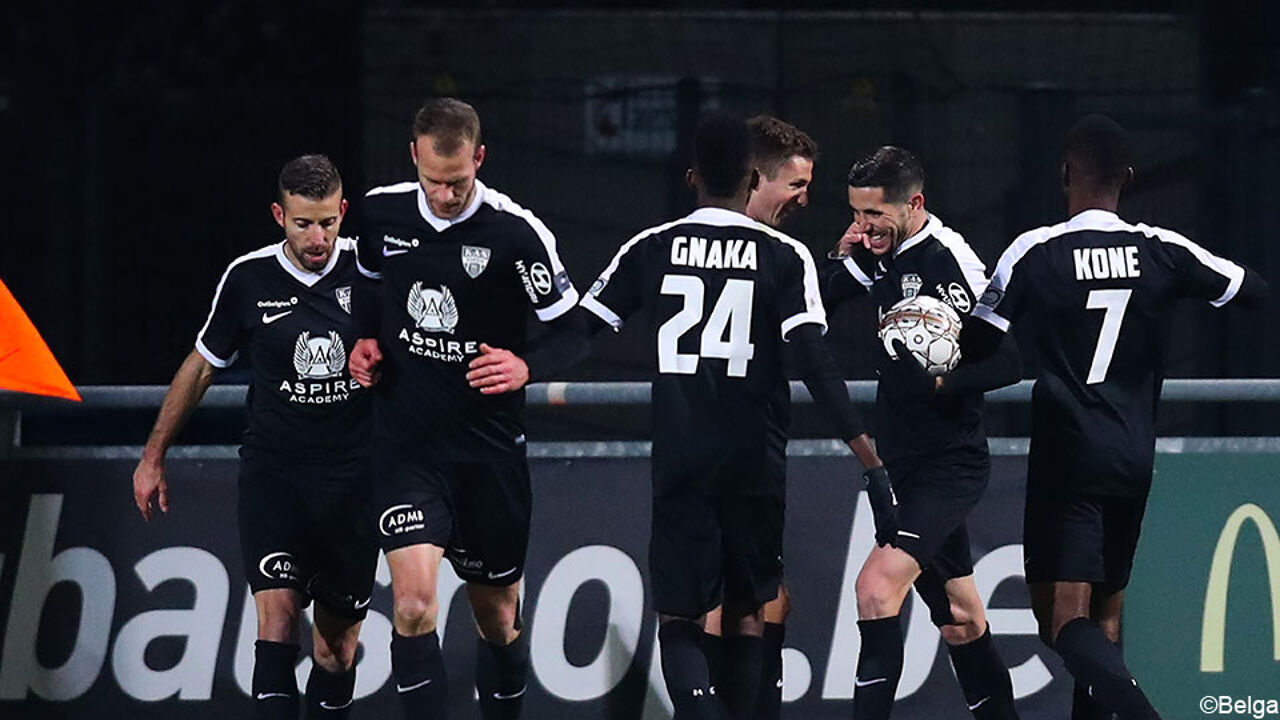 Elsewhere, Marc Coucke ended his tenure as Chairman of KV Oostende on a high. KVO beat Sint-Truiden 2-0 in Ostend on Saturday evening.
A late goal saw AA Genk moved up into 3rd place (until Sunday afternoon at least). The Buffaloes beat Waasland-Beveren by 2 goals to 1 in Beveren.
An important three points for KAS Eupen
Garcia's goal 10 minutes from time might well be the goal that saves KAS Eupen from relegation. The goal came just 2 minutes after Silas Gnaka had been sent off for his second bookable offence of the game.
Sporting Lokeren that are also still not 100% out of relegation danger, opened the scoring on 7 minutes through Hupperts. However, goals from Raspentino on 24 minutes and Ocansey on 37 minutes made for a half time score of 2-1 to KAS Eupen.
Cevallos made it 2-2 12 minutes into the second half. Despite having gone down to 10 men Eupen went flat out and Garcia's goal was enough to give the Panda's at 3-2 victory.
KAS Eupen are now second to bottom with 24 points from 28 games. Sporting Lokeren are 1 place higher in 14th place with 28 points.
Missed penalty costs KV Mechelen dear
Mats Rits' second half penalty miss dealt KV Mechelen's relegation battle a blow on Saturday evening.
Despite a strong performance against the team currently second in the Belgian First Division Sporting Charleroi Malinwa came no further than a 1-1 draw.
Both goals fell in the 1st half with Bedia opening the scoring for Charleroi on 13 minutes and Mera equalising on 37 minutes.
KV Mechelen are now bottom. With 24 points and 5 wins they have the same number of points as KAS Eupen, however Eupen have scored more goals.
Sporting Charleroi remain second with 50 points from 28 games.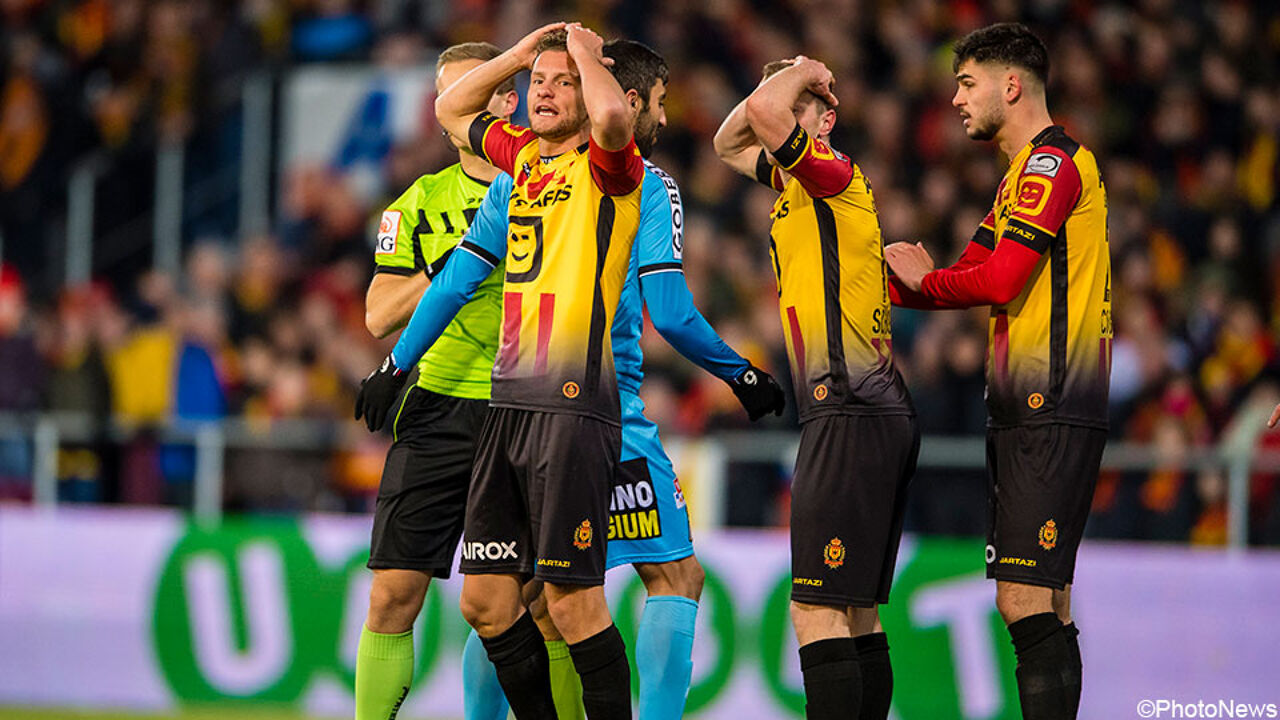 Injury time goal gives AA Gent victory
Despite having been 1-0 down for much of the match, AA Gent beat Waasland-Beveren in the East Flemish derby 2-1.
Thelin hit the back of the net net yet again for Waasland-Beveren on 18 minutes.
However, goals from Bronn on 82 minutes and Jaremtsjoek in the second minute of stoppage time saw the Buffaloes take all three points.
The result sees AA Genk leapfrog over Sporting Anderlecht into 3rd place. They now have 47 points from 28 games. Waasland-Beveren are 10th with 35 points.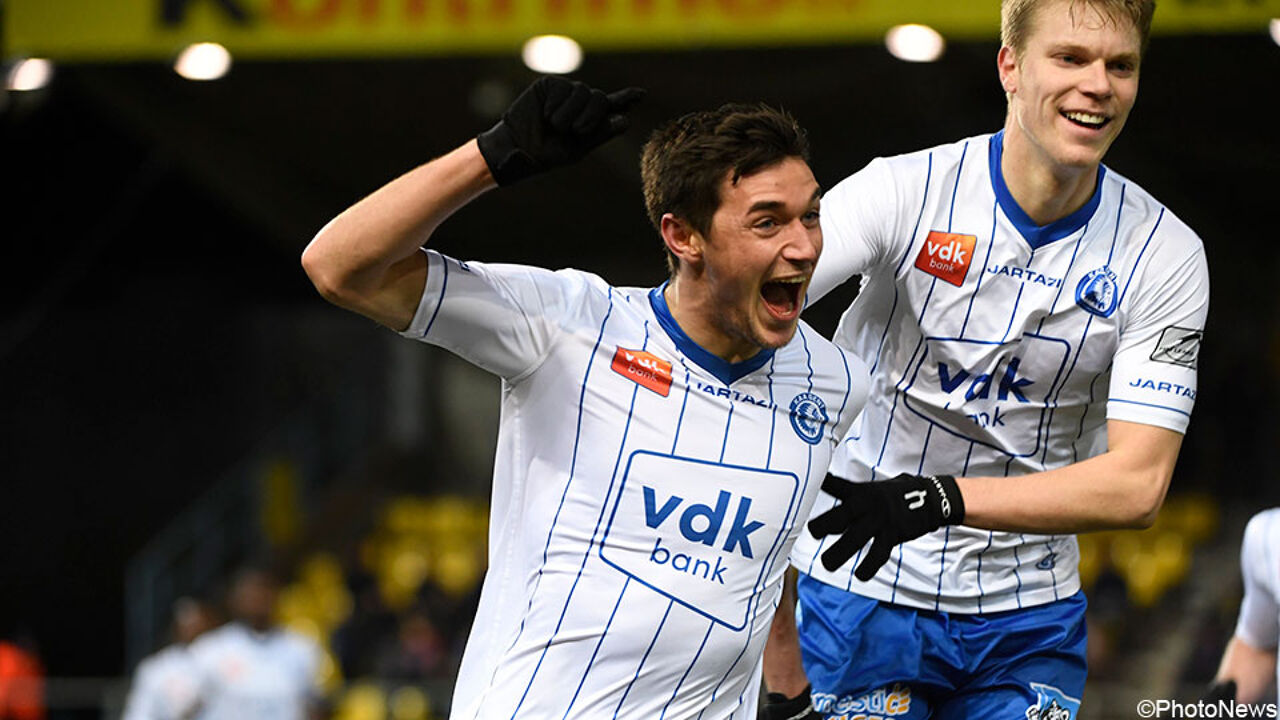 Coucke's reign ends on a high
In the club's last match under Marc Coucke's Chairmanship. KV Oostende enjoyed a 2-0 home win against Sint-Truiden. Both KVO's goals came in the first half from Bjelica on 9 and 36 minutes.
The results means that Sint-Truiden can pretty much kiss their Play-off I hopes goodbye. The Canaries are now 9th with 36 points from 28 games. KV Oostende are 11th with 33 points.