Ars Viva 2018 at Ghent's S.M.A.K.
Ghent's contemporary art museum, the S.M.A.K., is hosting this year's European outing for Ars Viva, one of Germany's most prestigious prizes for budding artists. Until 13 May 2018 works by Anna-Sophie Berger, Oscar Enberg and Zac Langdon-Pole are on show.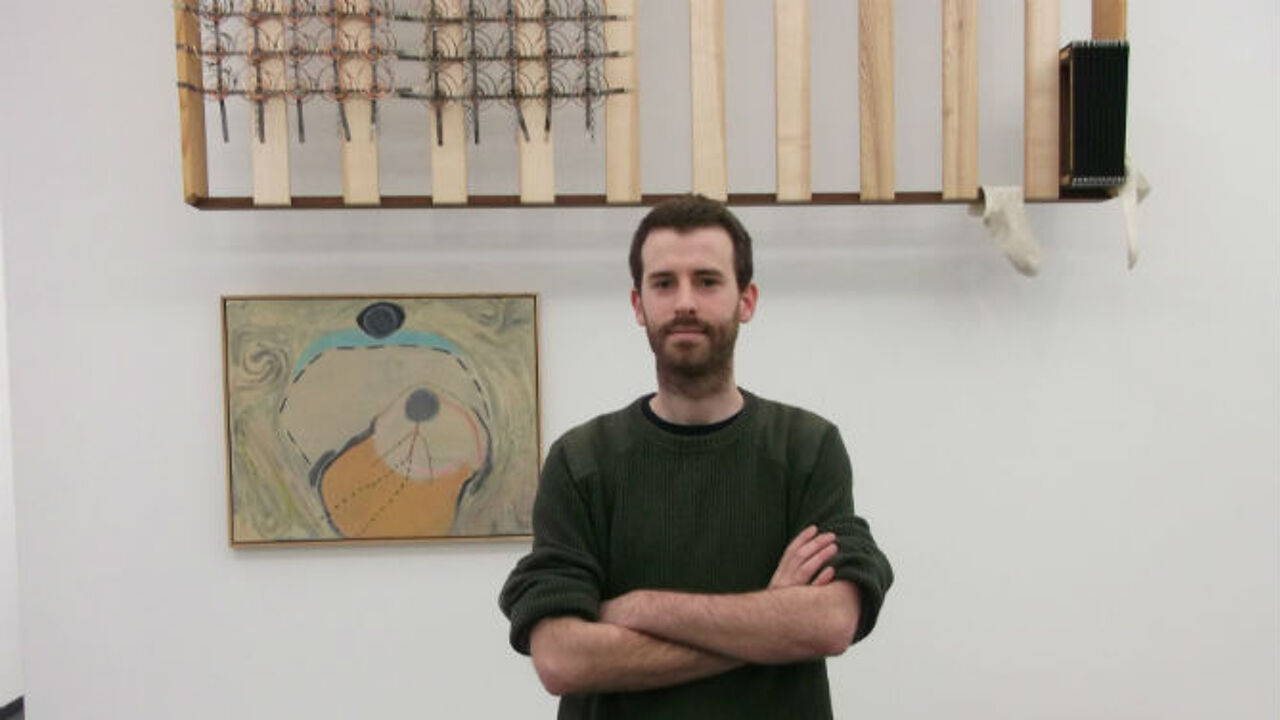 Ars Viva is a prize that has been awarded by the Federation of German Industries for over six decades now. It recognises ground-breaking young talent. This time round a field of over fifty participants was whittled down to three. Contestants have to be living and working in German, but their nationality is not an issue. This year the award went to Austria's Anna-Sophie Berger, who shares the prize with two New Zealanders: Oscar Enberg and Zac Langdon-Pole.
The three winners get two exhibitions: one in Germany and a second at a European destination. This year Belgium's S.M.A.K. was selected for this honour. The exhibitions are held at different venues every year re-enforcing the prize's ability to strengthen international ties and co-operation.
In addition to the two exhibitions and a significant sum of money Ars Viva winners also get an opportunity to live and work on Fogo Island in Canada's Newfoundland.
S.M.A.K.'s Wouter De Vleeschouwer (photo top) : "The exhibition first visited Munich's Kunstverein. Today it is on show at S.M.A.K. Here it became three mini solo exhibitions and Anna-Sophie Berger even made several works especially for S.M.A.K."
"The artists are eager to contrast their work with the wider setting in Ghent and enter into a dialogue. Zac Langdon-Pole's show includes a journey outside the exhibition. Visitors are encouraged to make their way to a local florist. Here they will receive a copy of a newspaper publishing an article that first appeared in 1957 in protest against police action targeting an "illegal" florist."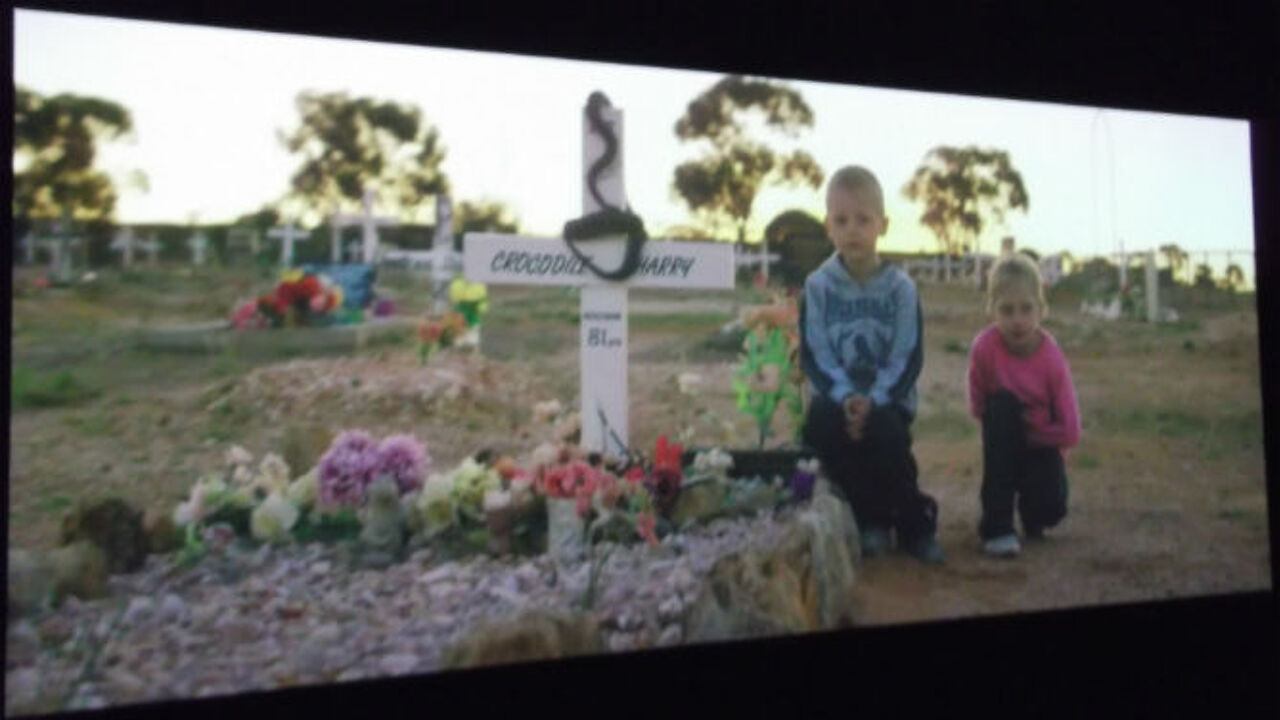 Migration is a theme that occurs again and again in this exhibition. Oscar Enberg's central work is a video focusing on Coober Pedy, a small Australian town centred on an opal mine, and its famous inhabitant, Crocodile Harry. Protagonists in the film all go in search of Harry. The mine was a magnet for prospectors including Crocodile Harry.
After a stint there, Harry started a collection in a grotto. Oscar Enberg's sculptures manufactured from strange objects attempt to recreate Harry's man cave. Harry was often drunk and a notorious womaniser, two traits that are reflected in Oscar Enberg's works. Coober Pedy has served as the backdrop of several Hollywood movies. The mine and film production brought numerous outsiders to the town that has been exploited by all. Oscar Enberg's video is about the people who end up here and how they behave as guests or intruders.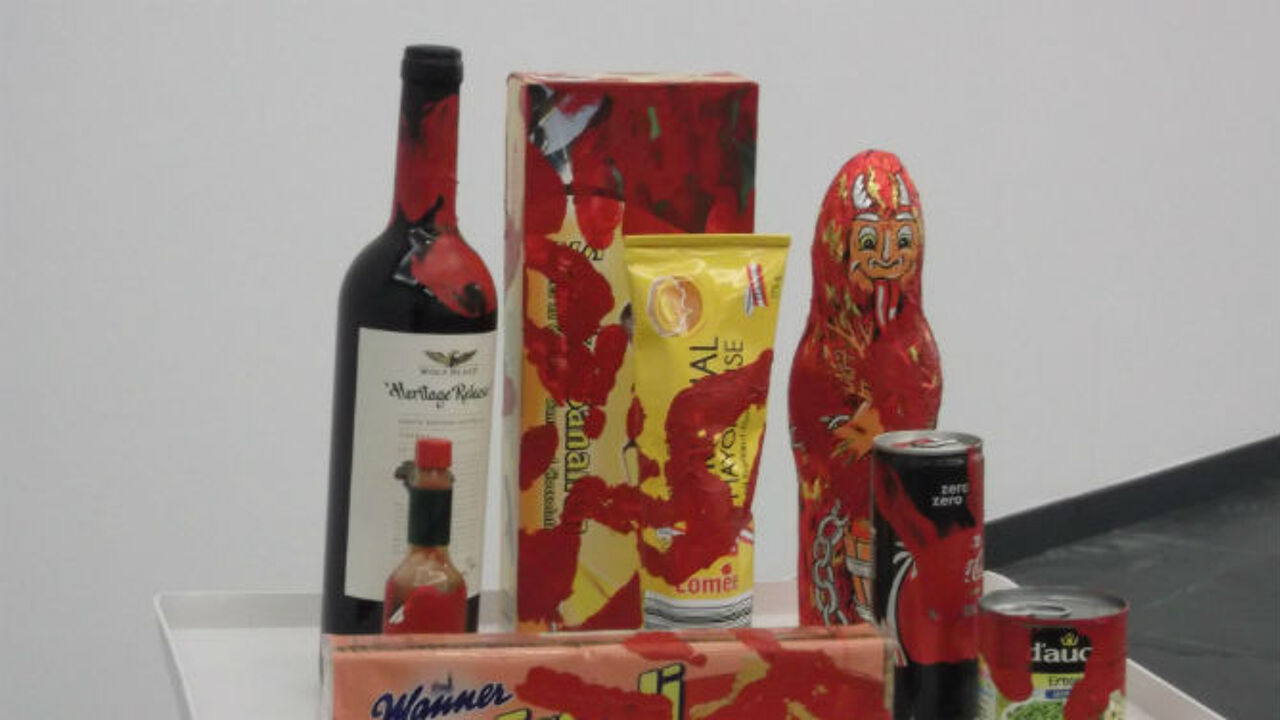 Wouter De Vleeschouwer: "In Munich Anna-Sophie's work was based on two football goals that were slid into each other: it was a movement that created less space. In Ghent the Austrian artist's work is in dialogue with the park outside the museum. She designed four armchairs that ended up in the four corners of the room creating the feeling of space, the opposite to what she attempted in Munich. Anna-Sophie has a background in fashion design. The big variety of textiles used she bought when they were being remaindered."
Another of Berger's works reminds us of her family history. For three generations the Bergers were involved in textiles, but murderous competition meant there was little point in continuing. The exhibition includes historic documents conjuring up images of this family business.
Wouter De Vleeschouwer : "Two other interesting works take the German Playmobil toy as their point of departure. Children are able to create their own world using these toys, but Anna-Sophie warns of the illusion. Playmobil came with clear instructions how to create your world. Children may have the impression that they are free to do as they wish, but they are under great pressure to conform."
In another work 'Complicit' (photo) Berger explores our thirst for a great variety of consumer products that she claims is responsible for excesses.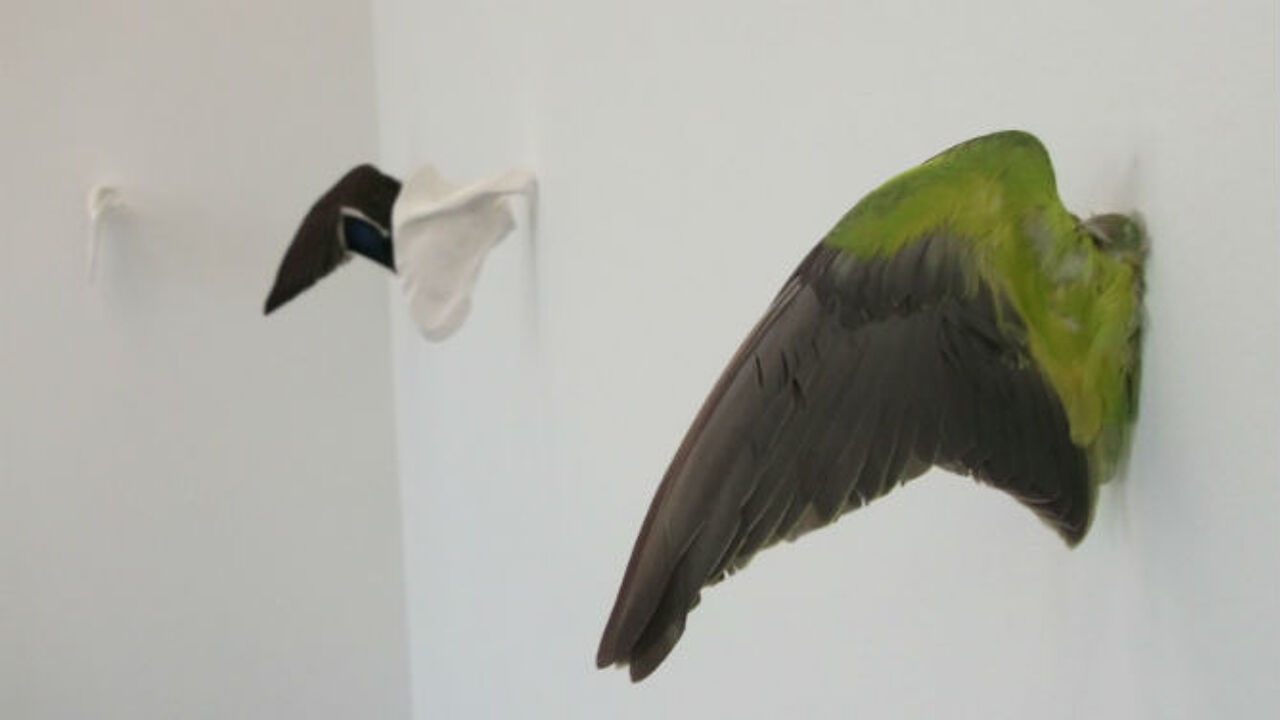 Zac Langdon-Pole designed wallpaper using the feet of a Bird of Paradise. When the bird was first discovered in Papua New Guinea it was sent to Europe with the feet and wings lopped off. For a long while Europeans thought the bird was more like a flying serpent that never touched the ground until it was dead. The story illustrates how myths start and how easy it is to get hold of the wrong end of the stick.
'Assimilation Study' draws on the similarities between man's shoulder blade and the wings of birds, pigeons, ducks and parrots. When it is the season birds undertake migratory flight very similar to the way migrants today risk their lives for a better future.
A longcase clock, a music shelf and a letter desk are more artefacts that have undertaken an arduous journey. The furniture was dispatched to New Zealand by German colonists. Unfortunately, it was already infested with woodworm, a species that was not indigenous to New Zealand, but which colonisers brought in. Langdon-Pole has used gold to fill up the holes made by the worms with stunning result.
Ars Viva 2018 curated by Martin Germann is on show at the S.M.A.K. In Ghent until 13 May 2018. The annual ARS VIVA Prize is awarded by the Kulturkreis der deutschen Wirtschaft im BDI e.V. (Association of Arts and Culture of the German Economy at the Federation of German Industries e.V.)