The title race is back on
Sporting Anderlecht's 2-1 victory away at Club Brugge sees them narrow the gap with the league leaders to just 2 points. Once again the video referee played a big part in deciding how the game went. The start of the top of the table clash was delayed due to technical issues with the communications system that links the video referee to the match officials on the pitch. By 2:45pm the match referee Lawrence Visser was able to start the match.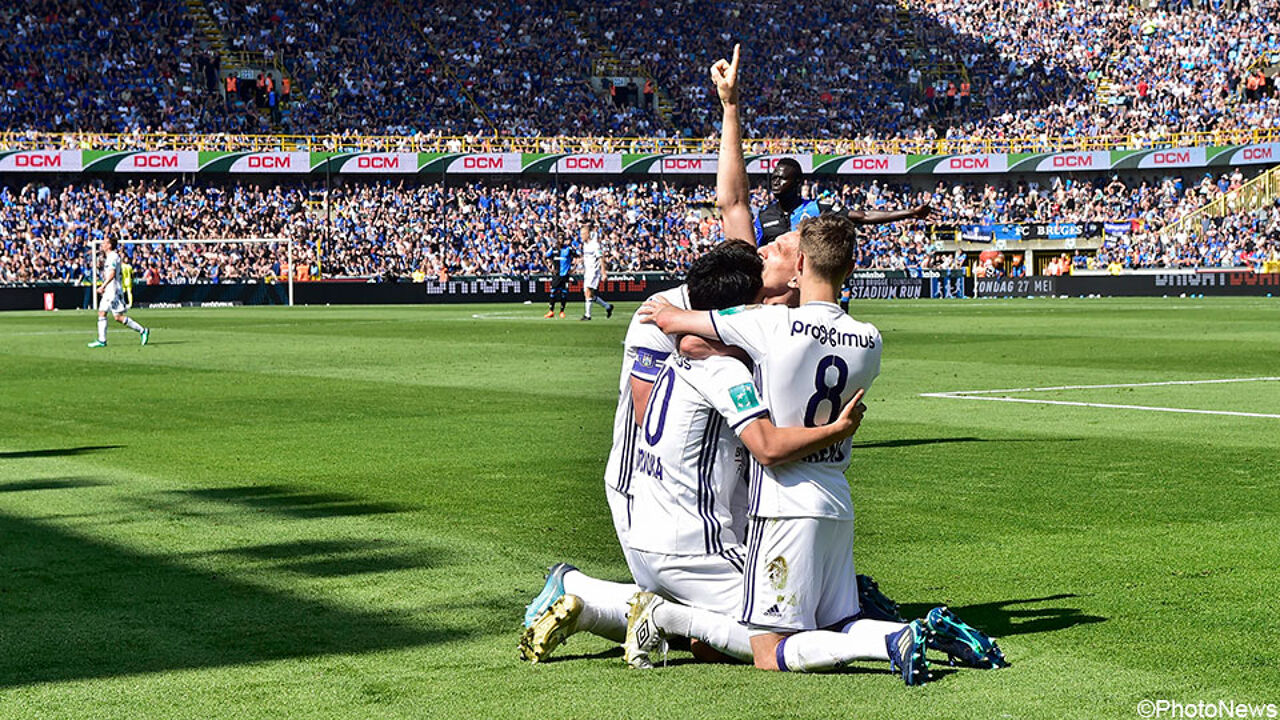 Sporting Anderlecht had gone to Bruges to keep the match under control and not to give Club Brugge any space. They succeeded during the opening stages of the match in which most of the play was around the middle circle.
Two half chances for Club's Vanaken were the sum total of the action in front of goal early on.
The visitors can close to opening the scoring thanks to some fine work by Markovic. He passed by three Club Brugge players. However, Theodorczyk was unable to convert his assist into a goal. A little later a Theodorczyk effort was saved thanks to some excellent goalkeeping by Gaboelov.
 
Slowly but surely Club came into the game. The Anderlecht keeper Sels was almost caught off guard by a Nakamba pass, but bravely through himself between the ball and Mechele to stave off a Club Brugge goal.
Just before half time the match referee Lawarence Visser consulted the video referee for the first time in the game. The video ref said that no penalty should be given for what looked like hand ball inside the box by Anderlecht's Josué Sa. The first half ended goalless.
 
After a strong start to the second half by Club Brugge, Anderlecht took control.
Gerkens waited patiently for the right moment to pass to Theodorczyk and he scored Anderlecht's 1st goal on 58 minutes despite being in an off-side position (photo below). However, the goal stood.
Club Brugge looked downhearted and Anderlecht made the most of it. Dendoncker's well-positioned free kick found Morioka who headed the visitors 2-0 up.
 
The Club Brugge Coach Ivan Leko brought in Jelle Vossen who soon seriously tested the Anderlecht keeper Sels.
Sel also appeared to have saved Diaby's effort on the rebound. However, despite the ball not having completely crossed the line, the video referee said gave to goal and it was 2-1.

Club Brugge smelled blood and the Anderlecht Coach Hein Vanhaezebrouck brought in two extra defenders. Dennis tried and failed to get a penalty for Club Brugge in the dying minutes of the game. However, the video referee ruled, this time correctly, that no penalty should be given.
The result sees Sporting Anderlecht move up to within 2 points of Club Brugge. With 3 games remaining they have 40 points, while Club Brugge have 42 points.