A report on the Migrants in the Maximilian Park
VRT's Majd Khalifeh spent the day in the Maximilian Park in Brussels, a location where many migrants eager to travel to the UK, have set up camp.  Majd spoke with a young man from Eritrea whose ideas about his future in Europe are still somewhat confused.
Hundreds of migrants and refugees are staying in and around the Maximilian Park in Brussels.  Some have failed the asylum procedure.  Others are considering applying, but the vast majority are eager to hop onto a lorry bound for the UK where they hope to build a new and bright future.
Many of the migrants are reluctant to be pictured on camera.  One guy explained how after he appeared on a BBC report in Libya he experienced trouble with local armed gangs. Hagos is his name.  He's 25, studied philosophy in Eritrea.  He explains how he ended up in the European capital: "After a long journey I ended up in prison for four months.  I was held by an armed group in Libya that had control over the trafficking routes. I was forced to work in prison.  I was their slave."
Hagos managed to get onto a boat together with 60 other migrants.   He was picked up when the vessel capsized.  Half the passengers perished: "I hung onto a piece of the boat for hours until we were saved. I was taken to Spain.  I then travelled to Belgium via France."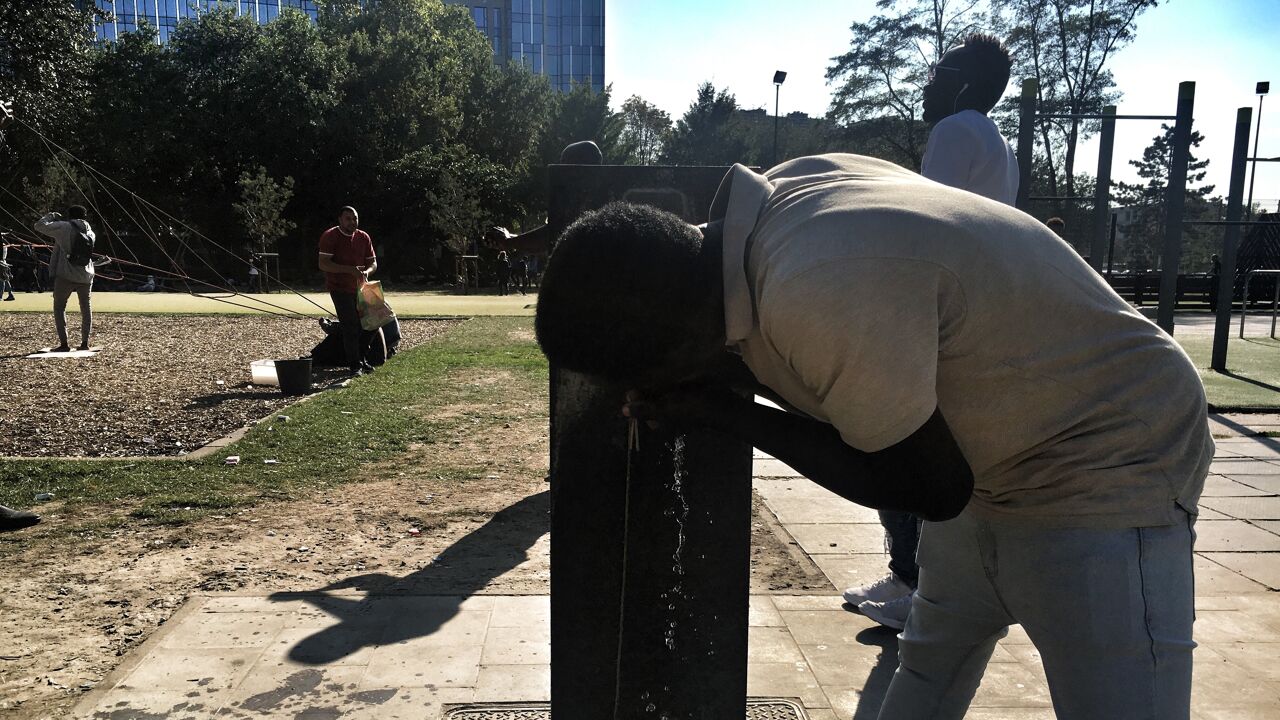 He hasn't got a clear plan for his future.  He describes his situation as "posttraumatic" after his trek through the African desert, his experiences in Libya and the high seas.  It has made it hard for him to think clearly.
"England is the most logical option at this moment.  I will be able to integrate easily and with my English I'll be able to continue my studies."
Hagos hasn't enquired about applying for asylum here: "One day I was arrested.  I had to take everything off including my underpants.  I felt I was being treated like a criminal.  When I was freed I returned to the park."
Hagos has only just discovered the park is located near the immigration department: "I asked a fellow migrant why all these people were standing outside the building.  That's where you apply for asylum I was told."
Quizzed about the situation on the lorries bound for the UK Hagos says drivers have every right to defend themselves and their goods, but hiding on board is the only way to get to the UK.  If we're caught on their lorries drivers have every right to be angry."
Finally, Hagos urges decision-makers to tackle the causes of migration rather than concentrating on its consequences.