Experience The Perfect Kiss at Antwerp's M HKA
Antwerp's contemporary art museum, the M HKA, is celebrating the work of the American baroque minimalist James Lee Byars with a landmark exhibition of his work. The Perfect Kiss hopes to follow on from the hit success of Greetings from the Eurasian, the Joseph Beuys retrospective at M HKA last year.
James Lee Byars arrived in Antwerp from New York in 1969. Born in Detroit in 1932 he had been active in fashion circles in the US where he wasn't taken particularly seriously by his minimalist peers. A nomadic performance and installation artist he like so many western artists had felt the draw of the East and in the Sixties divided much of his time between New York and Kyoto (Japan).
For this exhibition the M HKA has brought together over one hundred works. Many come from private collections in Belgium and the US, some of which have never travelled outside America before. The Perfect Kiss – the name refers to a celebrated Byars performance - is the first James Lee Byars retrospective in Belgium. American by birth, Byars was soon adopted by the group of artists and art enthusiasts linked to the Wide White Space art gallery that was instrumental in bringing cutting edge art to a wider audience in Antwerp in the Sixties and Seventies. Around their gallery Anny De Decker and Bernd Lohaus had gathered an impressive group including artists James Lee Byars, Joseph Beuys, Marcel Broodthaers, publisher Jef Cornelis and art expert Isi Fiszman.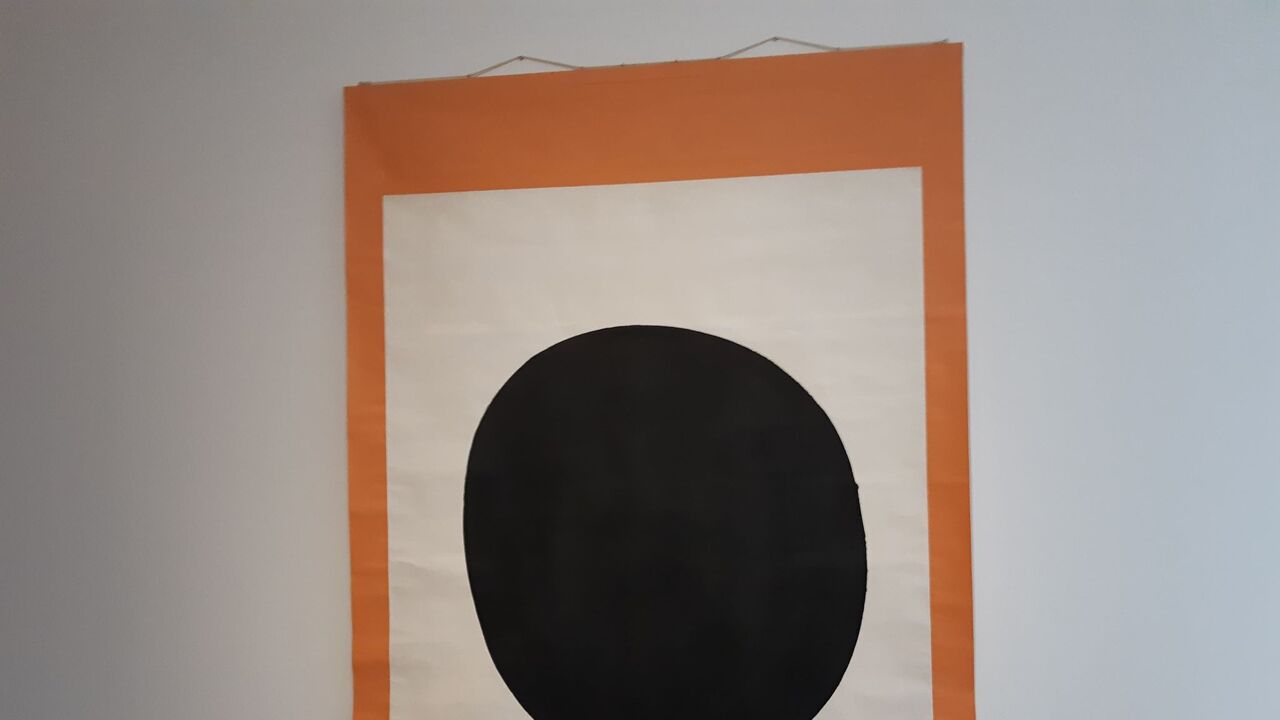 The Perfect Kiss curator Lotte Beckwé takes up the story: "By 1969 Byars had never been to Europe. Artistist Christo and Isi Fiszman tipped off Anny De Decker and Bernd Lohaus about Byars and they invited him to stage an exhibition at the Wide White Space in Antwerp in 1969. It was the start of a European adventure for Byars that saw him contribute to no fewer than five Documenta exhibitions at the Kassel art festival."
The imperfect black circle above, Untitled 1959, is an example of Byars's earliest works: minimal ink drawings and paintings that were ritually unfolded during performances. In Kyoto he studied art, philosophy and Japanese.
A lacquered black stone radiating peace and tranquillity from 1958 is the oldest work at the exhibition.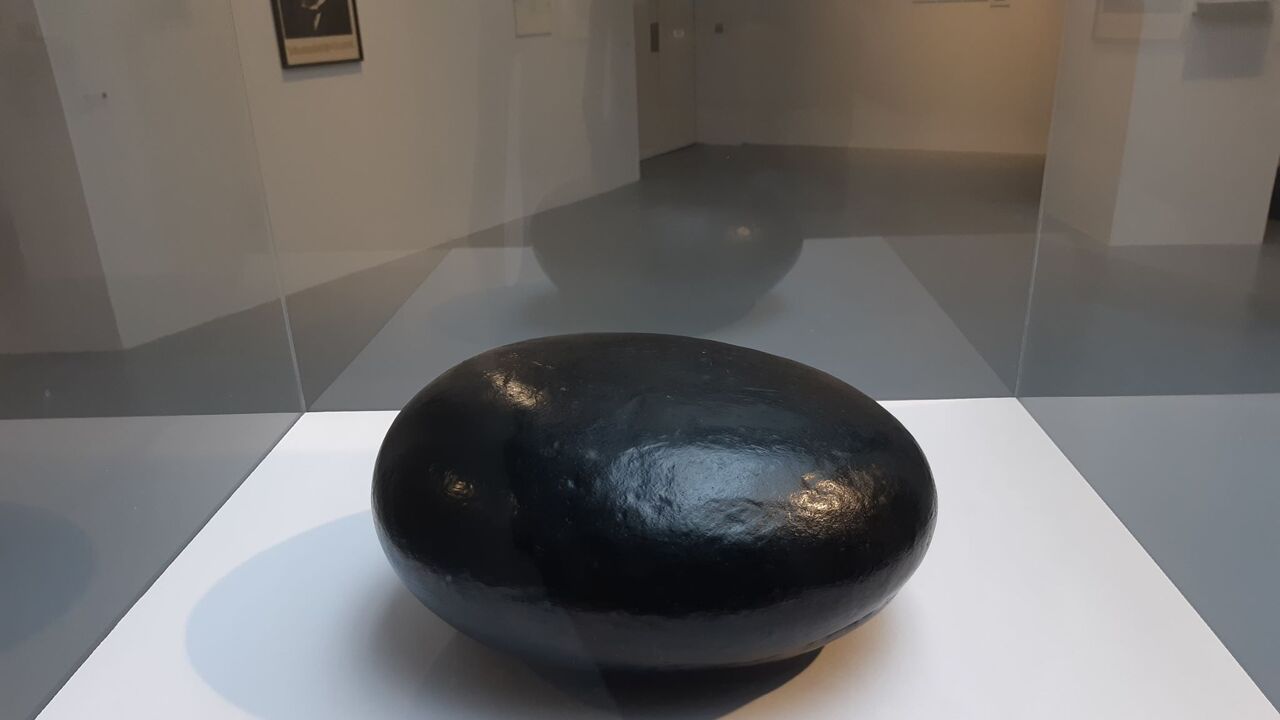 Lotte Beckwé: "Byars was a funny guy. Because of his nomadic existence he didn't need all that much money. He would hand out pieces of paper with some of his writing on it or kneed a piece of bread from a meal into a ball and all this formed part of his art. Often he would sleep in people's hallways. Byars had the knack of convincing everybody that they were his best friend! He handed out his art for free but sometimes he would charge large amounts like for performances that left nothing tangible after they were over."
An example of such a performance was The Perfect Kiss, when Byars invited guests to witness what he thought was the perfect kiss. Nobody else was involved in this performance of which no record survives.
Lotte Beckwé: "The American Byars was always provocative. Witness his exploits during Documenta 5 in 1972 when he clambered onto the roof of the Fridericianum, Europe's oldest museum, only to declaim German names through a golden megaphone to the audience below!"
Many of Byars's performances included plural garments, garments intended for wear by several people at the same time. The garments including Two in a Hat, Mask and Dress (1969 below) were often in his favourite colours, red, gold and pink, and could be cut into clothing fitting one or more participants during his shows.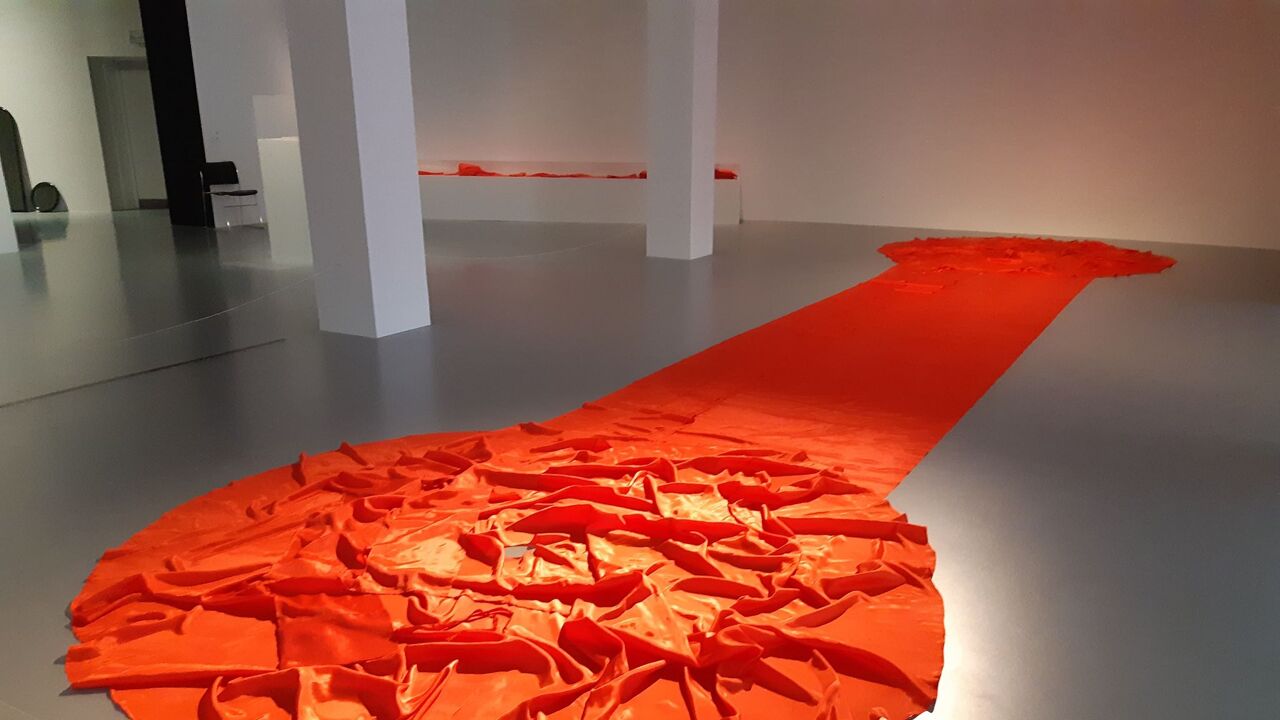 Before you visit The Perfect Kiss why not nip into the Labyrinth on the M HKA's ground floor. It contains 25 landmark works from the museum's collection including Byars' The Giant. The work consists of a letter that Flor Bex, one of the people who tirelessly campaigned for a contemporary art museum in Antwerp, was supposed to read to those gathered at the end of a Byars exhibition in 1976. This was supposed to happen with Bex' back to the audience.
James Lee Byars even enlisted the services of the broadcasting organisation that produces flandersnews for one of his ventures. The question forms a constant theme in Byars's work. He was eager to collect all the world's questions and put these to global experts. To this end he set up the World Question Centre and questions were put to experts during a chaotic live BRT broadcast in 1969. Fortunately a recording of this event survives.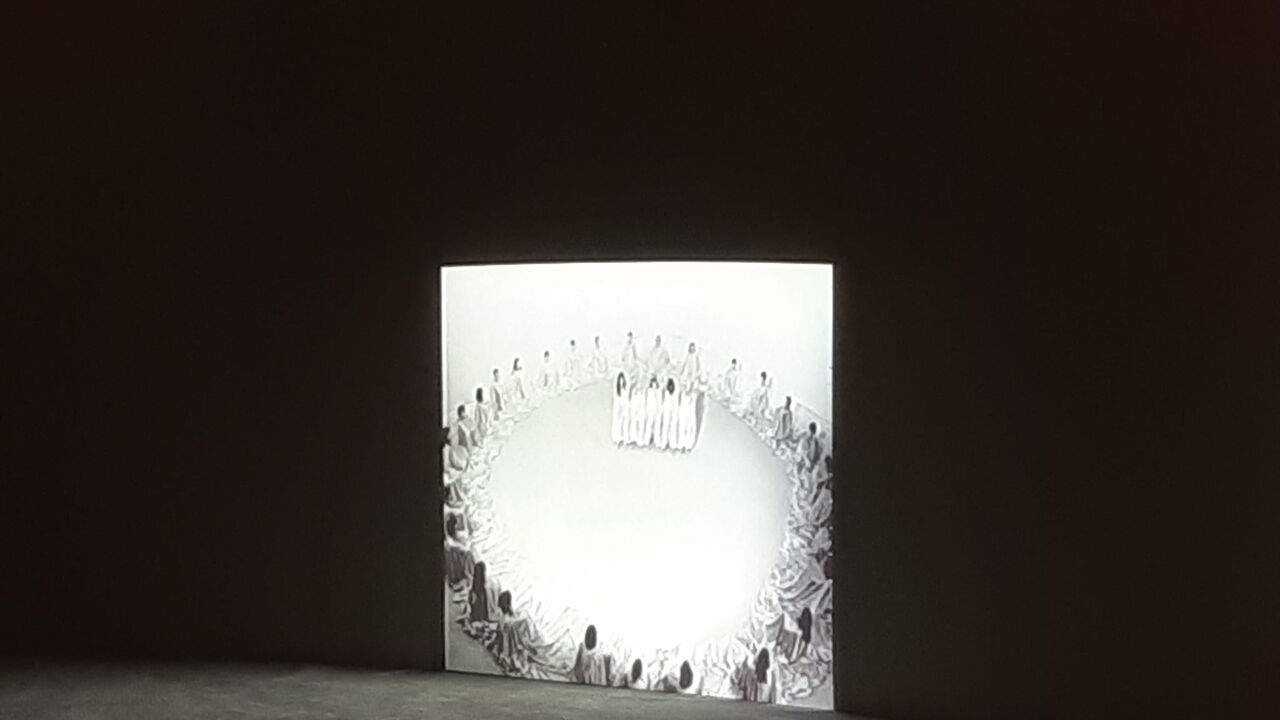 The Perfect Kiss includes many of the items that Byars sent through the post to collectors, publicists and anybody who could assist him in his ventures. Byars only corresponded with one other artist: German Joseph Beuys with whom he enjoyed a life-long friendship. Here and top they are pictured together in 1983 (original photo B. Katz) – Beuys is on the right - during a spontaneous performance at the opening of the exhibition To The Happy Few in Krefeld (Germany).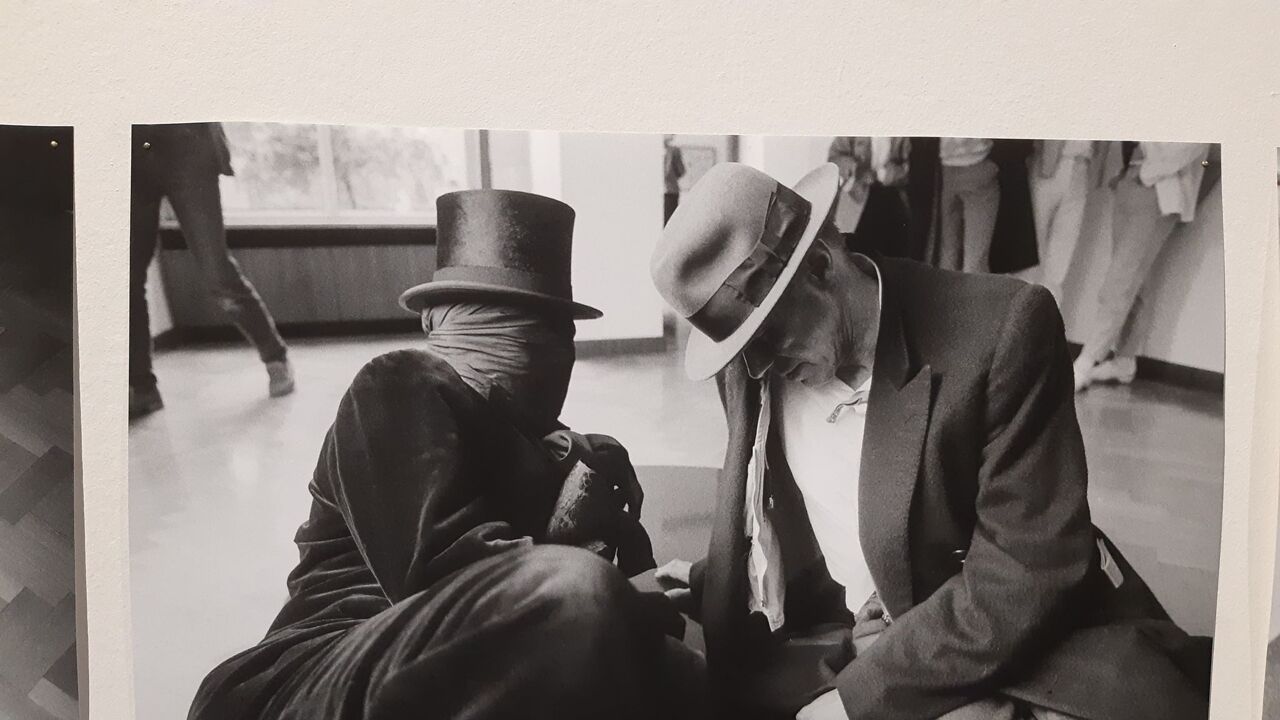 Notable exhibits include the Tomb of James Lee Byars, a  limestone sphere, the sphere being one of his favourite shapes, and the Shadow of Extra-terrestrial Man. This was a figure rolled out on the Meir, the main Antwerp shopping street, in 1976. Known locally as The Giant this work's legs extend for 300 metres. At M HKA they have had to keep them partly folded up!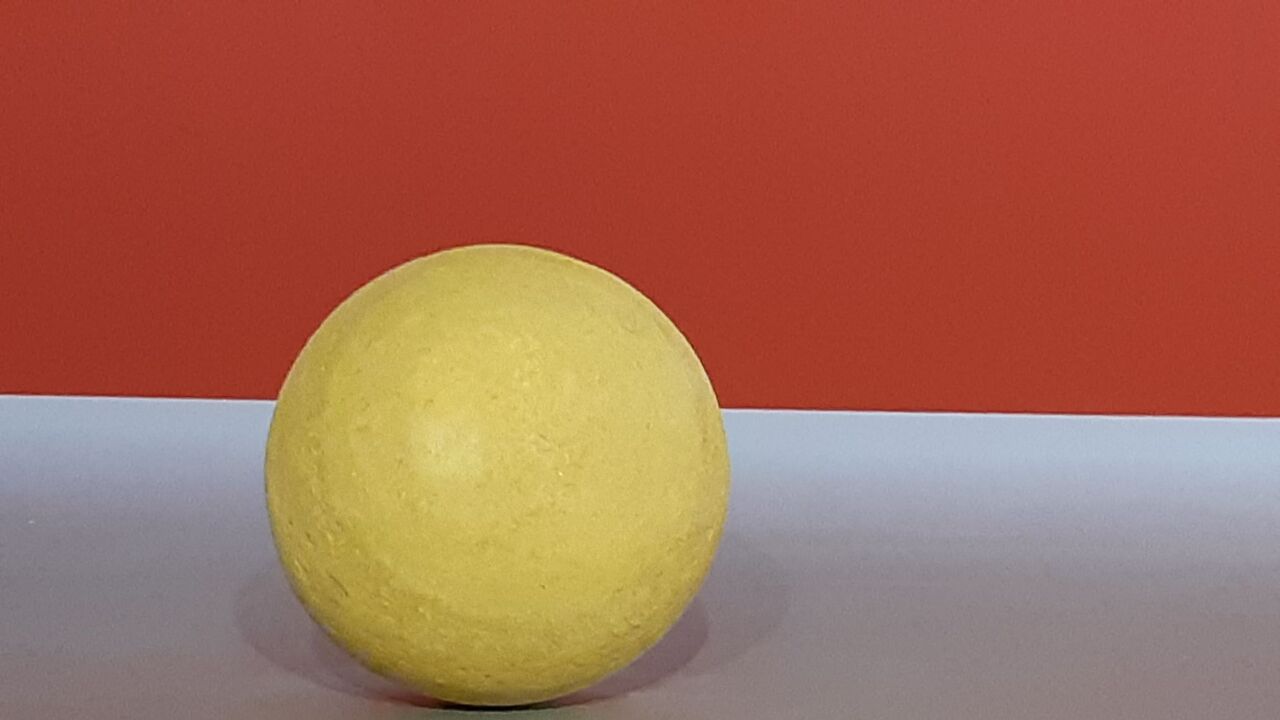 At The Perfect Kiss minimalist music by Eric Satie plays in the background. Lotte Beckwé: "Byars could spend all night listening to Satie. He was a baroque minimalist. This is minimalism overloaded with romantic feeling. He looked to Europe rather than to America because it is imbued with history. That sums up Byars: the quest to transfer knowledge from ancient times and the search for ways in which to communicate art and beauty."
The Perfect Kiss curated by Lotte Beckwé runs at the M HKA in Antwerp until 20 January 2019. Next year M HKA intends to complete its series of exhibitions of landmark artists active in Antwerp with a retrospective of the work of the great Marcel Broodthaers.