"Be a hero!" King Filip tells his people
King Filip and Queen Mathilde attended a ceremony at the Tomb of the Unknown Warrior in Brussels on Sunday marking the centenary of the Armistice that ended the Great War.
King Filip laid a wreath, but also made an address that is exceptional at this annual commemoration.  King Filip said that the unknown warrior represented all heroes and the victims in our families: "We live in a world where everything turns on visibility, everything is known immediately.  It is reassuring to realise that the greatness of humankind also lies in the unknown, which has no name.  Humanity hides behind diffidence, pain and self-sacrifice."
King Filip also addressed the young: "The day will come when we miss the warm presence of the veterans who defended our territory.  I commit myself to keeping this remembrance alive together with you.  The most beautiful tribute you can make is to become a hero yourself!  Stay constant to yourself and be prepared for others.  Choose depth not superficiality.  Go through life radiating joy!"
During the ceremony white peace doves were released after four children brought a message of peace.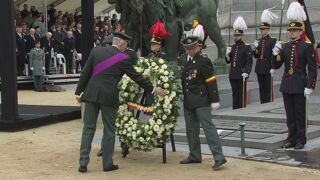 Loading video player ...