Hi-Viz protesters set fire to police car
A demonstration by so-called "Hi-Viz" protesters is causing big disruption to traffic in Brussels this Friday afternoon. Mounted riot police have group to charge the protesters that have blocked the Brussels inner ring road. Water canon have also been deployed after they were pelted with stones by some of the demonstrators. Meanwhile, protesters have built barricades with everything they can lay their hand on.     
Bus, tram and metro services are also subject to disruption as a result of the protest. Around 60 demonstrators have been detained. Police estimate that around 500 people are taking part in the protest. After the original plan for a demonstration was shelved earlier this week, no official request to demonstrate was made to the city authorities in Brussels.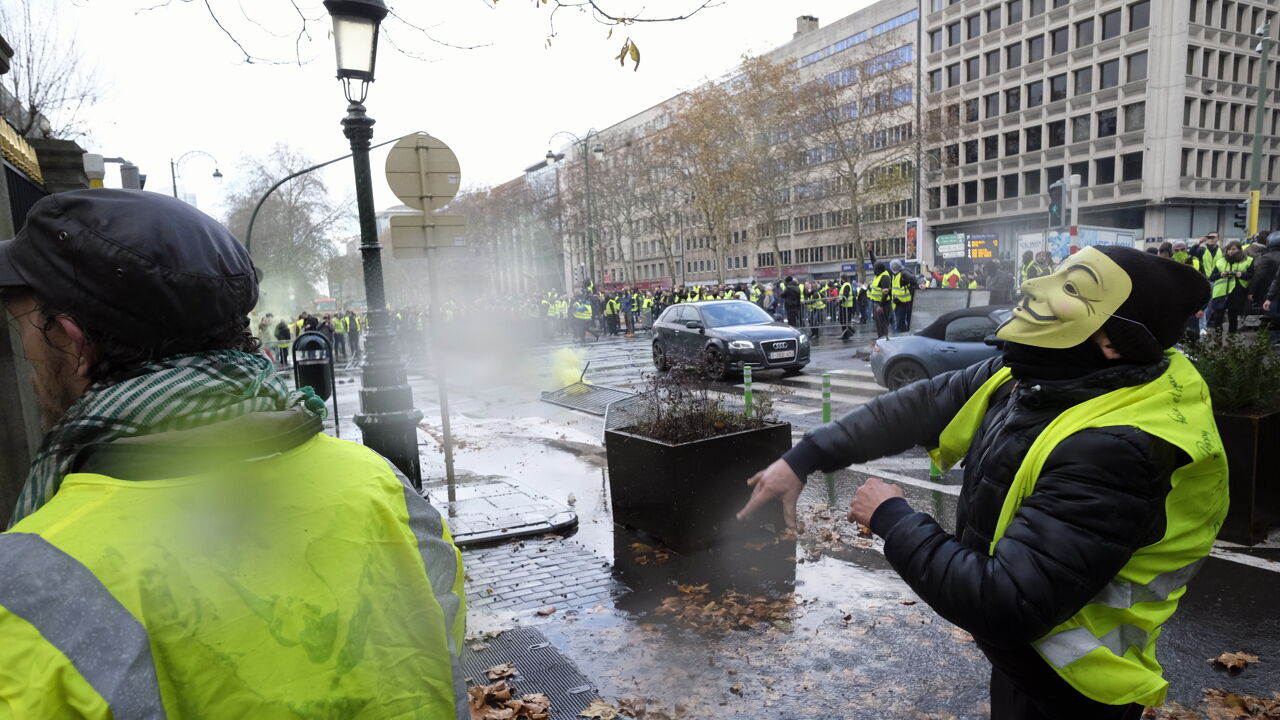 As such Friday's demonstration, by a movement that draws its inspiration from the protest against rising fuel prices in France is illegal   
It had been a peaceful if somewhat chaotic protest until around 1pm. At the Troonplein demonstrators started throwing stones at police cars. The police responded with water canon     
Smoke bombs were also thrown near and the inner ring road blocked at the junction with the Belliardstraat. A number of demonstrators wearing Hi-Viz vests have also been seen throwing fencing.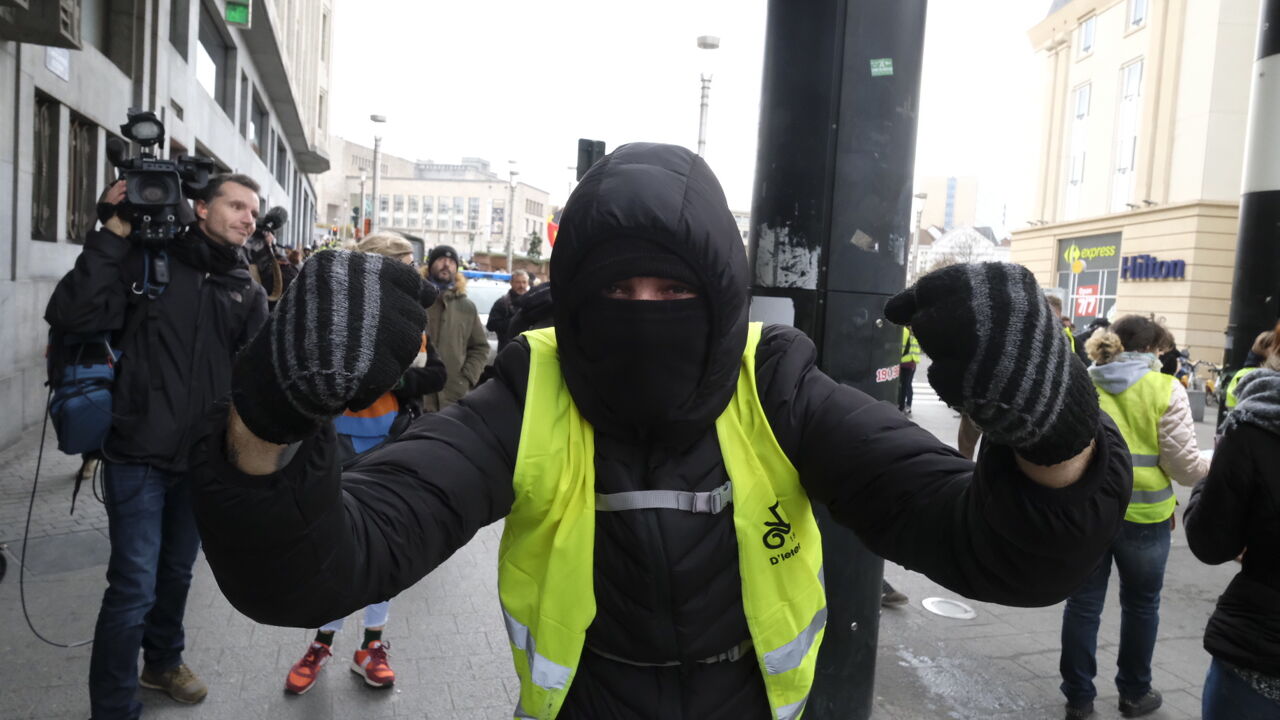 Their aim is to penetrate the so-called "neutral zone" around parliament. 
Not all demonstrators approve of the violence. One told VRT News' Pieterjan Huyghebaert that "They always say that when you demonstrate, you should only be a hindrance to those you are protesting against a not impact ordinary people. We are being prevented from reaching parliament or the Wetstraat from all directions so you should be surprised that some people's tempers have become frayed".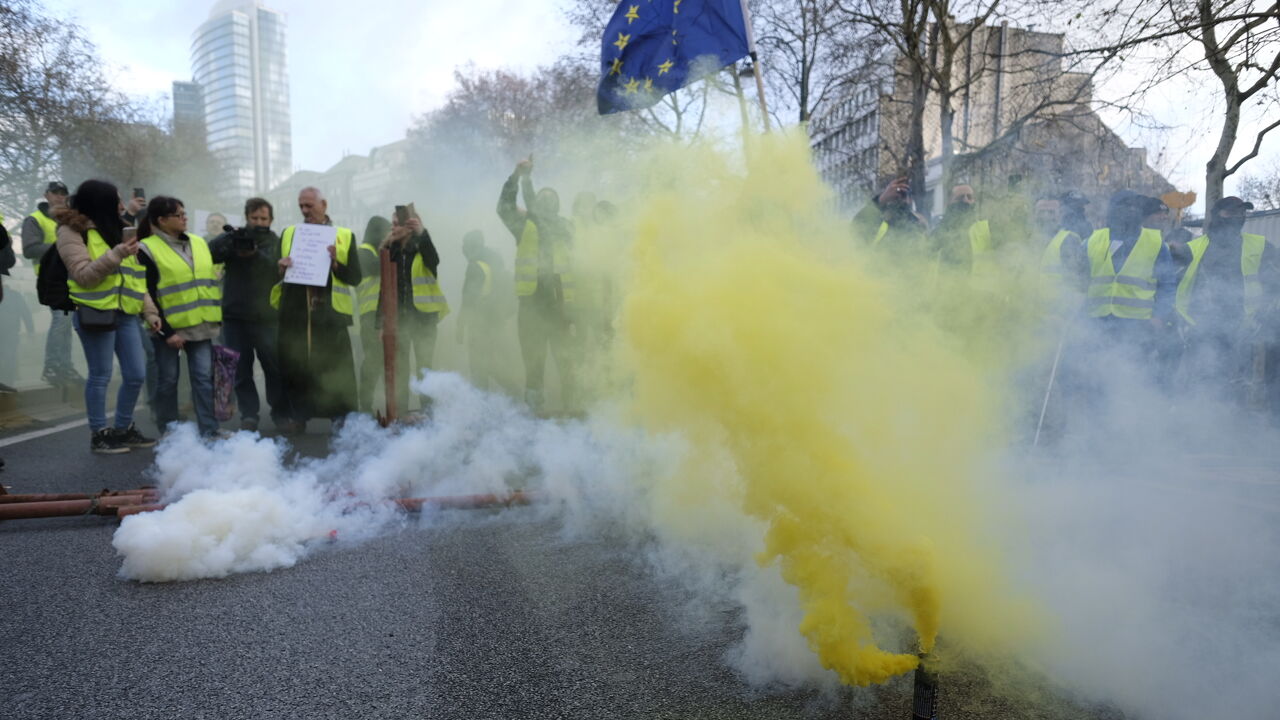 Pieterjan Huyghebaert reports that masked youngsters wearing yellow Hi-Viz vests are joined the protest. They "only appear to be here to cause trouble".
Fires have been started on the central reservation of the inner ring road and a police vehicle has been set alight.
The protest has led to the closure of several of the capital's road tunnels this and the series of incidents on the inner ring road has served to cause significant traffic issues.