Photo greats at FOMU in Antwerp
The Antwerp photography museum FOMU is currently staging an exciting exhibition showcasing the work of two of the world's photographer greats, Zanele Muholi and Samuel Fosso, but that also sheds light on the photographic oeuvre of Claude Cahun, a French author whose photographic legacy only came to prominence after her death.
"The self-portrait is what unites these three photographers from very different backgrounds and different times" says co-curator Rein Deslé "but 'Claude Samuel Zanele' is not a group exhibition. Each photographer approached the self-portrait in their own way, but always used their own body in order to say something about the world and to change it."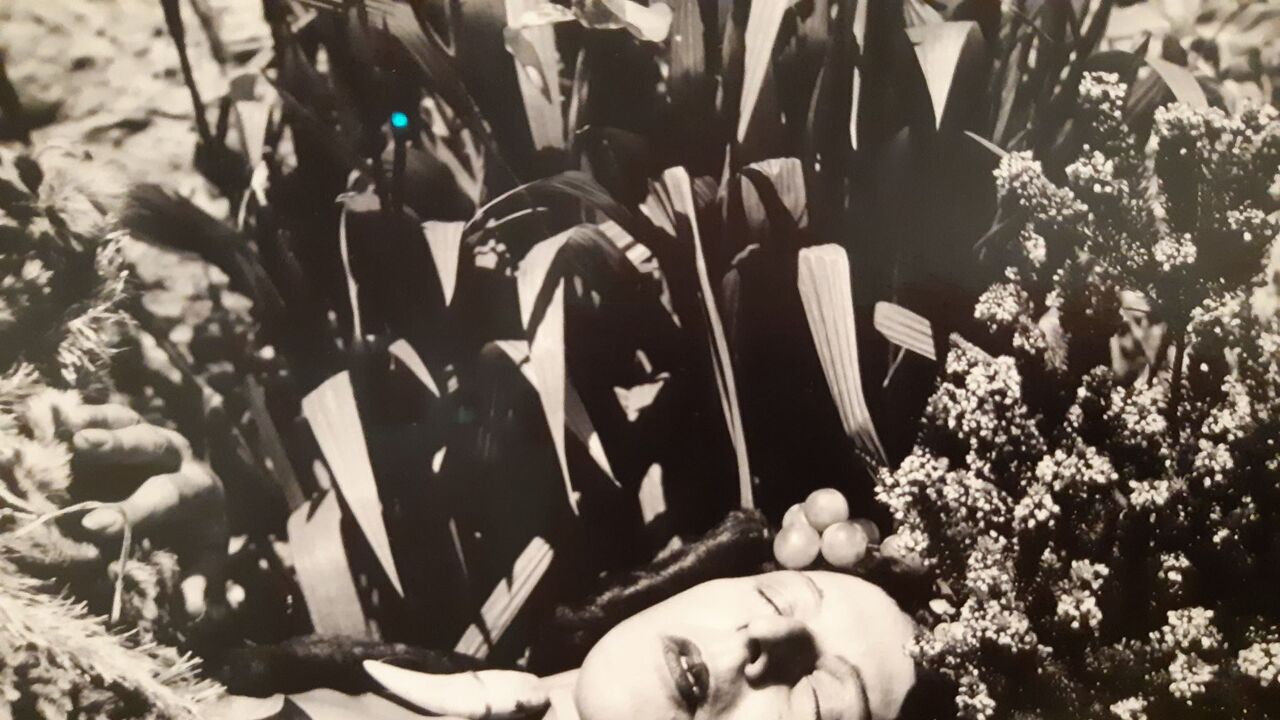 Claude Cahun is definitely the least well known of the three. She was born in a Jewish family in Nantes, France towards the end of the 19th century. Her name is one that she adopted to maintain gender neutrality. She lived with her partner, the illustrator Suzanne Malherbe, who for the same reasons adopted the name Marcel Moore, and was actually her stepsister! In her portraiture Cahun makes a game of confusion between the genders.
In her lifetime she mainly came to prominence as an author and a political activist. During her life her photographic work wasn't exhibited. In the Interbellum she joined André Breton's Surrealist set in Paris. "That's clearly visible from her portrait work" says Rein Deslé. "But even in this milieu she was something of an exception. The Surrealist set was male dominated and women artists were rather the exception. Women featured, but then chiefly as the muse."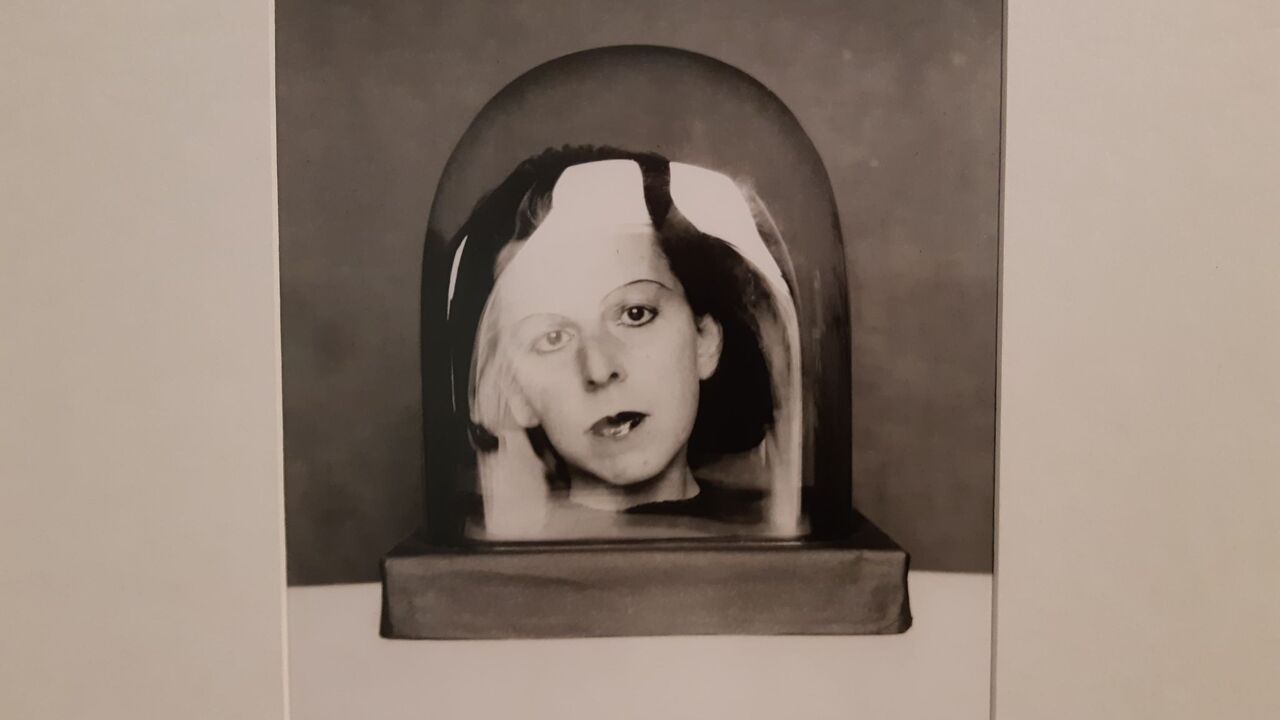 As storm clouds gathered over Europe Cahun and her partner sought refuge in Jersey in 1937. When the Germans invaded in 1940 the couple entered the resistance and published flyers trying to convince occupying German forces to oppose the Nazi Party. Both Cahun and her partner were arrested towards the end of the war and sentenced to death, but fortunately they both survived.
Rein Deslé: "Claude was largely ignored as a photographer after the war and was never included in the Surrealist legacy. It was only in the Nineties, when her work was exhibited at the Jeu de Paume in Paris, that there was a reappraisal."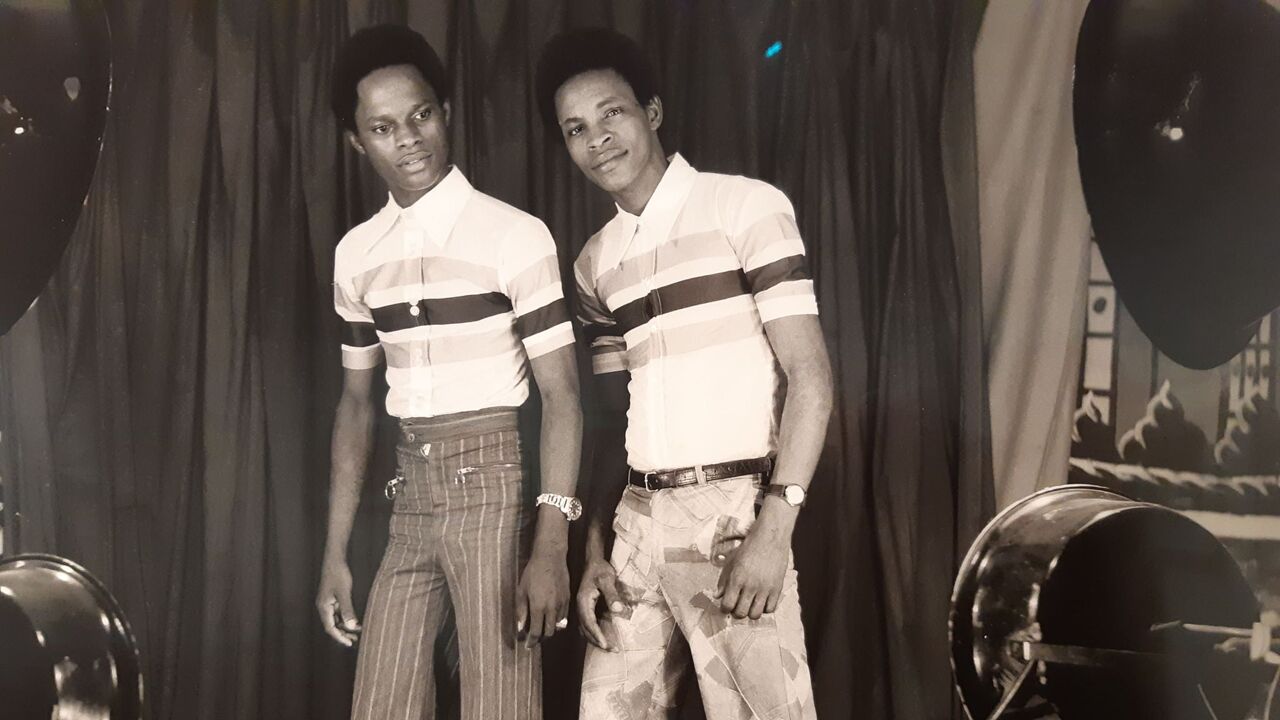 The exhibition 'Claude Samuel Zanele' is also a unique opportunity to discover the work of the African photographer Samuel Fosso. Born in Cameroon in 1962, he returned to his mother's native Nigeria just in time for the Biafra War. His mother was killed, but thanks to his uncle he ended up in the Central African Republic (CAR).
"His uncle found him a job in a shoe factory, but Samuel took an internship in a photo studio and at the age of 13 started running his own photo studio business that became an instant success."
In Antwerp four series of Samuel Fosso's work are on show. Seventies Lifestyles includes self-portraits that Fosso produced for his own enjoyment during his early years in Bangui. In contrast with his studio work these are private photos that weren't intended for public view, but that Fosso sent off to his grandmother, who was still in Nigeria, to show her how he was doing.
Rein Deslé: "Samuel first came to prominence during the Nineties when he participated in the first Photo Biennial in Bamako in Mali. Straight away he won the first prize. It allowed him to professionalise his approach. Today he works with a whole team. In 2018 he won the Infinity Prize, a lifetime achievement award from the International Center of Photography in New York. His works are on show at the MOMA in New York, but also at the Tate in London."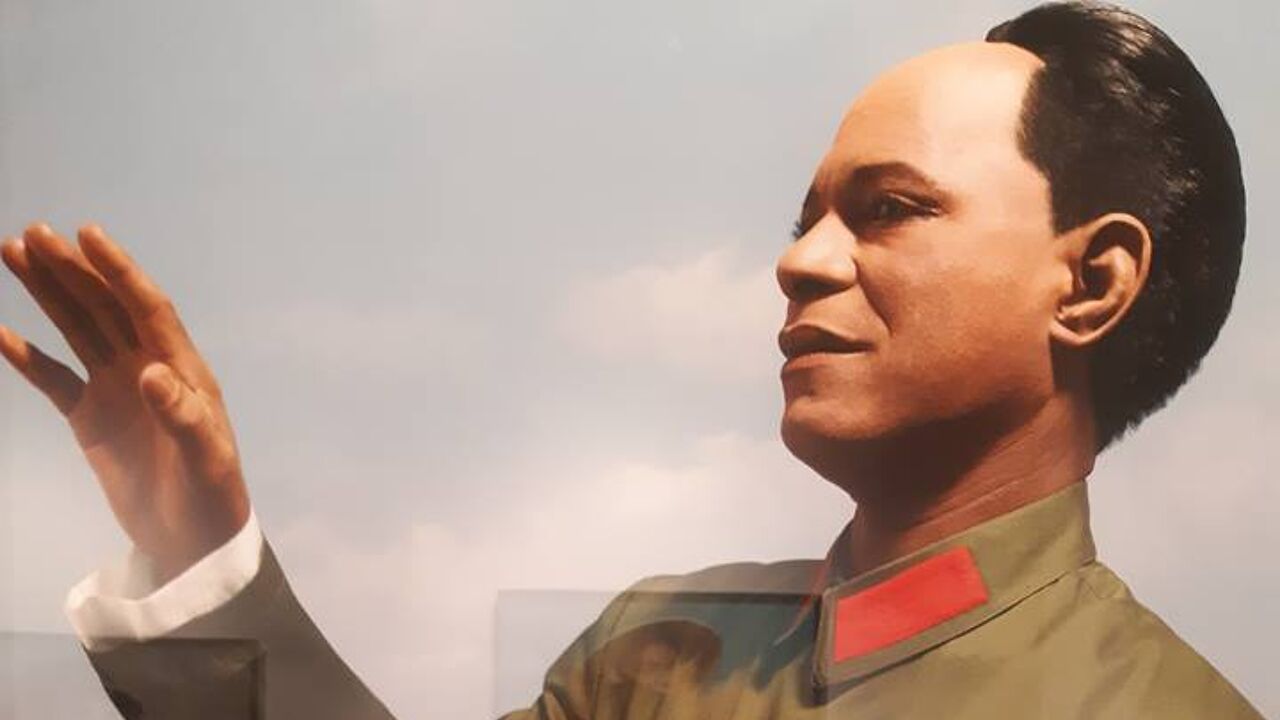 "The Emperor of Africa" series is one with a clear political message. Fosso uses iconic images of the Chinese leader Mao to advance his claim that Africa is undergoing a new colonisation. The Chinese are raiding the continent's store of raw materials. For local production there is no place. Africa is once again being trodden under foot. Samuel Fosso produces self-portraits in which he takes on the aspect of Mao in the images that were used to promote his Communist regime.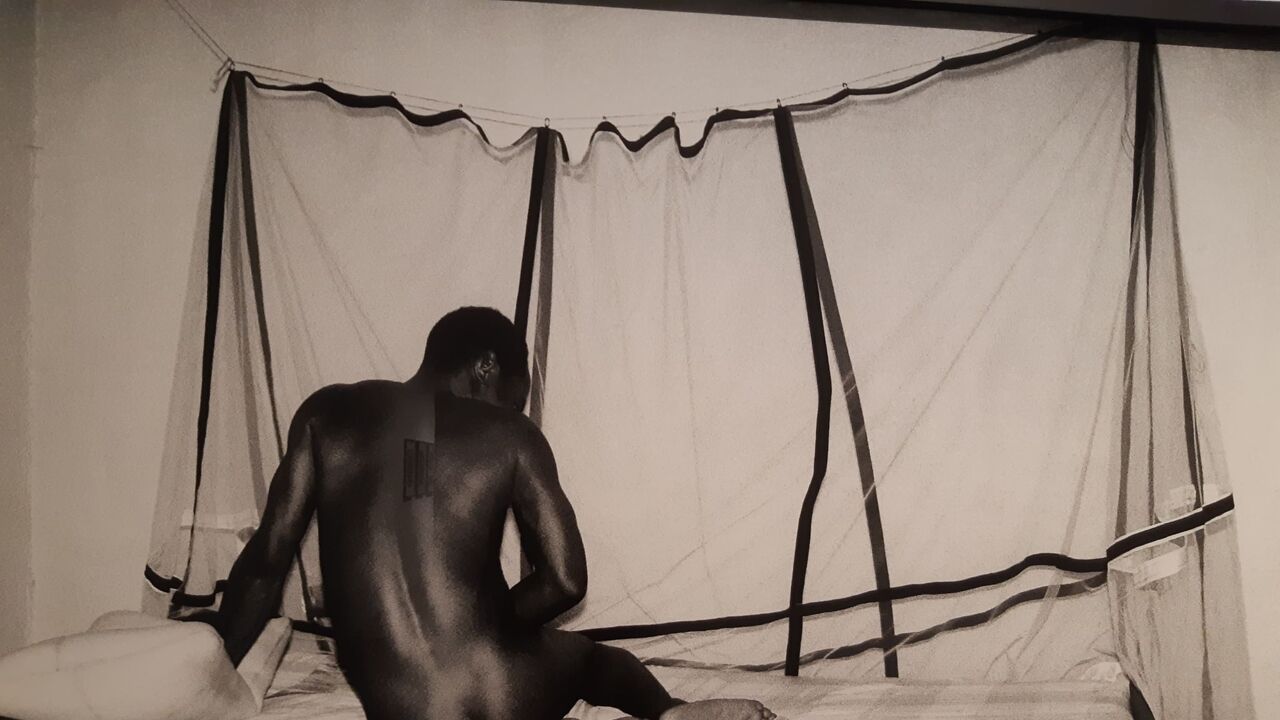 Memoire d'un ami (Memory of a Friend) is a series that Fosso produced after a friend was murdered. His self-portraits display distress and show a nakedness that was not usual in his milieu and would be shocking for many. In the black and white photography Fosso's body contrasts with the sober, white interiors.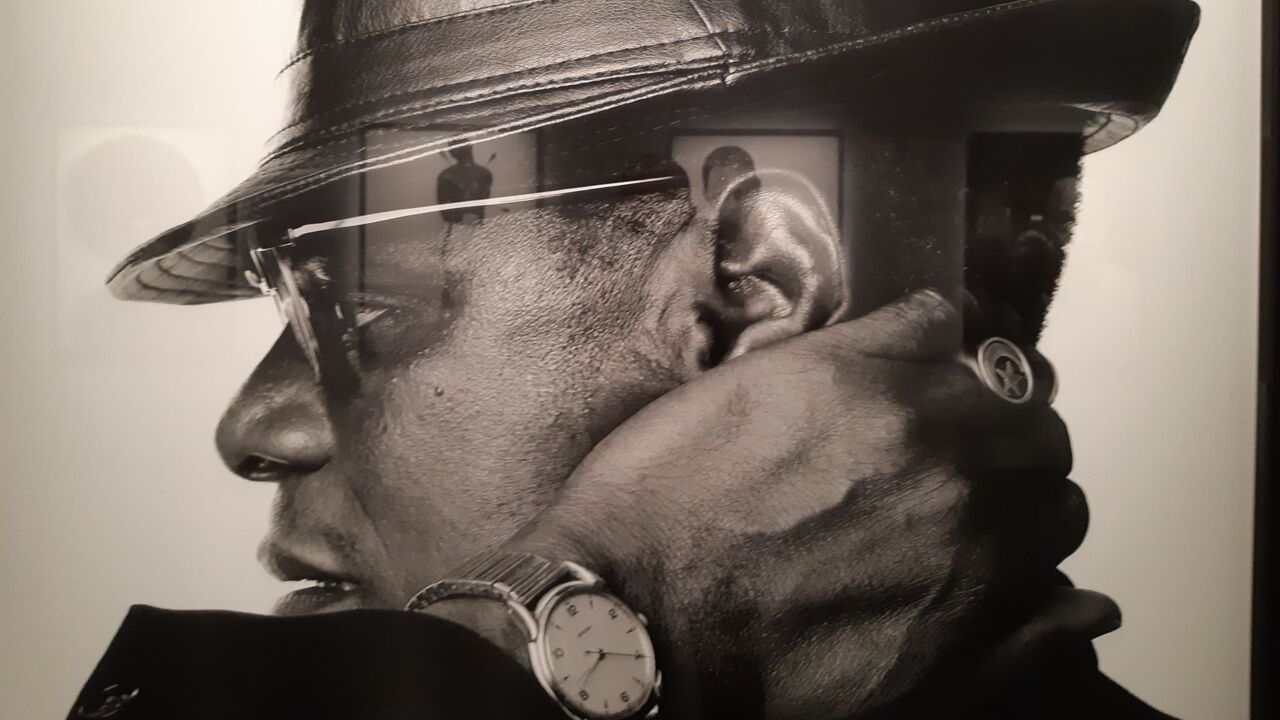 In African Spirits Samuel Fosso honours the greats of black emancipation in the US and Africa. We recognise athlete Tommy Smith (top) with his raised fist at the Olympics, the murdered Congolese Premier Patrice Lumumba  and American activists Angela Davis and Malcolm X (above) amongst others. Fosso portraits himself but has kitted himself out like his heroes.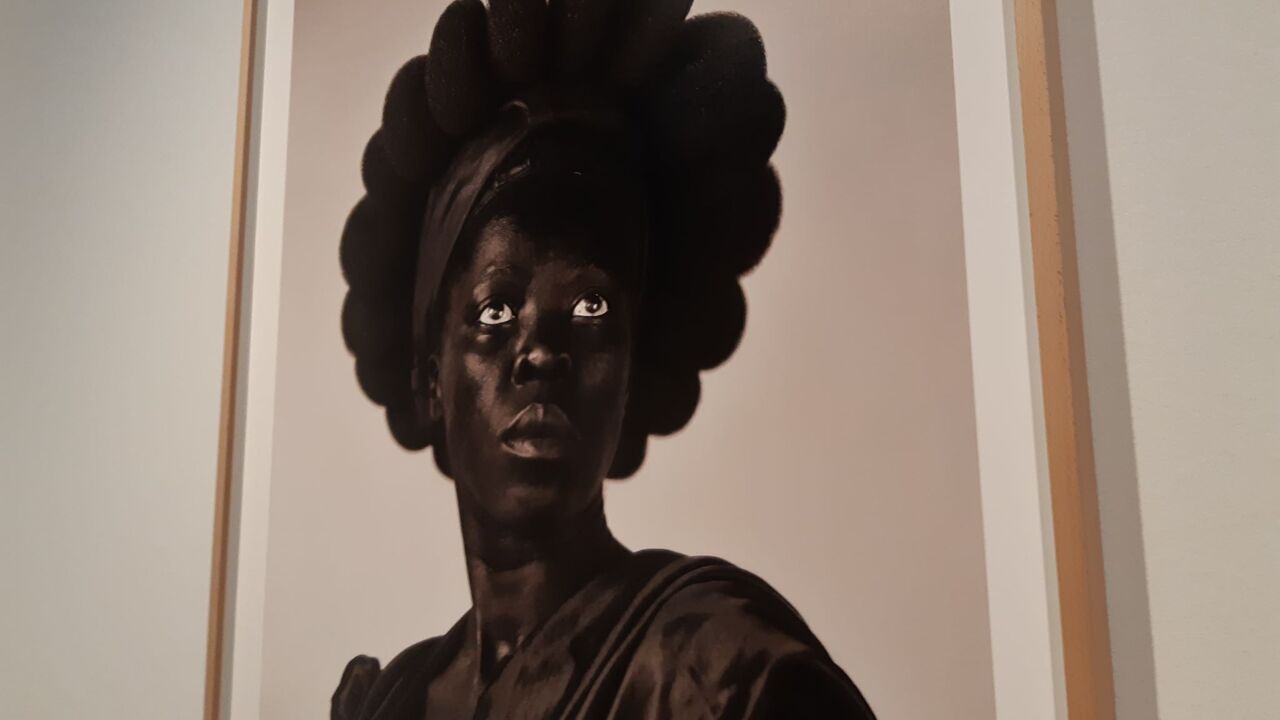 South Africa's Zanele Muholi is the third photographer to be featured at 'Claude Samuel Zanele'.
Rein Deslé: "Zanele sees theirself – they prefer the use of the non-gender specific pronoun! - as a visual activist eager to bring about change through their photography. Their ambition is to create an archive of people that often remain unseen in their native South Africa including the LGTBIQ community. They like to photograph people who are not usually in the limelight, hidden people e.g. the victims of hate crimes. Their archive is a collection of images showing the invisible people of South Africa."
"In 2014 their flat was targeted and their entire archive was stolen. It was done on purpose. They say it was a game changer. From then on they decided to use their own body as an instrument in their struggle."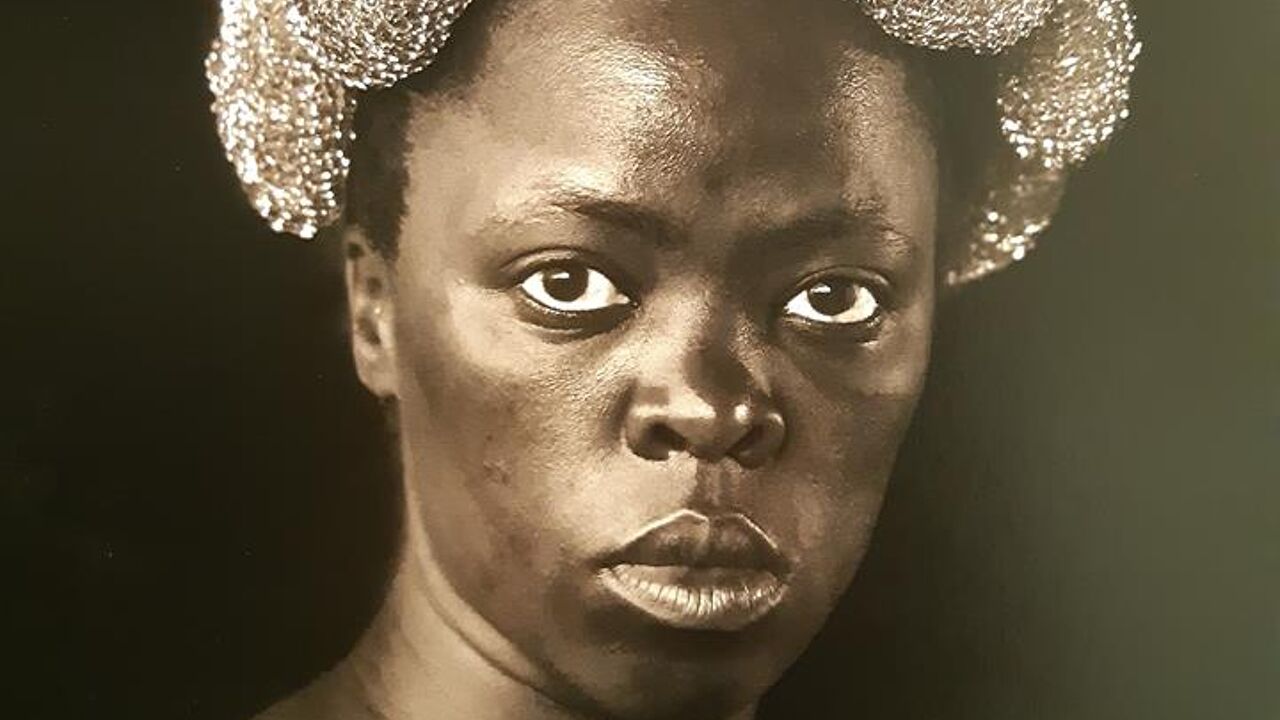 In their portraits Muholi explores different archetypes and by using everyday objects they turn these into culturally loaded props. In their portraits they impersonate their mother, a housemaid, with washing pegs or brillo pads in her hair.
Rein Deslé: "Zanele says they are reclaiming their blackness. They believe that the image of the black body that we have was too often created by whites. They have decided to reclaim it and determine for themselves what it should look like."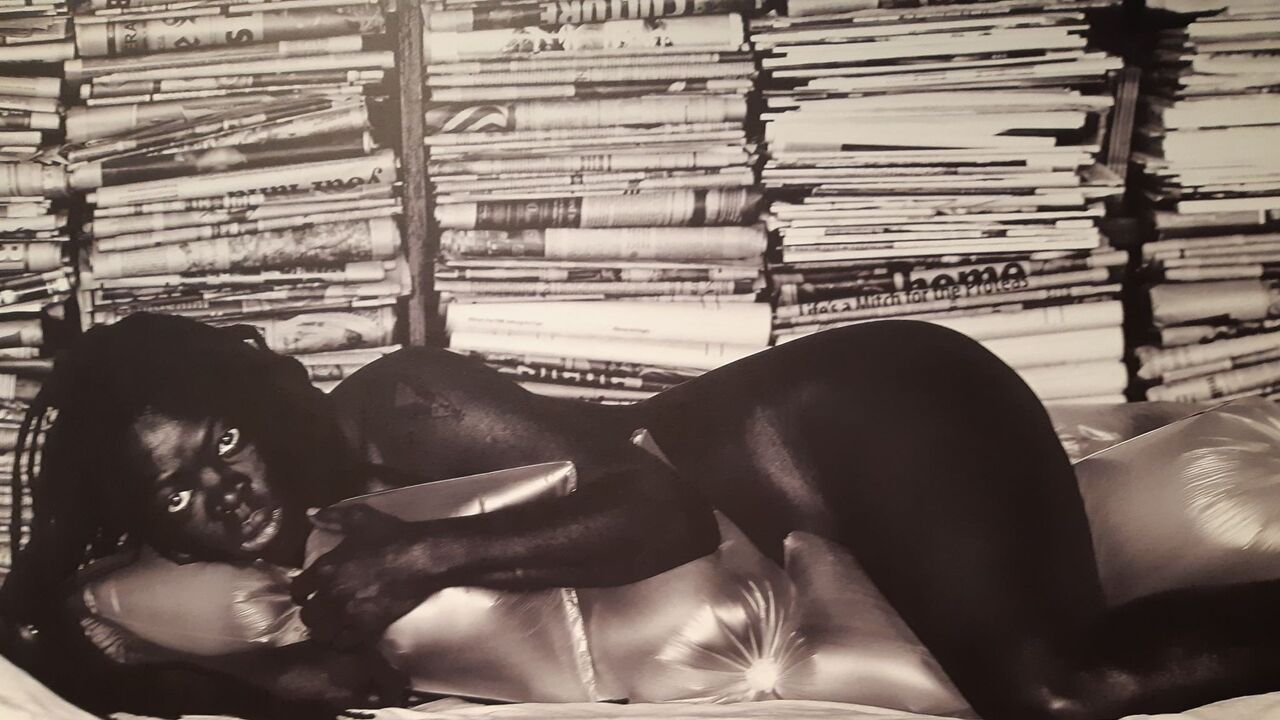 'Claude Samuel Zanele' runs at FOMU in Antwerp until 10 February. It's curated by Rein Deslé, Joachim Naudts and Renée Mussai of Autograph London that earlier showed the Zanele section of the exhibition.