Parliament to decide on UN Migration Pact, future of federal coalition on a knife-edge
The Belgian Prime Minister Charles Michel (Francophone liberal) has said that he will see a mandate from parliament to decide Belgium's position on the UN Migration Pact. Mr Michel is due to attend a meeting with other World Leaders on the pact on Monday. The move came as the largest party in the federal coalition, the Flemish nationalist continued to refuse to back the Pact even if Belgium added so-called "side notes" to it.   
Speaking on Tuesday evening, Mr Michel said that he would be going to Marrakesh on Monday to explain the position taken by the Belgian Parliament. This will force the nationalists' hand as they have previously threatened to leave the Federal Government if the pro-Marrakech parties within the coalition were to collaborate with opposition parties to form a parliamentary majority for Marrakech.
Mr Michel told journalists that "I am convinced that the time has come to choose and to seek the advice of parliament. This should happen in the coming hours or days".  
"I intend to go to Marrakesh to explain to position approved by parliament".
The Prime Minister pointed to a speech he made in September in which he announced that Belgium would approve the Migration Pact. Belgium's word is worth something and needs to be honoured. As Prime Minister I am the guardian of our credibility on the international stage".   
The Prime Minister pointed to Belgium becoming a non-permanent member of the UN Security Council for two years starting next year. He implied that he wasn't prepared to sacrifice Belgium's credibility by not going to Marrakech and by abstaining during to vote on the Migration Pact. Mr Michel added that the negotiation process that led to the pact started in 2016  and that Belgium had played a role in it.  
Controversial online campaign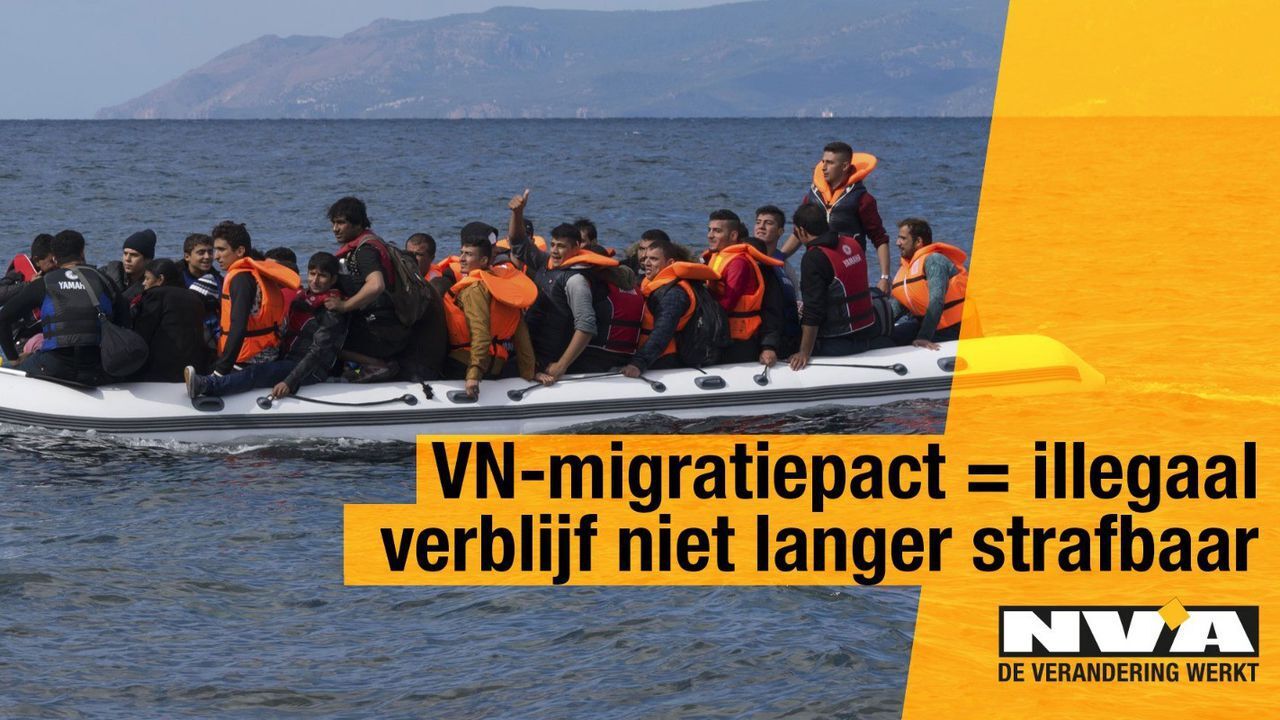 It is likely that a controversial campaign launched (and since withdrawn) by the Flemish nationalists against the Pact (see photo above) convinced Mr Michel to stand his ground. "In my view the campaign was unacceptable, scandalous and ignoble. This is why I have decided to postpone the cabinet meeting".  
The ball is now in the Flemish nationalists' court. Last week the leader of the Flemish nationalist group in the Federal Parliament Peter De Roover  said that his party would quit the Federal coalition if the other governing parties push though the Migration Pact with an alternative majority.
The left-of-centre parties in the opposition have already said that they will back the Migration Pact. If and when this  happens the nationalists' hand will be forced.