Antwerp-Baltimore altar: a gem at Mayer van den Bergh
Two panels from this anonymous early Netherlandish masterpiece are among the star attractions at the Mayer van den Bergh Museum in Antwerp. To see the rest of the work you will have to travel to the other side of the Atlantic.  They are kept at the Walters Art Museum in Baltimore in the US.
The Museum Mayer van den Bergh showcases the works collected by the 19th century Antwerp art dealer and collector Fritz Mayer van den Bergh.  Mayer van den Bergh was born into a wealthy Antwerp family and spent much of his life gathering Netherlandish paintings from the Medieval and Renaissance periods. He remained unmarried and continued to live with his mother at a residence on the Lange Gasthuisstraat in Antwerp. 
When he died at the age of only 43, his mother, Henriëtte van den Bergh, enlisted the help of the famous Antwerp architect Joseph Hertogs to build a museum to house her son's collection.  It was constructed next to the family home and was built in the Gothic style recalling Flemish patrician houses of the 16th century and Antwerp's Golden Age.   The façade of the museum is a reconstruction of just such a house! It is here, on the on the Gasthuisstraat in downtown Antwerp that Fritz Mayer van den Bergh's collection can still be admired today.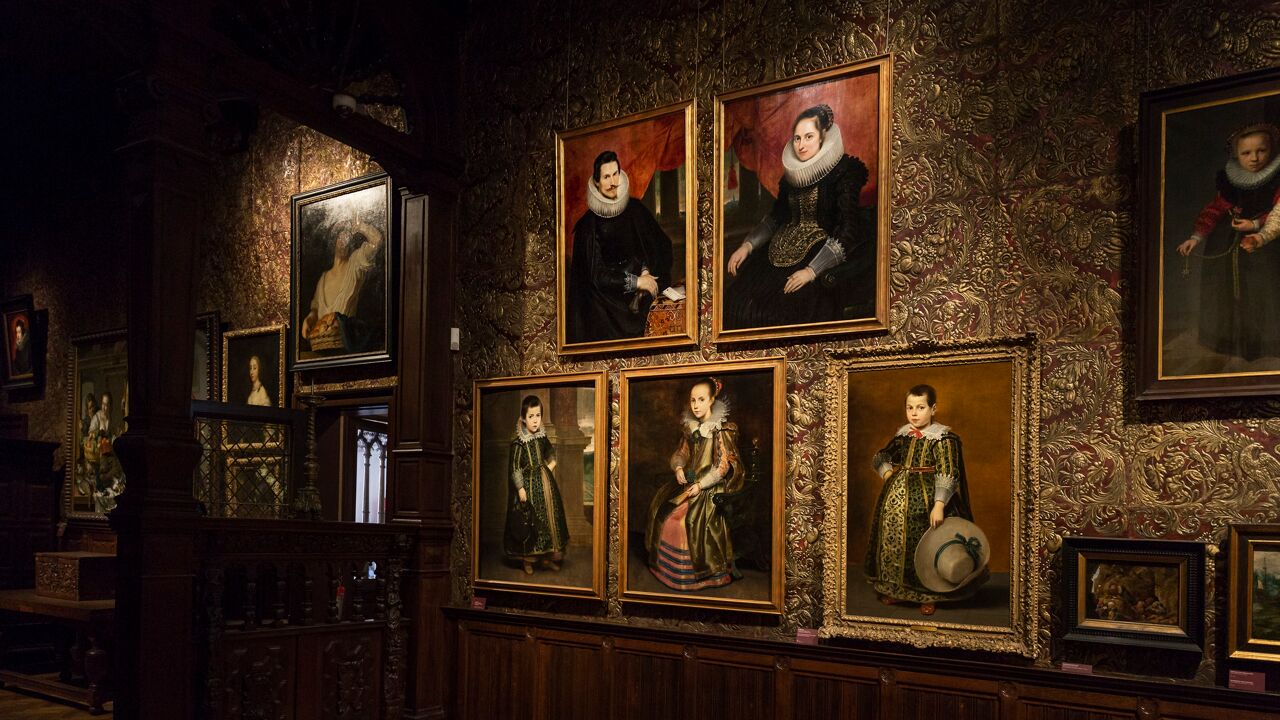 Apart from Bruegel's 'Mad Meg', star attractions include two panels of the Antwerp-Baltimore polyptych that was probably used as a travelling altarpiece.  It's by an unknown artist and in good quality and being painted towards the end of the 14th century makes it very rare.  It is one of few well-preserved Netherlandish masterpieces from before 1400 to have survived. 
During the Burgundian period, the time at which this work was painted, the elite used travel altars.  Such altars consisted of several panels and could be stored in a box or leather case for travel.  The Antwerp-Baltimore polyptych is of such high quality that it may have been commissioned by Philip the Good, Duke of Burgundy, in person.
The two panels at the Mayer van den Bergh Museum are only half of what was once a four panel altarpiece.  The two other panels are to be found at the Walters Art Museum in Baltimore, Maryland.
The panels in Belgium depict the birth of Christ, Christ emerging from his tomb (detail above) and Saint Christopher crossing a river (detail below).  The panels in Baltimore show the Annunciation, Christ's baptism and his crucifixion.  The altar thus depicts the key moments from the life of Christ.