A12 and E40 Motorways to become "city boulevards" in Brussels: "This will not trigger traffic chaos"
The Brussels Mobility Minister Pascal Smet (Flemish socialist) announced on Friday that the end of the E40 Motorway from Leuven and the A12 from Antwerp are to become city boulevards when they enter the capital. The VRT's traffic expert Hajo Beeckman rejects claims that this will spark traffic chaos. 
When entering the Brussels Region, the A12 and the E40 will become so-called city boulevards: this means that the number of lanes will be reduced, and that a maximum speed of 50 km/h will apply.
This is quite different from the present situation: the E40 coming from Leuven boasts six lanes at present, and motorists can go up to 120 km/h. For the A12, the number of lanes will fall from three to two, both for north- and southbound traffic. The first works will start next week, but the plan will only be fully operational next spring. They will apply to a stretch of 1.5 kilometres (1 mile) in both cases.
Pascal Smet says it's the only way to reduce traffic jams in and around the capital. "We want to keep the jams outside our capital, just like other major cities in Europe are doing", he argues. "This will improve both the quality of life and the air quality. The motorways are scars on Brussels."
(VRT picture below : the green lines mark the places where things will change)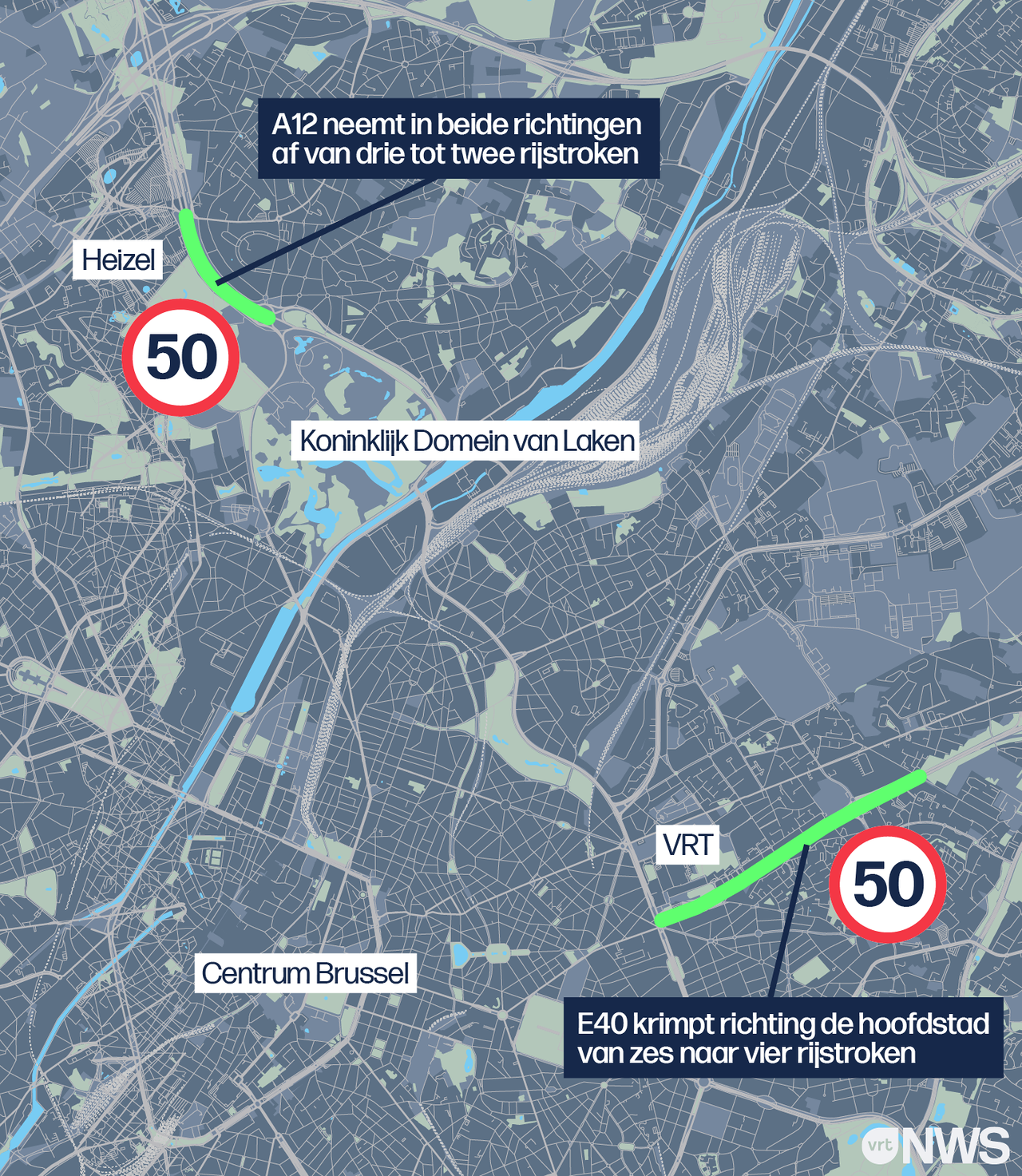 Smet counters critics
Some 75,000 commuters are entering Brussels from the east or the north on a daily basis at present. Speaking in the VRT's current affairs programme Terzake, Pascal Smet defended the plans, responding to claims from opponents who say these will cause a traffic chaos.
"The present situation was created in the 1950s. But the VRT-RTBF site will be revamped completely (into a new district with also shops and houses, red.) and needs more living space. Due to the present works at the Reyers hub, the instream of cars has dropped from about 60,000 to 45,000", Smet underlines, adding that people always adapt their behaviour. He adds that "it's a basic mobility rule: the more space you create for pedestrians and cyclists, the more pedestrians and cyclists will pop up." 
Experts hope the revamped city boulevards will lead to "evaporating traffic"
Smet says a panel of experts had looked into the plans, concluding it's a sensible move. It can lead to evaporating traffic as people will change their habits. The VRT's traffic pundit Hajo Beeckman follows Smet, and does not fear chaos: "The only thing that could happen, is that the tailbacks shift, moving backwards, but we can have fewer jams on the boulevards themselves."
In the meantime, investments in new cycle lanes, public transport and parking lots to allow motorists to leave their car behind at the edge of the city, are continuing.