Enter the Dream Box and have fun at MIMA in Brussels!
The MIMA in Brussels is currently hosting a fascinating new exhibition intended to get you thinking about how much you are in control.  At the same time, Dream Box is good entertainment!
Five installations by five different artists and groups of artists get you to have a long, hard think about whether we really are in charge as much as we think we are.  There's so much information coming at us nowadays, while we have so little time. As a result ninety percent of the time we rely on our intuition.
"Only 10 percent of the time are we really thinking.  Well, that's what psychologists believe.  Most of the time we're lazy too.  We take shortcuts and using our intuition rather than having a good think uses far less energy! Psychologists believe that as a result we're far less in charge than we usually think!" says MIMA curator Raphaël Cruyt.
This may all sound like very heavy stuff, but Dream Box, the sixth exhibition to be staged at MIMA, is really great fun.  The five installations by a set of international artists allow us to discover the limits of our senses in the most entertaining way.
That's how it goes right from the start.  Step through the MIMA turnstiles and Elzo Durt's installation hits you.  Immediately you think you're on drugs as psychedelic and art deco images rush towards you.  Elzo Durt, you may remember, earned his spurs making visuals for the Indy rock and techno music scenes. He invites you to enter through the installation's mouth.  Repetitive sequences of black and white crosses create an illusion of movement.  In this installation realised by Marc De Meyer red and blue balls seem to be in constant motion, making us giddy, while in reality they are quite static.  It's all a great optical illusion!
Venture deeper into this installation and you imagine you're in a palace of mirrors at a 20th century fairground.  Now strobe lighting hits you.  Elzo's convinced people don't really like the freedom to make their own interpretations.  It's so much easier thinking in the box!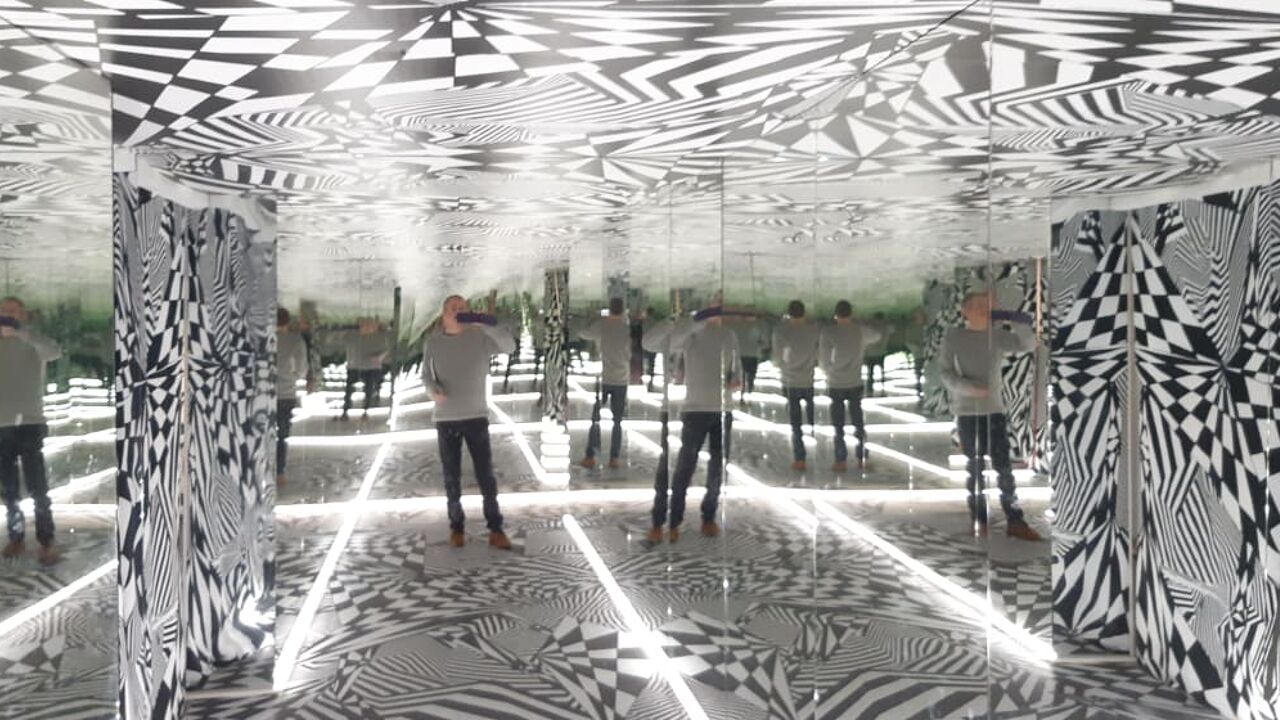 The entire Dream Box experience is unscripted.  There's nobody that tells you what to think or explains what's going on.  It's up to you! Head upstairs and you enter a Roman palace created by Hell'o.  Here abstract and figurative art are blended.  Paintings merge into the architecture.  There's no story.  You are free to interpret everything as you wish. 
This installation entitled 'Innerspace' consists of two rooms.  One where bright, lively colours and animals dominate, a second a far sadder one, where black, greys and white set the tone among skeletons and broken arrows. So far this installation has been the most popular at the exhibition.  Take your time to immerse yourself in the patterns and language of painting. Raphaël Cruyt (pictured below): "It's an exhibition with loads of Instagram opportunities.  It's a way for people to express themselves and speak about the exhibition.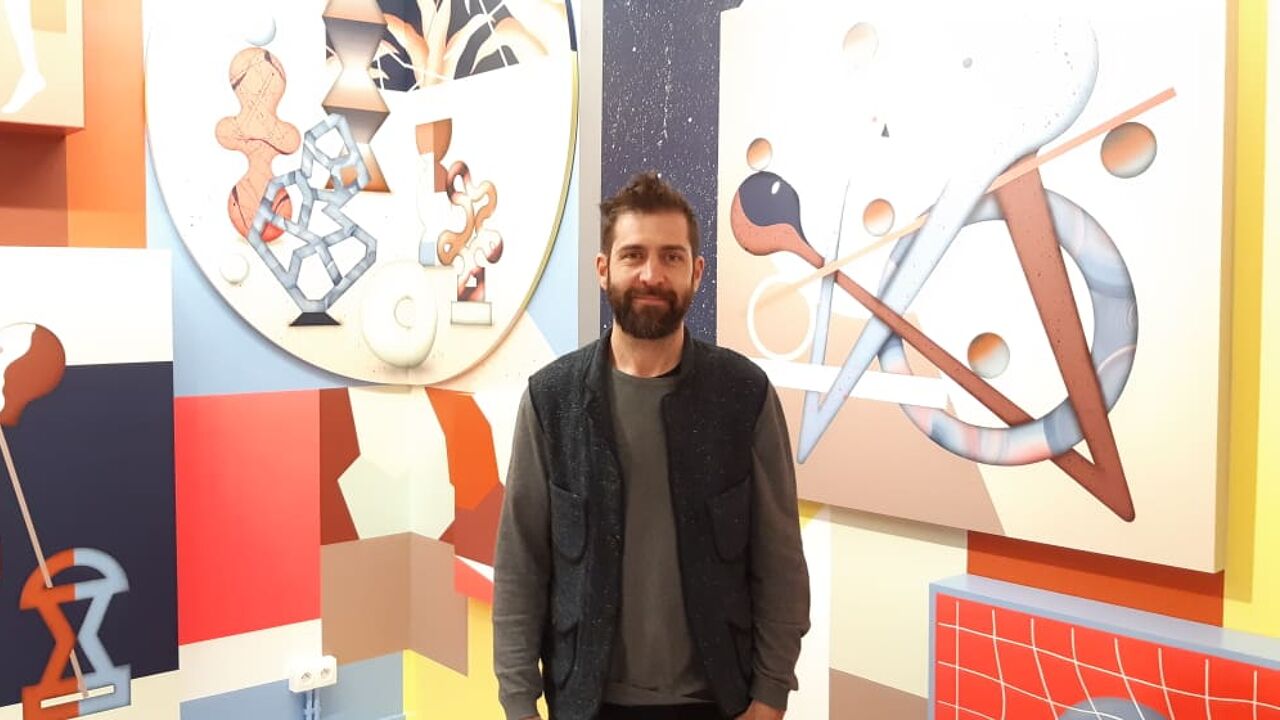 'Magic Piano' by the anonymous Spanish artist and activist /ESCIF is the next installation on our route. This installation has a serious message, but at the same time allows you to have fun.  Coltan mining has been funding 12 years of civil war in the DR Congo.  Pick up the tablet, which like your smartphone requires coltan, and take aim at the figures on the wall.  Composer Manu Louis has associated a tune with each character.  By playing around you can compose your own music! And so as in real life guilt and fun seamlessly blend together!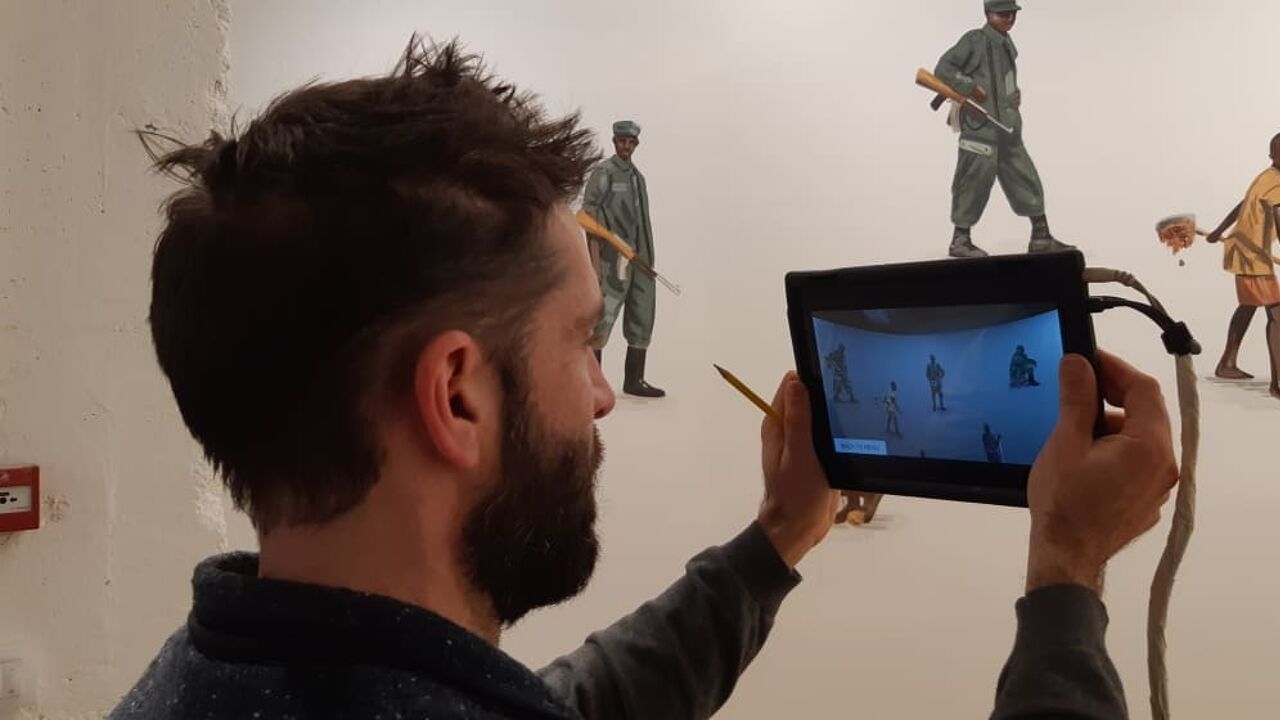 Climb the stairs and you are hit by Spaniard Felipe Pantone's 'Multistable Data Storage' installation. This is an optical and kinetic installation.  CD-ROMs are suspended from the ceiling by threads.  They are cut in perspective to create different shapes.  A fan ensures there is movement, while the ever-changing daylight of Brussels completes the illusion.
Pantone's second work consists of 64 rotating poles.  The poles are illustrated with black and white stripes and their close ups.  In 'Interference Pattern Programed by Motion Sequence' each pole has its own little engine, while a computer creates the movement of the whole.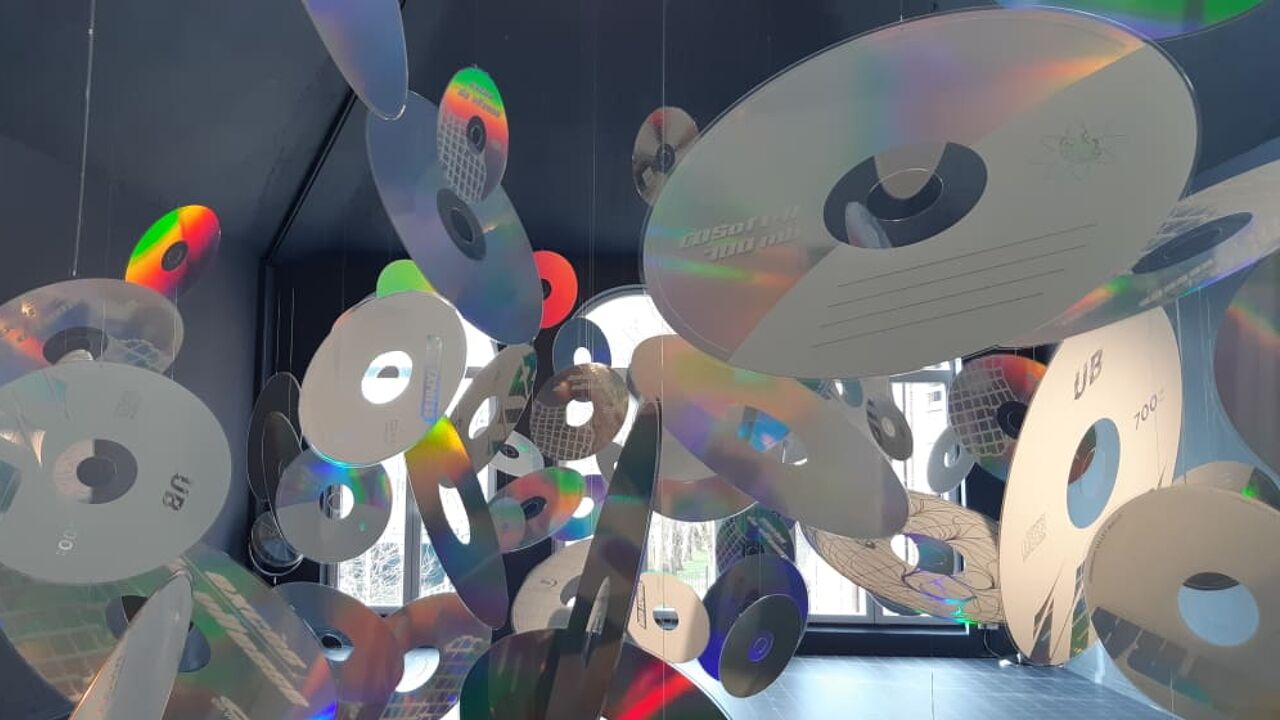 The last installation by Gogolplex, a French collective working in Brussels, is perhaps the most entertaining.  It mocks the practice by companies of getting us to fill in tons of questionnaires and answer countless questions using touchscreen technology.  It's a great spoof.  First the corporate video is mocked as the company introduces itself.  Then we are led into the waiting room.  You have to take a ticket with your number, sit yourself down, but your number is never called.  You can pass the time by filling in a questionnaire.  Some of the questions sound normal, but others are quite weird. 
Now slip your questionnaire into the box. But, as you're hearing the sound of a shredder, you may wonder, will it ever be read?  Probably not! Now move into the area where you're bombarded by questions on touchscreens.  You have to make constant choices, but there's never any reason for making any particular choice.  There are no good answers!  Finally, arrive at the exit.  Punch in your number on the tablet.  You have arrived at the end of your experience and the computer is now going to produce a work of art that suits your psychological profile.  You get to see it, but of course the question is asked: "Do you want to buy it?"  Well, perhaps not!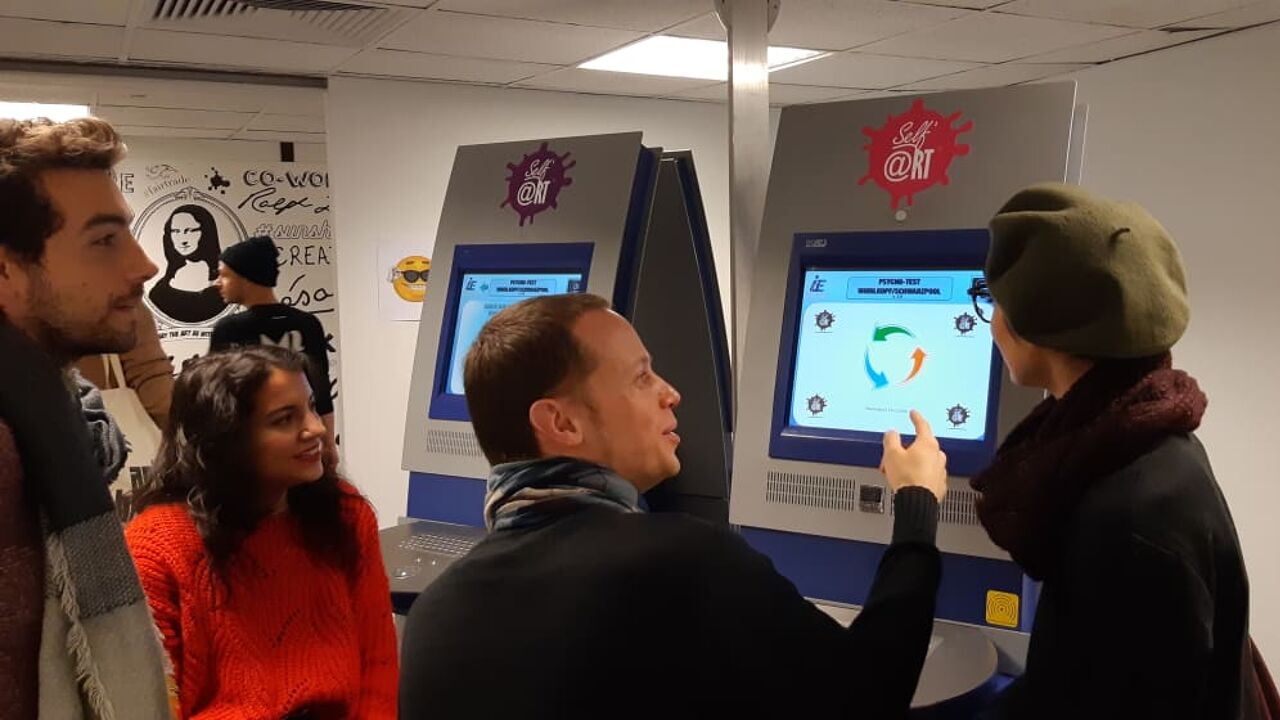 Dream Box runs at the MIMA, Henegouwenkaai 39-41 in Molenbeek (Brussels) until 1 September 2019.  The museum is open Wednesday through Sunday.