Discover dazzling Laure Prouvost at M HKA in Antwerp
With Laure Prouvost's AM-BIG-YOU-US LEGSICON Antwerp's contemporary art museum, the M HKA, stays true to its reputation for being one of the country's most entertaining museums. The artist's first big museum show in Belgium is a mesmerising mix of video art and installations, but always mind your head!
Is Laure Prouvost French? Belgian? Or even English? It clearly depends on who you talk to, but one thing is sure, she is fun. She was born in Lille (France), studied at St Martin's School of Art in London, where she still has a studio, though she is now firmly based in Antwerp where she produces most of her work.
Laure Prouvost has exhibited in London where she won the Turner Prize in 2013. When talking about her work she always prefers to express herself in English. She has also exhibited in her native France, at the Palais de Tokyo in Paris. At present she's working flat out on works for the Venice Biennial where she will be representing France this May. In Belgium Prouvost may not yet be a household name, but she has exhibited at the Nathalie Obadia Gallery in Brussels. The M HKA exhibition is her first major exposure at a Belgian museum.
M HKA's Bert De Vlegelaer says AM-BIG-YOU-US LEGSICON isn't an easy show to explain and really that's how Laure Prouvost wants it: "Come and see it! Experience it. Be overwhelmed! That's the way to do it! Wall texts and the exhibition brochure have been kept to a bare minimum. Laure doesn't want to tell you what to feel or see. Just come and experience it for yourself."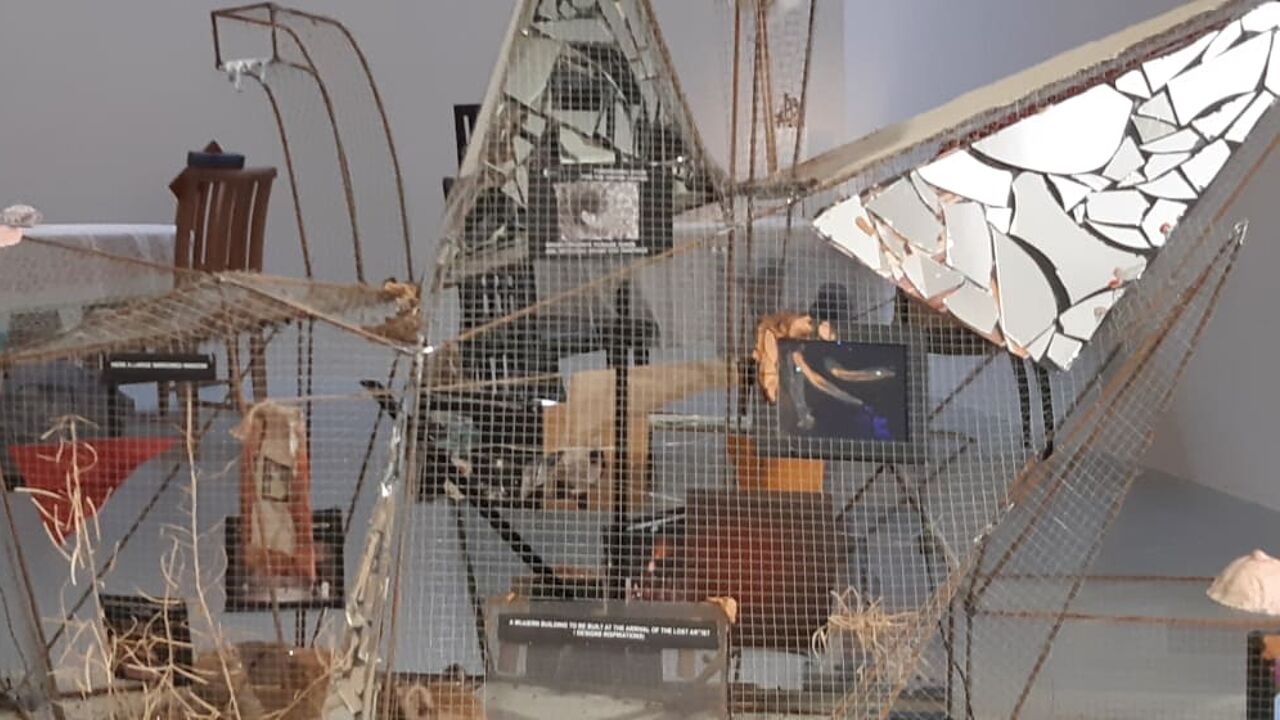 Regulars to the M HKA will be surprised to see that what is normally one giant space has been turned into a dedicated installation environment with lots of nooks and crannies. So mind your head!
"We've never had so many partitions go up. The exhibition design is by Diogo Passarinho, who does all Prouvost's exhibitions" says Bert De Vlegelaer. "Laure started as a video artist and was perhaps best known for her sign paintings. She then developed into an installation artist, though videos that she narrates herself remain part of most of her works."
Prouvost is fascinated by language too and the different meaning of words in different languages. She's a believer in de-learning or dit-learning: "Let go of what you already know and learn again. It's a very emancipatory experience" says M HKA senior curator Nav Haq.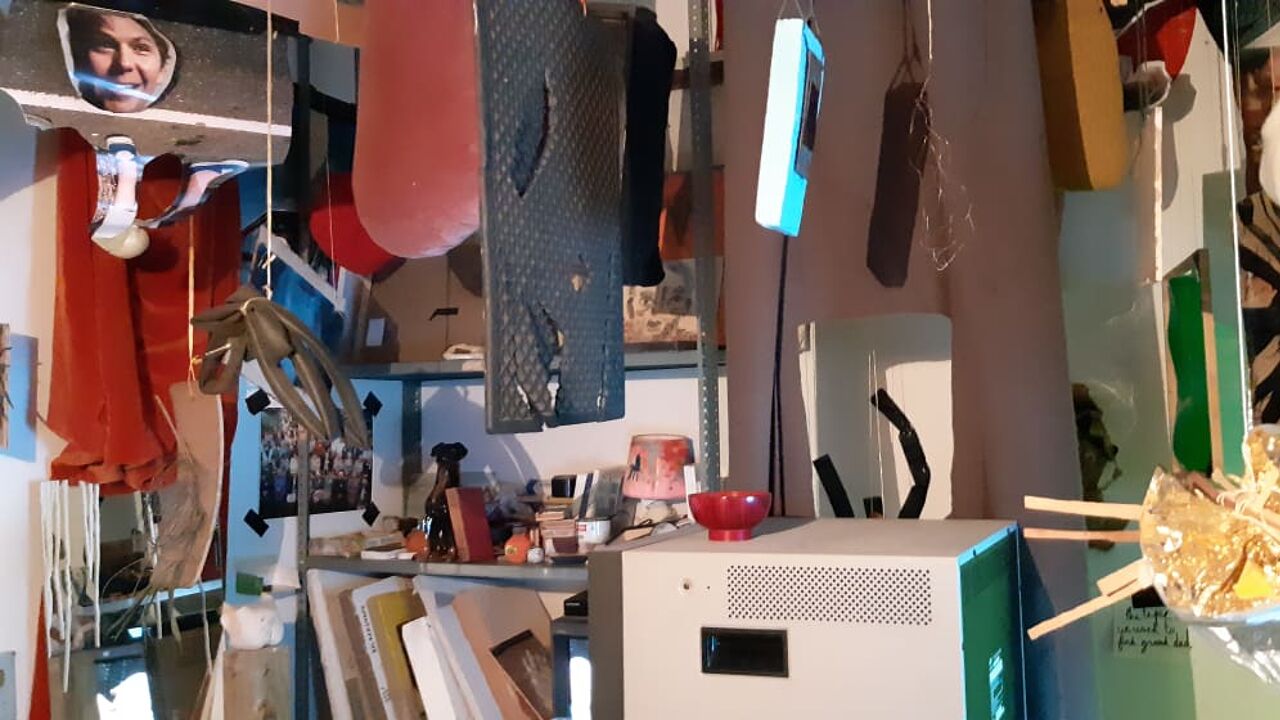 Visitors are not pushed in a particular direction through the exhibition. Just find your own way, make sure you see everything, but mind your head. One installation recreates her own studio in Antwerp that handily is located near the M HKA. It's quite small, cluttered with random stuff and you really do wonder how Prouvost manages it together with her assistants. You have to crawl through the artwork hanging from the ceiling. Normally you would be concerned you might damage an exhibit, but Laure Prouvost is fully ready for some wear and tear here. But do mind your head because there are some very nasty pointed items that could easily do you an injury!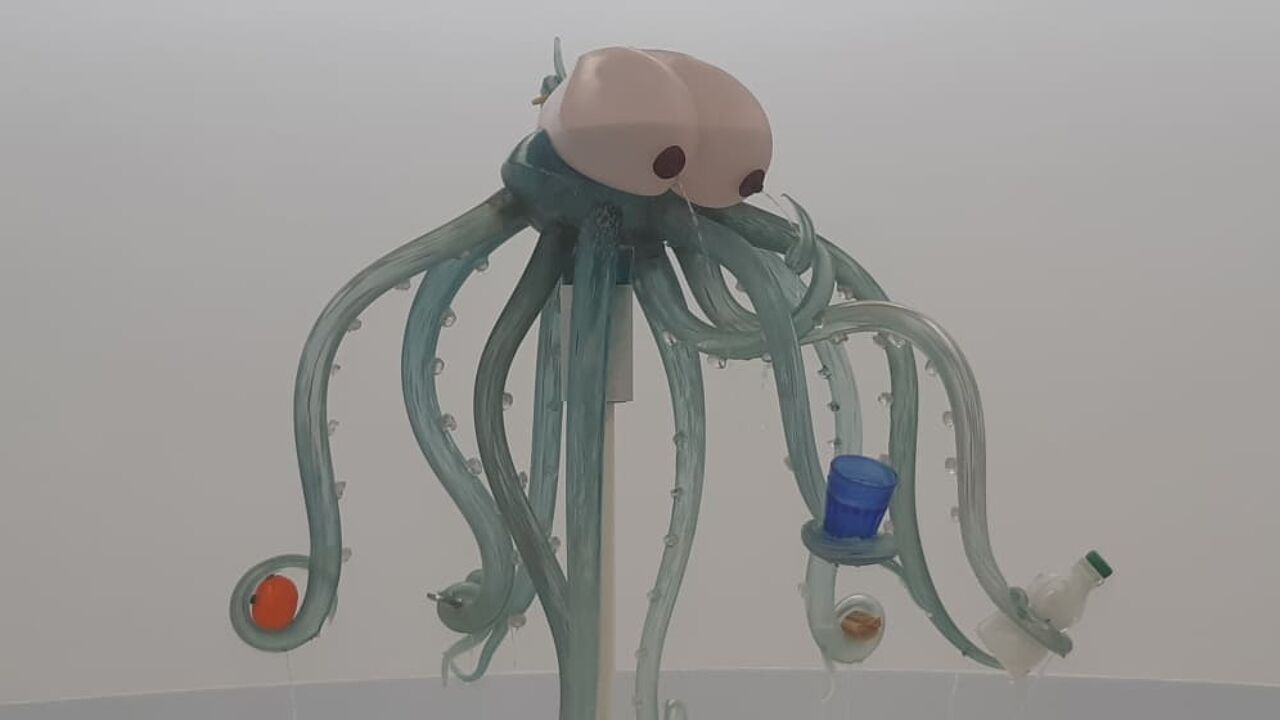 "We worked two and a half years on setting up this exhibition. Fortunately, Laure Prouvost is fun to work with and her work is fun too. Most of the work on display here was made especially for this show. She uses all kinds of random objects and even got museum staff to help her find all the items she needed including eggshells!" says Bert De Vlegelaer.
Laure Prouvost's installations clearly need space. Many are temporary by their nature, but like "A Way to Leak, Lick, Leek" (pictured below) could easily be reconstructed elsewhere if need be.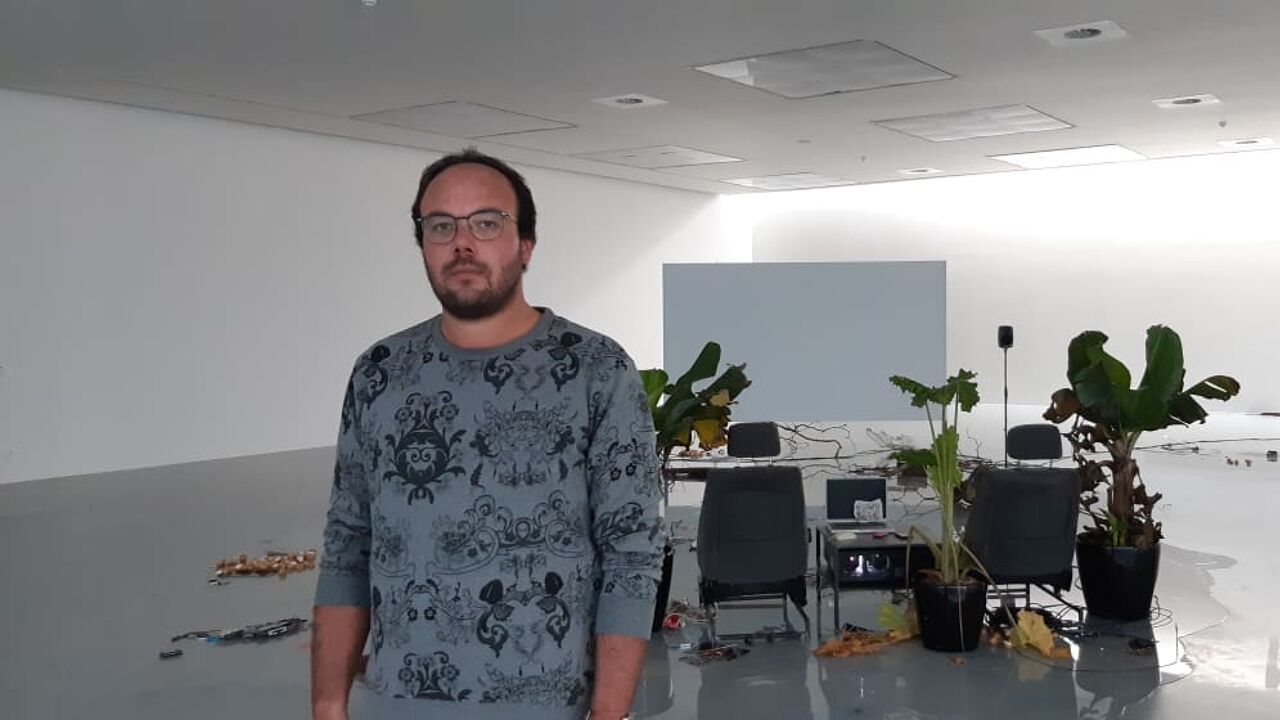 The octopus is one of the items that often returns in Prouvost's work. "Many people think it has a sexual ambiguity. In Japan it is a very explicit sexual symbol" says Bert De Vlegelaer and that's probably it's attraction to Prouvost.
The octopus features in a fountain made in Murano glass by a famous Venetian glassmaker. This installation comes with its own fog machine. The fog that spills into other parts of the exhibition creates a rather special, eerie atmosphere, but don't worry, here there's no danger of banging your head.
The octopus theme is taken up again in the bar. Yes, this is an exhibition with its own bar incorporated into the show. They serve alcoholic beverages to the 18s and over at "The Wet Wet Wanderer" that is also an installation! Vodka is served with squid's ink and believe it or not it's entirely free! Apparently, the squid is a very intelligent animal with brains in its tentacles!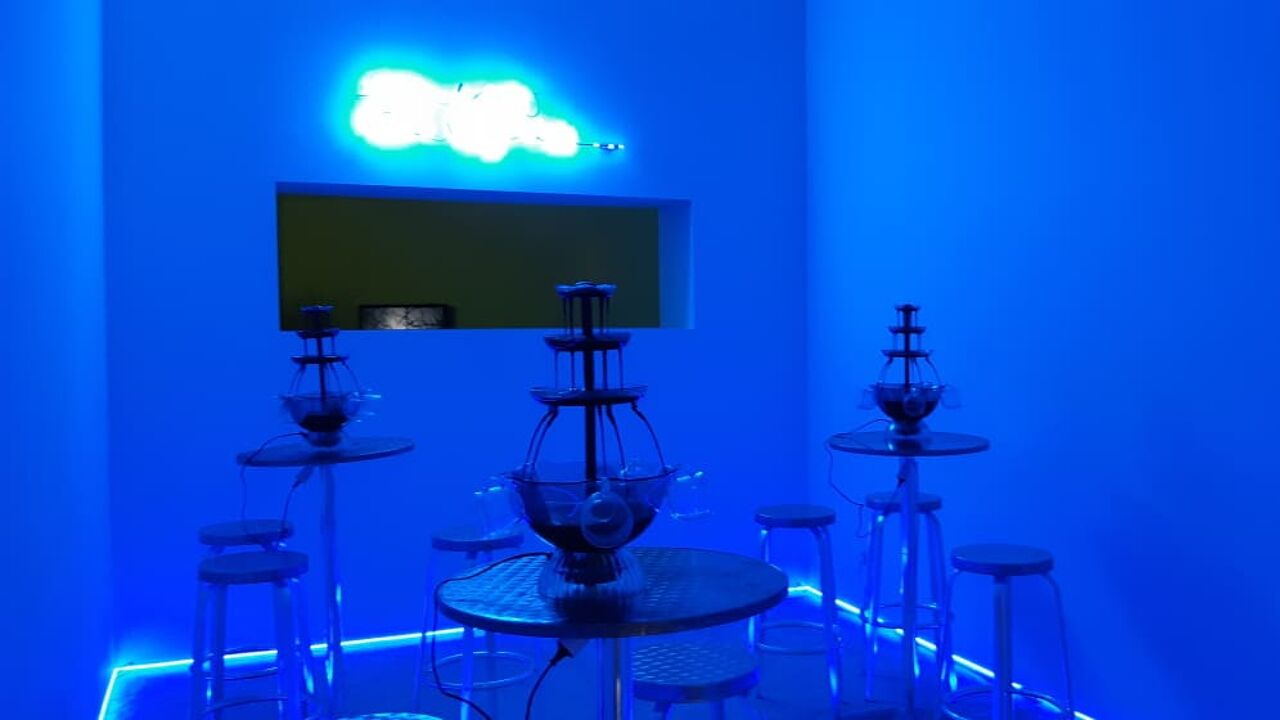 If vodka and squid's ink isn't your cup of tea, don't worry! There's also the "Wantee Tearoom" that serves ginger tea and gin!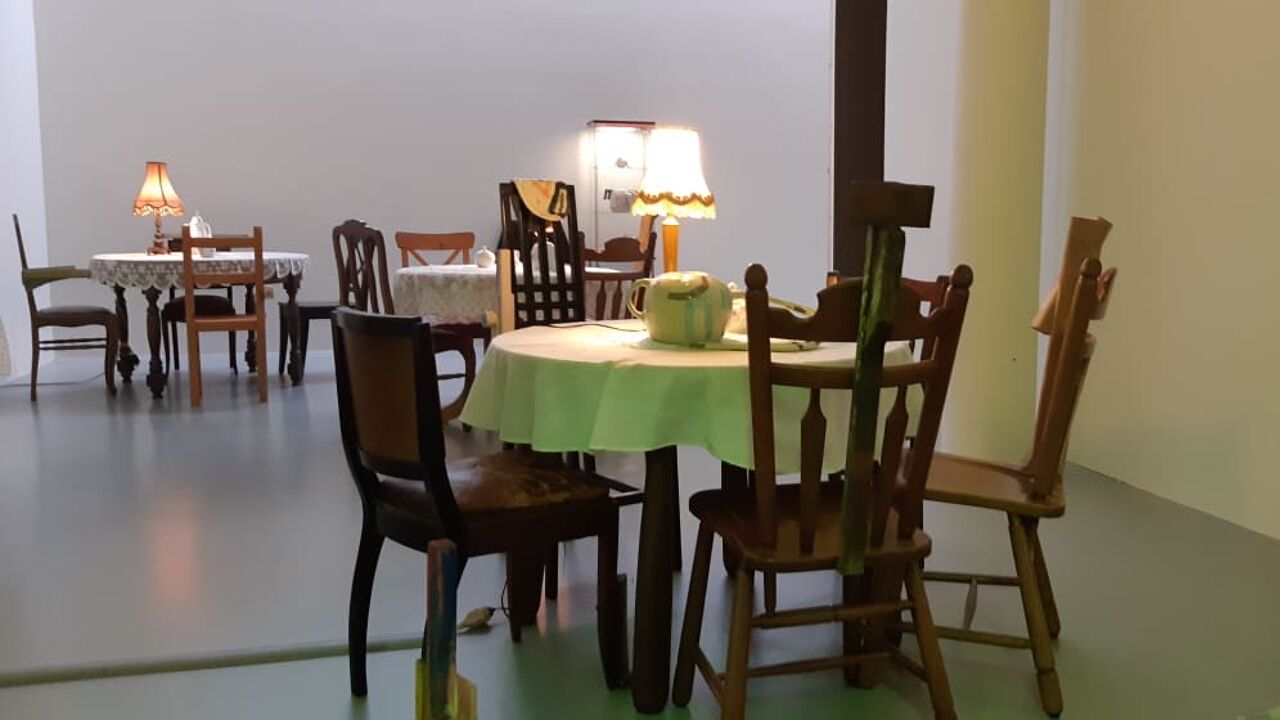 And if vodka and squid's ink or even gin and ginger tea aren't your cup of tea, don't despair. There is a second exhibition location in the oldest gay bar in downtown Antwerp: The Strange in the Dambruggestraat has a further 28 items on display.
Laure Prouvost's AM-BIG-YOU-US LEGSICON runs at the M HKA, Leuvenstraat 32 in Antwerp until 19 May 2019.