League Champions beaten by newly-promoted KV Mechelen
Four of this weekend's eight Belgian First Division games were played on Saturday evening. Probably the biggest surprise of the weekend was newly-promoted KV Mechelen's 3-1 home win against the reigning League Champions KRC Genk. There were wins too for Standard de Liège and KV Oostende. The match between KV Kortrijk and Sporting Charleroi ended in a 1-1 draw.
Standard on top form against Zulte Waregem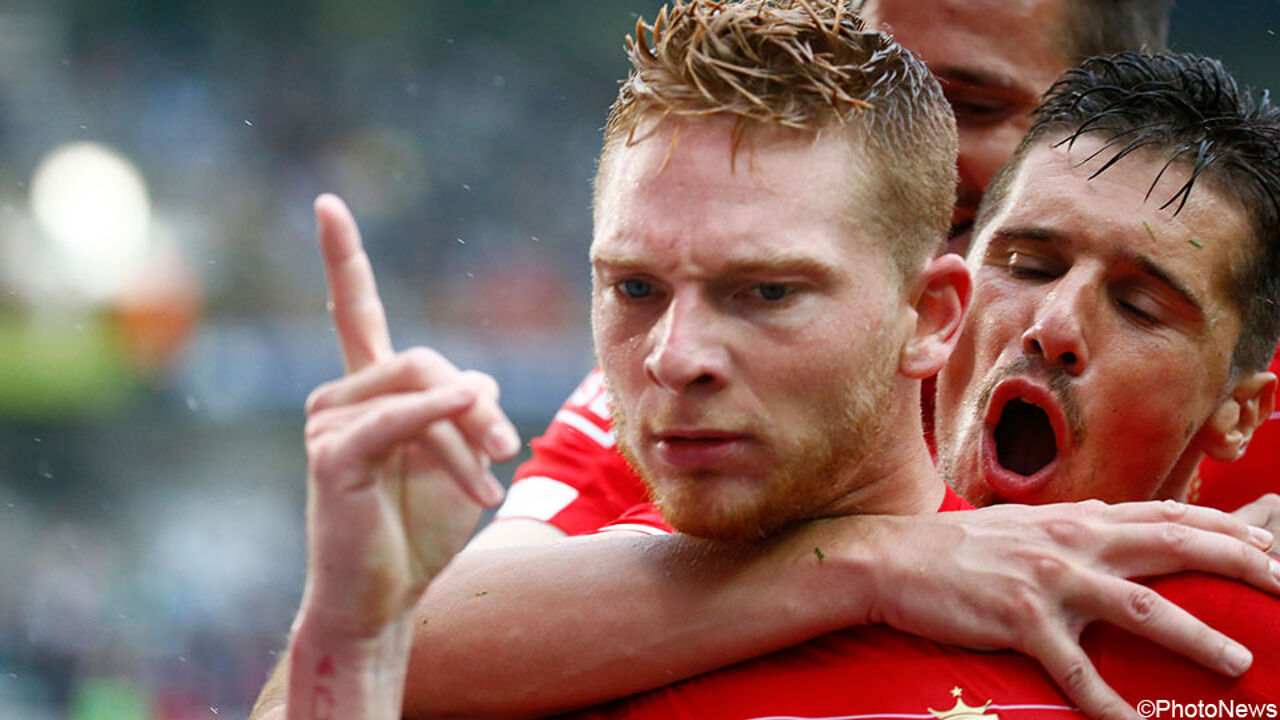 In their first home game of the season Standard de Liège gave their fans plenty to cheer about. Standard went ahead on just 2 minutes after Zulte Waregem's Sandy Walsh put the ball past his own keeper. The visitors didn't take this to heart though and they put up strong resistance to Standard's attack Lestienne had his effort saved by Zulte Waregem's German keeper Bansen.
Referee Verboomen's decision to award a penalty a couple of minutes later was overturned by the VAR. Zulte Waregem seemed to be holding their own and the half looked like it was going to finish 1-0. However, Lestienne's goal in the first minute of stoppage time saw the half end 2-0 to Standard.
Zulte Waregem went down to 10 men early in the second half after Olivier Deschacht was sent off for a wild tackle. Two goals and a man down it was never going to be easy for Zulte Waregem. Two goals from Renaud Emond (photo, above) on 69 and 75 minutes put the match way beyond the visitors' reach and gave Standard a 4-0 victory. Standard have taken 6 points from their first 2 games, Zulte Waregem have no points.
KV Mechelen victorious against League Champions
Newly promoted KV Mechelen enjoyed a 3-1 home win against the League Champions KRC Genk on Saturday evening. The victory came thanks to 2 goals in the last quarter of an hour.
KV Mechelen opened the scoring through Togui on 18 minutes. However, the first half finished level as Samatta equalised for Genk in the fourth minute of stoppage time. In the second half goals from Engvall on 77 minutes and Igor De Carmargo on 80 minutes were enough to ensure KV Mechelen of victory. KV Mechelen have taken all 6 points from their first two games of the season. KRC Genk have 3 points.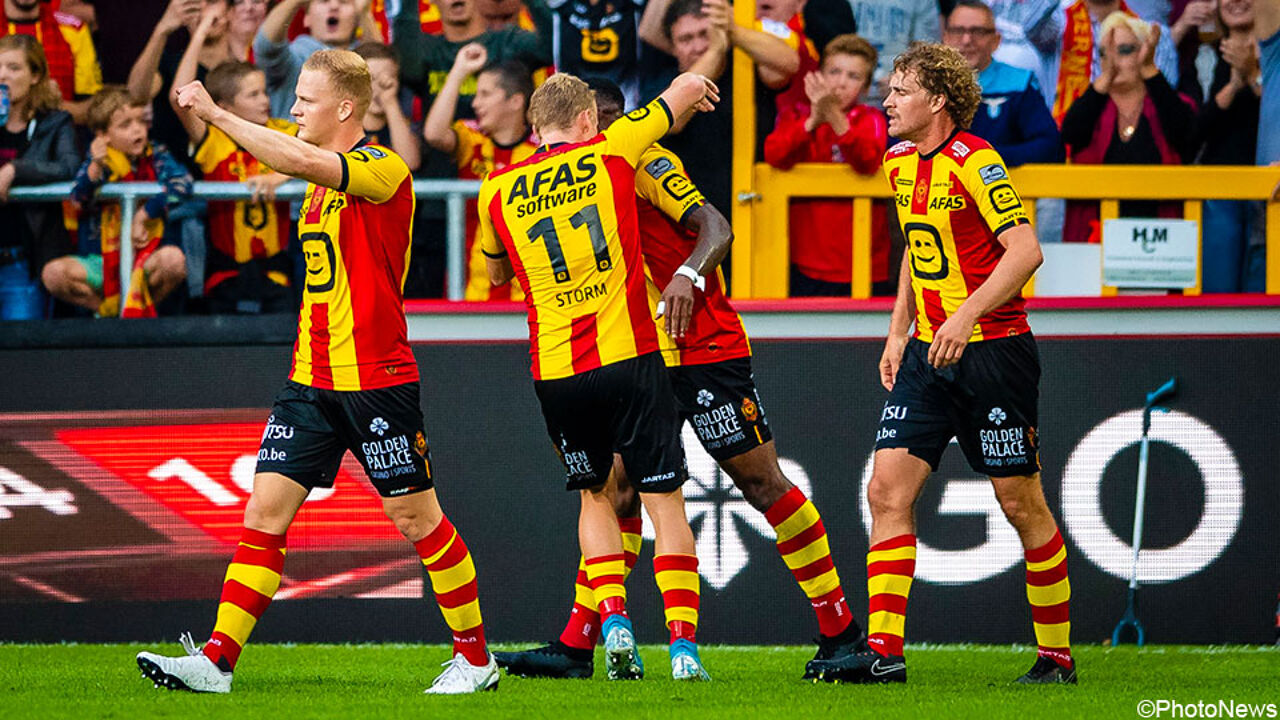 KV Oostende continue their good start to the season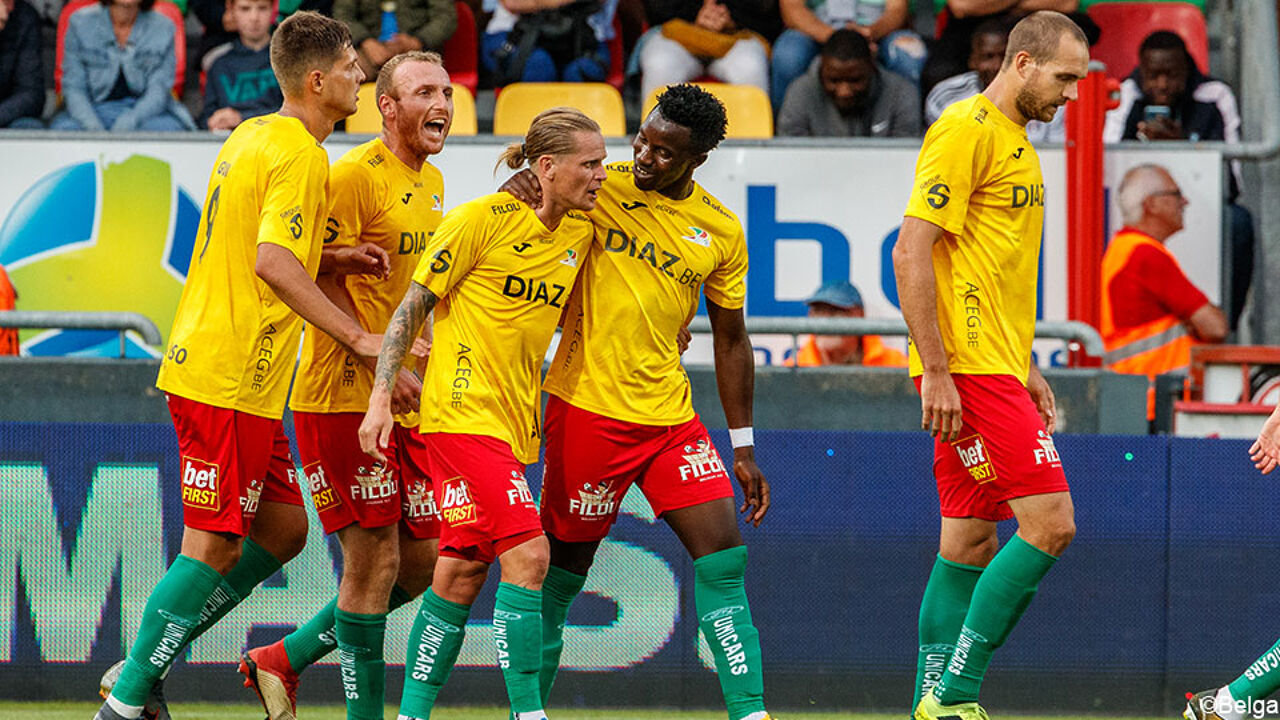 After their 1-2 victory away at Sporting Anderlecht, KVO Oostende have notched up another win, this time in the West Flemish derby against Cercle Brugge. KVO had gone a goal down after Saadi scored for Cercle on 7 minutes.
Guri equalised for Cercle on 32 minutes. It was a case of from hero to zero for Saadi as he scored an own goal that put KV Oostende 2-1 on 40 minutes. Guri's second and KV Oostende's Third goal on the evening on 87 minutes made for a final score of 3-1 to KV Oostende.
Cercle Brugge played most of the second half a man down after Jordi Mboula was sent off  for his second bookable offence on 54 minutes. KV Oostende have 6 points from 2 games, Cercle still have no points.
The only draw of the evening
The only draw of the evening was in the match between KV Kortrijk and Sporting Charleroi. Sporting Charleroi went ahead on 30 minutes through a Morioka penalty. They lead until the 79th minute when Mboyo put KV Kortrijk level. Sporting Charleroi have taken 2 points from their first 2 games. KV Kortrijk have 1 point.