On your bike! It's Car-Free Sunday
As a grand finale to Mobility Week, during which we are encouraged to think about how we get from A to B, a Car-Free Sunday is being organised in the whole of the Brussels-Capital Region and dozens of municipalities in the 5 Flemish provinces. Car-Free Sunday is something of a tradition and motor vehicles, with the exception of emergency vehicles, vehicles used for public transport and private vehicle driven by someone with a special exemption (usually because they need to use their car for work) are banished from the streets between 10:00am and 7pm on the Sunday that falls in the 3rd full weekend of September. 
The space left vacant by cars, vans and lorries will be put to good use. Hundreds of street parties open air concerts and festivals and other entertainment opportunities are being laid on.  
At total of 35 municipalities in the 5 Flemish provinces and all 19 municipalities that make up the Brussels-Capital Region are taking part. This year for the first time all 13 medium-sized towns in Flanders are organising Car-Free Sundays, most of them on 22 September. Towns and cities in other European countries are also car-free today. These include the French capital Paris and for the  first time the UK capital London.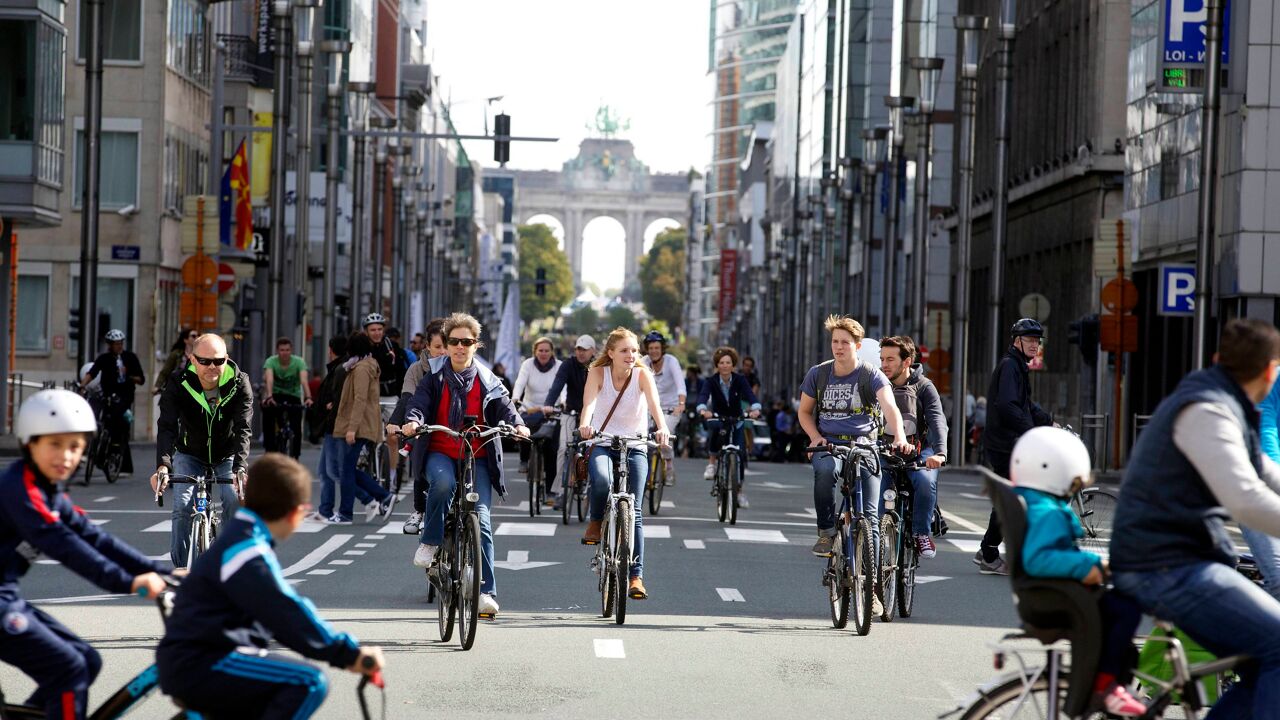 The Flemish towns cities and municipalities taking part are Aalst,  Asse, Beveren-Waas, Bilzen, Boechout, De Pinte, Deinze, Dendermonde, Genk, Gent, Gingelom , Haacht, Haaltert, Ham, Hamme, Herzele, Ieper, Kortrijk, Mechelen, Melle, Merelbeke, Nijlen, Ninove, Oostende, Ranst, Roeselare, Ronse, Sint-Niklaas, Steenokkerzeel, Veurne, Vilvoorde, Wemmel, Wijnegem, Zelzate and Zottegem.
Clean air and peace and quiet
The aim of Car-Free Sunday is to improve air quality and create peace, quiet and space on the streets of the participating municipalities for one day. In Europe alone 800,000 people die prematurely as a result of air pollution.   
Car-Free Sunday also hopes to encourage people to try out alternative forms of transport such as electrically-powered bicycles and scooters and to learn about the services provided by public transport and car-share schemes.  Meanwhile, the bicycle share service Blue-Bike is offering its bicycles at a reduced rate all day today.  
In Brussels the bus, tram and metro services offered by the public transport company MIVB are free of charge all day.