The skills of fashion decoration explored in Hasselt
'SMUK' or 'EMBELLISH' in English is the name of a fascinating exhibition currently running at the Fashion Museum in Hasselt.  The exhibition homes in on decorative techniques when three-dimensional items are used in fashion.
Today the clothing industry is dominated by fast fashion.  Fads have an ever shorter lifespan in an industry largely driven by fast consumption.  The Hasselt show takes time-out to look at traditional decorative techniques and examine the skills behind them.
With exhibits from the Hasselt Fashion Museum's own collection supplemented by loans from other museums and fashion houses 'SMUK. Fashion Decoration: a Show-Off' brings a visual story presented in a setting created by the Dutch MAISON the FAUX creative studio.  Fashion houses including Givenchy and Dolce and Gabbana, just to name a few, and museums like the Kunstmuseum Den Haag and the Groninger Museum in the Netherlands have all provided loans.
"The exhibition focuses on five themes" says Modemuseum Hasselt's Eve Demoen. "Métier d'art highlights the skills of couturiers.  In a second section the results of hand-made decoration are contrasted with those of industrial techniques including the most up-to-date technologies.  Optical illusion gets a look-in too, while there is also a stunning section of the impact nature has on fashion creations.  Finally, it is over to you. Under the beams of the fashion museum attic visitors can investigate the techniques of up-cycling: plastics are reused to create new and stunning visual effects in clothing".
"SMUK" reveals the historic and social context of decoration used in clothes. At the court of Louis XIV in France at the beginning of the eighteenth century richly decorated clothes are a must for men.  Finance minister Colbert protects the French textile and clothing industry by insisting that all materials must be sourced in France.  Know-how is developed and passed on in specialised workshops.  Each workshop specialises in one particular technique and works together with fashion houses.  Several of these workshops are still active today.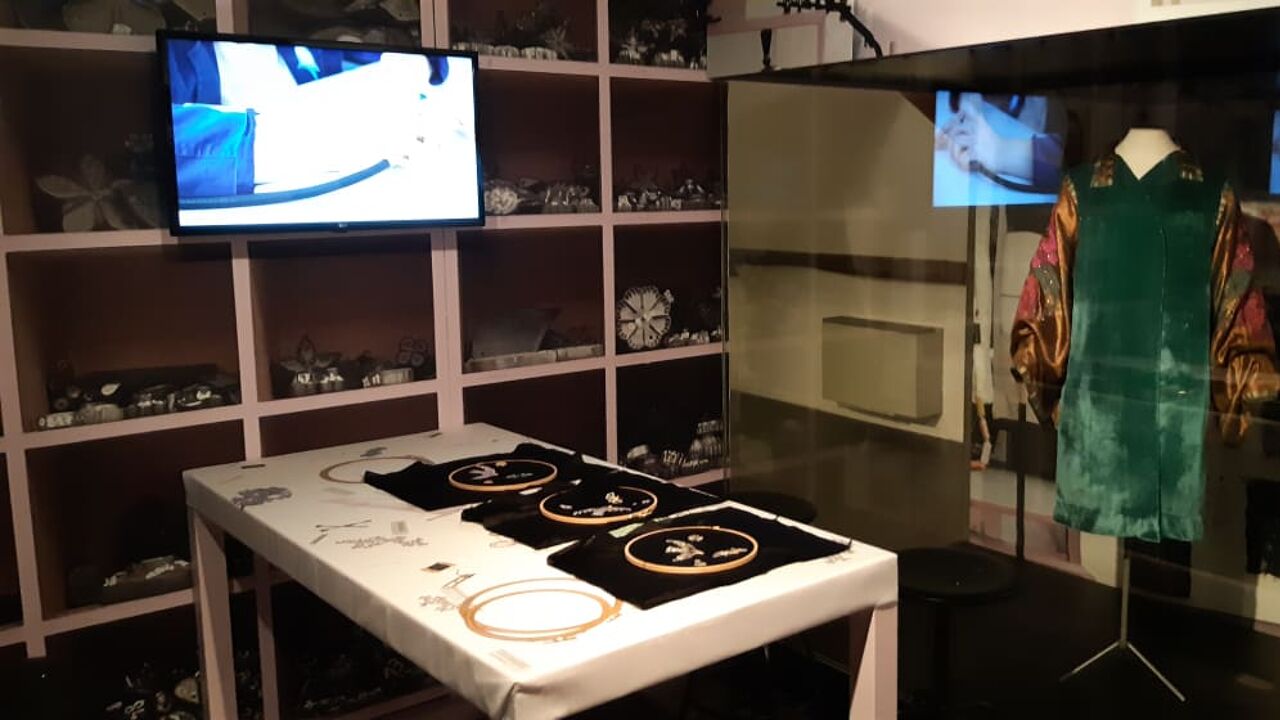 Not only are we treated to stunning creations, but MAISON the FAUX' setting also conjures up the atmosphere of the workshop.  Work tables are full of materials and equipment.  Draws are there to be pulled open.  We see work in progress on the embroidery frame as well as preparatory drawings.
As always, Paris is the centre of the fashion world.  Haute couture is practised according to strict rules.  Italy too gets a look-in.  Here the strict rules of Paris do not apply. Workshops contract out work to low wage economies like India, but this isn't necessarily a negative story.  Belgium's Dries Van Noten has been collaborating with Indian craftsmen for many years.  He ensures high quality standards are met but also insists workers are employed in decent working conditions.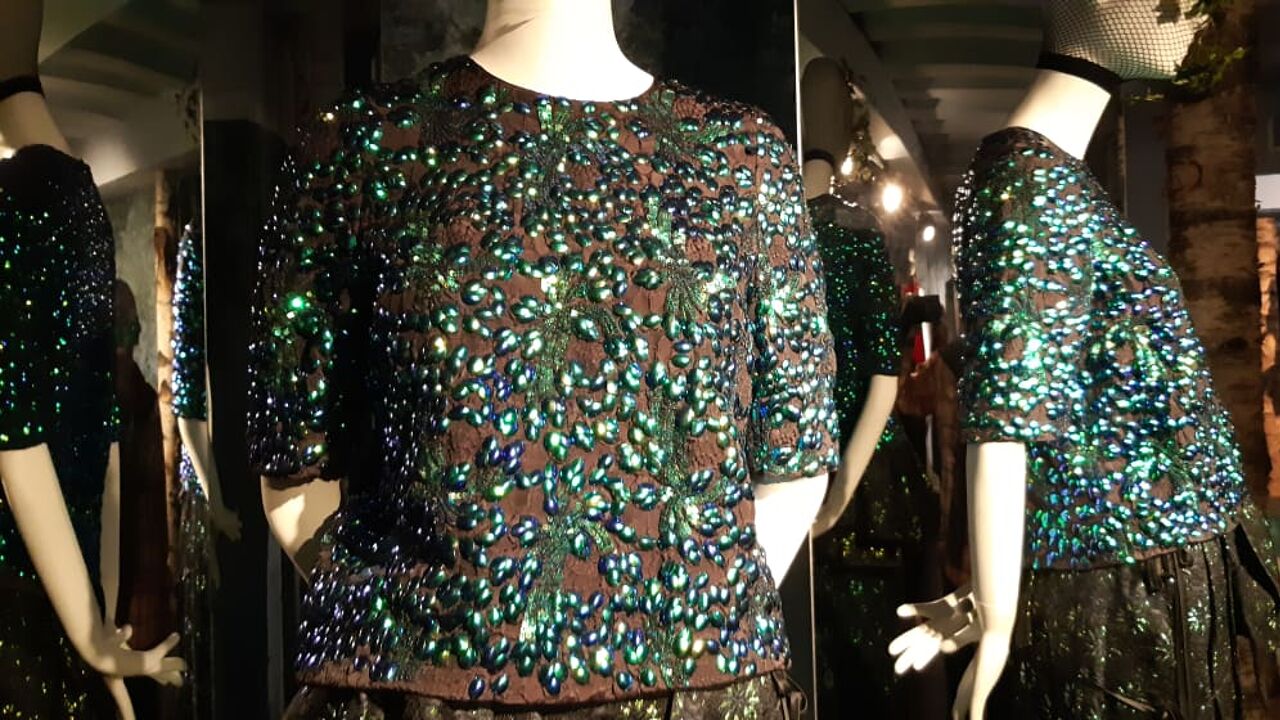 "SMUK" highlights the differences between handwork and machine production.  Eve Demoen: "Craftsmen and women and machines can do very different things.  If it's made by hand, then, clearly, there are more possibilities.  Work won't be as regular and it will take more time.  Use machines and the result will me more regular and cheaper.  There are limitations to what a machine can do, but work does go quicker.  The more you approach the upper end of the haute couture market, the more things will be done by hand.  Often the two techniques, hand-made and machine made, will be used cheek by jowl.  Some examples include laser cut flowers that have been embroidered by hand or dresses with digital prints to which objects and hand-made embroidery have been added.  Hand-made is used in off-the-peg clothes, but the work won't be as detailed or as finely finished off as in haute couture."
Don't miss a dress from Alexander McQueen's last collection that includes golden embroidery.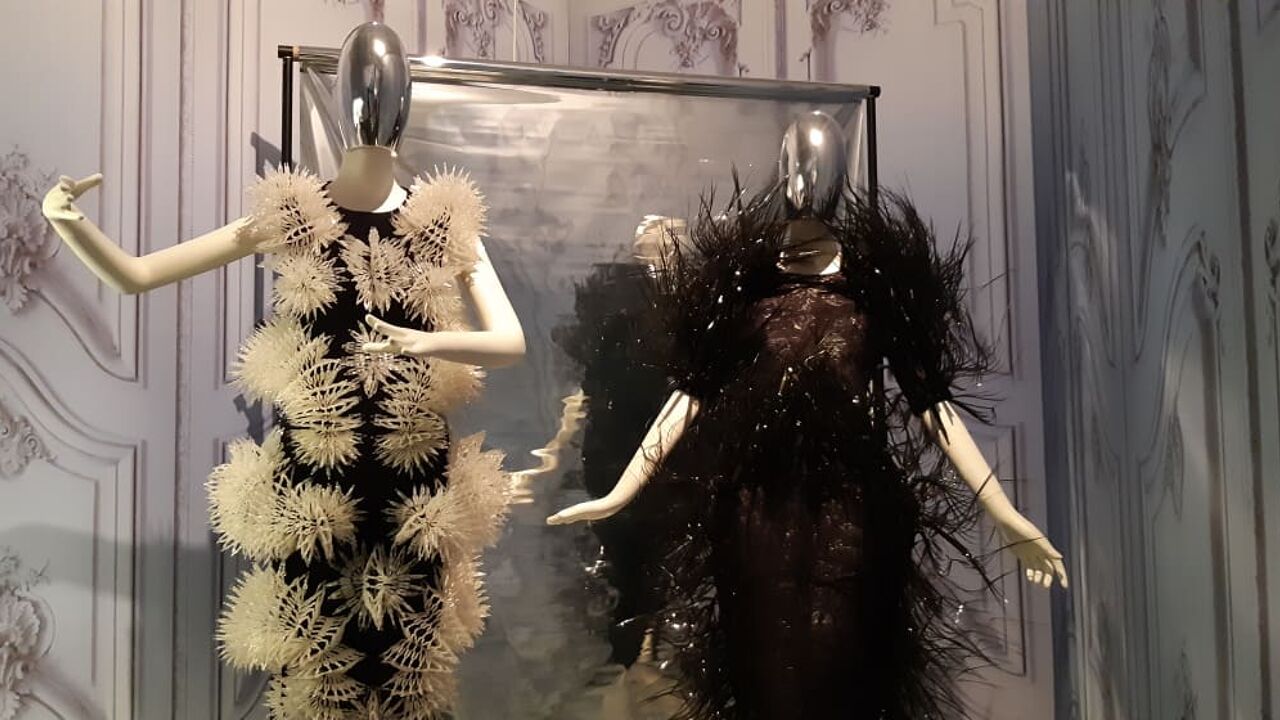 Today designers will use the latest techniques: 3D printing and laser cut techniques, but also new materials.  Belgian designer Iris van Herpen is a case in point.  She collaborates with engineers and architects to produce her novel creations that explore the limits of haute couture, and, it must be said, often end up in museums.
In the Fifties Spain's Cristobal Balenciaga explored with plastics, while Britain's Gareth Pugh uses plastic straws and bin liners in his creations.
Optical illusions conceived by the likes of Fleming Walter Van Beirendonck will thrill in Hasselt.  Designers use decorative techniques to create transformations.  Walter Van Beirendonck's creations have featured on the catwalk but also in the Middelheim sculpture park in Antwerp.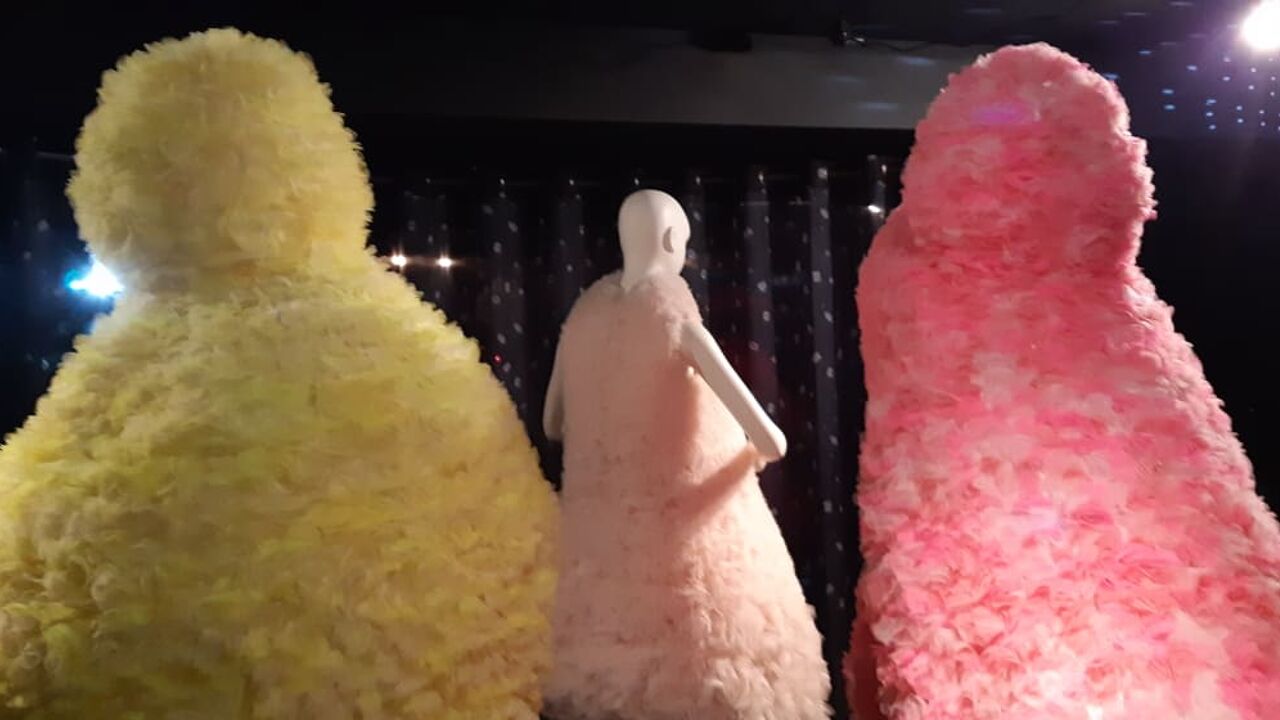 One of the most striking sections of this exhibition is the one devoted to the inspiration that nature has provided.  In the 19th century feathers from exotic birds like the marabou stork, birds-of-paradise and ostriches were all the rage.  Dries Van Noten still loves an ostrich feather while fellow Fleming Ann Demeulemeester opts for more banal, less exotic feathers. Beetle shells have been used in haute couture since the 19th century. The beetles were reared especially. Today imitation shells are used to create colour effect. Exotic plants and animals have been imported to Europe for centuries and have provided inspiration for countless creations.  Dolce and Gabbana has its own flora collection in which every dress is inspired by a different flower.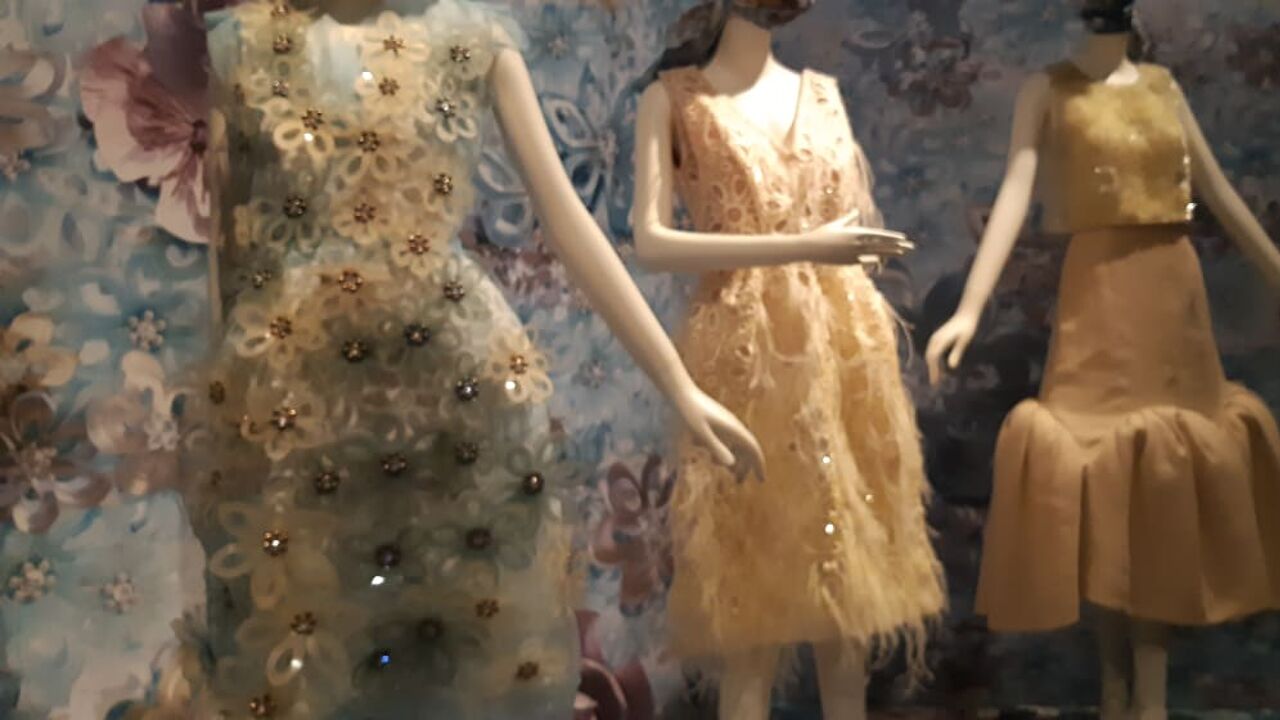 At the end of the exhibition enter the Chamber of Wonders staged in conjunction with Hasselt's Fashion incubator MIAH that provides designers with the equipment and infrastructure to develop their designs.  You'll be fascinated by a video made especially for this exhibition.  Workers at the Hurel workshop in Paris reveal the internal workings of their atelier and explain the different approach to haute couture and ready wear clients.   Here in Hasselt workshops are regularly staged too.  Visitors can learn techniques first-hand from the experts.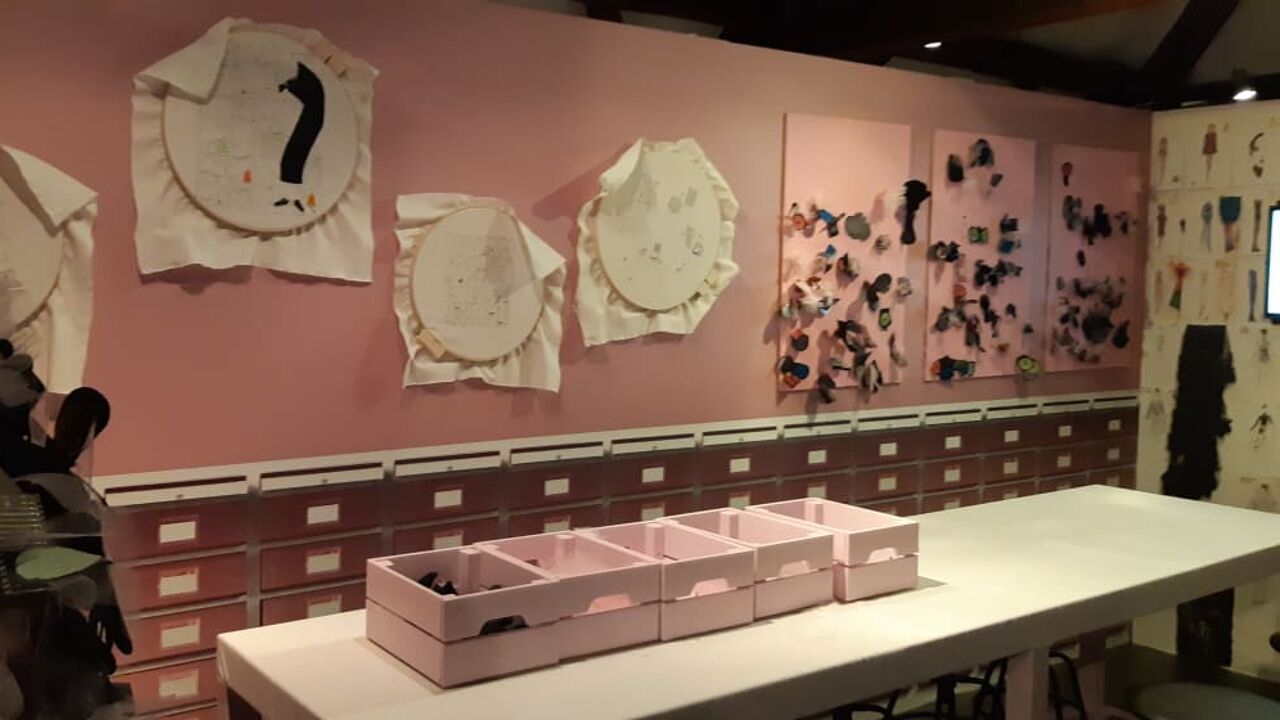 "SMUK. Fashion Decoration: a Show-Off" runs at the Hasselt Fashion Museum until 8 March 2020.  A publication, the first of its kind to bring a scientific approach to the decoration used in haute couture, is published to coincide with this exhibition.