Discover Lieve Blancquaert's Circle of Life in Ghent
A circular screen awaits visitors to 'Circle of Life', the breath-taking exhibition at the St Peter's Abbey in Ghent. "You're supposed to stand in the centre of the circle to watch the film" says Flemish photographer and documentary maker Lieve Blancquaert. The exhibition that encompasses six halls at the medieval St Peter's Abbey is the result of ten years of work and brings together three projects that Blancquaert has been working on: Birth Day, Wedding Day and Last Days. These three projects embrace the whole of life and the whole of the world, from birth to death as well as everything in between.
The opening film, an edit that combines images from three documentaries Blancquaert produced for the VRT, shows images of birth, life and death in five continents.  Pictures from Ghana, India, Greenland and Indonesia reveal the universal nature of human life, but at the same time shine light on the brilliant variety of human experience across the world. A soundscape produced especially for this exhibition accompanies the images. Don't miss the beautiful medieval paintings on the rafters of the roof of the abbey refectory where this film is screened either.
"The St Peter's Abbey is an exceptional location" confides Blancquaert. "There are few locations of this size where artists can present their work."
Get hold of a free audio guide available in English. The photographer takes you on an amazing personal journey through the six exhibition halls and explains how each of the exhibits came about. At M Museum in Leuven Blancqaert was given an opportunity to contrast her contemporary work with old masters from the museum collection.  She was struck by the fact that old masters where virtually doing the same as contemporary documentary makers: presenting images to conjure up emotion, empathy and feeling in the viewer. Christ's shroud is a traditional theme in medieval art.  Blancqaert contrasts it with the photograph of a T-shirt taken off a young woman patient in the intensive care unit at Ghent University Hospital.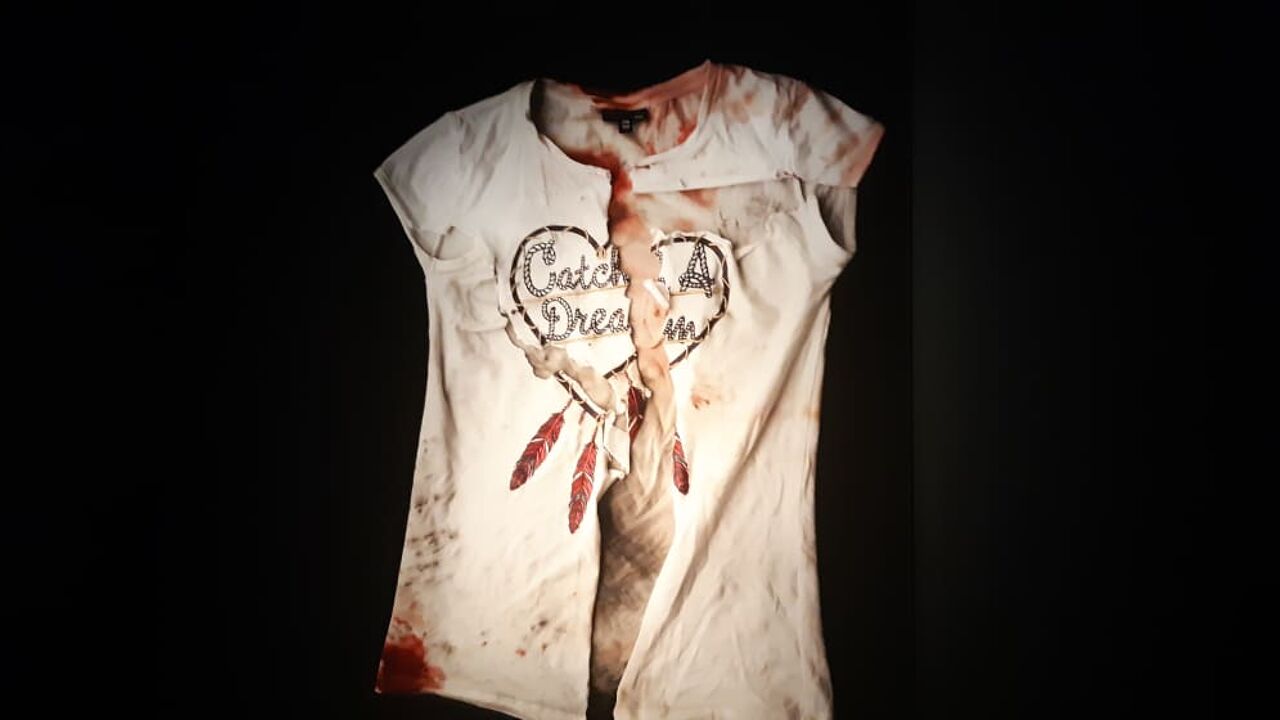 "I spent a week at the hospital.  I'd set up my studio between the ambulances.  Medics cut the clothes off patients who are brought into intensive care so treatment can start.  What struck me was the T-shirt one girl was wearing.  The text ran 'Catch A Dream'.  I laid out what remained of the T-shirt and took this photograph.  An ordinary T-shirt had nearly become a relic."
Fortunately the girl, who was the victim of a horrendous traffic accident, survived her experience.  
Next we are confronted with one of three works from other artists brought into the exhibition: a Pièta by the sculptor François Dieussart.  It stands opposite a contemporary Pièta, a video in which a woman, completely dressed in black, and who has also lost her son tells her story.
"I encountered this mother in a Jordanian refugee camp in Zaatari.  She's a Syrian refugee.  I asked her to tell her story, which she does in her own language.  It's a story of fear, panic and despair, a search for her son that lasted for two years, and in the end she still doesn't know whether he is alive or what has become of him.  We don't understand the woman's exact words, but we understand her horror and her grief."
"The camp is an atrocious place.  80,000 Syrian refugees are packed together in intense heat.  I saw how despite all adversity they try to organise their lives and are determined to make a success of life."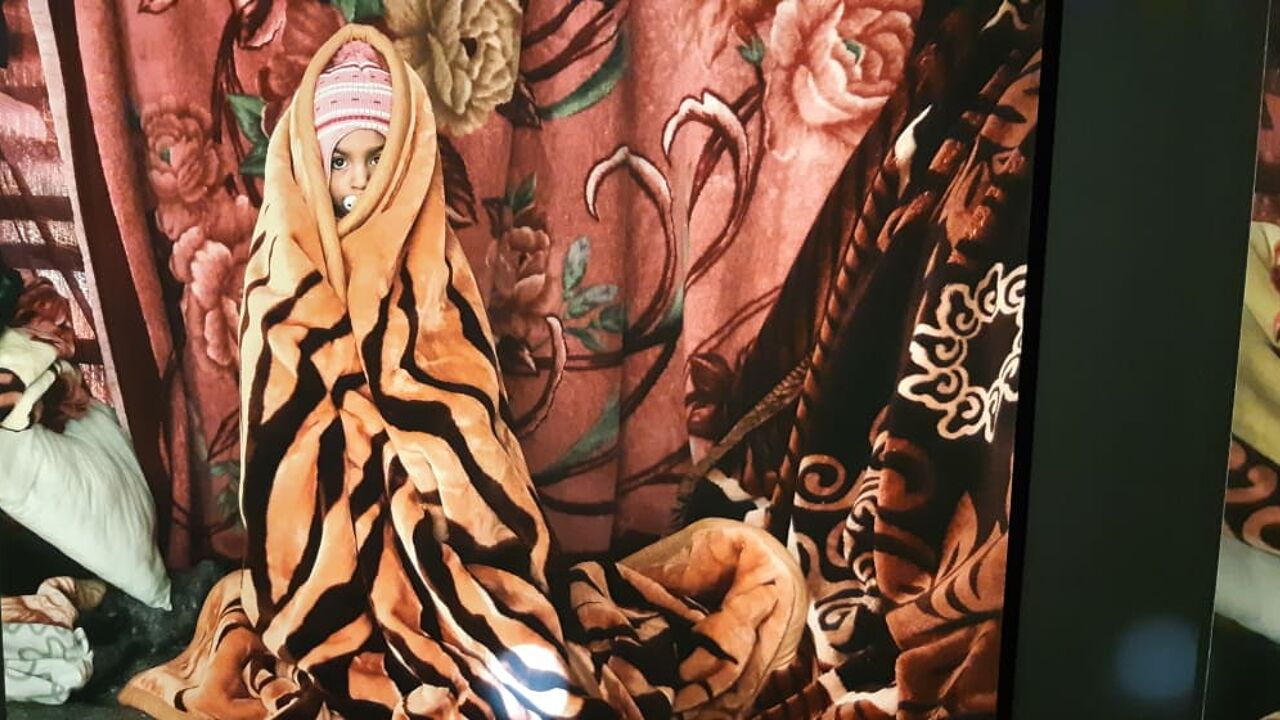 On another wall we see the pictures of a father, a mother and a son taken at a refugee camp in Dunkirk, France.
"I encountered this family in a makeshift hut.  I'd set up a nativity scene and took these pictures there.  I explained to the father that I wanted to show how we see them. These were ordinary people like us when they left their home, but they went downhill on their journey.  They lost something with every step they took.  I pictured them wrapped in blankets, one of their few remaining possessions. They had become poor souls, but at one point the father took out his phone and showed me photos from home, their garden, him pictured in a white shirt and a table decked with good food.  It was a very emotional moment when I realised how much they had lost."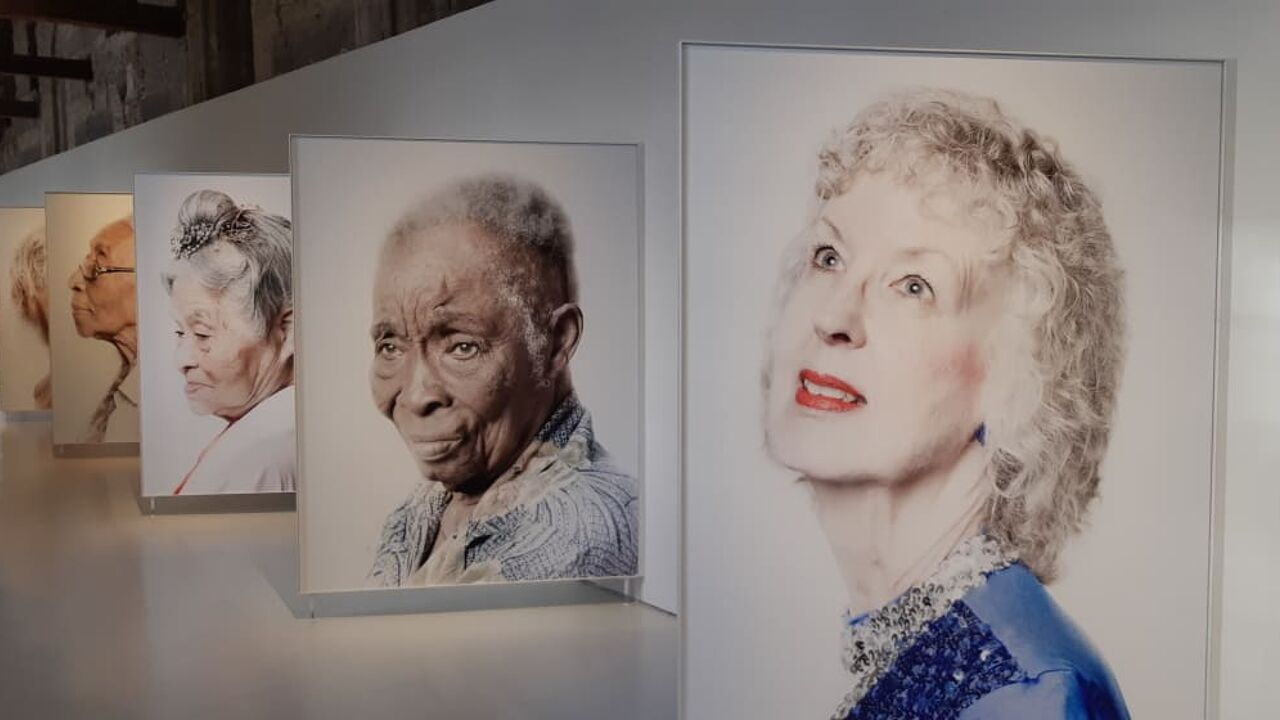 Another section groups large portrait photos of elderly people from across the globe.  Lieve Blancqaert went in search of the boy or girl inside all her subjects.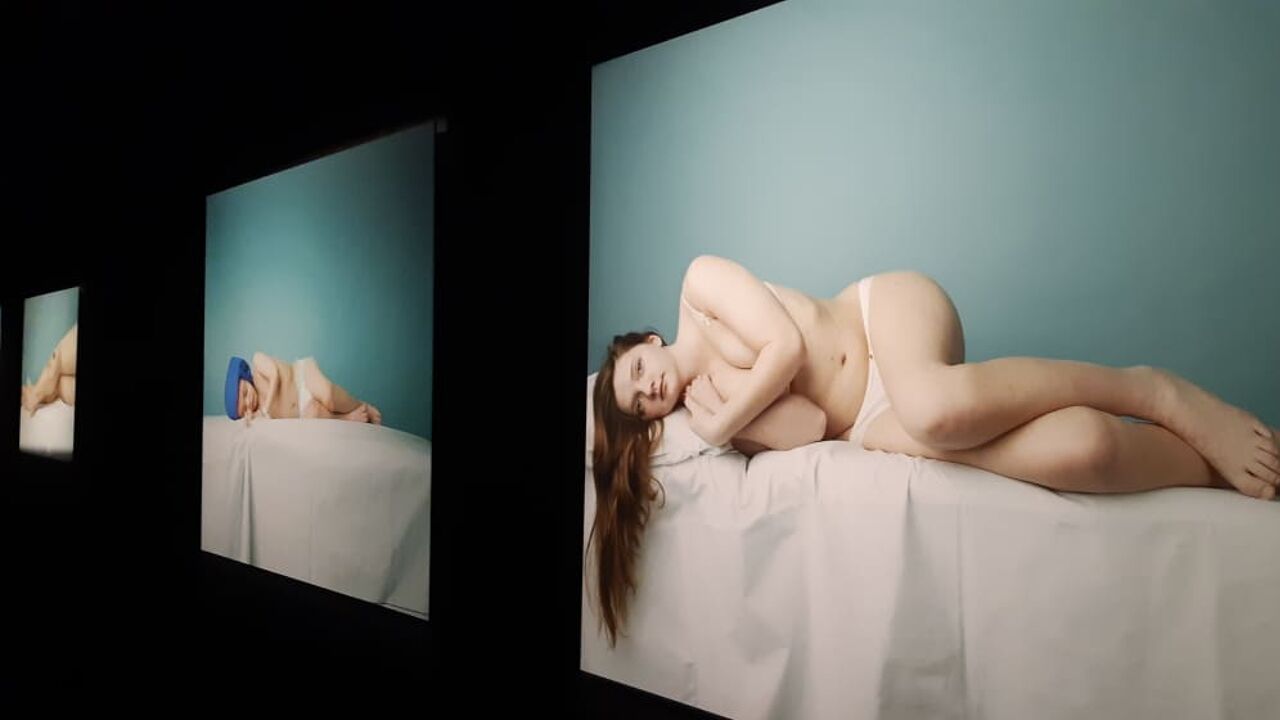 An anonymous medieval painting showing the 'Lamentation of Christ' appears amid photos made at the rehabilitation centre at Ghent University Hospital.  Patients bear scars.  One photo depicts a mental patient who self-harmed.  Movingly, Blancqaert tells me how the girl has explained that she by far preferred the physical pain of her self-harm as it drowned out the mental pain that was far worse.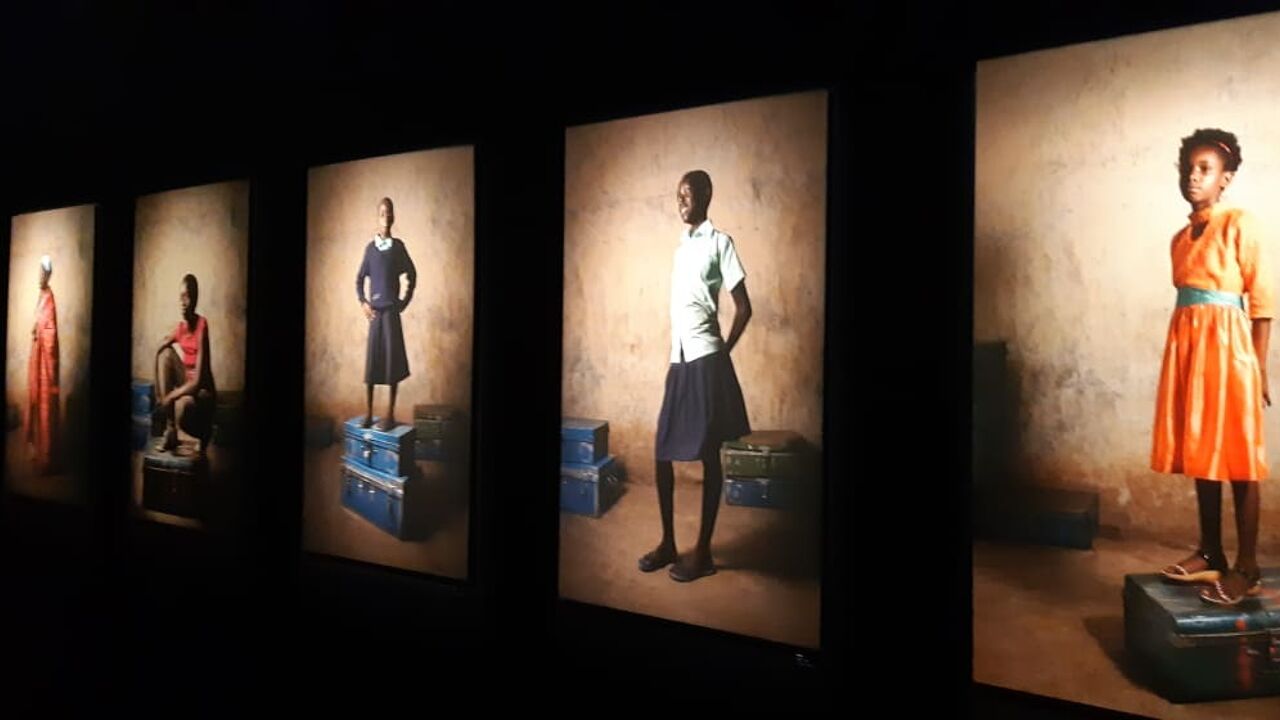 Worse still is the physical pain that tradition inflicts on girls and young women in African communities.  A series of photos shows girls from the Kuria people where genital mutilation is rife.
Lieve Blancquaert: "Female Genital Mutilation is practised in twenty countries. The ritual circumcision forms part of a transition ritual.  It is the only way to become a man or woman in these communities.  92 million African girls and women have undergone this practice. Elders enforce the rules of this barbaric tradition.  Each year in the month of December girls between the ages of 8 and 18 are rounded up.  They are dressed in fine clothes, but the ritual ends with genital mutilation.  In girls the vagina and sometimes even the labia are cut.  To escape the practice girls hide in a school dormitory.  It is here I took the photos.  A 95-year-old woman agreed to tell me her story on condition I tried to help stop the practise.  When she was cut around the time of the Second World War a rough knife was used.  Today it's done with razors."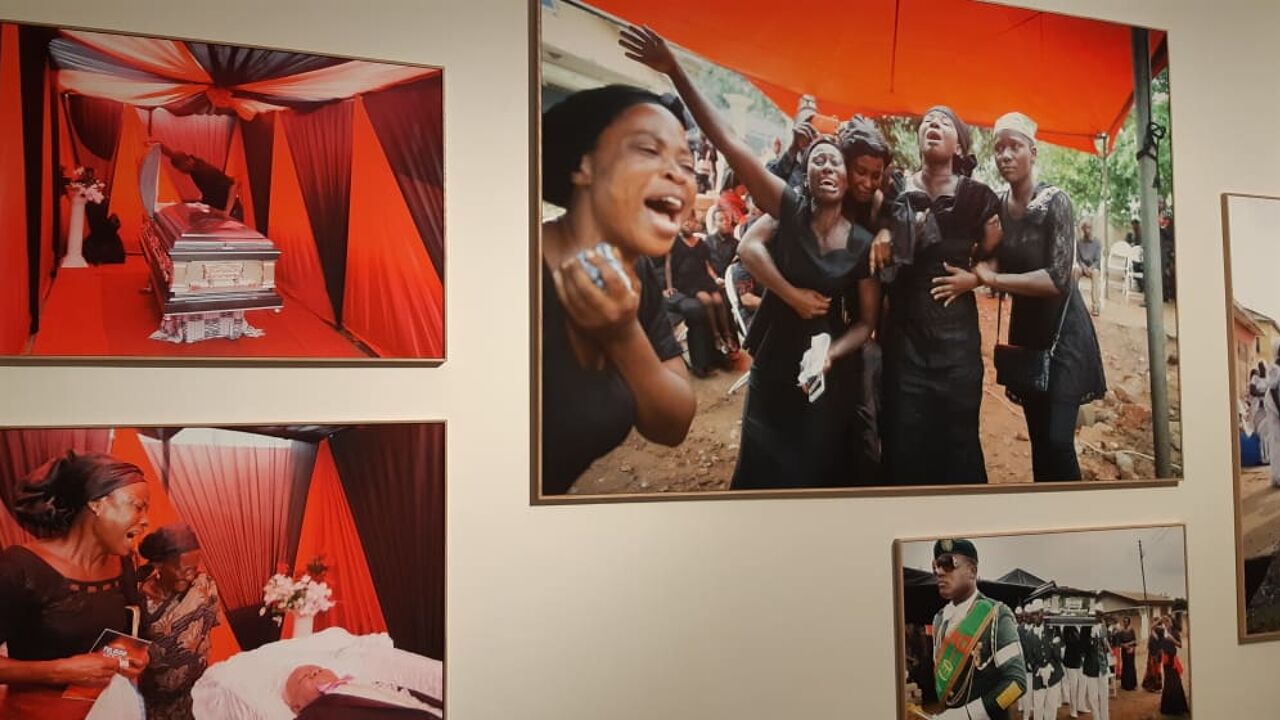 In room 5 we see how images from all three projects, birth, life and death flow together.  Some of the most moving photos come from a funeral in Ghana.  "Here" Blancqaert explained professional mourners are employed at funerals.  "One such woman mourner told me that for the deceased to enjoy peace there has to be a lot of crying.  If there's not enough crying people will think the deceased wasn't loved.  And yes, all the professional mourners have experienced great loss themselves."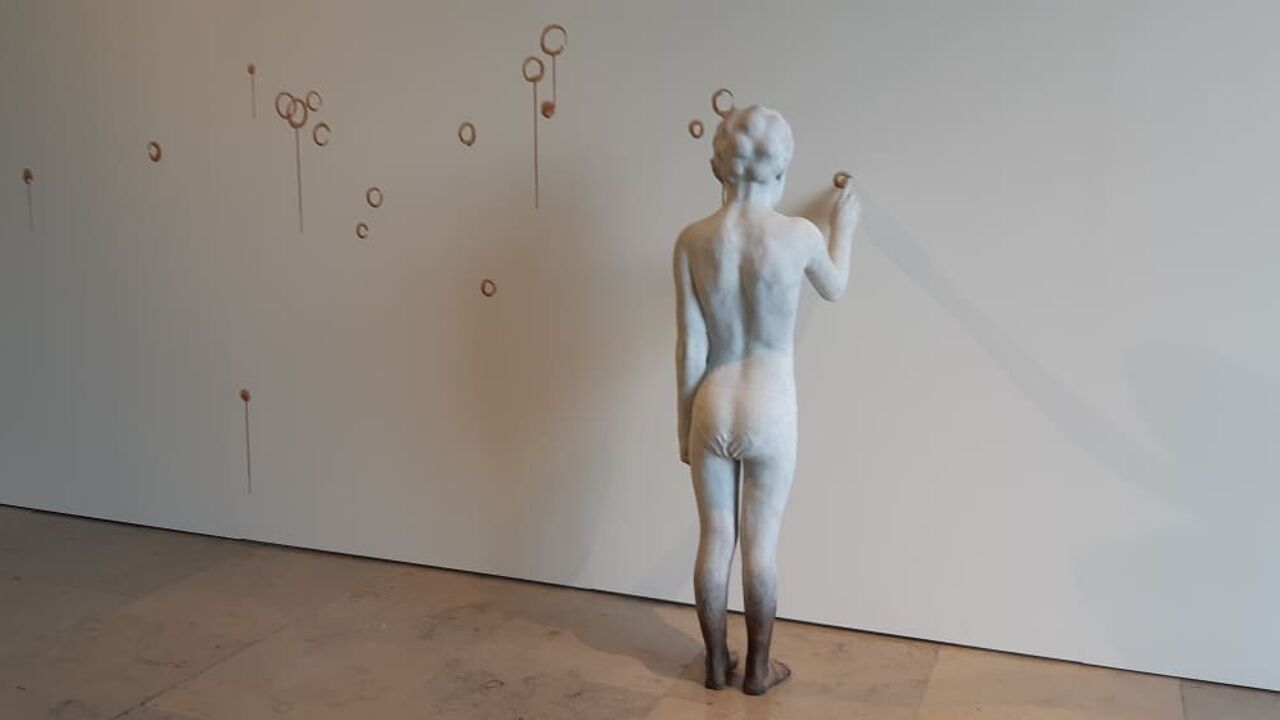 A sculpture by Ghent artist Sofie Muller showing a girl drawing circles on a wall introduces us to the final film in the exhibition. Lieve Blancqaert: "It introduces the theme of the film: the Circle of Life.  I show a 6-year-old girl sleeping, but also an 86-year-old woman sleeping.  When you are asleep, you have no age.  The 86-year-old woman is already present in the 6-year-old girl."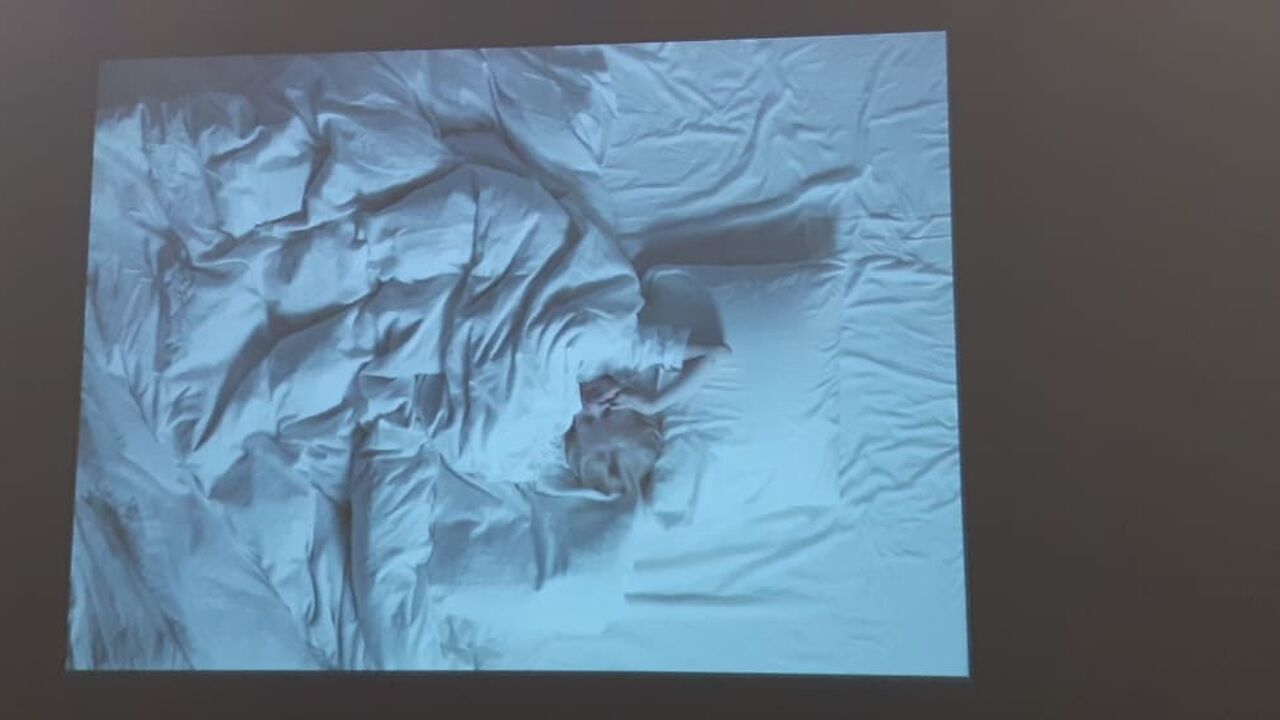 'Circle of Life' runs at the St Peter's Abbey in Ghent until 12 January 2020.  It is accompanied by a photo book with images from all three projects.