Keith Haring at Bozar in Brussels
The Bozar in Brussels is hosting a major retrospective of the work of Eighties icon Keith Haring that was first shown at the Tate Liverpool in England. Flandersnews spoke with exhibition curator Darren Pih, who kicks off by explaining the importance of the artist.
"Haring is hugely relevant to us today.  He was a political and social activist as is clear from his work. He campaigned on a wide range of issues and these are all issues that are still here with us today: racism, he campaigned against apartheid, against US involvement in Nicaragua, against homophobia, he was openly gay in a decade marked by the emergence of AIDS and campaigned both for LGTB rights as well as action to tackle the AIDS crisis. Today he's become an icon for the LGTB community. He also warned against the danger of the nuclear threat.  The Cold War was still ongoing and fears were heightened after the Chernobyl accident."
"Keith Haring was a very public artist and one who has had considerable influence on art to this day.  He loved to produce art in public spaces like in the New York subway.  He loved to interact with other people, form a bridge with street art, in a word close the gap between art and life."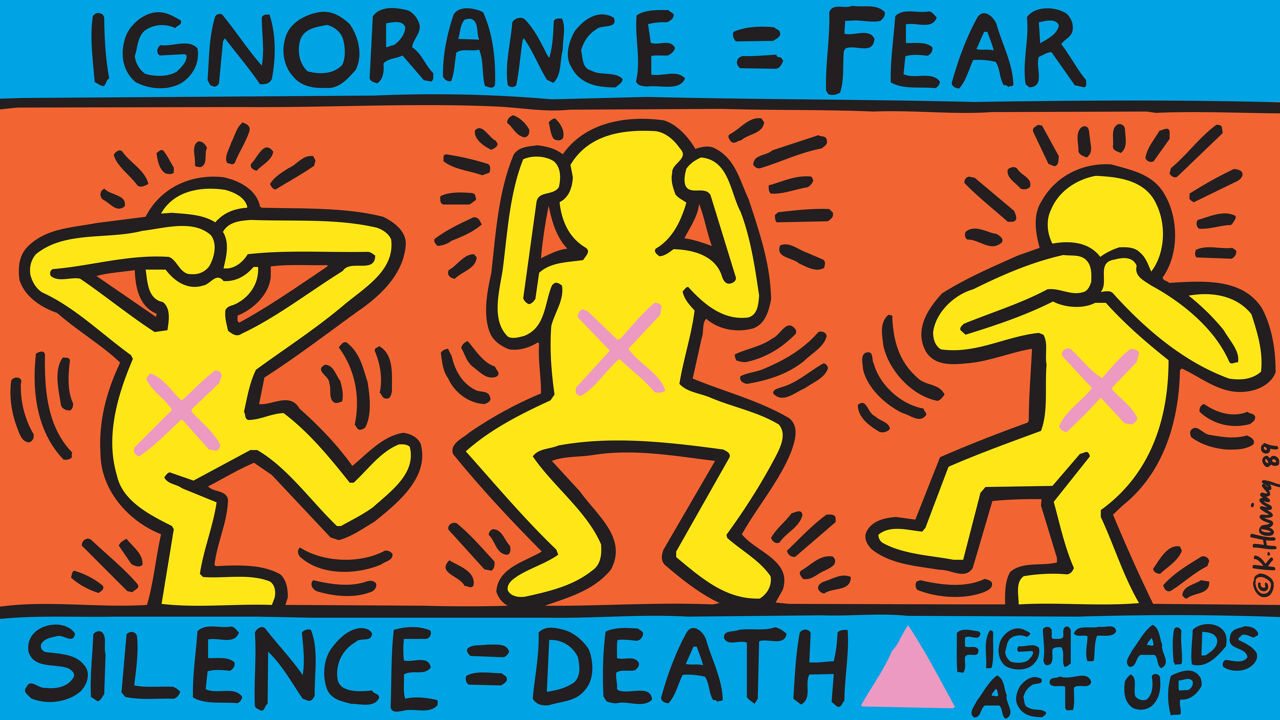 "Haring's roots lie in small town Pennsylvania.  He came from a rural background that was culturally conservative.  From an early age he was fascinated by cartoons and drawing and that is what he did: create cartoons, a style he would return to at the height of his short, but very productive career. Haring died in 1990 at the age of 31 as a result of AIDS related complications."
"As a student he registered for a graphic art course in Pittsburgh, but soon dropped out as he didn't want to be constrained by formal teaching.  At this time he was producing cartoons and murals, incorporating the technique of Egyptian hieroglyphs and the pictogram style, but he was also inspired by art brut and children's art.  It was a busy period for him.  He was learning about performance art, conceptual art, video art. He knew that ordinary people would be interested in his art and he wanted to open the doors of the venues where he was creating art and let people inside."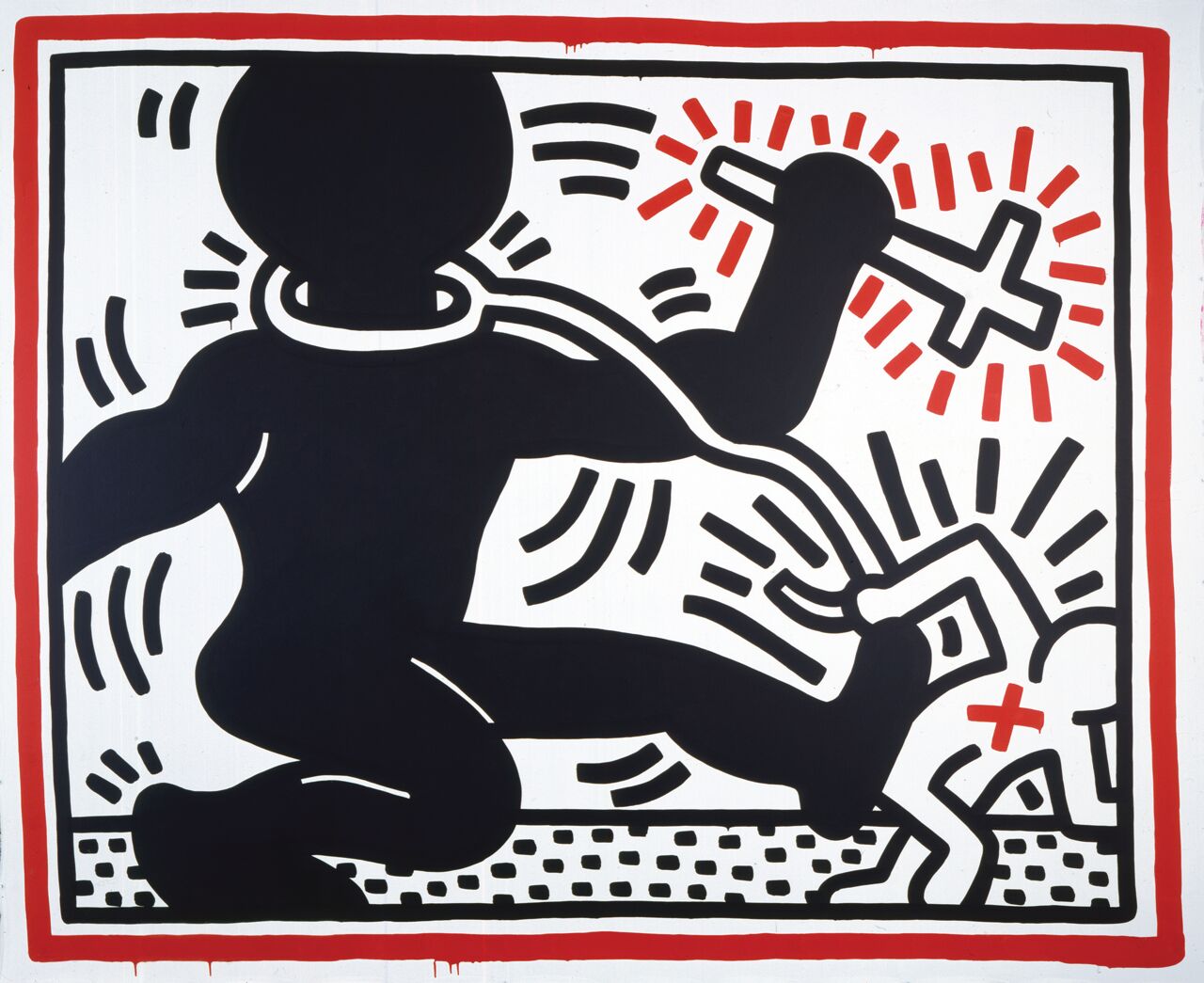 In 1978 Haring travels to New York where street art and graffiti are everywhere.  He ended up in the vibrant East Village:
"It was an explosive time in New York.  The city was bankrupt.  There was a lot of crime.  Rents were cheap.  Lots of warehouses were empty and artists where starting to take over stores and turn them into studios.  Haring had a studio in the East Village, where lots of poets and filmmakers had gathered. This was also the time hip hop culture started."
"Haring faced the question: how do I present my art on the street? He rode the subway and saw the blank black advertising panels that were waiting for a new advertising message to be put up.  These are the panels he decided to use for his art creating thousands of works of art on the subway. For Haring the subway was a legitimate space for artistic expression."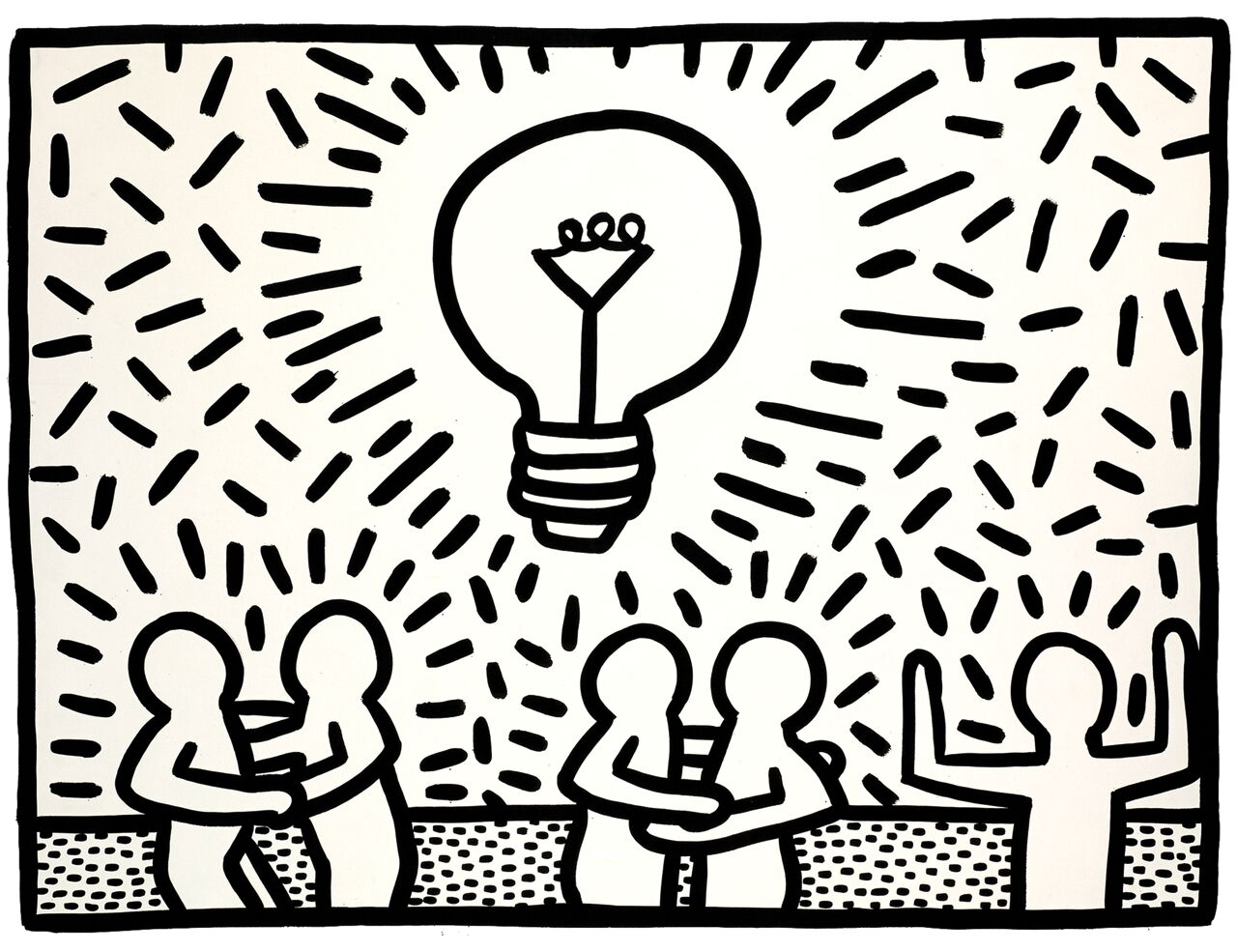 Haring had his first exhibition in Club 57. Outside the economy was crashing but inside with the disco culture an awful lot of energy was being released.  There was a lively party scene.  In the discos the video culture was being born.  New technologies were developed like Xerox or photocopying that allowed artists to reproduce and distribute their art on a large scale.
"Haring bought into the idea that we would all be connected by technology.  He saw it as a means of transmitting a message, but as we see in some of the works in the exhibition he didn't universally welcome all technologies.  He warned of the need to take control of technology."
During the Eighties Keith Haring emerged as a pop art star.  He was gaining a profile and realised that he needed a gallery to represent him.  His first proper exhibition was staged in 1982. Keith Haring was no stranger to Belgium either.
"The Belgian COBRA artist Pierre Alechinsky was one of the people who inspired him. When he was starting to get famous, in '83, '84, he received invitations to do exhibitions in Europe: in Rotterdam and Paris, but also at the 121 Gallery in Antwerp.  Haring was always excited when he was going to visit Belgium.  He spent a productive summer in Knokke in 1987 where he created a solo exhibition in the Casino.  It's also in this period that he made a large wall painting in the M HKA, the Antwerp contemporary art museum."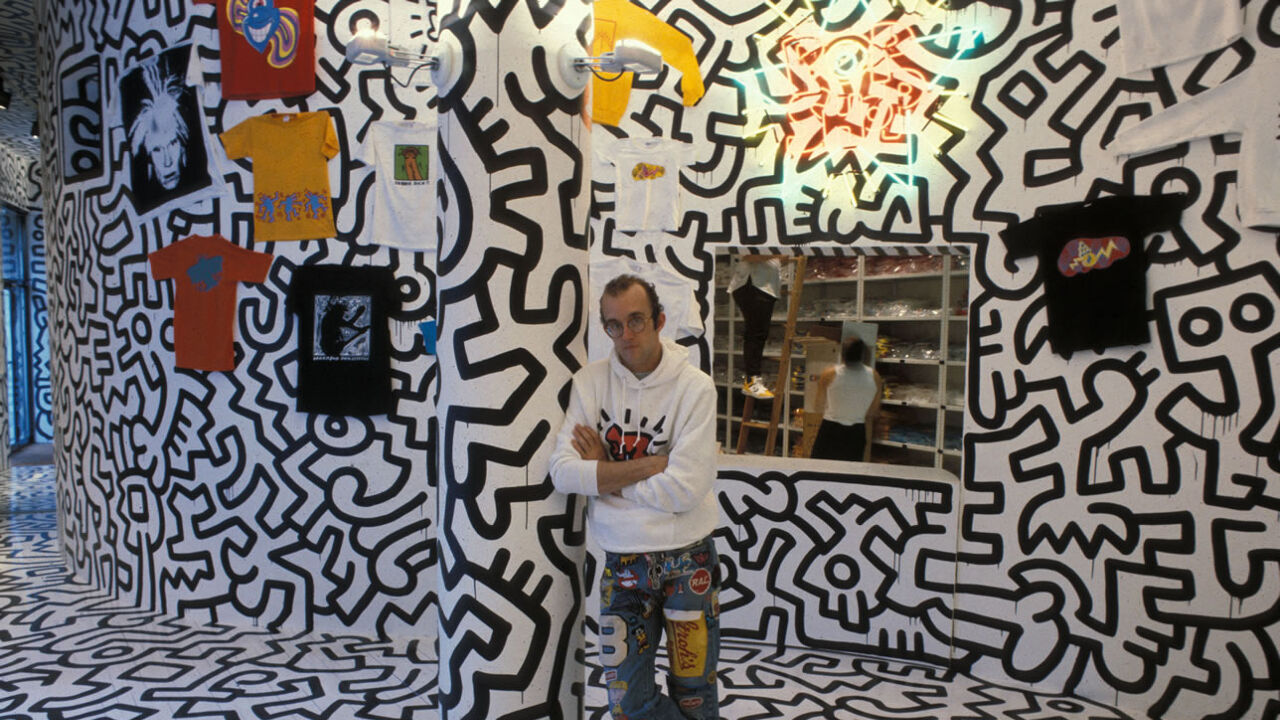 Most artists produce work in their studio and then have it moved to the exhibition venue.  This wasn't Haring's approach.
"Haring would visit the exhibition venue.  Source materials and create the exhibition on location.  For him creating art was something that he liked to do in a public space.  He appeared on MTV, was working with Andy Warhol, Grace Jones and Madonna and young people flocked to him. He also enjoyed to interact with his public, handing out his posters and badges."
The Keith Haring exhibition was one of the most successful ever staged at the Tate Liverpool attracting a wide cross section of visitors.  The show in Brussels looks on course to being a similar success.
Keith Haring runs at the Bozar, the Centre for Fine Arts in Brussels, 23 Ravensteinstraat, until 19 April 2020.  After that it moves to the Folkwang Museum in Essen, Germany.