"Memling Now" at the Sint-Janshospitaal in Bruges
The work of the Bruges master Hans Memling has inspired artists through the centuries.  Pieter Pourbus, Joshua Reynolds and James Ensor are but a few names of painters who have undergone the influence of Memling.  His impact can be seen on artists to this day.  "Memling Now: Hans Memling in Contemporary Art" reveals how the Flemish Primitive master is influencing artists around the world today.  The exhibition that runs till 1 February has just opened at the Sint-Janshospitaal Museum in Bruges. It was delayed from earlier this year and is now Covid-secure.
This process of one artist influencing another isn't new.  The master Hans Memling wasn't immune either.  At work in Bruges towards the end of the 15th century Memling was influenced by both Jan Van Eyck and Rogier van der Weyden, two artists from the generation preceding him.   Their compositions are clearly visible in some of their successor's finest works.  Memling's triptych "Adoration of the Magi" is based on Van der Weyden's St Columba Altarpiece in Cologne, while his monumental "Mystic Marriage of St Catherine" would have been inconceivable without the example of Van Eyck's "Madonna with Canon Joris van der Paele".  In turn, the Apocalypse scene in the right panel of this triptych may have inspired Albrecht Dürer to paint his series of biblical woodcuts depicting "The End of Days".
For "Memling Now: Hans Memling in Contemporary Art" Musea Brugge (Bruges Museums) invited five contemporary artists whose work has and continues to find inspiration in Memling to take part in a project that combines the modern with the traditional.  Works both old and new by the contemporary artists have been integrated into the existing display of Memling works at the Sint-Janshospitaal, a centuries' old hospital that has been completely restored and serves as a museum for the works of Hans Memling.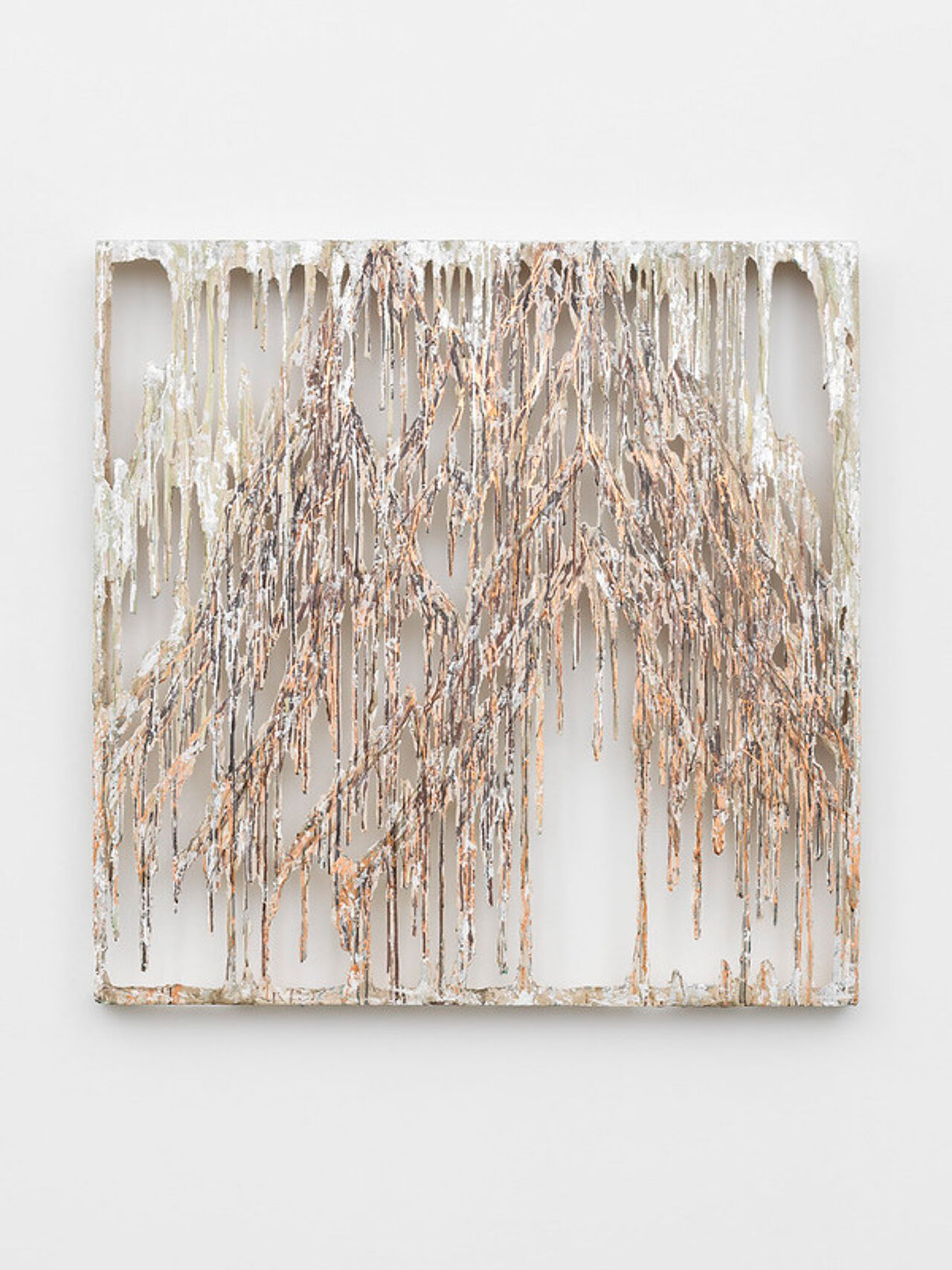 The contemporary artists hail from three continents and several works have been created especially for the present exhibition.  Fleming David Claerbout was  inspired by climate change including wildfires worldwide. Recent ones in Australia just underline his point. He was inspired much earlier. 
Diana Al-Hadid originally hails from Syria.  In America today she is seen as one of the country's most productive artists.  She has been creatively engaged with Memling for decades now.  Her art has redefined the boundaries between painting and sculpture.  She's always been intrigued by Memling's allegorical depictions of women and has re-interpreted his themes in her own feminist manner.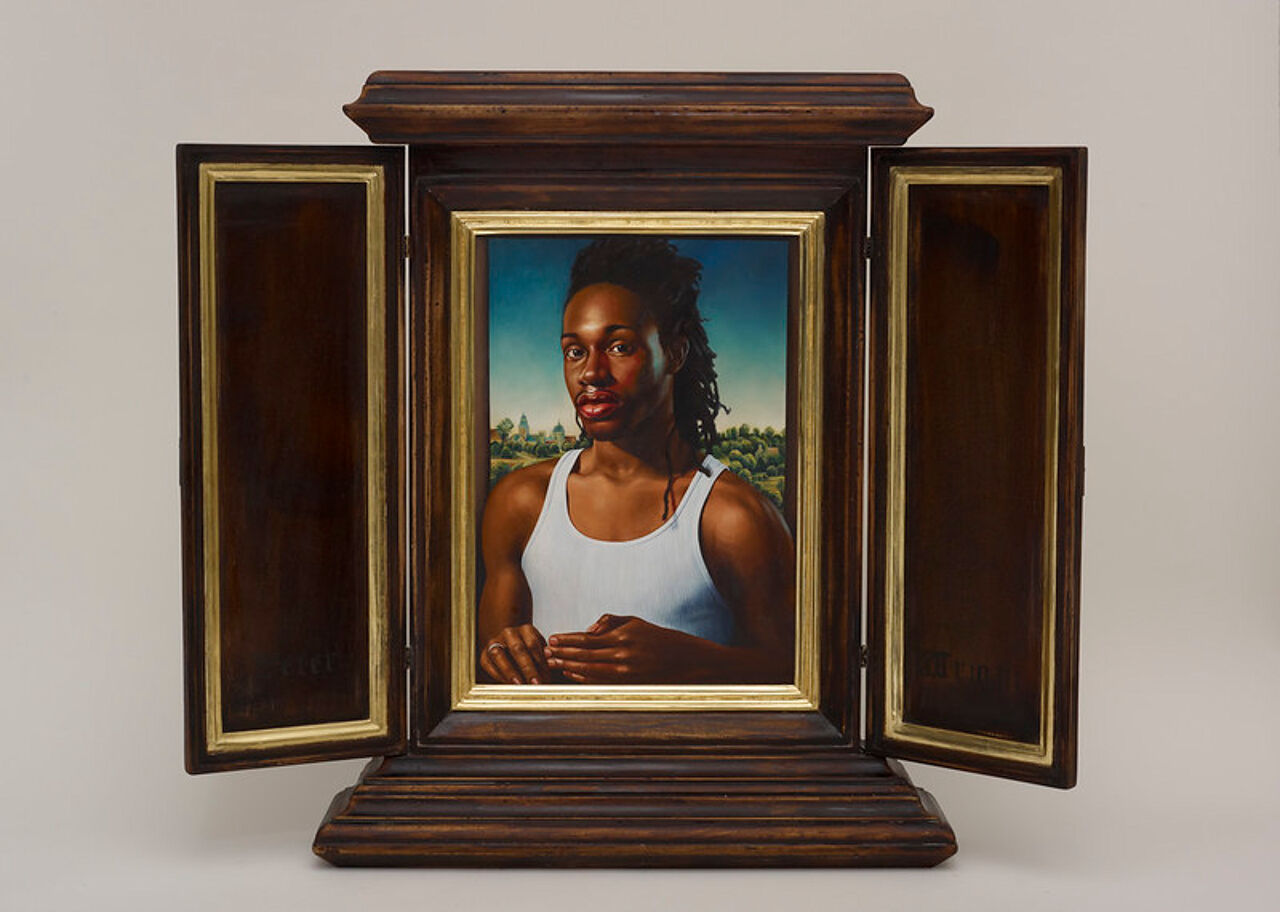 Kehinde Wiley, son of a Nigerian father and American mother, came to prominence partly thanks to his Memling project.  Today an artistic superstar his dialogues with Old Masters have allowed him to create Afro-American models that give today's have nots an opportunity to stake their claim to ownership of history.  The Afro-American models series has already been exhibited at the Brooklyn Museum of Art and now experiences a direct confrontation with the work of Memling for a first time.
Aydin Aghdashloo (photo top) is an Iranian artist of Azerbaijani descent. In the Seventies his naturalist style was seen as an artistic reaction to the neo-traditionalist and nativist movement that dominated Iranian Modernism in that decade.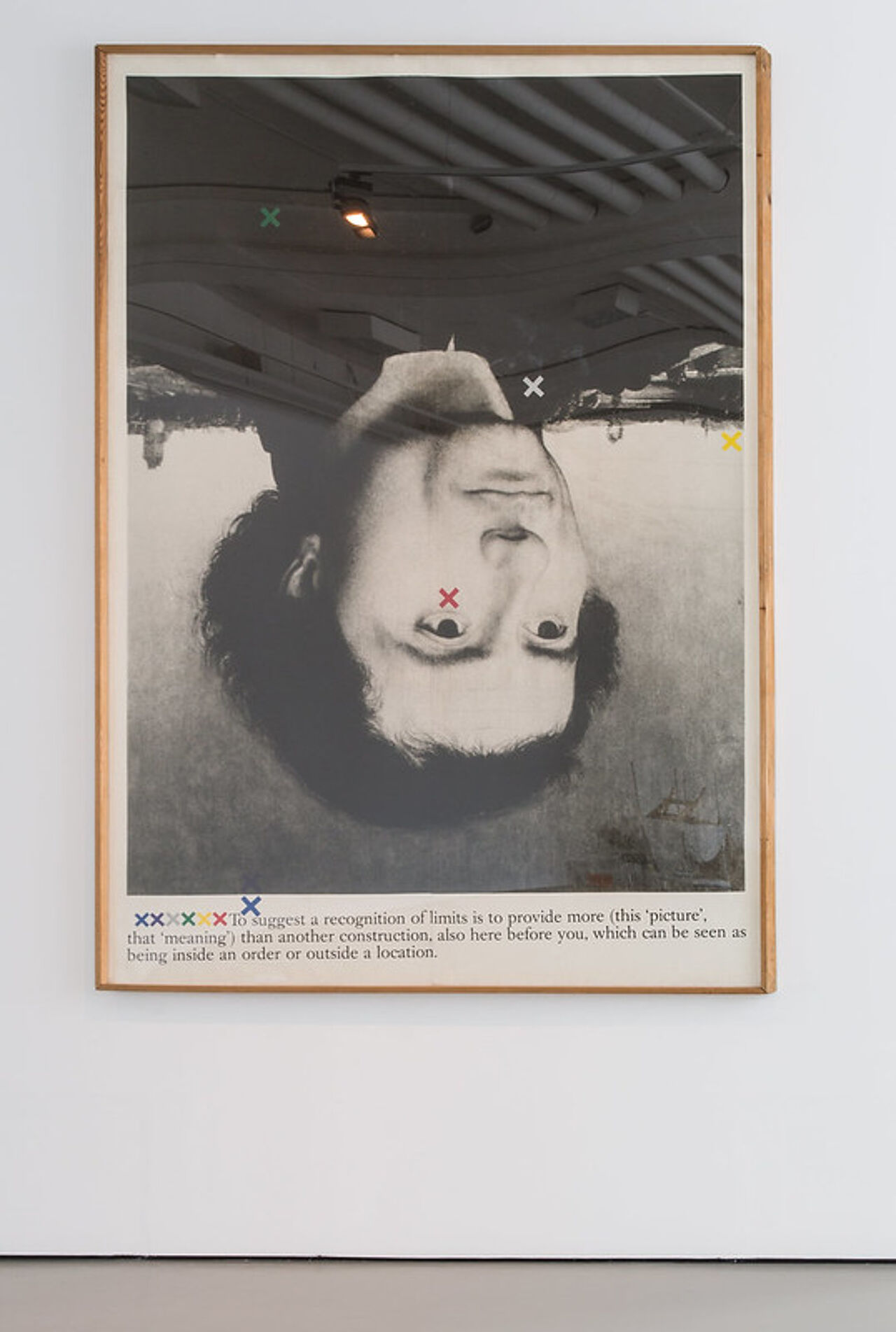 Memling also inspired American Joseph Kosuth in his "Cathexis" series (above). Kosuth employed inverted reproductions of paintings of old masters together with texts.  The work was created for the 1982 Documenta art festival in Kassel with Memling being one of the artists treated in this way.
"Memling Now: Hans Memling in Contemporary Art" runs at the Sint-Janshospitaal, Mariastraat 38 in Bruges from 1 October 2020 till 1 February 2021. Please book your visit beforehand.