Coming soon: Bruges marks Van Eyck Year with prestigious exhibition at the Groeninge Museum
2020 is the Van Eyck Year celebrating the work and times of a man who is arguably our greatest Flemish Primitive painter.  There is a major exhibition at the Fine Arts Museum in Ghent starting in February, but Bruges where Jan Van Eyck (1390-1441) served as court painter to the Dukes of Burgundy is showing the work and times of this fascinating painter at "Van Eyck in Bruges", an exhibition that opens in March and concentrates on two of the highlights of his career, brings Van Eyck's times to life and also looks at the role played in the Vatican by an influential Fleming.
By the late Middle Ages Bruges had become one of the most cosmopolitan cities in Europe.  It was a centre of trade and commerce that had attracted merchants and bankers from a wealth of nationalities.  It was here that luxury products that found their way to the four corners of Europe were manufactured: illuminated manuscripts, lace and, of course, also paintings. At this time Flanders formed part of the Duchy of Burgundy and the Lords of Burgundy enjoyed staying at the Dukes Palace in Bruges that today has become a five star hotel!
The Dukes of Burgundy commissioned works from only the best painters and it was Philip the Good, Duke of Burgundy, who recruited Jan Van Eyck as his court painter.  Van Eyck, who originally came from Maaseik in what is today Limburg, then took up residence in Bruges and opened a workshop where he worked until his death in 1441. In the duke's service Van Eyck travelled widely expanding his international fame and his clientele.  He had a tremendous impact on both local and international painters including Bruges' own Hans Memling.
Unlike the exhibition in Ghent and earlier exhibitions in Bruges this is not a retrospective of the work of Van Eyck, but an attempt to deepen our experience of this great artist through detailed analysis of two of his most iconic works.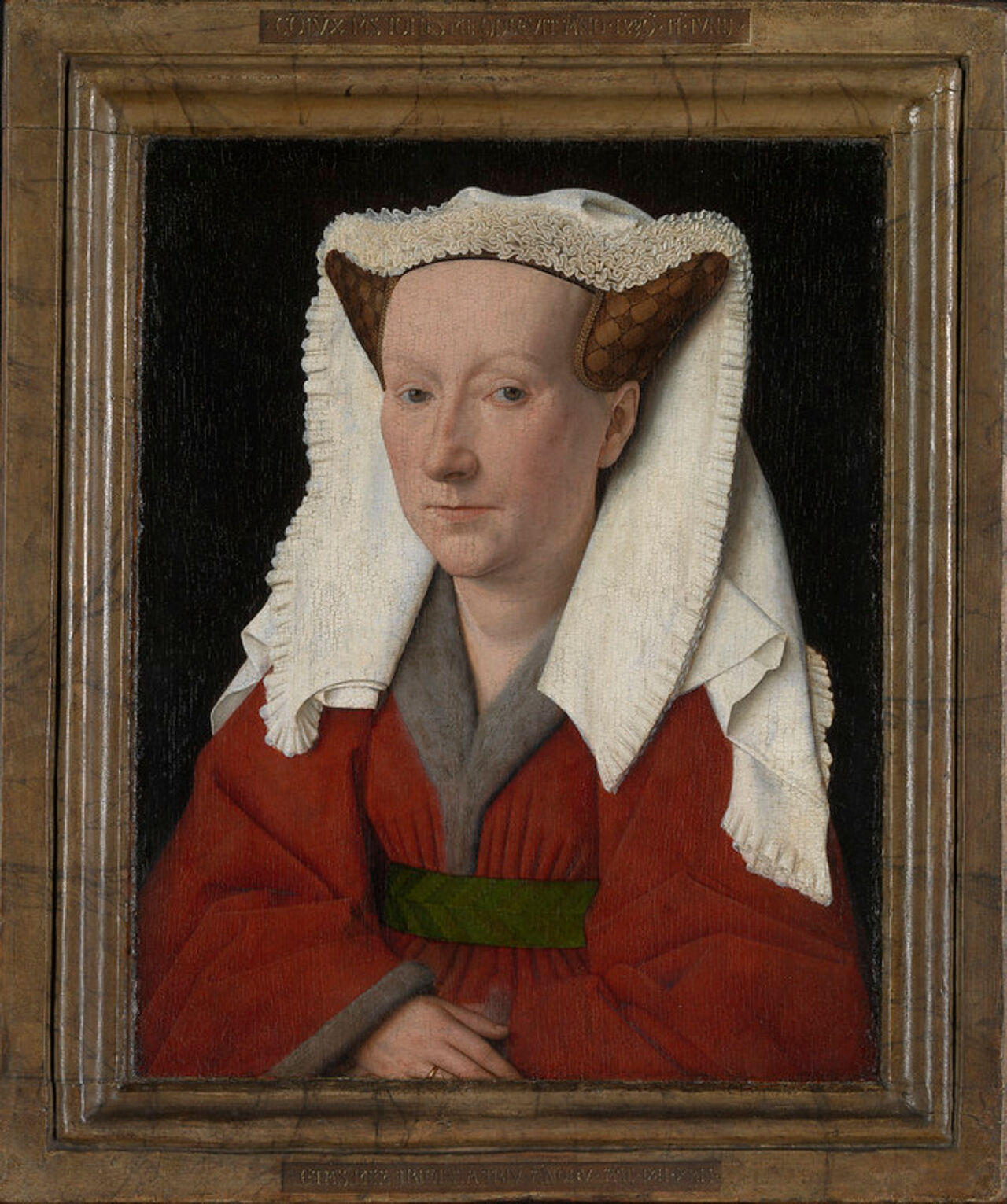 Musea Brugge, www.lukasweb.be – Art in Flanders, photo Hugo Maertens.
"Van Eyck in Bruges" highlights two of Jan Van Eyck's masterpieces: the Madonna with Canon Joris Van der Paele (top) dating from 1434 and Van Eyck's portrait of his wife Margaretha van Eyck (above) (1439).
The exhibition introduces you to the Bruges of this period and to Jan van Eyck's lifestyle and home.  Joris Van der Paele was the canon at the collegiate church of St Donatian in Bruges, but he also enjoyed an impressive career at the Vatican curia in Rome.  Van der Paele lived in particularly turbulent times and witnessed the power games played out between the pope and his adversary, the antipope.  The Bruges canon was also involved in important negotiations during the Hundred Years' War.  He spent many years at the papal court in Rome, but as a good West-Fleming never lost sight of his own personal and financial interests.  The painting of Canon Van der Paele is the largest work by Van Eyck that survives to this day.  It is remarkably ambitious both in conceptual and artistic terms. The exhibition explains the purpose the painting was designed to serve and how it was actually made, but also how Van Eyck and his assistants went about creating this masterpiece. The latest technologies allow us to follow the artist as he painted.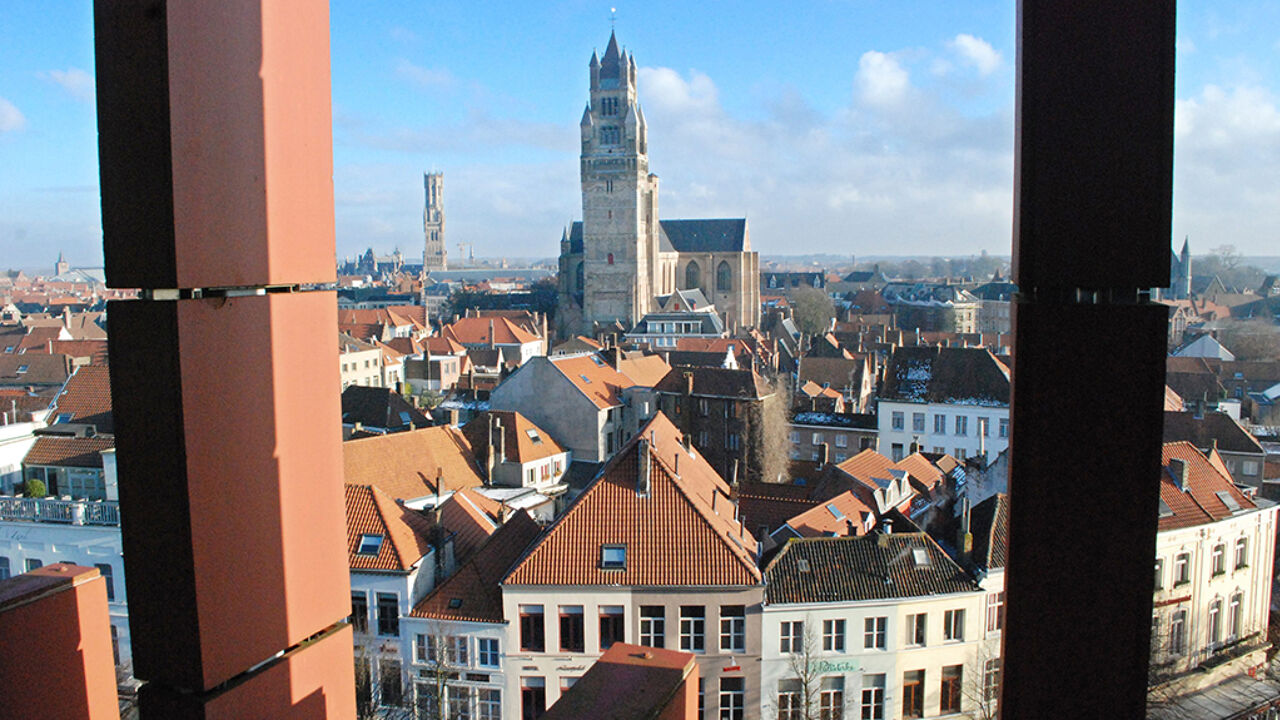 BELGA/CRABBE
The Portrait of Margaretha van Eyck is particularly interesting because it is the first painting in European art history, perhaps even in world art history, in which the artist chose his wife as his subject.  Until then portraits were the exclusive preserve of kings and nobility. You might expect this work to have been created to hang in the home of the Van Eycks, but as the exhibition explains that's not such a clear-cut judgement.  "Van Eyck in Bruges" explores how this work was created, the possible purposes it may have been put to as well as what it says about the social status of the Van Eycks. 
"Van Eyck in Bruges" runs at the Groeninge Museum, Dijver 12 in Bruges from 12 March 2020 until 12 July 2020.  The museum's been completely refurbished in recent months and the permanent collection is also well worth a visit.