Léon Spilliaert at the Royal Academy in London
A landmark Spilliaert exhibition showcasing the work of the Ostend painter Léon Spilliaert opens at the Royal Academy of Arts in London on 23 February. It's a unique opportunity for British and international art lovers to become acquainted with one of our lesser well-known greats.
In 2016 the Royal Academy (RA) hosted a major exhibition on the work of Ostend genius James Ensor. Nearly four years on it is the turn of that other Ostend great, Léon Spilliaert (1881-1946), to be in the spotlight.  The exhibition is the first major exhibition of the artist's work in the UK. It brings together around eighty works from public and private collections across Belgium, France, the UK and the US and offers a rare opportunity for British art lovers to discover a painter who has been described as "an intriguing and singular artist who left an indelible mark on 20th century art in Belgium".
Hailing from Belgium's premier seaside resort, a choice destination for royals and the beau monde at the turn of the last century, Spilliaert unlike Ensor, was a self-taught artist.  He was no lover of oil paint, but preferred combinations of Indian ink wash, Conté crayon, watercolour, gouache, pastel, chalk, pencil and pen on paper or cardboard.  The works he created are often imbued with mystery and melancholy.  An insomniac and with health issues he is known to have wandered through the streets of Ostend and along its deserted seafront in the dead of night later capturing the emptiness of the beach and town in views defined by unusual perspectives and reflected light.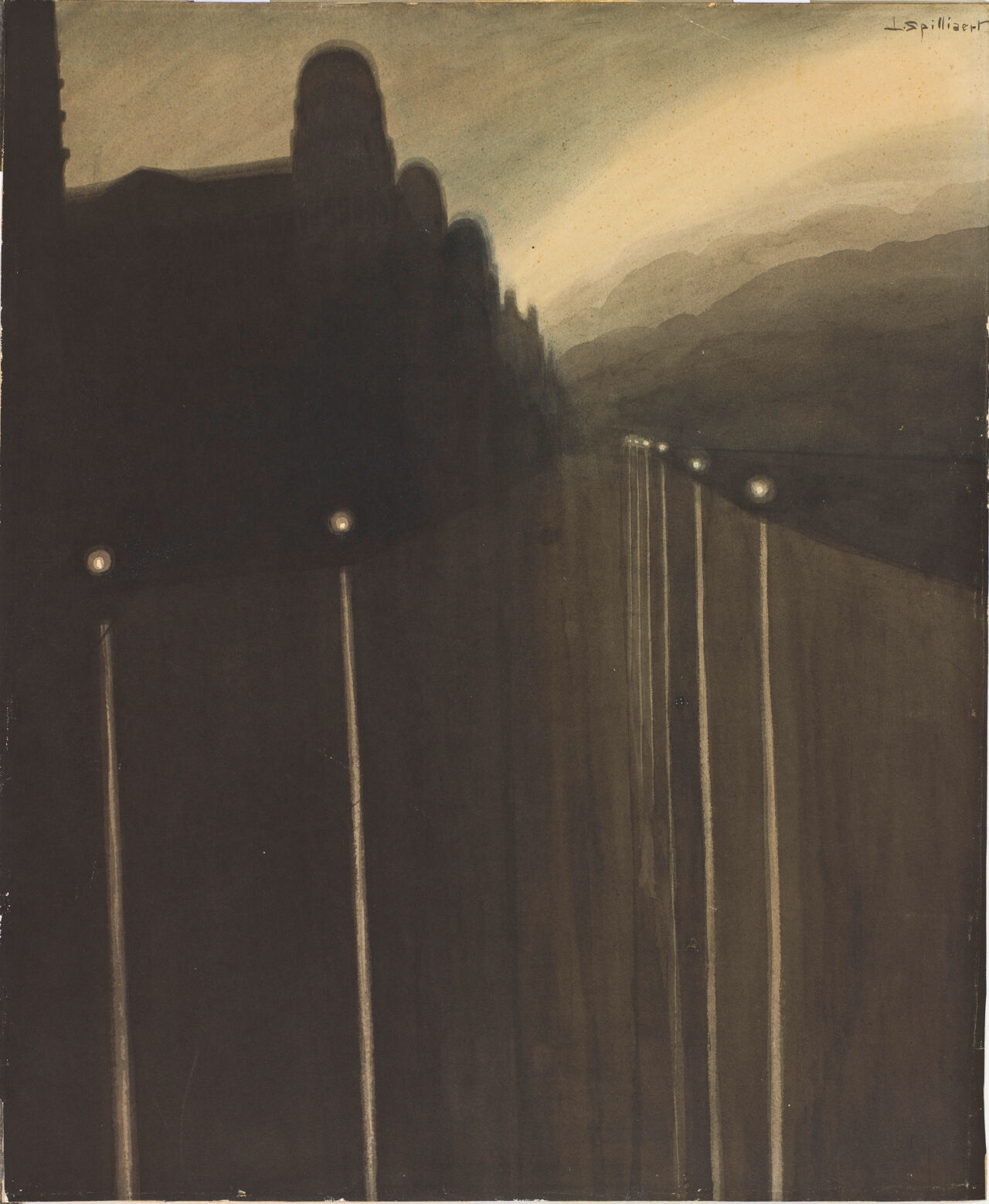 Leon Spilliaert, Dike at night. Reflected lights, 1908. Musée D'Orsay. Photo: © Musée d'Orsay, Dist. RMN-Grand Palais / Patrice Schmidt ©Patrice Schmidt/musée d'Orsay distribution RMN
His visionary self-portraits are among his most famous works and are inspired by existential angst.  Art experts see connections with Nordic artists including Norway's celebrated Edvard Munch and Denmark's much loved Vilhelm Hammershøi, who like Spilliaert also wrestled with visual explorations of the self.
The works of Edgar Allan Poe and Friedrich Nietzsche shaped much of Spilliaert's early work.  In 1902, at the age of 21, he started work as an illustrator. Commissioned by the publisher Edmond Deman he illustrated works by the Belgian symbolist playwright and poet, Nobel Prize winner Maurice Maeterlinck.  He also illustrated work by the Flemish poet Emile Verhaeren, who became a close friend. It was Verhaeren who introduced Spilliaert to numerous other art and literary figures including Austrian novelist Stefan Zweig and Belgian playwright Crommelynck.
Like many Belgians Spilliaert had plans to flee the country to escape the German occupation during the Great War and he hoped to join the Pacifist movement in Geneva, but with his new wife and a baby on the way he got no further than Brussels.  For the rest of his life the painter shared his time between Ostend and the Belgian capital.  The sea wouldn't let go of its son, but Spilliaert's art developed a softer focus that led him to produce contemplative, tranquil works conjuring up evening light or the shadows of beech trees in the Sonian Forest in Brussels, where he had the habit of taking his walks.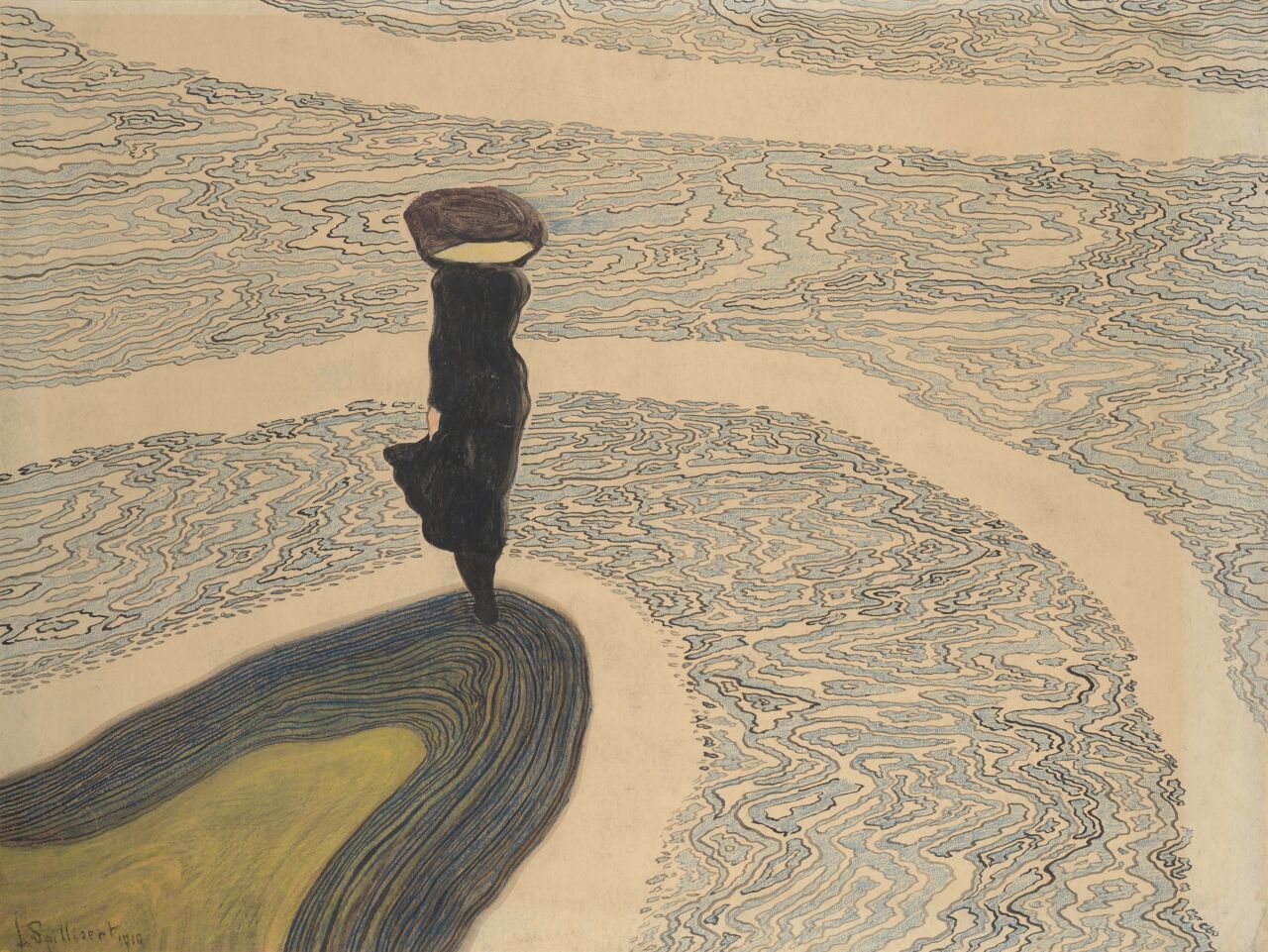 Léon Spilliaert, Woman at the Shoreline, 1910. Indian ink, coloured pencil and pastel on paper, 49 x 60 cm. Private collection. Photo: © Cedric Verhelst
The RA exhibition is presented in four thematic sections taking us through Spilliaert's life.  A first section, Illumination, focuses on the painter's relationship with literature, the theatre and book illustration.  Section two, Crepuscule (or Twilight), explores the artist's expressions of loneliness and emptiness, while section three considers Spilliaert's fascination with the area between the land and the sea.  Reflections, finally, presents the artist's mesmerizing self-portraits.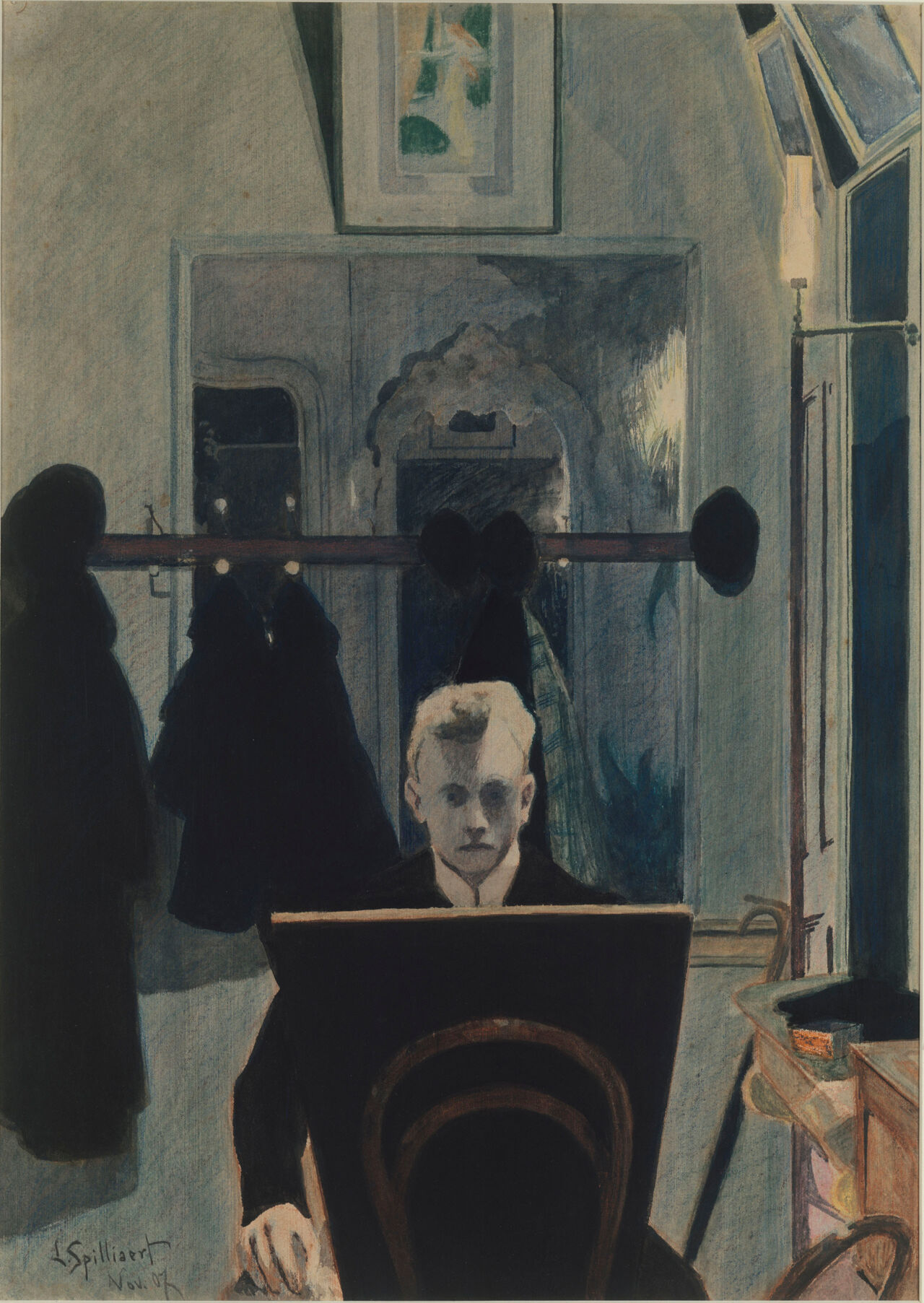 Leon Spilliaert, Self-portrait, 1907. Metropolitan Museum of Art © 2019. Image copyright The Metropolitan Museum of Art/Art Resource/Scala, Florence Copyright Image copyright The Metropolitan Museum of Art/Art Resource/Scala, Florence
The exhibition could only be staged with loans from public and private collections including Mu.ZEE, the West Flemish contemporary art museum.  Works by the two great Ostend masters, Ensor and Spilliaert, form an important part of the museum's collection. The museum owns some 150 works by Léon Spilliaert that include paintings, water colours and drawings.  In 2016 an entire wing devoted to the works of Ensor and Spilliaert opened at Mu.ZEE.  Many key works are on loan to the RA exhibition, but at Mu.ZEE this is seen as an on opportunity to stage a new presentation of works by Ensor and Spilliaert including a whole series of works by Spilliaert from private collections that are on loan to the museum and with which the general public is hardly familiar.  The new presentation in the Ensor and Spilliaert wing of Mu.ZEE opens on 15 March.
Key works by Spilliaert from Mu.ZEE can also be seen at the Alte Nationalgalerie in an exhibition on Belgian symbolism Dream, Death and Decadence that runs from 15 May till 13 September 2020.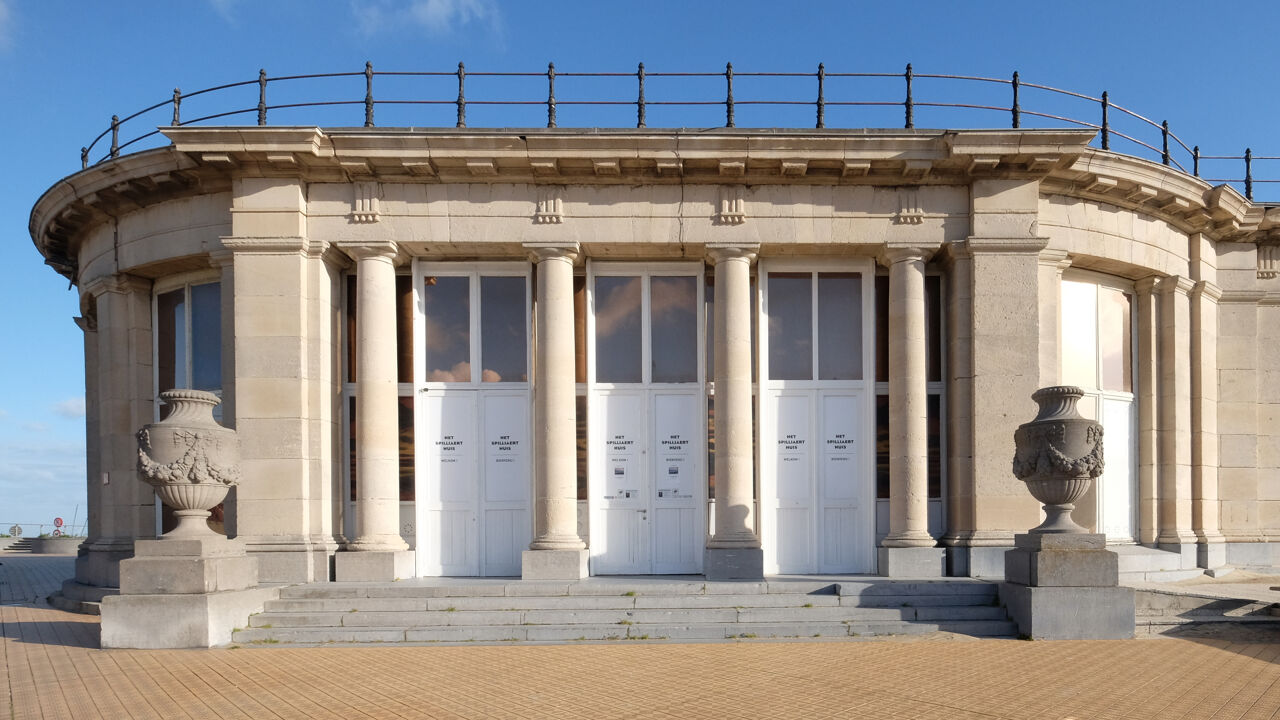 Léon Spilliaert runs at the Royal Academy in London from 23 February to 25 May 2020.  The exhibition is open daily from 10AM till 6PM with a late opening till 10PM on Fridays.  It is curated by Anne Adriaens-Pannier, honorary curator of the Museums of Fine Arts in Brussels, and Adrian Locke, senior curator at the RA.  Adriaens-Pannier is also director of the Ostend Spilliaert House (photo above) that is organising trips to both the RA and the Paris Musée d'Orsay where the exhibition heads after London.  Léon Spilliaert can be seen at the Musée d'Orsay in Paris from 15 June till 13 September.