Until 30 August the Millennium Iconoclast Museum of Art, the MIMA, in the Brussels borough of Molenbeek, is hosting the exhibition 'Zoo'.  'Zoo' provides a platform for eleven contemporary artists from across the globe to present installations, paintings and works of art that share one joint theme: the humanisation of animals or the attribution of animal characteristics to humans.
Curator Raphaël Cruyt: "Anthropomorphism – granting animals human characteristics or the opposite - has been around virtually since the beginning of time.  People are so used to it that it doesn't need to be explained.  Everybody knows the lion is king and the ant is the working class hero. As early as the beginning of the 20th century this technique already started to be used in the mass media."
"At 'Zoo' we've brought a dozen artists together from different backgrounds.  Often they have a foot in two worlds.  They are artists, but also writers, tattoo  or graffiti artists. Most of the works have been created especially for this exhibition.  Some are on the museum walls and will disappear, when the exhibition is at an end."
"This is a visit to a zoo.  The animals we see have been given human characteristics.  We are looking at humans or rather at ourselves."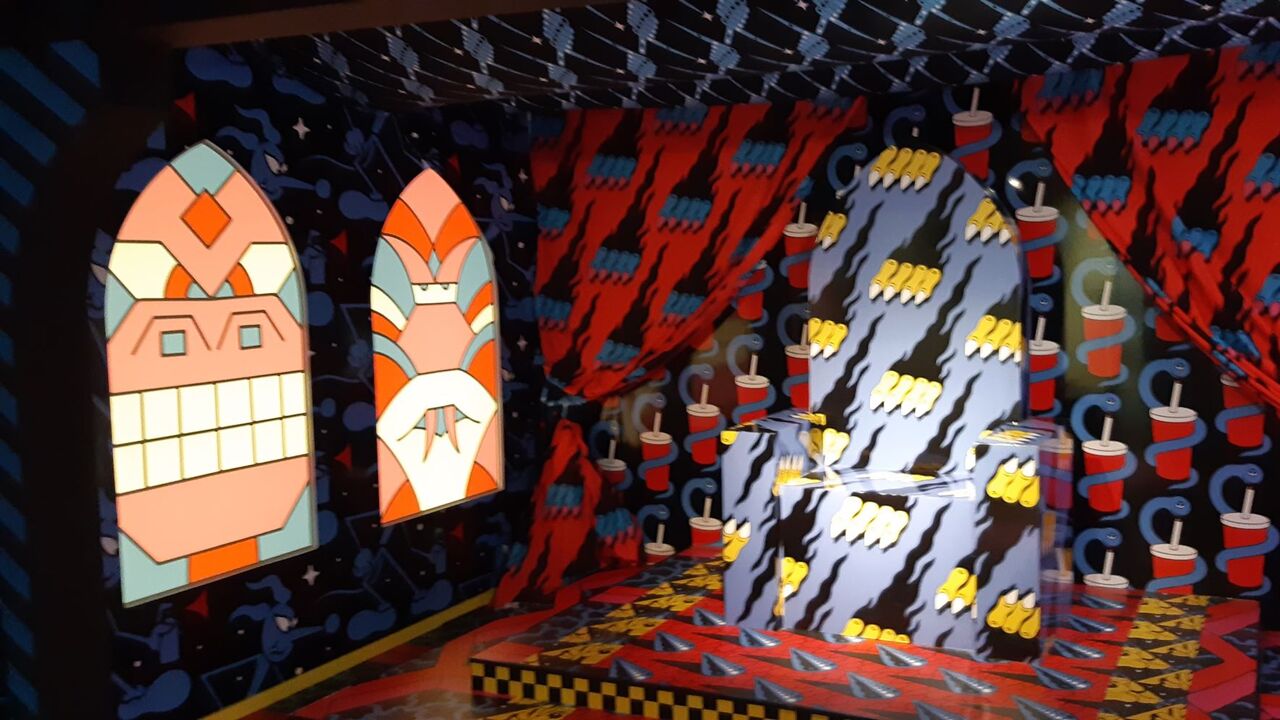 The exhibition opens with a work by Sweden's Finsta.  He's both a tattoo artist and a writer.  His installation creates a throne room in mock Gothic style.  Classic symbols have been replaced. There is no lion on the throne, but his claws represent regal power.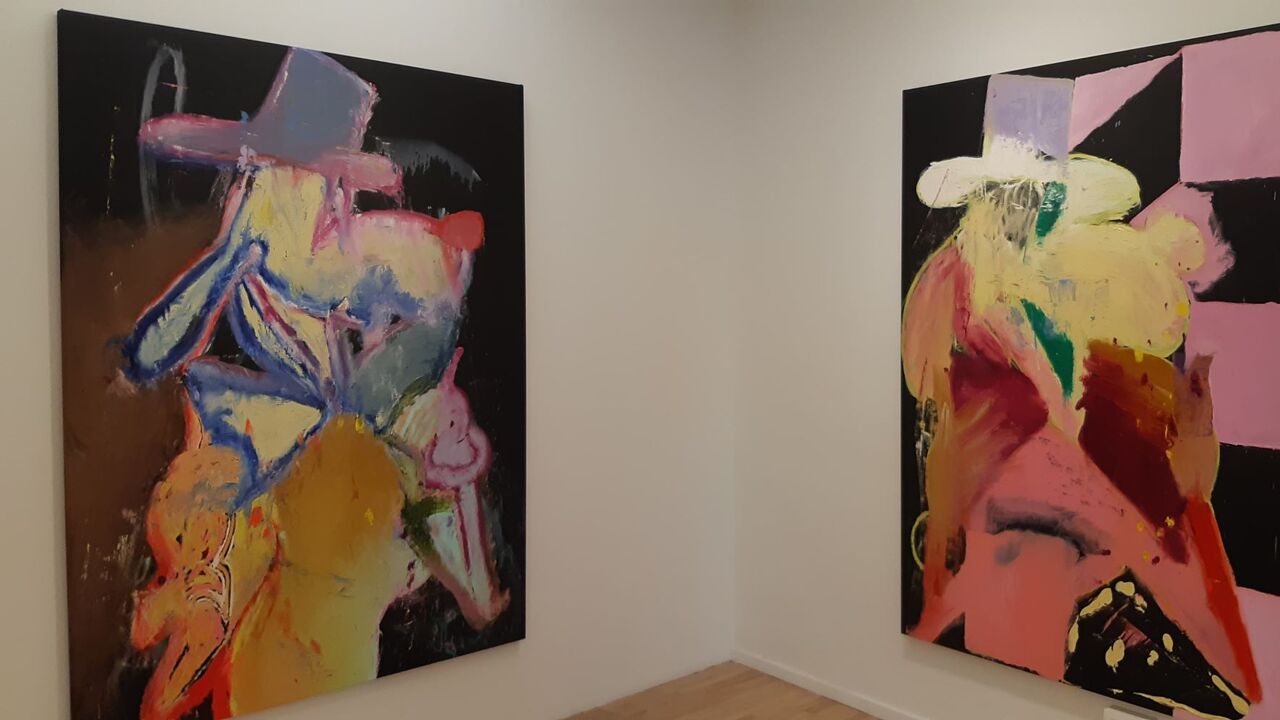 Australia's Rhys Lee produces works inspired by animation.  He creates a link between the classical portrait and pop culture characters.  Mirroring Andy Warhol the same image is repeated again and again in the same size, but with a different finishing and different colours.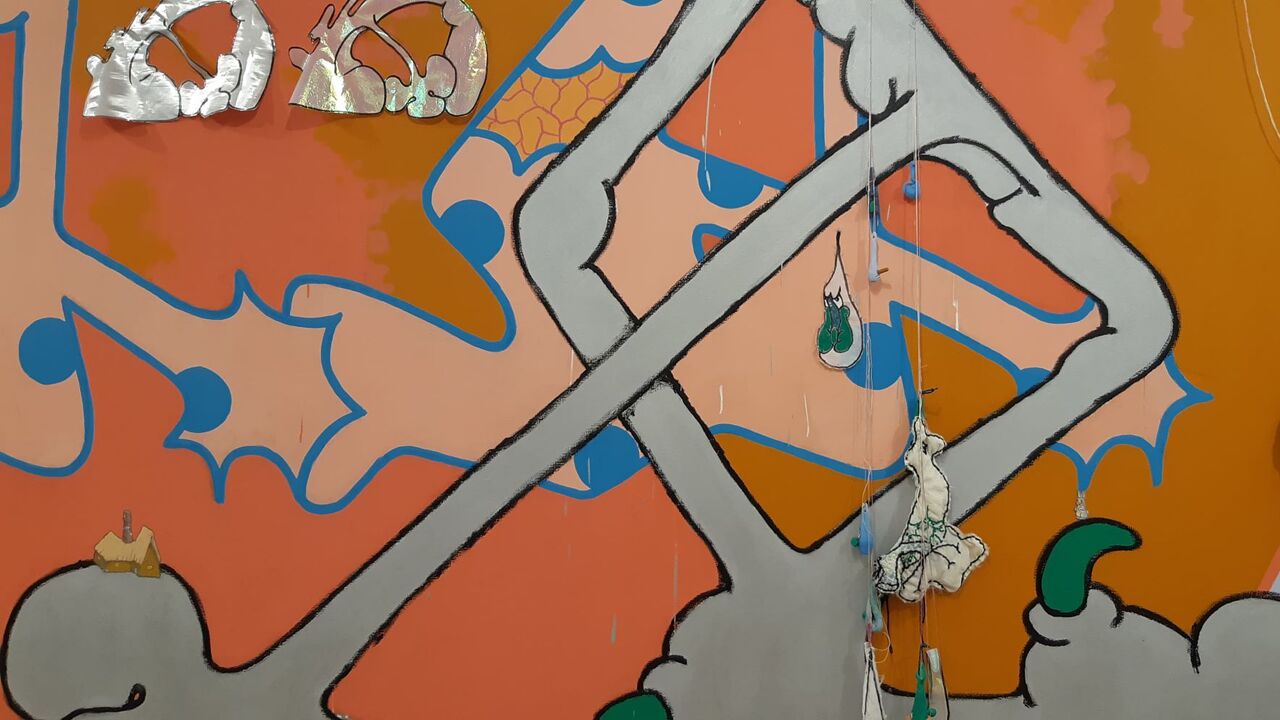 The UK's Russel Maurice represents the comic abstraction movement.  He's a graffiti artist and writer, who takes his inspiration from the animation of the Thirties.  Until now artists from the Sixties and Seventies had taken inspiration from contemporary sources.  Maurice draws on classical examples as well as images from the Thirties.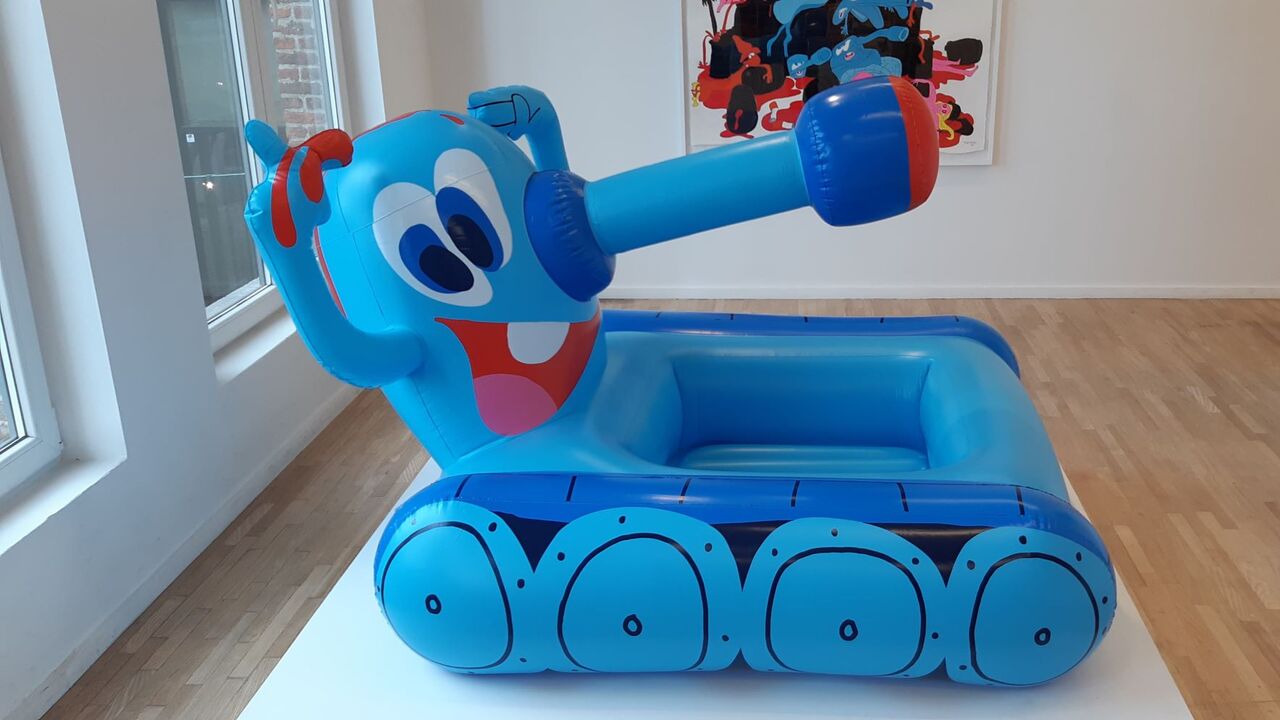 Todd James was the first artist coming from the subculture to get official recognition and who was given exhibitions in art centres and museums.  This American has a background in graffiti and skateboarding.  The works (top and above) displayed here show his criticism of the military lobby and its weapons as well as our addiction to oil, the cause of so many conflicts.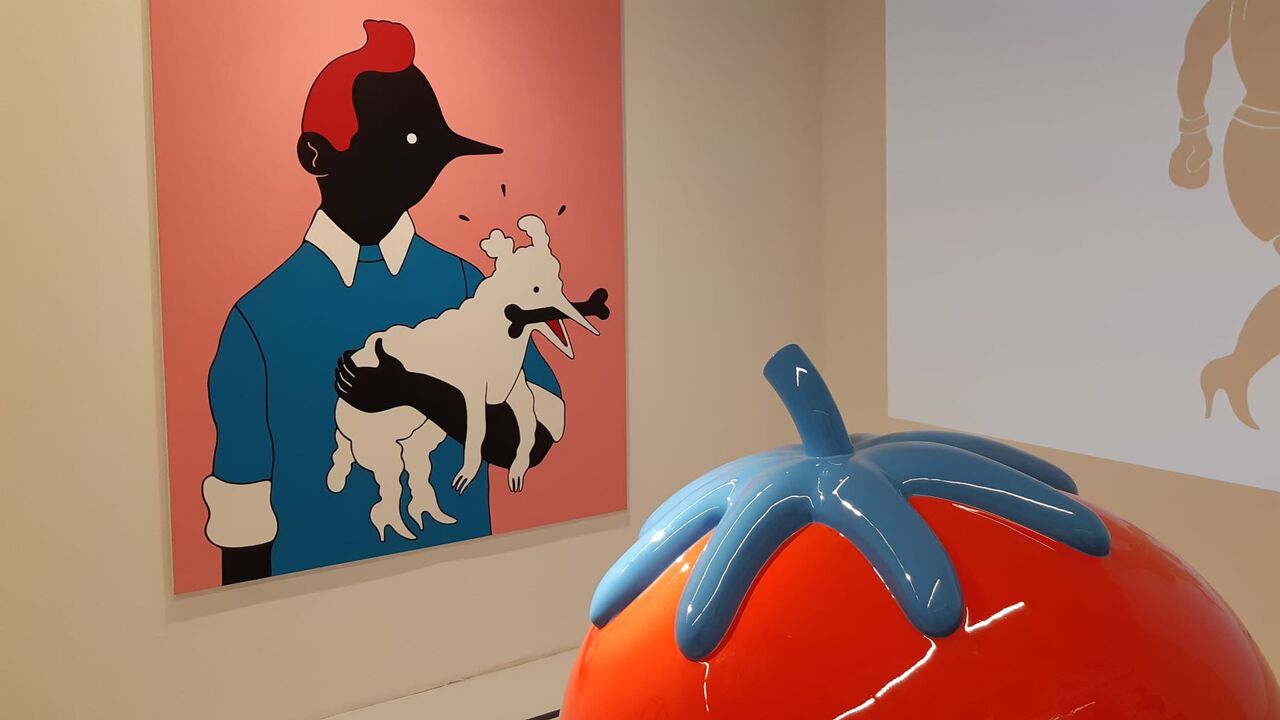 Piet Parra is a Dutchman, artist and professional skateboarder.  He's an all-round artist, a musician he also produces graphic art that is displayed on several platforms: on Instagram, posters, canvases and even on clothes.  He employs absurd humour to have his say on human nature.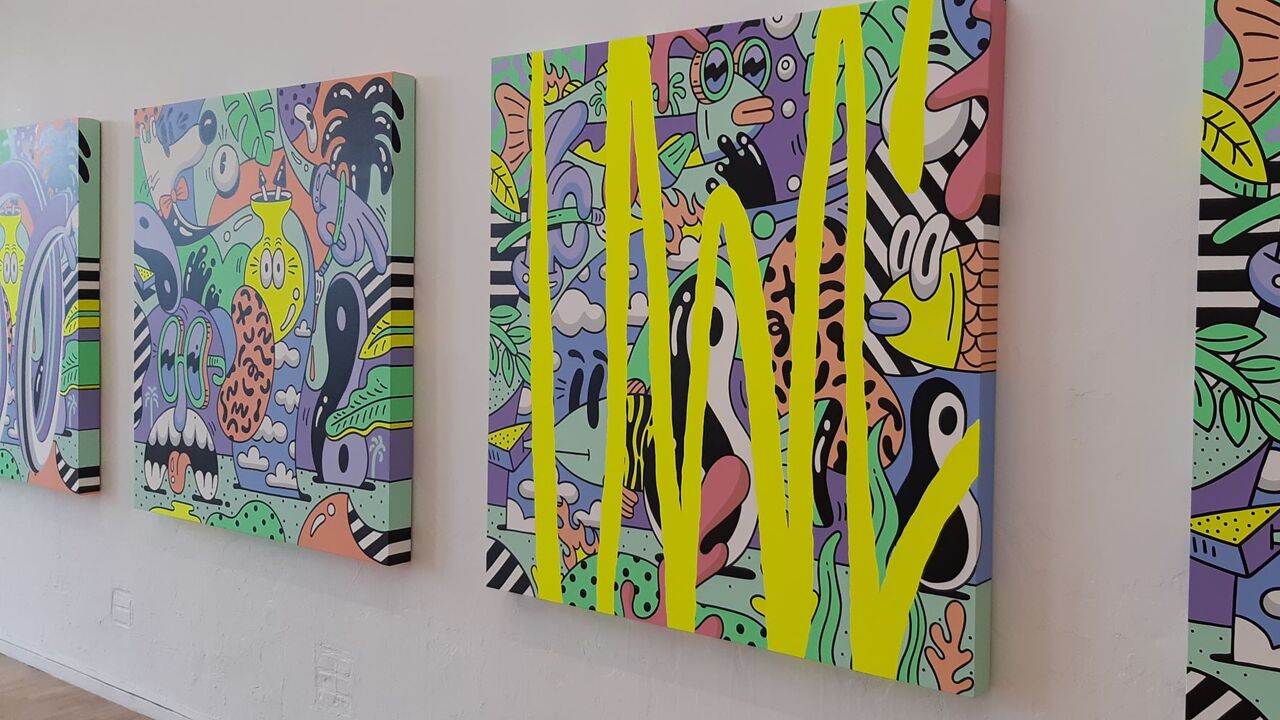 American Steven Harrington takes a dig at Andy Warhol's practice of adding a twist to prints thanks to a little spray can work that increased the piece's value.  Harrington produces identical copies of the same work and then adds a twist in the form of a coil or squiggly line.
He draws no distinction between his studio and commercial work hoping to reach as many people as possible.  He believes his collaboration with sports manufacturer Nike provided him with an opportunity to expand his audience.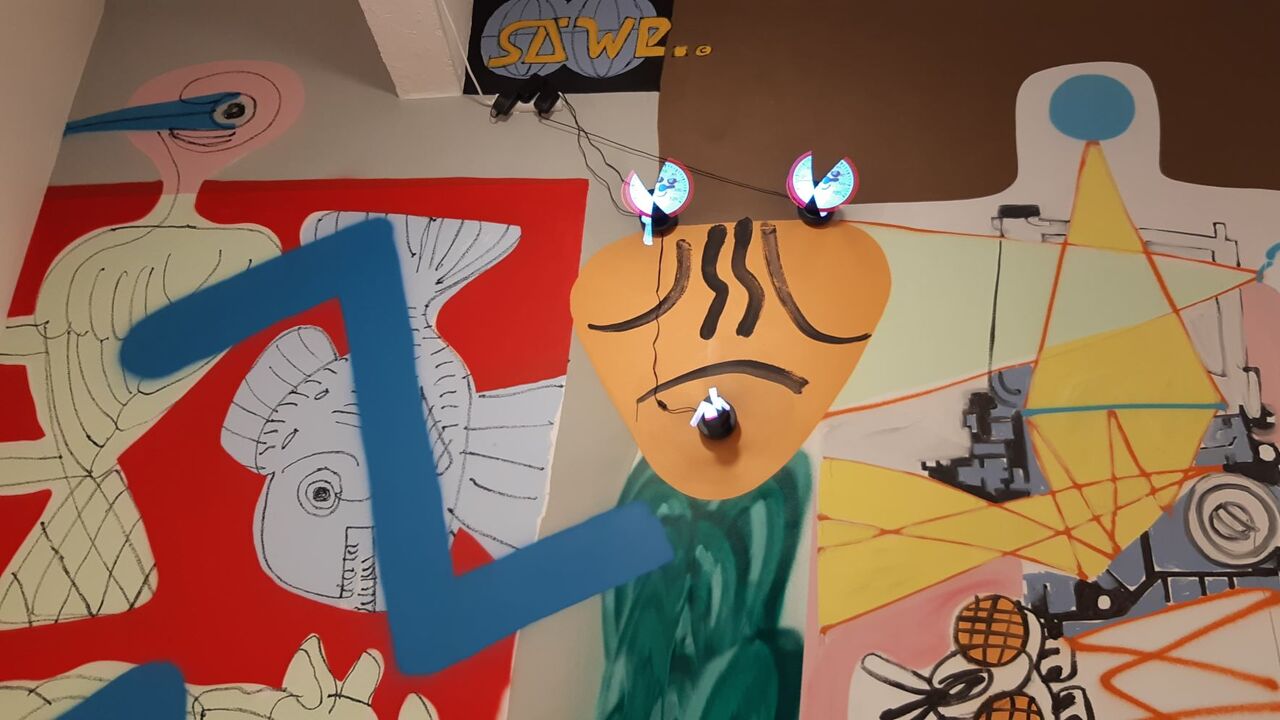 Spaniard Marti Sawe condemns the use of animals to boost consumerism and increase product sales.  Animals and notably insects are used to make technology more acceptable.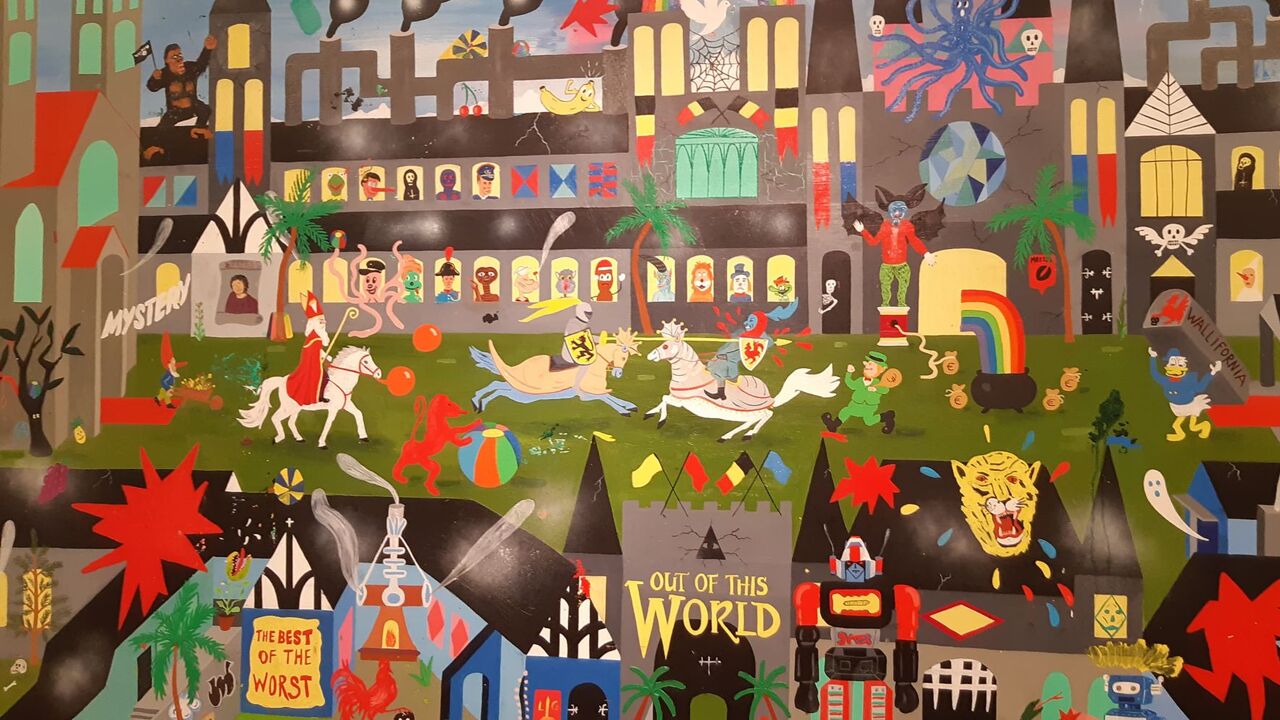 Laurent Impeduglia represents Belgium and the low brow movement at 'Zoo'.  He's inspired by arcade games.  His works seem too cheap and not serious enough for the museum.
Employing the aesthetics of the cartoon he provides a snapshot from Belgium.  With echoes of Bosch and Ensor in his work the carnivalesque features prominently.  Everything is mixed up to make upside down references.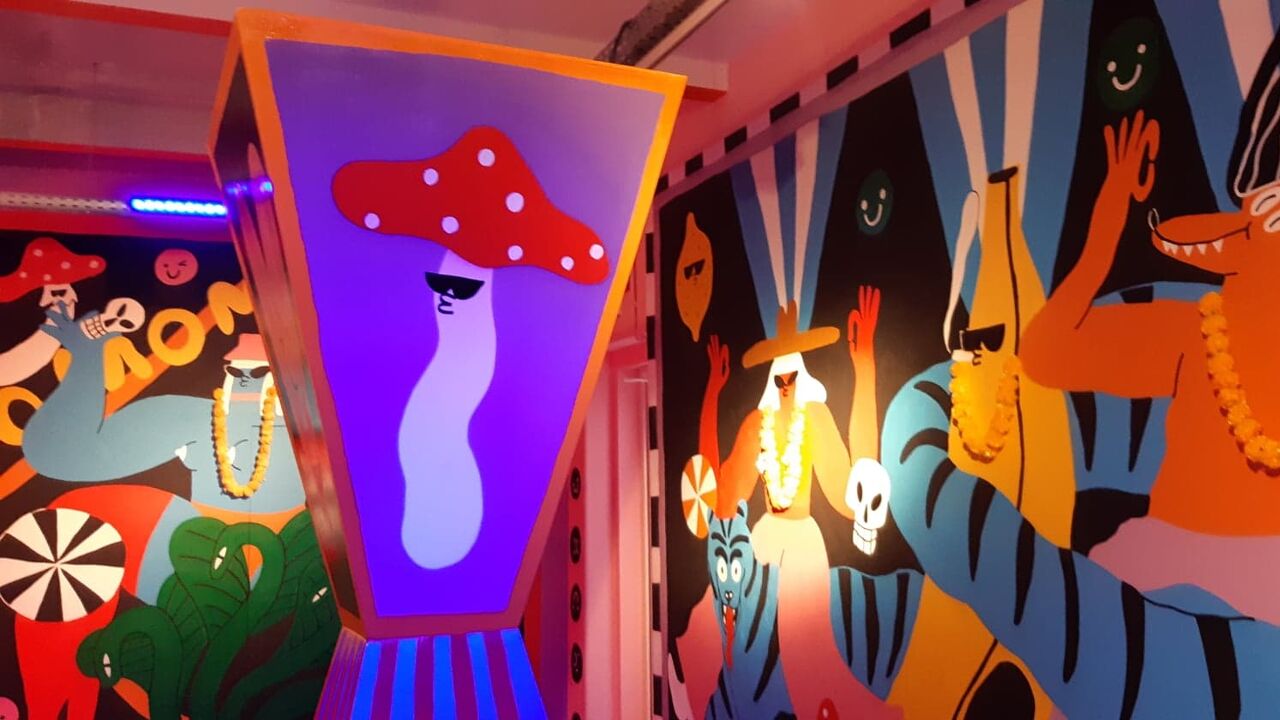 The exhibition ends with a visit to a temple.  This is a temple dedicated to the pleasures of women.  It's produced by the only woman artist in the exhibition, Egle Zvirblyte of Lithuania.  Using circular architecture she created a temple labyrinth that takes you to the very centre. The music conjures up the hedonistic atmosphere of club culture.  Phallic images and pictures of generous women get the message across.
'Zoo' runs at MIMA, Henegouwenkaai 39-41 in Molenbeek, Brussels until 30 August.