Flemish master Dieric Bouts shines in Leuven
M Museum Leuven's "Between Heaven and Earth" exhibition has just opened at the St Peter's Church in Leuven.  The church has just been completely renovated and is now the setting for a presentation of Flemish masterpieces including two of Dieric Bouts' top works.
Antwerp has Rubens, Ghent Jan Van Eyck and Brussels Pieter Bruegel, but what about Leuven? Have you ever heard of Dieric Bouts, the 15th century painter whose works hang in museums across the globe?  Art experts will tell you that Dieric Bouts belongs to that set of Flemish masters that includes Jan Van Eyck and Rogier Van der Weyden.
Bouts' works can be seen at the National Gallery in London, the Metropolitan Museum of Art in New York and the Louvre in Paris, but you don't need to go so far to admire two of the artist's key works: the triptychs of the Last Supper and the Martyrdom of St Erasmus.
Bouts most iconic work is the Last Supper.  It was created especially for the St Peter's Church in Leuven and this is where it can still be seen today at M Museum's "Between Heaven and Earth" exhibition that opened in March after the church underwent major renovation works.
Together with the Martyrdom of St Erasmus it is the only work by a Flemish master that 600 years on still hangs in the place where it was originally meant to be seen.
Bouts was the first to paint Jesus and his disciples around a table, a composition that was taken up by Leonardo Da Vinci three decades later. Here the Fleming employed line perspective in a new and revolutionary fashion.
Bouts was probably born in Haarlem, in what today is the Netherlands, in 1410.  He later settled in the Brabant city of Leuven, where in 1448 he married a wealthy lady, Catharina Van de Brugghen.  He was to stay and work in Leuven until his death in 1475.  The Last Supper and The Martyrdom of St Erasmus were both painted here.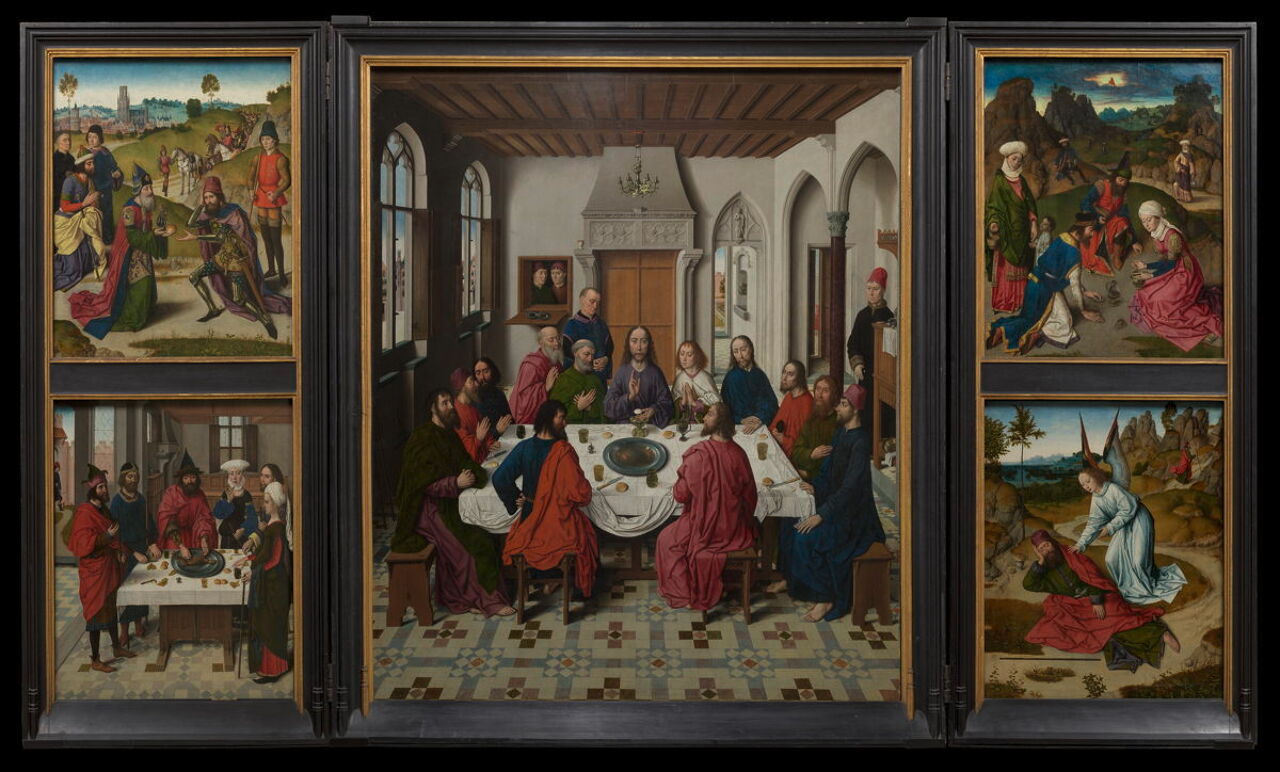 Look at any of Bouts' works and you will immediately be struck by the atmosphere of restraint.  Art experts will tell you that he is the odd-man-out among Flemish painters of his age eschewing dramatic effect.  This trait landed him the nickname of the 'Painter of Silence'.
Leuven honoured Bouts in his day.  In 1472 the city authorities appointed him as Leuven's official painter.  Sadly, his first wife died the following year, but in these uncertain times he was quick to remarry.  Bouts himself died only a couple of years later, in 1475, and was buried in the Franciscan Church of Leuven beside Catharina Van de Brugghen, his first wife.
His sons, Dieric and Albrecht, continued in their father's artistic footsteps well into the 16th century without however ever surpassing their father's fame.
Bouts' Last Supper is his greatest masterpiece and the artistic highlight of the St Peter's Church on Leuven's market square.  The work took four years to complete. It was commissioned by the Fraternity of the Blessed Sacrament.  Leuven University had just been founded and Dieric Bouts received the assistance of two university theologians in order to come up with a completely new representation of the subject.
Bouts transports Jesus and his disciples to a contemporary setting: 15th century Leuven! Look closely at the window on the left and you can see Leuven's market square at a time that its city hall is being constructed.
Jesus's hand blessing the bread is what immediately catches your eye.  It is the central focus of the entire composition. All those depicted are devoid of emotion.  It's as if all these players are unmoved by feeling, a trait so characteristic of Bouts' art.  It landed him the soubriquet 'Painter of Silence'.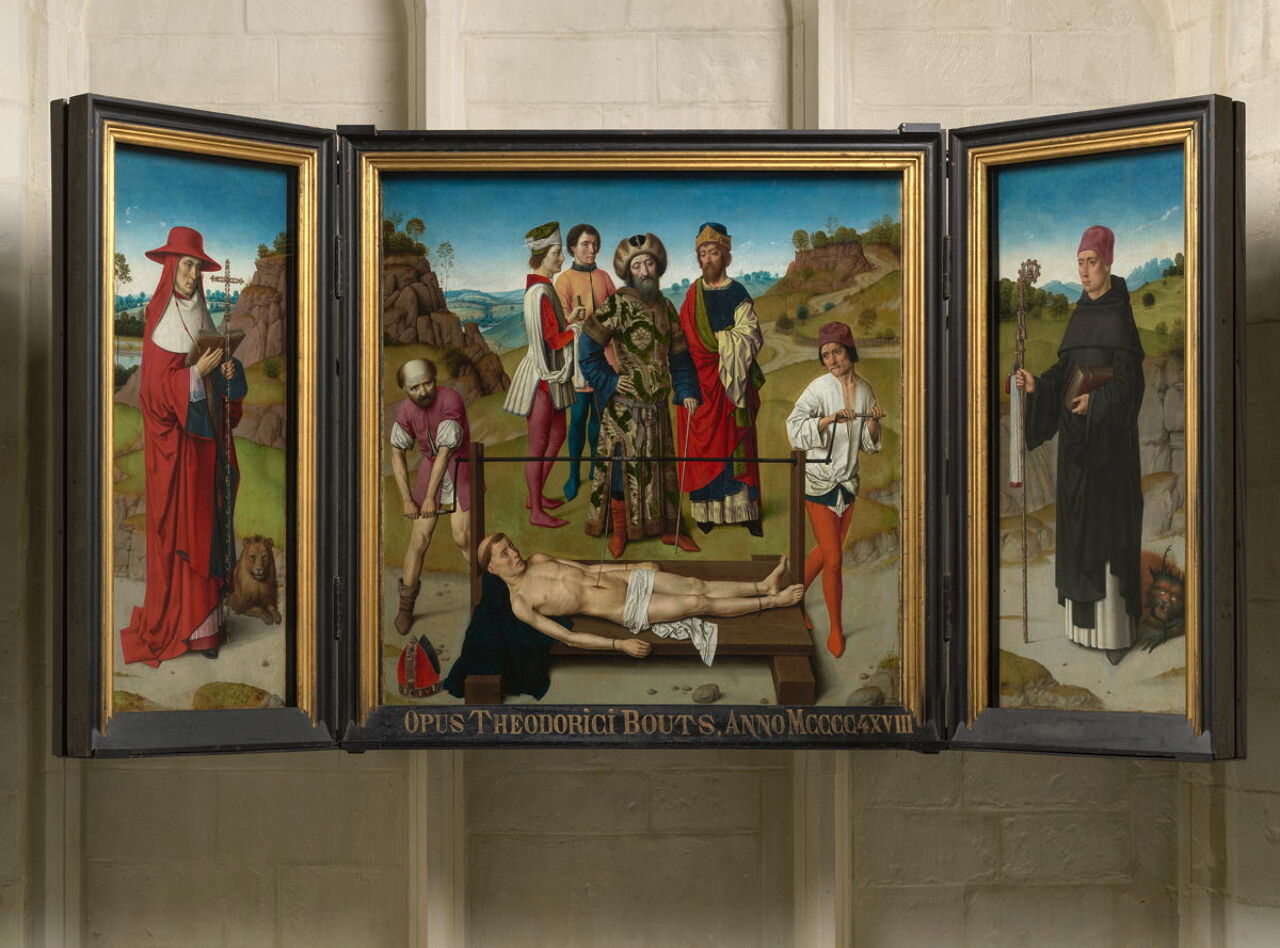 The St Peter's Church also houses a second masterpiece by Bouts and in all likelihood this one was commissioned around 1460 and intended to hang in the chapel, where it can still be seen to this day.  You will recognise Jerome, Bernard and Erasmus as the three saints depicted in this tryptic, a set of three panels joined by hinges and used as an altarpiece.
The central panel displays the martyrdom of St Erasmus.  The poor lad lies on a wooden panel with his hands and feet shackled.  Two executioners on either side are using a winch to pull out his intestines. True to Bouts' style the face of St Erasmus betrays no emotion.  He remains completely calm as he suffers what can only be agonising torture.
 On the left panel we can admire St Jerome, while on the right-hand panel we see St Bernard of Clairvaux.
The St Peter's Church is located on Leuven's Grote Markt.  The exhibition "Between Heaven and Earth" is open daily from 10 to 4:30 (from 11 to 4:30 on Sundays) and closed on Wednesdays.